Abstract
The study analyzed synthetically spatiotemporal distribution and evolution status of moraine-dammed lakes and potential dangerous glacial lakes (PDGLs) in the Qinghai–Tibetan Plateau (QTP) and revealed integrated risk degree of county-based glacier lake outburst floods (GLOFs) disaster by combining hazard of PDGLs, regional exposure, vulnerability of exposed elements, and adaptability and using the analytic hierarchy process and weighted comprehensive method. The results show there are 654 moraine-dammed lakes (> 0.018 km2) with a total area of 200.25 km2 in the QTP in the 2010s, of which 246 lakes with a total area of 78.38 km2 are identified as PDGLs. Compared with 1990s, the number of lakes decreased only by 2.22%, whereas total lake area expanded by 25%. All PDGLs area increased by 84.40% and was higher significantly than 4.06% of non-PDGLs. The zones at very high and high integrated risk of GLOF disasters are concentrated on the middle Himalayas, middle-eastern Nyainqentanglha, and southern Tanggula Mountain. On the county scale, Nyalam, Tingri, Dinggyê, Lhozhag, Zhongba, Gamba, Kangma of the Himalayas, and Nierong, Dingqing, Banbar, Baqing, Bomi, and Basu of the Nyainqentanglha are located in the very high-risk zone, whereas other areas have low and very low integrated risk. The regionalization results for GLOF disasters risk are consistent with the distribution of historical GLOF disaster sites.
Access options
Buy single article
Instant access to the full article PDF.
US$ 39.95
Tax calculation will be finalised during checkout.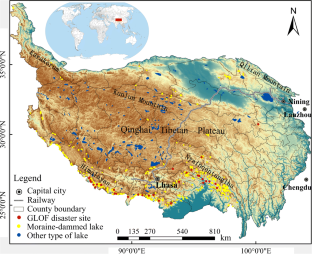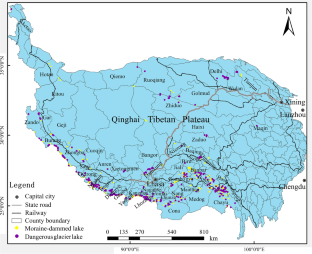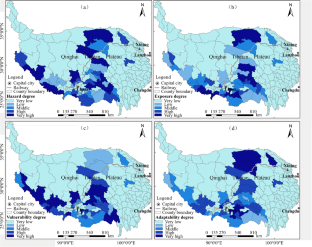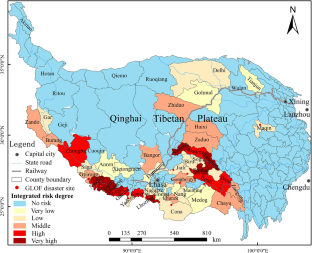 References
Awal R, Nakagawa H, Fujita M et al (2010) Experimental study on glacial lake outburst floods due to waves overtopping and erosion of moraine dam. Ann Disas Prev Inst Kyoto Univ 53:583–590

Carey M (2005) Living and dying with glaciers: people's historical vulnerability to avalanches and outburst floods in Peru. Glob Planet Chang 47:122–124

Carey M (2008) Disasters, development, and glacial lake control in twentieth-century Peru. In: Wiegandt E (ed) Mountains: sources of water, sources of knowledge. Springer, Dordrecht

Carey, M. (2010). In the shadow of melting glaciers: Climate change and Andean society. New York: Oxford University Press

Carey M, Huggel C, Bury J, Portocarrero C, Haeberli W (2012) An integrated socio-environmental framework for climate change adaptation and glacier hazard management: lessons from Lake 513, Cordillera Blanca, Peru. Clim Chang 112:733–767

Carrivick JL, Tweed FS (2016) A global assessment of the societal impacts of glacier outburst floods. Glob Planet Chang 144:1–16

Catani F., Casagli N, Ermini L, Righini G, Menduni G (2005). Landslide hazard and risk mapping at catchment scale in the Arno River basin. Landslides 2(4):329–342

Cook K, Andermann D, Gimbert F, Adhikari BR, Hovius N (2018) Glacial lake outburst floods as drivers of fluvial erosion in the Himalaya. Science 362(6410):53–57

Dong SK, Sherman R (2015) Enhancing the resilience of coupled human and natural systems of alpine rangelands on the Qinghai-Tibetan Plateau. Rangel J 37(1):i–iii. https://doi.org/10.1071/RJ14117

Dussaillant A, Benito G, Buytaert W, Carling P, Meier C, Espinoza F (2010) Repeated glacial-lake outburst floods in Patagonia: an increasing hazard? Nat Hazards 54(2):469–481

Emmer A, Cochachin A (2013) Causes and mechanisms of moraine-dammed lake failures in Cordillera Blanca (Peru), North American Cordillera and Central Asia. AUC Geographica 48:5–15

Emmer A, Vilímek V (2014) New method for assessing the susceptibility of glacial lakes to outburst floods in the Cordillera Blanca. Peru Hydrol Earth Syst Sci 18:3461–3479

Gardelle J, Arnaud Y, Berthier E (2011) Contrasted evolution of glacial lakes along the Hindu Kush Himalayas mountain range between 1990 and 2009. Glob Planet Chang 75:47–55

Haeberli W (2013) Mountain permafrost - research frontiers and a special long-term challenge. Cold Reg Sci Technol 96:71–76. https://doi.org/10.1016/j.coldregions.2013.02.004

Haeberli W, Whiteman C, Shroder JF (2015) Snow and ice-related hazards, risks, and disasters. Elsevier, pp 487–519

ICIMOD (2010) Glacial lakes and associated floods in the Hindu Kushi Hialayas [R]. ICIMOD Publications Unit, Lalitpur

IPCC (2014) Climate change 2014: impacts, adaptation, and vulnerability. Part a: global and Sectoral aspects. Contribution of Working Group II to the Fifth Assessment Report of the Intergovernmental Panel on Climate Change. United Kingdom and New York, NY, USA

Ives JD, Rajendr BS, Pradeep KM (2010) Formation of Glacial Lakes in the Hindu Kush-Himalayas and GLOF risk assessment. ICIMOD, Kathmandu

Kornei K (2017) Melting glaciers around Mount Everest may be forming killer lakes. Science. https://doi.org/10.1126/science.aal0782

Mckillop RJ, Clague J (2007) Statistical, remote sensing-based approach for estimating the probability of catastrophic drainage from moraine-dammed lakes in southwestern British Columbia. Glob Planet Chang 56:153–171

Moon T (2017) Saying goodbye to glaciers. Science 356(6338):580–581

Nadim F, Kjekstad O (2009) Assessment of global high-risk landslide disaster hotspots. Landslides 3(11):213–221

Palmer J (2017) Chile's glacial lakes pose newly recognized flood threat. Science 355:6329

Rounce DR, McKinney DC, Lala JM, Byers AC, Watson CS (2016) A new remote hazard and risk assessment framework for glacial lakes in the Nepal Himalaya. Hydrol Earth Syst Sci 20:3455–3475

Saaty TL (1977) A scaling method for priorities in hierarchical structures. J Math Psychol 15:234–281

Smith K (2001) Environmental hazards: assessing risk and reducing disaster. Routledge, London and New York

Veh G, Korup O, Walz A (2020) Hazard from Himalayan glacier lake outburst floods. PNAS 117(2):907–912

Wang SJ, Jiao ST (2015) Evolution and outburst risk analysis of moraine-dammed lakes in the central Chinese Himalaya [J]. J Earth Syst Sci 124(3):567–576

Wang SJ, Zhang T (2013) Glacial lakes change and current status in the central Chinese Himalayass from 1990 to 2010. J Appl Remote Sens 7(1):073459. https://doi.org/10.1117/1.JRS.7.073459

Wang SJ, Zhou LY (2017) Glacial lake outburst flood disasters and integrated risk management in China. Int J Disaster Risk Sci 8(4):493–497

Wang WC, Yao TD, Gao Y et al (2011) A first-order method to identify potentially dangerous glacial lakes in a region of the southeastern Tibetan Plateau. Mt Res Dev 31(2):124–126

Wang SJ, Qin DH, Xiao CD (2015) Moraine-dammed lake distribution and outburst flood risk in the Chinese Himalayas. J Glaciol 61(225):115–126

Worni R, Stoffel M, Huggel C et al (2012) Analysis and dynamic modeling of a moraine failure and glacial lake outburst flood at Ventisquero Negro, Patagonian Andes. J Hydrol 444/445:134–145

Worni R, Huggel C, Stoffel M (2013) Glacial lakes in the Indian Himalayass - from an area-wide glacial lake inventory to on-site and modeling based risk assessment of critical glacial lakes. Sci Total Environ 468–469:S71–S84

Zhang YL, Li BY, Zheng D (2002) A discussion on the boundary and area of the Tibetan Plateau in China. Geogr Res 21(1):1–8 (in Chinese)

Zhang QG et al (2017) Melting glaciers: hidden hazards. Science 356:6337

Zhao YZ, Zou XY, Cheng H, Jia HK, Wu YQ, Wang GY, Zhang CL, Gao SY (2006) Assessing the ecological security of the Tibetan plateau: methodology and a case study for Lhaze County. J Environ Manag 80:120–131
Acknowledgments
This work was supported by the Strategic priority research program of the Chinese Academy of Sciences (XDA19070503), the State Key Laboratory of Cryospheric Science (SKLCS-ZZ-2020) and and National Social Science Foundation of China (Grant No.14BGL137). We also thank the anonymous reviewers for helpful comments and suggestions, which considerably improved the final manuscript.
About this article
Cite this article
Wang, S., Che, Y. & Xinggang, M. Integrated risk assessment of glacier lake outburst flood (GLOF) disaster over the Qinghai–Tibetan Plateau (QTP). Landslides 17, 2849–2863 (2020). https://doi.org/10.1007/s10346-020-01443-1
Received:

Accepted:

Published:

Issue Date:
Keywords
Moraine-dammed lake

PDGL

Disaster risk assessment

Risk regionalization

Qinghai–Tibetan plateau