Abstract
Landslide inventories are extremely important. They are vital for hazard analyses. This article presents an inventory of landslides in Mexico from 1935 to 2017. Although landslide monitoring studies exist in specific areas of the country, so far, no historical catalog has been published that provides a basis for spatial-temporal analysis and determining impact in terms of the loss of human lives. The reported events were categorized as the following types of displacements: fall, landslide, and complex movement and flow; data were standardized and stored using SPSS software. In addition, estimates were produced to ascertain the number of people who may have been affected by landslides in 2019 based on their relationship with marginalization levels at the national level, as elaborated by the National Population Council (CONAPO). Marginalization degrees represent the exclusion of a population from development through socioeconomic inequalities that manifest themselves as low income and the lack of education, health, infrastructure, and access to basic services. It was found that localities with high and very high marginalization levels account for almost half of the landslides over 82 years. This study reveals new findings in terms of the spatial distribution of events and the affected populations that are considered a valuable contribution to the study of landslides in Mexico.
Access options
Buy single article
Instant access to the full article PDF.
US$ 39.95
Tax calculation will be finalised during checkout.
Subscribe to journal
Immediate online access to all issues from 2019. Subscription will auto renew annually.
US$ 79
Tax calculation will be finalised during checkout.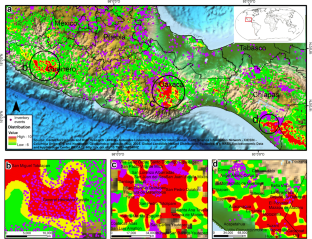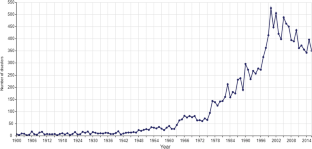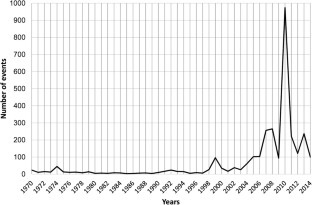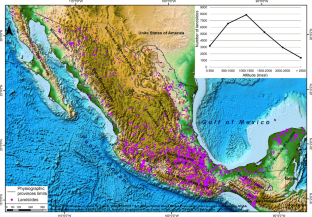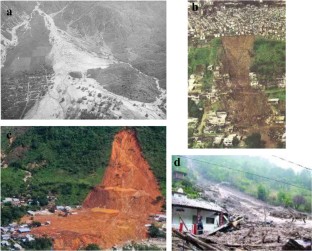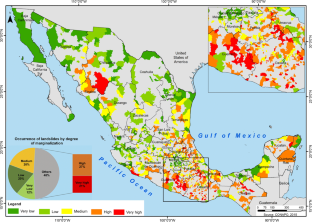 References
Alcántara-Ayala I (2004) Hazard assessment of rainfall-induced landsliding in Mexico. Geomorphology 61(1–2):19–40. https://doi.org/10.1016/j.geomorph.2003.11.004

Alcántara-Ayala I (2008) On the historical account of disastrous landslides in Mexico: the challenge of risk management and disaster prevention. Adv Geosci 14:159–164. https://doi.org/10.5194/adgeo-14-159-2008

Alcántara-Ayala I, Echavarría A (2014). Cartilla de Diagnóstico Preliminar de Inestabilidad de Laderas. México, D.F. https://www.gob.mx/cms/uploads/attachment/file/89637/Cartilla_Diagnostico_Preliminar.pdf

Alcántara-Ayala I, García MF (2008) Procesos de remoción en masa en México : hacia una propuesta de elaboración de un inventario nacional, 47–64. http://www.scielo.org.mx/scielo.php?script=sci_arttext&pid=S0188-46112008000200004&lng=es&tlng=pt

Alcántara-Ayala I, Salinas MG, García AL, Rueda VM, Orozco O, Aguilar SP, Tena RA (2019). Gestión Integral de Riesgo de Desastres en México : reflexiones, retos y propuestas de transformación de la política pública desde la academia. Investigaciones Geográficas, (98). https://doi.org/10.14350/rig.59784

Bitrán Bitrán D (2001) Características del impacto socioeconómico de los principales desastres. México D.F: Centro Nacional de Prevención de Desastres CENAPRED. http://www.cenapred.unam.mx

CHRR Center for Hazards and Risk Research Columbia University, CIESIN Center for International Earth Science Information Network Columbia University, NGI Norwegian Geotechnical Institute (2005). Global landslide hazard distribution. Palisades, NY: NASA Socioeconomic Data and Applications Center (SEDAC). Retrieved from https://doi.org/10.7927/H4P848VZ

CNN (2016) Al menos 40 muertos por deslaves en México. https://cnnespanol.cnn.com/2016/08/07/deslaves-provocados-por-earl-en-mexico-dejan-al-menos-10-muertos/. Accessed 20 Aug 2017

CONAPO Consejo Nacional de Población (2010) Indice de marginaciòn por entidad federativa y municipio 2010. México. https://www.conapo.gob.mx/es/CONAPO/Indices_de_Marginacion_2010_por_entidad_federativa_y_municipio

Corporación OSSO (2016) DESINVENTAR. Cali. https://www.desinventar.org/es/. Accessed 25 April 2017

Damm B, Klose M (2015) The landslide database for Germany: closing the gap at national level. Geomorphology 249:82–93. https://doi.org/10.1016/j.geomorph.2015.03.021

Devoli G, Morales A, Høeg K (2007a) Historical landslides in Nicaragua-collection and analysis of data. Landslides 4(1):5–18. https://doi.org/10.1007/s10346-006-0048-x

Devoli G, Strauch W, Chávez G, Høeg K (2007b) A landslide database for Nicaragua: a tool for landslide-hazard management. Landslides 4(2):163–176. https://doi.org/10.1007/s10346-006-0074-8

Dilley M, Chen RS, Deichmann U, Lerner-Lam AL, Arnold M et al (2005) Natural disaster hotspots: a global risk analysis. Disaster Risk Management Series. vol. 5. The World Bank, Washington, D.C. http://go.worldbank.org/PT8XJZW3K0

El Universal (2010) Deforestaciones causan deslaves en Michoacán. http://archivo.eluniversal.com.mx/notas/658062.html

El Universal (2017) Metropoli. http://www.eluniversal.com.mx/metropoli/edomex/deslaves-y-sismos-colapsaron-carreteras-al-sur-del-edomex. Accessed 18 Oct 2017

EPOCH European Community Programme (1993). The temporal occurrence and forecasting of landslides in the European community. Flageollet JC (ed.), vol 3. Contract No. 90 0025

Ferrer JR, Morales W, Romero D (2013) El Sistema Estatal de Protección Civil (SEPC) y la Gestión del Riesgo Geológico (Deslizamiento de laderas). In La gestión del riesgo por deslizamientos de laderas en el Estado de Veracruz, durante 2013 (pp. 89–97). http://www.veracruz.gob.mx/proteccioncivil/wp-content/uploads/sites/5/2014/08/Libro-Gestion-del-Riesgo-por-Deslizamiento-de-Laderas.pdf

Gaidzik K, Ramírez-Herrera MT, Bunn M, Ben A (2017) Landslide manual and automated inventories, and susceptibility mapping using LIDAR in the forested mountains of Guerrero, Mexico. Geomatics, Natural Hazards and Risk 8(2):1054–1079. https://doi.org/10.1080/19475705.2017.1292560

Briones Gamboa F (2010) Inundados, reubicados y olvidados : Traslado del riesgo de desastres en Motozintla. Revista de Ingeniería 31:132–144 https://www.redalyc.org/html/1210/121015012005/

Guha-Sapir D (n.d.) EM-DAT: the Emergency Events Database. Brussels, Belgium: Université catholique de Louvain (UCL) - CRED. http://www.emdat.be. Accessed 15 Feb 2017

Guzzetti F, Cardinali M, Reichenbach P (1994) The AVI Project: A Bibliographical and Archive Inventory of Landslides and Floods in Italy. Environmental Management 18:623. https://doi.org/10.1007/BF02400865

INEGI Instituto Nacional de Estadística y Geografía (2010) Censo de Población y Vivienda 2010. México: INEGI. http://www.beta.inegi.org.mx/proyectos/ccpv/2010/

INEGI Instituto Nacional de Estadística y Geografía (2015) Encuesta intercensal 2015. https://www.inegi.org.mx/programas/intercensal/2015/

INEGI Instituto Nacional de Estadística y Geografía (2016a) Mapa Digital de México V6 http://gaia.inegi.org.mx/mdm6/?v=bGF0OjIzLjMyMDA4LGxvbjotMTAyLjE0NTY1LHo6MSxsOmMxMTFzZXJ2aWNpb3N8dGMxMTFzZXJ2aWNpb3M=. Accessed 26 Nov 2016

INEGI Instituto Nacional de Estadística y Geografía (2016b) Marco Geoestadístico. http://www.inegi.org.mx/geo/contenidos/geoestadistica/. Accessed 13 Feb 2017

Jaimes MA, Niño M, Reinoso E, Carlos R (2010) XXV Reunión Nacional de Mecánica de Suelos e Ingeniería Geotécnica. In: Acosta NPL (ed.) Base de datos de deslizamientos inducidos por sismo y lluvia en México para calibrar un modelo de análisis de talud infinito. vol. 3. D.F: Sociedad Mexicana de Ingeniería Geotécnica, A.C. pp. 895–901. https://doi.org/10.1007/BF00006442

Jefatura de Gobierno de la Ciudad de México (2017) Declaratoria de Emergencia con motivo del fenómeno sísmico ocurrido el día diecinueve de septiembre de dos mil diecisiete en la Ciudad de México. México: Gaceta Oficial de la Ciudad de México. http://data.consejeria.cdmx.gob.mx/portal_old/uploads/gacetas/9f49ae03379f5a7b40fa03d1a94b12bb.pdf

Kirschbaum DB, Adler R, Hong Y, Hill S, Lerner-Lam A (2010) A global landslide catalog for hazard applications: Method, results, and limitations. Nat Hazards 52(3):561–575. https://doi.org/10.1007/s11069-009-9401-4

Kirschbaum DB, Stanley T, Zhou Y (2015) Geomorphology spatial and temporal analysis of a global landslide catalog. Geomorphology 12. https://doi.org/10.1016/j.geomorph.2015.03.016

Klose M, Damm B, Highland LM (2015) Databases in geohazard science: an introduction. Geomorphology 249:1–3. https://doi.org/10.1016/j.geomorph.2015.06.029

Klose M, Maurischat P, Damm B (2016) Landslide impacts in Germany: a historical and socioeconomic perspective. Landslides 13(1):183–199. https://doi.org/10.1007/s10346-015-0643-9

Korup O (2005) Distribution of landslides in southwest New Zealand. Landslides 2(1):43–51. https://doi.org/10.1007/s10346-004-0042-0

Mansilla E (2010) Diagnóstico nacional de los asentamientos humanos ante el riesgo de desastres. México. http://www.sedesol.gob.mx/work/models/SEDESOL/Sedesol/sppe/dgap/diagnostico/Diagnostico_PRAH.pdf

Morales Domínguez L, Castañeda Martínez A, Gonzáles Huesca AE (2016) Análisis de umbrales de lluvia que detonan deslizamientos y sus posibles aplicaciones en un sistemas de alerta temprana por inestabilidad de laderas. https://outlook.office.com/owa/?path=/attachmentlightbox

Nadim F, Kjekstad O, Peduzzi P, Herold C, Jaedicke C (2006) Global landslide and avalanche hotspots. Landslides 3(2):159–173. https://doi.org/10.1007/s10346-006-0036-1

NASA National Aeronautics and Space Administration (2015). Global Landslide Catalog. Retrieved June 20, 2017. http://data.nasa.gov/Earth-Science/Global-Landslide-Catalog/h9d8-neg4

Ordaz M, Zeballos A (2007) Información para la gestión de riesgo de desastres estudio de caso de cinco países: México. Ciudad de México. https://www.cepal.org/publicaciones/xml/9/33659/Mexicoliviano.pdf

Padilla LR (2006) El huaracán del 59, historia del desastre y reconstrucción de Minatitlán. Colima, México https://books.google.com.mx/books?id=D5np-QNYUDgC&pg=PP1&source=kp_read_button&redir_esc=y

Palenzuela JA, Marsella M, Nardinocchi C, Pérez JL, Fernández T, Chacón J, Irigaray C (2015) Landslide detection and inventory by integrating LiDAR data in a GIS environment. Landslides 12(6):1035–1050. https://doi.org/10.1007/s10346-014-0534-5

Pennington C, Freeborough K, Dashwood C, Dijkstra T, Lawrie K (2015) The national Landslide Database of Great Britain: acquisition, communication and the role of social media. Geomorphology 249:44–51. https://doi.org/10.1016/j.geomorph.2015.03.013

Rodríguez G (2018) Gestión de riesgos , gran ausente de la agenda política. America Latina en movimiento, pp 1–4. https://www.alainet.org

Spizzichino D, Margottini C, Trigila A, Ladanza C (2013) Landslide Impacts in Europe: Weaknesses and Strengths of Databases Available at European and National Scale. In: Margottini C., Canuti P., Sassa K. (eds) Landslide Science and Practice. Springer, Berlin, Heidelberg, pp 73-80. https://doi.org/10.1007/978-3-642-31325-7_9

SSN-UNAM (2017a) Reporte especial. Sismo de Tehuantepec. Ciudad de México. http://www.ssn.unam.mx/sismicidad/reportes-especiales/2017/SSNMX_rep_esp_20170907_Tehuantepec_M82.pdf

SSN-UNAM (2017b) Reporte Especial. Sismo del día 19 de septiembre de 2017, Puebla-Morelos (M 7.1). Ciudad de México. http://www.ssn.unam.mx/sismicidad/reportes-especiales/2017/SSNMX_rep_esp_20170919_Puebla-Morelos_M71.pdf

Taylor FE, Malamud BD, Freeborough K, Demeritt D (2015) Enriching Great Britain's National Landslide Database by searching newspaper archives. Geomorphology 249:52–68. https://doi.org/10.1016/j.geomorph.2015.05.019

Televisa (2017) Inmuebles destruidos y deslaves en carreteras por sismo en Oaxaca. México: Televisa.News. https://noticieros.televisa.com/videos/inmuebles-destruidos-y-deslaves-carreteras-sismo-oaxaca/

Trigila A, Iadanza C, Spizzichino D (2010) Quality assessment of the Italian Landslide Inventory using GIS processing. Landslides 7(4):455–470. https://doi.org/10.1007/s10346-010-0213-0

UN United Nations (2005) Hyogo Framework for Action 2005–2015: Building the Resilience of Nations and Communities to Disasters. United Nations, Geneva, pp 28

Van Den Eeckhaut M, Hervás J, Jaedicke C, Malet JP, Montanarella L, Nadim F (2012) Statistical modelling of Europe-wide landslide susceptibility using limited landslide inventory data. Landslides 9(3):357–369. https://doi.org/10.1007/s10346-011-0299-z

Wieczorek GF, Leahy PP (2008) Landslide Hazard Mitigation in North America. Environmental and Engineering Geoscience 14 (2):133-144.  https://doi.org/10.2113/gseegeosci.14.2.133
About this article
Cite this article
Díaz, S.R., Cadena, E., Adame, S. et al. Landslides in Mexico: their occurrence and social impact since 1935. Landslides 17, 379–394 (2020). https://doi.org/10.1007/s10346-019-01285-6
Received:

Accepted:

Published:

Issue Date:
Keywords
Landslides

Inventory

Risk

Historicity

Population