Abstract
On 12 May 2008, a catastrophic rock avalanche was triggered by an earthquake in Mianyang, Sichuan, China. This catastrophic event killed 48 people and destroyed some houses at the mouth of Wenjia valley. The sliding mass caused a powerful air blast that blew down the trees on both sides and front margin. To better understand the possible mechanism of the air blast generated by the Wenjia valley rock avalanche and provide information for the assessment of this type of disasters in southwestern China, a numerical simulation was performed through a computational fluid dynamics software (Fluent) to simulate the runout behavior of the sliding mass and dynamic characteristics of the air blast. The frictional rheology is used for the source area and the Voellmy model is selected for the erosion and deposition areas. Simulated results indicate that the movement process of Wenjia valley rock avalanche lasted approximately 210 s with a maximum velocity of 65 m/s. The maximum velocity and relative pressure of the air blast are 35 m/s and 2.25 kPa, respectively. Furthermore, the variation of topography has a significant effect on the distribution of relative pressure for the air blast. The work conducted in this study is expected to make people deeply realize the disaster caused by the air blast and establish a risk assessment system in the southwestern China.
Access options
Buy single article
Instant access to the full article PDF.
USD 39.95
Price excludes VAT (USA)
Tax calculation will be finalised during checkout.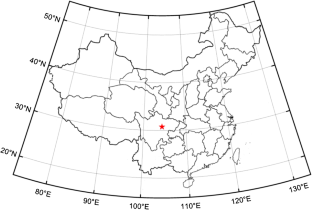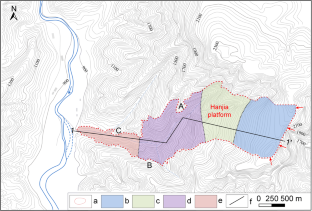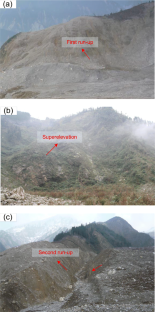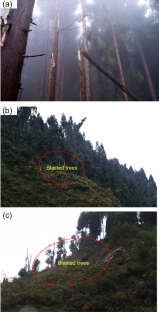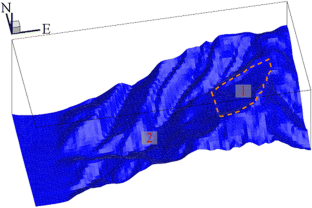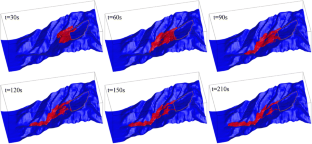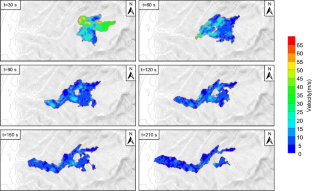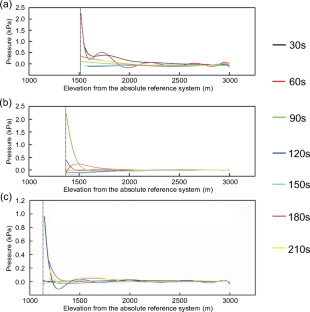 References
ANSYS Fluent User's Guide (2013) ANSYS Inc

Boultbee N (2005) Characterization of the Zymoetz River rock avalanche. M.Sc. thesis, Simon Fraser University, Burnaby

Chen H, Lee CF (2003) A dynamic model for rainfall-induced landslides on natural slopes. Geomorphology 51(4):269–288

Chigira M, Wu XY, Inokuchi T, Wang GH (2010) Landslides induced by the 2008 Wenchuan earthquake, Sichuan, China. Geomorphology 118(3–4):225–238

Cleary PW, Prakash M (2004) Discrete-element modelling and smoothed particle hydrodynamics: potential in the environmental sciences. Philos Trans R Soc A Math Phys Eng Sci 362:2003–2030

Corominas J (1996) The angle of reach as a mobility index for small and large landslides. Can Geotech J 33:260–271

Crosta GB, Imposimato S, Roddeman DG (2003) Numerical modelling of large landslides stability and runout. Nat Hazards Earth Syst Sci 3(6):523–538

Dai FC, Lee CF, Deng JH, Tham LG (2005) The 1786 earthquake-triggered landslide dam and subsequent dam-break flood on the Dadu River, southwestern China. Geomorphology 65(3–4):205–221

Denlinger RP, Iverson RM (2004) Granular avalanches across irregular three-dimensional terrain: 1. Theory and computation. J Geophys Res Earth Surf 109(F1):1–14

Elizabeth CK, Peter KT (1997) Choice of a Beaufort Equivalent Scale. J Atmos Ocean Technol 14(2):228–242

Fahnestock RK (1978) Little Tahoma Peak rockfalls and avalanches. Mount Rainier, Washington, U.S.A. In Rockslides and avalanches. Vol. 1. Natural phenomena. New York: Elsevier: 181–196

Hadley JB (1978) Madison canyon rockslide, Montana, U.S.A. in rockslides and avalanches. Vol. 1, natural phenomena. New York: Elsevier: 167–180

Heim A (1932) Bergsturz und Menschenleben. Ztitich: Naturforschenden Gesellschaft (English translation by Skerner N A (1989) Landslides and human lives. Vancouver. B C: BiTech Publishers Ltd: 1–196

Herrmann E, Lihavainen H, Hyvarinen AP, Riipinen I, Wilck M, Stratmann F, Kulmala M (2006) Nucleation simulations using the fluid dynamics software FLUENT with the fine particle model FPM. J Phys Chem 110(45):12448–12455

Huang RQ (2009) Some catastrophic landslides since the twentieth century in the southwest of China. Landslides 6(1):69–81

Huang Y, Zhang WJ, Xu Q, Xie P, Hao L (2012) Run-out analysis of flow-like landslides triggered by the Ms 8.0 2008 Wenchuan earthquake using smoothed particle hydrodynamics. Landslides 9(2):275–283

Hungr O (1995) A model for the runout analysis of rapid flow slides, sliding masss, and avalanches. Can Geotech J 32(4):610–623

Hungr O, McDougall S, Bovis M (2005a) Entrainment of material bysliding masss. In: Jakob M, Hungr O (eds) Sliding mass hazards and related phenomena. Springer, Heidelberg, pp 135–158

Hungr, O., Corominas, J., and Eberhardt, E. (2005b) "Estimating landslide motion mechanism, travel distance and velocity." Landslide Risk Management, Proceedings, Vancouver Conference, State of the Art Paper #4, In: Hungr, O., Fell, R., Couture, R. and Eberhardt, E. (eds.), Taylor and Francis Group, London, pp. 99–128

Jeong W, Seong J (2014) Comparison of effects on technical variances of computational fluid dynamics (CFD) software based on finite element and finite volume methods. Int J Mech Sci 78:19–26

Kiersch GA, Asce F (1964) Vaiont reservoir disaster. Civ Eng 3:32–39

McDougall S, Hungr O (2004) A model for the analysis of rapid landslide motion across three-dimensional terrain. Can Geotech J 41(6):1084–1097

McDougall S, Hungr O (2005) Dynamic modelling of entrainment in rapid landslides. Can Geotech J 42(5):1437–1448

Mcewen AS, Malin MC (1989) Dynamics of Mount St. Helens' 1980 pyroclastic flows, rockslide-avalanche, lahars, and blast. J Volcanol Geotherm Res 37(3–4):205–231

Morrissey MM, Wieczorek GF, Savage WZ (1999) Airblasts generated from rock-fall impacts: analysis of the 1996 Happy Isles event in Yosemite National ark. J Geophys Res 104(B10):23189–23198

Nagai H, Watanabe M, Tomii N, Tadono T, Suzuki S (2017) Multiple remote-sensing assessment of the catastrophic collapse in Langtang Valley induced by the 2015 Gorkha earthquake. Nat Hazards Earth Syst Sci 17:1907–1921

Ouyang CJ, He S, Tang C (2015) Numerical analysis of dynamics of sliding mass over erodible beds in Wenchuan earthquake-induced area. Eng Geol 194:62–72

Liovic P, Liow JL, Rudman M (2001) A volume of fluid (VOF) method for the simulation of metallurgical flows. ISIJ Int 41(3):225–233

Pirulli M, Mangeney A (2008) Results of back-analysis of the propagation of rock avalanches as a function of the assumed rheology. Rock Mech Rock Eng 41:59–84

Plafker G, Ericksen GE (1978) Nevados Huascaran avalanches, Peru. In: Rockslides and avalanches. Vol.1, natural phenomena. Elsevier, New York, pp 277–314

Poisel R, Preh A, Hungr O (2008) Run out of landslides-continuum mechanics versus discontinuum mechanics models. Geomechanics Tunnelling 1(5):358–366

Scheidegger AE (1973) On the prediction of the reach and velocity of catastrophic landslides. Rock Mech 5:231–236

Sassa K (1988) Geotechnical model for the motion of landslides. In: Proc. 5th International Symposium on Landslides, "Landslides", Balkema, Rotterdam, vol. 1. pp 37–56

Tang C, Van Asch TWJ, Chang M, Chen GQ, Zhao XH, Huang XC (2012) Catastrophic sliding masss on 13 August 2010 in the Qingping area, southwestern China: the combined effects of a strong earthquake and subsequent rainstorms. Geomorphology 139–140:559–576

Wang FJ (2004) Analysis of computational fluid dynamics software principle and application. Tsinghua University Press, Beijing, pp 113–253 (in Chinese)

Weidinger JT, Wang JD, Ma NX (2002) The earthquake-triggered rock avalanche of Cui Hua, Qin Ling Mountains, P. R. of China—the benefits of a lake-damming prehistoric natural disaster. Quat Int 93–94:207–214

Wieczorek GF, Snyder JB, Waitt RB, Morrissey MM, Uhrhammer RA, Harp EL, Norris RD, Bursik MI, Finewood LG (2000) Unusual July 10, 1996, rock fall at Happy Isles, Yosemite National Park, California. Geol Soc Am Bull 112(1):75–85

Xing AG, Wang GH, Yin YP, Jiang Y, Wang GZ, Yang SY, Dai DR, Zhu YQ, Dai JA (2014) Dynamic analysis and field investigation of a fluidized landslide in Guanling, Guizhou. China Engineering Geology 181:1–14

Xing AG, Wang GH, Yin YP, Tang C, Xu ZM, Li WL (2015a) Investigation and dynamic analysis of a catastrophic rock avalanche on September 23, 1991, Zhaotong, China. Landslides 13:1035–1047

Xing AG, Xu Q, Gan JJ (2015b) On characteristics and dynamic analysis of the Niumian valley rock avalanche triggered by the 2008 Wenchuan earthquake, Sichuan, China. Environ Earth Sci 73:3387–3401

Xing AG, Xu Q, Zhu YQ, Zhu JL, Jiang Y (2016) The August 27, 2014, rock avalanche and related impulse water waves in Fuquan, Guizhou, China. Landslides 13:411–422

Xing AG, Yuan XY, Qiang X, Zhao QH, Huang HQ, Cheng QG (2017) Characteristics and numerical runout modelling of a catastrophic rock avalanche triggered by the Wenchuan earthquake in the Wenjia valley, Mianzhu, Sichuan, China. Landslides 14:83–98

Xu Q, Fan XM, Dong XJ (2012a) Characteristics and formation mechanism of a catastrophic rainfall–induced rock avalanche–mud flow in Sichuan, China, 2010. Landslides 9(1):143–154

Xu Q, Zhang S, Li WL, van Asch TWJ (2012b) The 13 August 2010 catastrophic sliding masss after the 2008 Wenchuan earthquake, China. Nat Hazards Earth Syst Sci 12:201–216

Yin Y, Wang H, Gao Y, Li X (2010) Real-time monitoring and early warning of landslides at relocated Wushan Town, the Three Gorges Reservoir, China. Landslides 7(3):339–349

Yin YP, Sun P, Zhang M, Li B (2011a) Mechanism on apparent dip sliding of oblique inclined bedding rockslide at Jiweishan, Chongqing, China. Landslides 8(1):49–65

Yin YP, Sun P, Zhu JL, Yang SY (2011b) Research on catastrophic rock avalanche at Guangling, Guizhou, China. Landslides 8(4):517–525

Yin YP, Xing AG (2012) Aerodynamic modeling of the Yigong gigantic rock slide-debris avalanche, Tibet, China. Bull Eng Geol Environ 71(1):149–160

Yin YP, Cheng YL, Liang JT, Wang WP (2015) Heavy-rainfall-induced catastrophic rockslide-sliding mass at Sanxicun, Dujiangyan, after the Wenchuan Ms 8.0 earthquake. Landslides 13(1):9–23
Funding
This study was supported by the National Key R&D Program of China (2018YFC1504804), the National Natural Science Foundation of China (No. 41530639), and the Guizhou Science and Technology Project ([2017]5402 and [2017]2814).
About this article
Cite this article
Zhuang, Y., Xu, Q. & Xing, A. Numerical investigation of the air blast generated by the Wenjia valley rock avalanche in Mianzhu, Sichuan, China. Landslides 16, 2499–2508 (2019). https://doi.org/10.1007/s10346-019-01253-0
Received:

Accepted:

Published:

Issue Date:

DOI: https://doi.org/10.1007/s10346-019-01253-0
Keywords
Wenjia valley rock avalanche

Air blast

Fluent

Runout behavior

Dynamic characteristics