Abstract
After a recent forest fire, a weathered granite rock slope located in the northwest of Spain may become increasingly susceptible to rockfalls. This study presents a multi-approach assessment of rockfall hazard, with some features deserving particular attention. First, the geomorphological context represented by a weathered rock mass with multiple dispersed blocks presenting various potential instability mechanisms. Secondly, the presence of a hillfort behind the slope and a small village at its toe, limiting the available solutions for rockfall protection. Finally, the combination of different remote sensing techniques (unmanned aircraft system topography and light detection and ranging) with a semi-automatic geostructural analysis has been successfully applied to obtain both a 3D point cloud of the wide area under study in addition to an estimation of mean block volume for rockfall simulations. Additionally, the design and implementation of a protective measure (rock dynamic barrier) have been addressed.
Access options
Buy single article
Instant access to the full article PDF.
US$ 39.95
Tax calculation will be finalised during checkout.
Subscribe to journal
Immediate online access to all issues from 2019. Subscription will auto renew annually.
US$ 79
Tax calculation will be finalised during checkout.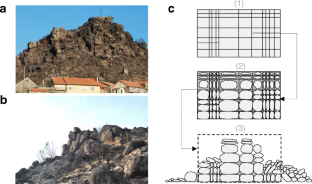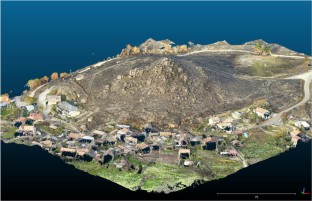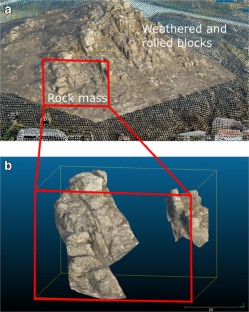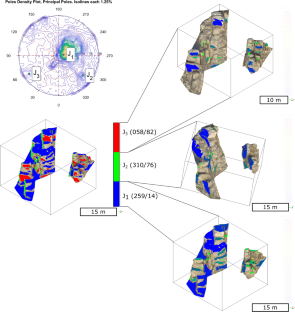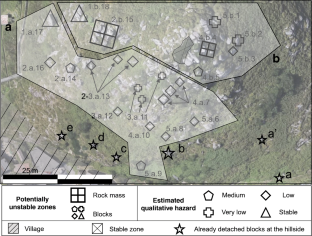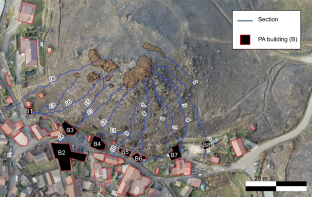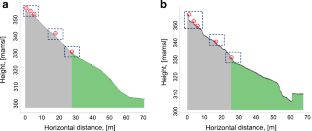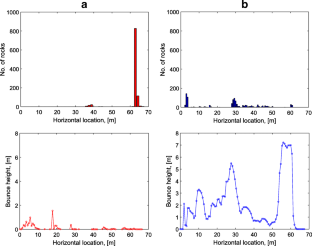 References
Agliardi F, Crosta GB (2003) High resolution three-dimensional numerical modelling of rockfalls. Int J Rock Mech Min Sci 40:455–471. https://doi.org/10.1016/S1365-1609(03)00021-2

Alejano LR, Pons B, Bastante FG, Alonso E, Stockhausen HW (2007) Slope geometry design as a means for controlling rockfalls in quarries. Int J Rock Mech Min Sci 44:903–921. https://doi.org/10.1016/j.ijrmms.2007.02.001

Alejano LR, Stockhausen HW, Alonso E, Bastante FG, Ramírez Oyanguren P (2008) ROFRAQ: a statistics-based empirical method for assessing accident risk from rockfalls in quarries. Int J Rock Mech Min Sci 45:1252–1272. https://doi.org/10.1016/J.IJRMMS.2008.01.003

Alejano LR, García-Cortés S, García-Bastante F, Martínez-Alegría R (2013) Study of a rockfall in a limy conglomerate canyon (Covarrubias, Burgos, N. Spain). Environ Earth Sci 70:2703–2717. https://doi.org/10.1007/s12665-013-2327-x

Alejano L, Carranza-Torres C, Giani G, Arzúa J (2015) Study of the stability against toppling of rock blocks with rounded edges based on analytical and experimental approaches. 195:172–184. https://doi.org/10.1016/j.enggeo.2015.05.030

Alejano LR, Muralha J, Ulusay R, Li CC, Pérez-Rey I, Karakul H, Chryssanthakis P, Aydan Ö, Martínez J, Zhang N (2017) A benchmark experiment to assess factors affecting tilt test results for sawcut rock surfaces. Rock Mech Rock Eng 50:2547–2562. https://doi.org/10.1007/s00603-017-1271-6

Alejano L, Sánchez–Alonso C, Pérez–Rey I et al (2018) Block toppling stability in the case of rock blocks with rounded edges. Eng Geol 234:192–203. https://doi.org/10.1016/J.ENGGEO.2018.01.010

Barton N, Choubey V (1977) The shear strength of rock joints in theory and practice. Rock Mech 10:1–54. https://doi.org/10.1007/BF01261801

Chaki S, Takarli M, Agbodjan WP (2008) Influence of thermal damage on physical properties of a granite rock: porosity, permeability and ultrasonic wave evolutions. Constr Build Mater 22:1456–1461. https://doi.org/10.1016/j.conbuildmat.2007.04.002

Chau KT, Wong RHC, Liu J, Lee CF (2003) Rockfall hazard analysis for Hong Kong based on rockfall inventory. Rock Mech Rock Eng 36:383–408. https://doi.org/10.1007/s00603-002-0035-z

Dewez TJB, Girardeau-Montaut D, Allanic C, Rohmer J (2016) Facets: a cloudcompare plugin to extract geological planes from unstructured 3D point clouds. ISPRS - Int Arch Photogramm Remote Sens Spat Inf Sci XLI-B5:799–804. https://doi.org/10.5194/isprs-archives-XLI-B5-799-2016

Ferrari F, Thoeni K, Giacomini A, Lambert C (2016) A rapid approach to estimate the rockfall energies and distances at the base of rock cliffs. Georisk Assess Manag Risk Eng Syst Geohazards 10:179–199. https://doi.org/10.1080/17499518.2016.1139729

Ferrari F, Giacomini A, Thoeni K, Lambert C (2017) Qualitative evolving rockfall hazard assessment for highwalls. Int J Rock Mech Min Sci 98:88–101. https://doi.org/10.1016/J.IJRMMS.2017.07.013

Ferrero A, Migliazza M, Roncella R, Segalini A (2011) Rock cliffs hazard analysis based on remote geostructural surveys: the Campione del Garda case study (Lake Garda, Northern Italy). Geomorphology 125:457–471. https://doi.org/10.1016/j.geomorph.2010.10.009

Ferrero A, Migliazza M, Pirulli M, Umili G (2016) Some open issues on rockfall hazard analysis in fractured rock mass: problems and prospects. Rock Mech Rock Eng 49:3615–3629. https://doi.org/10.1007/s00603-016-1004-2

Franklin J, Wood D, Senior S, Blair J (2012) RHRON: Ontario Rockfall Hazard Rating System - field procedures manual. Soils and aggregates section, Materials Engineering and Research Office, Ontario Ministry of Transportation

Geobrugg (2018) Geobrugg. www.geobrugg.com. Accessed 2 May 2018

Giani G (1992) Rock slope stability analysis. CRC Press, Boca Raton

Giani GP, Giacomini A, Migliazza M, Segalini A (2004) Experimental and theoretical studies to improve rock fall analysis and protection work design. Rock Mech Rock Eng 37:369–389. https://doi.org/10.1007/s00603-004-0027-2

González-Jorge H, Puente I, Roca D, Martínez-Sánchez J, Conde B, Arias P (2016) UAV photogrammetry application to the monitoring of rubble mound breakwaters. J Perform Constr Facil 30:4014194. https://doi.org/10.1061/(ASCE)CF.1943-5509.0000702

González-Jorge H, Rodríguez-Gonzálvez P, Shen Y, Lagüela S, Díaz-Vilariño L, Lindenbergh R, González-Aguilera D, Arias P (2018) Metrological intercomparison of six terrestrial laser scanning systems. IET Sci Meas Technol 12(4):218–222

Hall AM, Phillips WM (2006) Glacial modification of granite tors in the Cairngorms, Scotland. J Quat Sci 21:811–830. https://doi.org/10.1002/jqs.1003

Hencher SR (2012) Practical engineering geology. CRC Press, Boca Raton

Hencher SR, Lee SG, Carter TG, Richards LR (2011) Sheeting joints: characterisation, shear strength and engineering. Rock Mech Rock Eng 44:1–22. https://doi.org/10.1007/s00603-010-0100-y

Hoek E (2007) Analysis of rockfall hazards. In: Practical Rock Engineering. RocScience, pp. 141-165. Available at: https://www.rocscience.com/learning/hoeks-corner

Hoek E, Bray J (1974) Rock slope engineering. Institution of Mining and Metallurgy, London

Hu J, Sun Q, Pan X (2018) Variation of mechanical properties of granite after high-temperature treatment. Arab J Geosci 11:43. https://doi.org/10.1007/s12517-018-3395-8

Hungr O, Evans S (1989) Engineering aspects of rockfall hazard in Canada. Geological Survey of Canada

Ietto F, Perri F, Cella F (2018) Weathering characterization for landslides modeling in granitoid rock masses of the Capo Vaticano promontory (Calabria, Italy). Landslides 15:43–62. https://doi.org/10.1007/s10346-017-0860-5

IGME (1981) Geological map of Spain. Sheet 261 (4-12): Tuy. MAGNA 50k (2nd Ser)

IGN (2015) Seismic hazard map of Spain (return period of 475 years)

ISRM (2007) The complete ISRM suggested methods for rock characterization, testing and monitoring: 1974–2006. In: Ulusay R, Hudson JA (eds). ISRM Turkish National Group

Jaboyedoff M, Baillifard F, Bardou E, Girod F (2004) The effect of weathering on Alpine rock instability. Q J Eng Geol Hydrogeol - Q J ENG GEOL HYDROGEOL 37:95–103. https://doi.org/10.1144/1470-9236/03-046

Krautblatter M, Dikau R (2007) Towards a uniform concept for the comparison and extrapolation of rockwall retreat and rockfall supply. Geogr Ann Ser A, Phys Geogr 89:21–40. https://doi.org/10.1111/j.1468-0459.2007.00305.x

Linton DL (1955) The problem of tors. Geogr J 121:470–487

Maccaferri (2018) Maccaferri. https://www.maccaferri.com/es/en/solutions/dynamic-barriers/. Accessed 2 May 2018

Matas G, Lantada N, Corominas J, Gili JA, Ruiz-Carulla R, Prades A (2017) RockGIS: a GIS-based model for the analysis of fragmentation in rockfalls. Landslides 14:1565–1578. https://doi.org/10.1007/s10346-017-0818-7

Matasci B, Stock GM, Jaboyedoff M, Carrea D, Collins BD, Guérin A, Matasci G, Ravanel L (2018) Assessing rockfall susceptibility in steep and overhanging slopes using three-dimensional analysis of failure mechanisms. Landslides 15:859–878. https://doi.org/10.1007/s10346-017-0911-y

Mölk M, Poisel R, Weilbold J, Angerer H (2008) Rockfall rating systems: is there a comprehensive method for hazard zoning in populated areas? In: Proceedings of the 11th Interpraevent Congress. Dornbirn, Austria, 2:207–218

Palmer J, Neilson RA (1962) The origin of granite tors on Dartmoor, Devonshire. Proc Yorks Geol Soc 33:315–340. https://doi.org/10.1144/pygs.33.3.315

Palmstrom A (2005) Measurements of and correlations between block size and rock quality designation (RQD). Tunn Undergr Sp Technol 20:362–377. https://doi.org/10.1016/j.tust.2005.01.005

Paramassi (2018) https://www.paramassi.es/. Accessed 2 May 2018

Pierson L, Davis S, van Vickle R (1990) Rockfall hazard rating system implementation manual. Federal Highway Administration report FHWA-OR-EG-90-01

Pierson L, Gullixson C, Chassie R (2001) Rockfall catchment area design guide. Final Report (Metric Edition)

Potsch M, Schubert W, Gaich A (2006) Kinematical analyses of rock blocks supported by 3D imaging. Golden Rocks 2006, 41st U.S. Symp. Rock Mech. 11

Riquelme A, Abellán A, Tomás R, Jaboyedoff M (2014a) A new approach for semi-automatic rock mass joints recognition from 3D point clouds. Comput Geosci 68:38–52. https://doi.org/10.1016/j.cageo.2014.03.014

Riquelme A, Abellán A, Tomás R, Jaboyedoff M (2014b) Discontinuity Set Extractor (DSE) [Computer Software]. Retrieved from: https://personal.ua.es/es/ariquelme/discontinuity-set-extractor-software.html

Riquelme AJ, Abellán A, Tomás R (2015) Discontinuity spacing analysis in rock masses using 3D point clouds. Eng Geol 195:185–195. https://doi.org/10.1016/j.enggeo.2015.06.009

Ritchie AM (1963) Evaluation of rockfall and its control. Highw Res Rec 17:13–28

Rocscience (2016) RocFall 6.0 [Computer Software]. Retrieved from: https://www.rocscience.com/

Royán MJ, Abellán A, Jaboyedoff M, Vilaplana JM, Calvet J (2014) Spatio-temporal analysis of rockfall pre-failure deformation using terrestrial LiDAR. Landslides 11:697–709. https://doi.org/10.1007/s10346-013-0442-0

Ryan, TM, Pryor, PR (2000) Designing catch benches and interramp slopes. In: Hustrulid WA, McCarter MK, Van Zyl DJA (eds), Slope Stability in Surface Mining, SME, Colorado, pp. 27–38.

Stead D, Wolter A (2015) A critical review of rock slope failure mechanisms: the importance of structural geology. J Struct Geol 74:1–23. https://doi.org/10.1016/j.jsg.2015.02.002

Sturzenegger M, Stead D, Elmo D (2011) Terrestrial remote sensing-based estimation of mean trace length, trace intensity and block size/shape. Eng Geol 119:96–111. https://doi.org/10.1016/J.ENGGEO.2011.02.005

Twidale C, Vidal-Romaní J (2005) Landforms and geology of granite terrains. CRC Press (Taylor and Francis Group), Boca Raton

Viles HA (2013) Linking weathering and rock slope instability: non-linear perspectives. Earth Surf Process Landf 38:62–70. https://doi.org/10.1002/esp.3294
Electronic supplementary material
About this article
Cite this article
Pérez-Rey, I., Riquelme, A., González-deSantos, L.M. et al. A multi-approach rockfall hazard assessment on a weathered granite natural rock slope. Landslides 16, 2005–2015 (2019). https://doi.org/10.1007/s10346-019-01208-5
Received:

Revised:

Accepted:

Published:

Issue Date:
Keywords
Rockfall

Weathering

Granite

DSE

3D point cloud