Abstract
An Ms6.9 earthquake in the Yarlung Tsangpo gorge on November 18, 2017 caused more than 700 landslides concentrating along the gorge's great bend, and three dammed lakes. The location and area of the landslides are obtained by interpreting high-resolution satellite images before and after the earthquake. About 31.45 Mm3 of sediment from the landslides are distributed in seven catchments that are highly susceptible to debris flows. In 2018, at least three large-scale glacier-debris flows happened at Sedongpu, one of the seven catchments, and blocked temporarily the main river twice. The subsequent inundation and outburst floods resulted in infrastructure and property losses extensively beyond the high-seismic-intensity zone. Increase in the frequency of debris flows is attributed to the instability of glaciers and sediment supply caused by the earthquake. Glacier-debris flows will remain active for a long period due to massive glacial till, abundant rainfall, and meltwater. Geomorphic hazard chain triggered by such a mid-strong earthquake demonstrates that although coseismic landslides only occur in a limited area, the space and duration of the quake-induced hazards could extend largely under special geographical conditions.
Access options
Buy single article
Instant access to the full article PDF.
USD 39.95
Price includes VAT (USA)
Tax calculation will be finalised during checkout.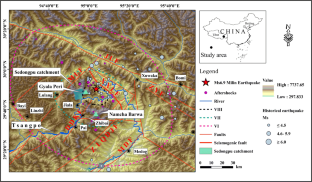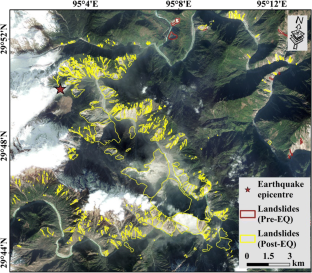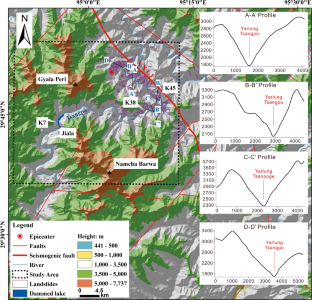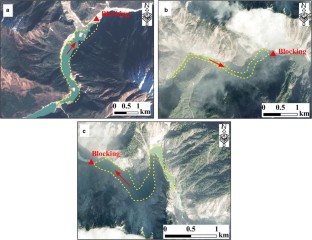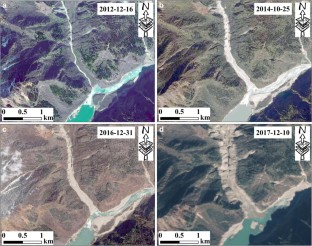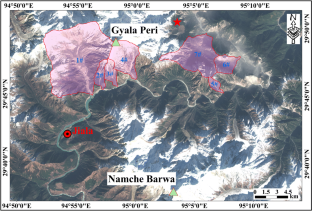 References
Burg JP, Nievergelt P, Oberli F, Seward D, Davy P, Maurin JC, Diao Z, Meier M (1998) The Namche Barwa syntaxis: evidence for exhumation related to compressional crustal folding. J Asian Earth Sci 16(2–3):239–252

Chai HJ, Liu HC, Zhang ZY (1995) Landslide dams induced by Diexi earthquake in 1933 and its environmental effect. J Geol Hazard Environ Preserv 6(1):7–17 (in Chinese)

Chen WP, Molnar P (1977) Seismic moments of major earthquakes and the average rate of slip in central Asia. J Geophys Res 82(20):2945–2969

Costa JE, Schuster RL (1988) Formation and failure of natural dams. Geol Soc Am Bull 100(7):1054–1068

Cui P, Zhu Y, Han Y, Chen XQ, Zhuang JQ (2009) The 12 May Wenchuan earthquake-induced landslide lakes: distribution and preliminary risk evaluation. Landslides 6(3):209–223. https://doi.org/10.1007/s10346-009-0160-9

Cui P, Chen XQ, Zhu YY, Su FH, Wei FQ, Han YS, Liu HJ, Zhuang JQ (2011) The Wenchuan earthquake (May 12, 2008), Sichuan province, China, and resulting geohazards. Nat Hazards 56(1):19–36

Evans SG, Bishop NF, Smoll LF et al (2009) A re-examination of the mechanism and human impact of catastrophic mass flows originating on Nevado Huascarán, Cordillera Blanca, Peru in 1962 and 1970. Eng Geol 108(1–2):96–118

Fan X, Xu Q, Van Westen CJ, Huang R, Tang R (2017) Characteristics and classification of landslide dams associated with the 2008 Wenchuan earthquake. Geoenvironmental Disasters 4(1):12. https://doi.org/10.1186/s40677-017-0079-8

Hu K, Chen X, Ge Y, Jiang X, Wang Y (2017) Landslides triggered by the Ms6.5 Ludian, China earthquake of August 3, 2014. In: Mikoš M, Casagli N, Yin Y, Sassa K (eds) Advancing culture of living with landslides. WLF 2017. Springer, Cham

Hu K, Zhang X, Tang J, Liu W (2018) Potential danger of dammed lakes induced by the 2017 Ms6.9 Milin earthquake in the Tsangpo gorge. 5th International Conference Debris Flows: Disasters, Risk, Forecast, Protection, pp 97–104

Huang R, Li WL (2008) Research on development and distribution rules of geohazards induced by Wenchuan earthquake induced by Wenchuan earthquake on 12th May, 2008. Chin J Rock Mech Eng 27(12):2585–2592

Kargel JS, Leonard GJ, Shugar DH, Haritashya UK, Bevington A, Fielding EJ, Fujita K, Geertsema M, Miles ES, Steiner J, Anderson E, Bajracharya S, Bawden GW, Breashears DF, Byers A, Collins B, Dhital MR, Donnellan A, Evans TL, Geai ML, Glasscoe MT, Green D, Gurung DR, Heijenk R, Hilborn A, Hudnut K, Huyck C, Immerzeel WW, Liming J, Jibson R, Kaab A, Khanal NR, Kirschbaum D, Kraaijenbrink PDA, Lamsal D, Shiyin L, Mingyang L, McKinney D, Nahirnick NK, Zhuotong N, Ojha S, Olsenholler J, Painter TH, Pleasants M, Pratima KC, Yuan QI, Raup BH, Regmi D, Rounce DR, Sakai A, Donghui S, Shea JM, Shrestha AB, Shukla A, Stumm D, van der Kooij M, Voss K, Xin W, Weihs B, Wolfe D, Lizong W, Xiaojun Y, Yoder MR, Young N (2016) Geomorphic and geologic controls of geohazards induced by Nepal's 2015 Gorkha earthquake. Science 351(6269):aac8353

Keefer DK (1984) Landslides caused by earthquakes. Geol Soc Am Bull 95(4):406–421

Keefer DK (2002) Investigating landslides caused by earthquakes–a historical review. Surv Geophys 23(6):473–510

Larsen IJ, Montgomery DR, Korup O (2010) Landslide erosion controlled by hillslope material. Nat Geosci 3(4):247–251

Lin CW, Shieh CL, Yuan BD, Liu SH, Lee SY (2004) Impact of Chi-Chi earthquake on the occurrence of landslides and debris flows: example from the Chenyulan River watershed, Nantou, Taiwan. Eng Geol 71(1):49–61

Schuster RL, Alford D (2004) Usoi landslide dam and Lake Sarez, Pamir Mountains, Tajikistan. Environ Eng Geosci 10(2):151–168

Xin HB, Wang YQ (1999) Criteria for earthquake-induced landslide and avalanche. Chin J Geotech Eng 21(5):591–594 (in Chinese)

Xu GQ, Cai ZF, Zhang ZM, Li HQ, Chen FY, Tang ZM (2008) Tectonics and fabric kinematics of the Namche Barwa terrane, Eastern Himalayan Syntaxis. Acta Petrol Sin 24(7):1463–1476 (in Chinese)

Yin A, Harrison TM (2003) Geologic evolution of the Himalayan-Tibetan orogen. Annu Rev Earth Planet Sci 28(28):211–280

Yin FL, Han LB, Jiang CS, Shi YL (2018) Interaction between the 2017 M6.9 Mainling earthquake and the 1950 M8.6 Zayu earthquake and their impacts on surrounding major active faults. Chin J Geophys 61(8):3185-3197 (in Chinese)

Zhang WJ (1985) Some features of the surge glacier in the Mt. Namcha Barwa. Mt Res 3(4):234–238 (in Chinese)

Zhang ZG, Liu YH, Wang TW (1992) Geology of Namcha Barwa areas. Science Press, Beijing (in Chinese)
Funding
This work has been supported by the National Natural Science Foundation of China (Grant No.91747207 and 41790434) and the Research and Demonstration Program of Precise Warning and Emergence Disposal Technologies against geo-hazards in Jiuzhaigou scenic area (Grant No.KJ-2018-23).
About this article
Cite this article
Hu, K., Zhang, X., You, Y. et al. Landslides and dammed lakes triggered by the 2017 Ms6.9 Milin earthquake in the Tsangpo gorge. Landslides 16, 993–1001 (2019). https://doi.org/10.1007/s10346-019-01168-w
Received:

Accepted:

Published:

Issue Date:
Keywords
Coseismic landslides

Dammed lakes

Outburst flood

Debris flow

Milin earthquake