Abstract
Depending on the increase in the world population and climate changes, the number of disasters have increased gradually. To cope with natural hazards, comprehensive disaster management strategies must be developed and implemented. Among the natural hazards, landslides are one of the most harmful and they cause serious economic losses and human deaths throughout the world. To reduce these losses, comprehensive regional landslide susceptibility and hazard assessments must be performed and the mechanism of landslides must be understood clearly. If a landslide inventory database is inaccurate and incomplete both spatially and temporally, assessment of regional landslide susceptibility and hazard includes more or less uncertainties. Consequently, new approaches are needed to reduce or even to eliminate the uncertainties. For this reason, the purposes of the present study are to describe the potential role of Citizen Science (CitSci) in landslide researches and to present a simple and user-friendly mobile app for the collection of the essential data from landslides. It is expected that the use of CitSci in landslide researches would increase and help greatly for the provision of comprehensive data. In addition, the spatial distribution of the data to be collected may be correlated with the human population and the settlement density.
Access options
Buy single article
Instant access to the full article PDF.
US$ 39.95
Tax calculation will be finalised during checkout.
Subscribe to journal
Immediate online access to all issues from 2019. Subscription will auto renew annually.
US$ 79
Tax calculation will be finalised during checkout.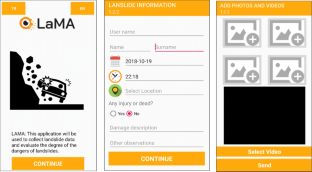 References
Foster C, Pennington CVL, Culshaw MG, Lawrie K (2012) The national landslide database of Great Britain: development, evolution and applications. Environ Earth Sci 66:941–953. https://doi.org/10.1007/s12665-011-1304-5

Gokceoglu C, Sonmez H, Nefeslioglu HA, Duman TY, Can T (2005) The 17 March 2005 Kuzulu landslide (Sivas, Turkey) and landslide-susceptibility map of its near vicinity. Eng Geol 81:65–83

Goodchild M (2007) Citizens as sensors: the world of volunteered geography. GeoJournal 69:211–221

Grahn T, Jaldell H (2017) Assessment of data availability for the development of landslide fatality curves. Landslides 14:1113–1126. https://doi.org/10.1007/s10346-016-0775-6

Haklay M (2013) Citizen science and volunteered geographic information: overview and typology of participation. In: Crowdsourcing geographic knowledge. Springer, pp 105–122. https://doi.org/10.1007/978-94-007-4587-2_7

Holderness T, Turpin E (2017) PetaJakarta.org: assessing the role of social media for civic co-management during monsoon flooding in Jakarta, Indonesia. White paper. SMART infrastructure facility, University of Wollongong ISBN: 978-1-74128-249-8

Jaeger D, Kreuzer T, Wilde M, Bemm S, Terhorst B (2018) A spatial database for landslides in northern Bavana: a methodological approach. Geomorphology 306:283–291. https://doi.org/10.1016/j.geomorph.2015.10.008

Kocaman S, Gokceoglu C (2018a) Possible contributions of citizen science for landslide hazard assessment. Int Arch Photogramm Remote Sens Spat Inf Sci XLII-3/W4:295–300. https://doi.org/10.5194/isprs-archives-XLII-3-W4-295-2018

Kocaman S, Gokceoglu C (2018b) Lessons learned from the recent landslide mitigation efforts: citizen science as a new approach. Workshop on Lessons learned from Volunteers Interactions with Geographic Citizen Science April 27, University College London, U.K.

Kocaman S, Anbaroglu B, Gokceoglu C, Altan O (2018) A review on citizen science (citsci) applications for disaster management. Int Arch Photogramm Remote Sens Spat Inf Sci XLII-3/W4:301–306. https://doi.org/10.5194/isprs-archives-XLII-3-W4-301-2018

Lacasse S, Nadim F, Kalsnes B (2010) Living with landslide risk. Geotechnical Engineering Journal of the SEAGS & AGSSEA 41:4

Landslide EVO (2018) https://www.iiasa.ac.at/web/home/research/researchPrograms/RISK/Landslide-EVO.html. Accessed 10 Feb 2018

Lewis QW, Park E (2018) Volunteered geographic videos in physical geography: data mining from YouTube. Annals of the Assocoaition of American Geographers 108(1):52–70. https://doi.org/10.1080/24694452.2017.1343658

Liang WT, Lee JC, Chen KH, Hsiao NC (2017) Citizen earthquake science in Taiwan: from science to Hazard mitigation. Journal of Disaster Research 12(6):1174–1181. https://doi.org/10.20965/jdr.2017.p1174

Loew S, Gschwind S, Gischig V, Keller-Signer A, Valenti G (2017) Monitoring and early warning of the 2012 Preonzo catastrophic rockslope failure. Landslides 14:141–154. https://doi.org/10.1007/s10346-016-0701-y

Masaba S, Mungai DN, Isabirye M, Nsubuga H (2017) Implementation of landslide disaster risk reduction policy in Uganda. International Journal of Disaster Risk Reduction 24:326–331. https://doi.org/10.1016/j.ijdrr.2017.01.019

NASA Landslide Reporter (2018) https://pmm.nasa.gov/landslides/report.html (21.08.2018)

National Climate Assessment Report (2011) Climate Change Impacts and Responses. NCA Report Series Vol. 5c, April 28-29, Washington D.C., U.S.A.

Nefeslioglu HA, Gokceoglu C (2011) Probabilistic risk assessment in medium scale for rainfall induced earthflows: Catakli catchment area (Cayeli, Rize, Turkey). Math Probl Eng 280431:1–21

Nolasco-Javier D, Kumar L (2018) Deriving the rainfall threshold for shallow landslide early warning during tropical cyclones: a case study in northern Philippines. Nat Hazards 90(2):921–941. https://doi.org/10.1007/s11069-017-3081-2

Ocakoglu F, Gokceoglu C, Ercanoglu M (2002) Dynamics of a complex mass movement triggered by heavy rainfall: a case study from NW Turkey. Geomorphology 42(3):329–341. https://doi.org/10.1016/S0169-555X(01)00094-0

OGC (2018) http://www.opengeospatial.org/docs/is (21.08.2018)

Research Councils UK (2018) http://gtr.rcuk.ac.uk/projects?ref=NE%2FP000452%2F1 Accessed 10 Feb 2018

Rosser B, Dellow S, Haubrock S, Glassey P (2017) New Zealand's national landslide database. Landslides 14:1949. https://doi.org/10.1007/s10346-017-0843-6

Saemundsson T, Morino C, Kristinn HJ, Conway SJ, Pétursson HG (2018) The triggering factors of the Móafellshyrna debris slide in northern Iceland: intense precipitation, earthquake activity and thawing of mountain permafrost. Sci Total Environ 621:1163–1175. https://doi.org/10.1016/j.scitotenv.2017.10.111

Salvati P, Petrucci O, Rossi M, Bianchi C, Pasqua AA, Guzzetti F (2018) Gender, age and circumstances analysis of flood and landslide fatalities in Italy. Sci Total Environ 610-611:867–879

Samodra G, Chen G, Sartohadi J, Kasama K (2018) Generating landslide inventory by participatory mapping: an example in Purwosari Area, Yogyakarta, Java. Geomorphology 306:306–313. https://doi.org/10.1016/j.geomorph.2015.07.035

See L, Mooney P, Foody G, Bastin L, Comber A, Estima J, Fritz S, Kerle N, Jiang B, Laakso M, Liu HY, Milčinski G, Nikšič M, Painho M, Pődör A, Olteanu-Raimond AM, Rutzinger M (2016) Crowdsourcing, citizen science or volunteered geographic information? The Current State of Crowdsourced Geographic Information. ISPRS Int J Geo-Inf 5:55

Stephens M, Lowry JH, Ram AR (2018) Location-based environmental factors contributing to rainfall-triggered debris flows in the Ba river catchment, northwest Viti Levu island, Fiji. Landslides 15:145. https://doi.org/10.1007/s10346-017-0918-4

USGS Landslide Hazard Program (2018) https://landslides.usgs.gov/. Accessed 10 Feb 2018

Valenzuela P, Domínguez-Cuesta MJ, García MAM, Jiménez-Sánchez M (2017) A spatio-temporal landslide inventory for the NW of Spain: BAPA database. Geomorphology 293:11–23. https://doi.org/10.1016/j.geomorph.2017.05.010

Zook M, Graham M, Shelton T, Gorman S (2010) Volunteered geographic information and crowdsourcing disaster relief: a case study of the Haitian earthquake. World Medical & Health Policy 2(2):Art. 2. https://doi.org/10.2202/1948-4682.1069
Acknowledgements
The authors gratefully acknowledge Fatih Dokumaci and Gulcihan Buyukdemircioglu for their help in the development of the mobile app.
About this article
Cite this article
Kocaman, S., Gokceoglu, C. A CitSci app for landslide data collection. Landslides 16, 611–615 (2019). https://doi.org/10.1007/s10346-018-1101-2
Received:

Accepted:

Published:

Issue Date:
Keywords
Landslide

Inventory

VGI

Citizen Science

CitSci

LaMA