Abstract
After the deadly Ms 8.0 Wenchuan earthquake, the Wenjiagou landslide produced steep topography, a narrow gully and abundant loose sediments; these factors have contributed to the high debris flow risk in the Wenjiagou area during subsequent rainy seasons. At least five debris flows have occurred in the Wenjiagou area between September 24, 2008, and September 18, 2010, which resulted in seven casualties and an economic loss of approximately 446 million RMB. To reduce the risk of debris flows and landslides, the Wenjiagou Valley Debris Flow Control Project (WVDFCP), which cost over 2 billion RMB, was carried out and completed in 2011. The control measures of the project effectively reduced the scale and damage of the following debris flows. In this paper, the recent deformation of the giant landslide and its effect on the WVDFCP are evaluated by applying a time-series interferometric synthetic aperture radar (InSAR) technique based on distributed scatterers (DSs) to the Radardat-2 SAR data collected from June 2014 to September 2015. In addition, the experimental results show that most areas of the landslide are stable, with an average deformation rate of less than 5.0 mm/year. The results demonstrate that the control measures of the WVDFCP not only reduced the damage caused by the later debris flows but also contributed to the consolidation of the loose sediments in the Wenjiagou landslide area. The time-series InSAR technique based on the DSs of high-resolution SAR images is an important tool for deformation monitoring of earthquake-induced landslides.
Access options
Buy single article
Instant access to the full article PDF.
USD 39.95
Price excludes VAT (USA)
Tax calculation will be finalised during checkout.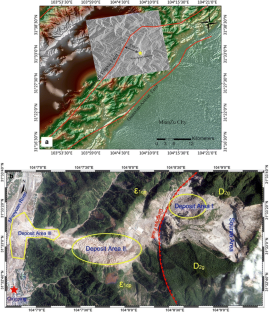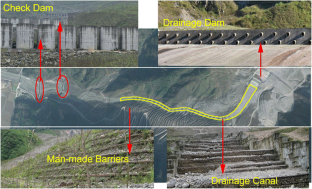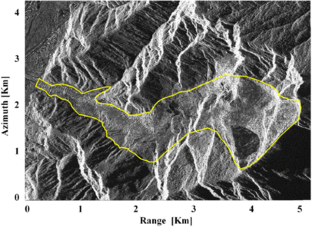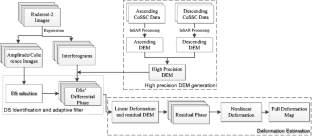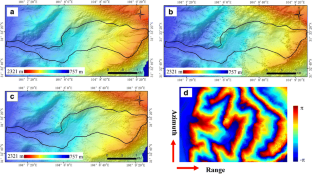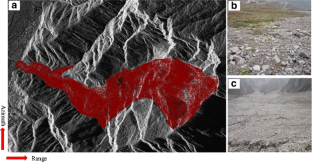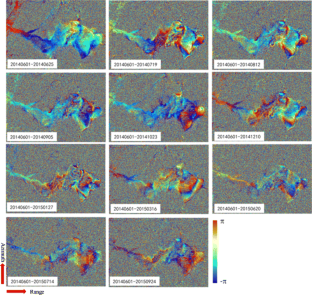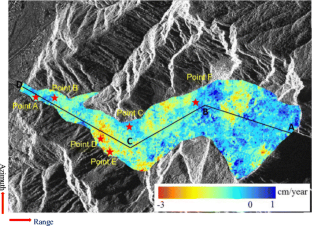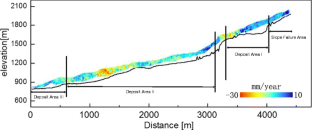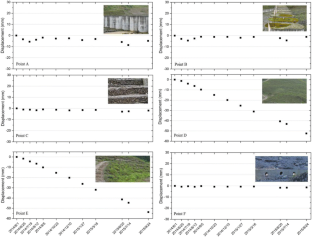 References
Bonì R, Pilla G, Meisina C (2016) Methodology for detection and interpretation of ground motion areas with the A-DInSAR time series analysis. Remote Sens 8(8):686. https://doi.org/10.3390/rs8080686

Chen F, Lin H, Yeung K, Cheng S (2010) Detection of slope instability in Hong Kong based on multi-baseline differential SAR interferometry using ALOS PALSAR data. GISci Remote Sens 47:208–220

Cigna F, Bianchini S, Casagli N (2013) How to assess landslide activity and intensity with Persistent Scatterer Interferometry (PSI): the PSI-based matrix approach. Landslides 10:267–283. https://doi.org/10.1007/s10346-012-0335-7

Colesanti C, Wasowski J (2006) Investigating landslides with space-borne synthetic aperture radar (SAR) interferometry. Eng Geol 88:173–199

Colesanti C, Ferretti A, Prati C, Rocca F (2003) Monitoring landslides and tectonic motions with the Permanent Scatterers technique. Eng Geol 68:3–14

Cruden DM, Varnes DJ (1996) Landslide types and processes. In: Turner AK, Schuster RL (eds) Landslides: investigation and mitigation, Special Report. Transportation Research Board, National research Council, vol 247. National Academy Press, Washington DC, pp 36–75

Dai FC, Xu C, Yao X, Xu L, Tu XB, Gong QM (2011) Spatial distribution of landslides triggered by 2008 Ms 8.0 Wenchuan earthquake, China. J Asian Earth Sci 40(4):883–895. https://doi.org/10.1016/j.jseaes.2010.04.010

Ferretti A, Fumagalli A, Novali F, Prati C, Rocca F, Rucci A (2011) A new algorithm for pro-cessing interferometric data-stacks: Squeesar. IEEE Trans Geosci Remote Sens 49(9):3460–3470

Fruneau B, Achache J, Delacourt C (1996) Observation and modelling of the Saint-Étienne-de-Tinée landslide using SAR interferometry. Tectonophysics 265(3–4):181–190

Goel K, Adam N (2014a) A distributed scatterer interferometry approach for precision monitoring of known surface deformation phenomena. IEEE Trans Geosci Remote Sens 52(9):5454–5468

Goel K, Adam N (2014b) Fusion of monostatic/bistatic InSAR stacks for urban area analysis via distributed scatterers. IEEE Geosci Remote Sens Lett 11(4):733–737

Hooper A, Bekaert D, Spaans K, Arıkan M (2012) Recent advances in SAR interferometry time series analysis for measuring crustal deformation. Tectonophysics 514:1–13

Huang RQ, Li WL (2009) Analysis of the geo-hazards triggered by the 12 May 2008 Wenchuan earthquake. China Bull Eng Geol Environ 68:363–371

Krieger G, Moreira A, Fiedler H, Hajnsek I, Werner M, Younis M (2007) TanDEM-X: a satellite formation for high-resolution SAR interferometry. IEEE Trans Geosci Remote Sens 45(11):3317–3341

Michoud C, Baumann V, Lauknes TR, Penna I, Derron M-H, Jaboyedoff M (2016) Large slope deformations detection and monitoring along shores of the Potrerillos dam reservoir, Argentina, based on a small-baseline InSAR approach. Landslides 13:451–465. https://doi.org/10.1007/s10346-015-0583-4

Parizzi A, Brcic R (2011) Adaptive InSAR stack multilooking exploiting amplitude statistics: a comparison between different techniques and practical results. IEEE Trans Geosci Remote Sens 8(3):441–445

Perissin D, Wang T (2012) Repeat-pass SAR interferometry with partially coherent targets. IEEE Trans Geosci Remote Sens 50(1):271–280

Qi X, Xu Q, Yu B, Dong Xj, Yin GL (2016) Treatment effects in Wenjia gully, Wenchuan earthquake area. Geol Sci Technol Inf 35(1):161–165

Righini G, Pancioli V, Casagli N (2012) Updating landslide inventory maps using Persistent Scatterer Interferometry (PSI). Int J Remote Sens 33:2068–2096

Rossi C, Gernhardt S (2013) Urban DEM generation, analysis and enhancements using TanDEM-X. ISPRS J Photogramm Remote Sens 85:120–131

Rossi C, Gonzalez FR, Fritz T, Martinez NY, Eineder M (2012) TanDEM-X calibrated raw DEM generation. ISPRS J Photogram Remote Sens 73:12–20

Scaioni M (2013) Remote sensing for landslide investigations: from research into practice. Remote Sens 5:5488–5492. https://doi.org/10.3390/rs5115488

Sun Q, Zhang L, Ding X, Hu J, Liang H (2014) Investigation of slow-moving landslides from ALOS/PALSAR images with TCPInSAR: a case study of Oso, USA. Remote Sens 7:72–88

Tang Y, Zhang Z, Wang C, Zhang H, Wu F, Liu M (2015) Characterization of the giant landslide at wenjiagou by the InSAR technique using TSX-TDX CoSSC data. Landlides 12(5):1015–1021. https://doi.org/10.1007/s10346-015-0616-z

Tomás R, Romero R, Mulas J, Marturià JJ, Mallorquí JJ, López-Sánchez JM, Herrera G, Gutiérrez F, González PJ, Fernández J, Duque S, Concha-Dimas A, Cocksley G, Castañeda C, Carrasco D, Blanco P (2014) Radar interferometry techniques for the study of ground subsidence phenomena: a review of practical issues through cases in Spain. Environ Earth Sci 71(1):163–181

Wang C, Zhang Z, Zhang H, Tang Y (2015) Multi-temporal InSAR analysis of Wenjiagou landslide using distributed scatterers. Proceedings of FRINGE'15. ESA Publication SP-731. https://doi.org/10.5270/Fringe2015.141

Wu T, Wang C, Zhang H, Tang YX, Tian L (2008) Deformation retrieval in large areas based on multibaseline DInSAR Algrithm: a case study in Cangzhou, northern China. Int J Remote Sens 29(11–12):3633–3655

Xie H, Wang S, Kong J (2008) Distribution and characteristics of mountain hazards induced by the earthquake of May 12 in Wenchuan, China. J Mt Sci 26:501–509

Xu Q, Pei XJ, Huang RQ (2009) Large-scale landslides induced by the Wenchuan earthquake (in Chinese). Science Press, Beijing, pp 381–406

Yu B, Yu M, Wu Y (2010) Investigation of severe debris flow hazards in Wenjia gully of Sichuan province after Wenchuan earthquake. J Eng Geol 18(6):827–836

Yu B, Ma Y, Wu Y (2013) Case study of a giant debris flow in the Wenjia gully, Sichuan province, China. Nat Hazards 65(1):835–849. https://doi.org/10.1007/s11069-012-0395-y

Zhang L, Lu Z, Ding X, Jung H-s, Feng G, Lee C-W (2012) Mapping ground surface deformation using temporarily coherent point SAR interferometry: application to Los Angeles Basin. Remote Sens Environ 117:429–439

Zhang ZJ, Tang YX, Zhang H Wang C.(2014) Phase estimation for distributed scatterer INSAR: a comparison between different methods. Proceedings of EUSAR 2014, Berlin, Germany

Zhang ZJ, Wang C, Tang YX, Zhang H, Fu QY (2015) Analysis of ground subsidence at a coal-mining area in Huainan using time-series InSAR. Int J Remote Sens 36(23):5790–5810. https://doi.org/10.1080/01431161.2015.1109725

Zhou JW, Cui P, Yang XG, Su ZM, Guo XJ (2013) Debris flows introduced in landslide deposits under rainfall conditions: the case of Wenjiagou gully. J Mt Sci 10(2):249–226. https://doi.org/10.1007/s11629-013-2492-0
Acknowledgements
We would like to thank the Deutsches Zentrum für Luft- und Raumfahrt (DLR) for the provision of CoSSC experimental data sets (XTI_GEOL0732). We also thank those anonymous reviewers for their valuable comments on an earlier version of the manuscript.
Funding
This work was supported by the National Natural Science Foundation of China under Grants 41271425 and 41331176.
About this article
Cite this article
Tang, Y., Zhang, Z., Wang, C. et al. The deformation analysis of Wenjiagou giant landslide by the distributed scatterer interferometry technique. Landslides 15, 347–357 (2018). https://doi.org/10.1007/s10346-017-0917-5
Received:

Accepted:

Published:

Issue Date:

DOI: https://doi.org/10.1007/s10346-017-0917-5
Keywords
Wenchuan earthquake

Wenjiagou landslide

InSAR

Distributed scatterer

Engineering measures