Abstract
At 5:38 am on the 24th June, 2017, a catastrophic rock avalanche destroyed the whole village of Xinmo, in Maoxian County, Sichuan Province, China. About 4.3 million m3 of rock detached from the crest of the mountain, gained momentum along a steep hillslope, entrained a large amount of pre-existing deposits, and hit the village at a velocity of 250 km/h. The impact produced a seismic shaking of ML = 2.3 magnitude. The sliding mass dammed the Songping gully with an accumulation body of 13 million m3. The avalanche buried 64 houses; 10 people were killed and 73 were reported missing. The event raised great concerns both in China and worldwide. Extensive field investigation, satellite remote sensing, UAV aerial photography, and seismic analysis allowed to identify the main kinematic features, the dynamic process, and the triggering mechanism of the event. With the aid of ground-based synthetic aperture radar monitoring, the hazard deriving from potential further instabilities in the source area has been assessed. The preliminary results suggest that the landslide was triggered by the failure of a rock mass, which had been already weakened by the Ms 7.5 Diexi earthquake in 1933. Several major earthquakes since then, and the long-term effect of gravity and rainfall, contributed to the mass failure. The high elevation, slope angle, and vegetation cover in the source area hinder geological field investigation and make hazard assessment difficult. Nonetheless, monitoring and prevention of similar collapses in mountainous areas must be carried out to protect human lives and infrastructures. To this aim, the integrated use of modern high-precision observation technologies is strongly encouraged.
Access options
Buy single article
Instant access to the full article PDF.
US$ 39.95
Tax calculation will be finalised during checkout.
Subscribe to journal
Immediate online access to all issues from 2019. Subscription will auto renew annually.
US$ 79
Tax calculation will be finalised during checkout.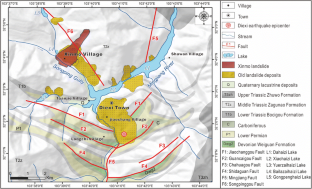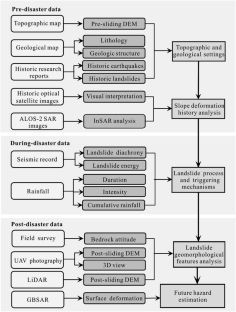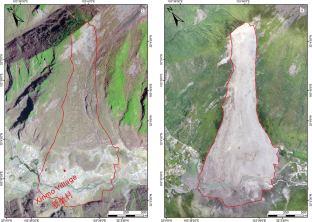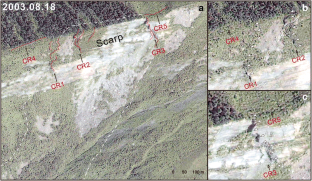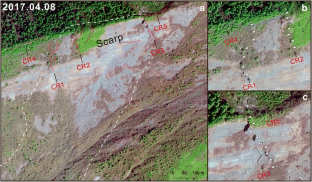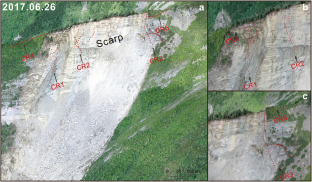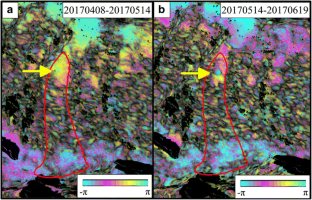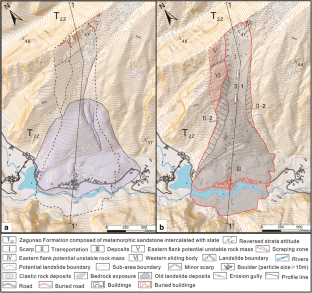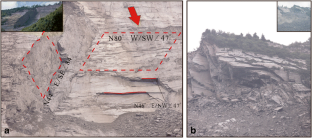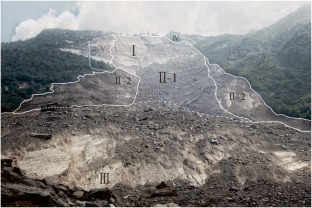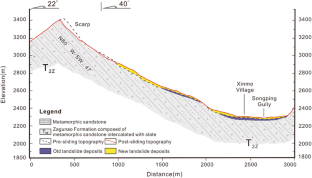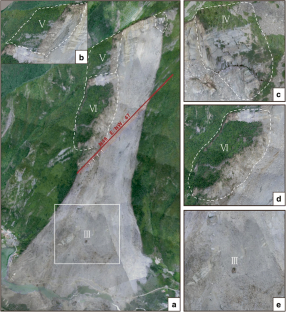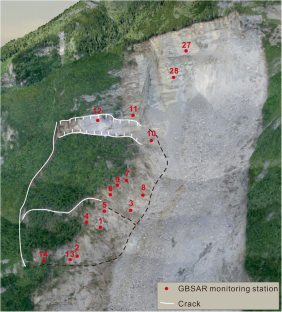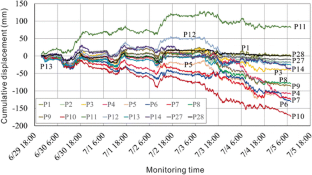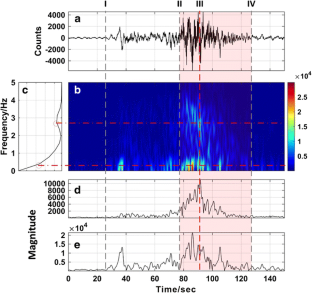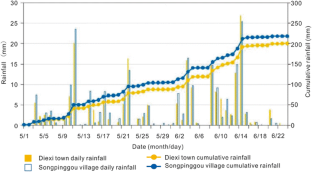 References
Allstadt K (2013) Extracting source characteristics and dynamics of the August 2010 Mount Meager landslide from broadband seismograms. J Geophys Res Earth Surf 118(3):1472–1490. https://doi.org/10.1002/jgrf.20110

Bromhead EN (2013) Reflections on the residual strength of clay soils, with special reference to bedding-controlled landslides. The Twelfth Glossop Lecture Q J Eng Geol Hydrogeol. https://doi.org/10.1144/qjegh2012-078

Chai HJ, Liu HC, Zhang ZY (1995) Landslide dams induced by Diexi earthquake in 1933 and its environmental effect. J Geol Hazards Environ Preserv 6(1):7–17 (in Chinese)

Chao WA et al (2017) A first near real-time seismology based landquake monitoring system. Sci Rep 7:43510. https://doi.org/10.1038/srep43510

Chen CH et al (2013) A seismological study of landquakes using a real-time broadband seismic network. Geophys J Int 194(2):885–898. https://doi.org/10.1093/gji/ggt121

Coe JA et al (2016) Rock-avalanche dynamics revealed by large-scale field mapping and seismic signals at a highly mobile avalanche in the West Salt Creek valley, western Colorado. Geosphere 12(2):607–631. https://doi.org/10.1130/GES01265.1

COMET (2014) (Center for Observation & Modelling earthquakes, volcanoes & Tectonic) (2017) Sentinel-1 satellites reveal pre-event movements and source areas of the Maoxian landslides, China[EB/OL]. http://comet.nerc.ac.uk/sentinel-1-satellites-reveal-pre-event-movements-source-areas-maoxian-landslides-china/?platform=hootsuite. 29 June 2017

Cruden DM, Varnes DJ (1996) Landslide types and processes. In: Turner AK, Schuster RL (eds) Landslides investigation and mitigation. Transportation research board, US National Research Council. Special Report 247, Washington, DC, (3)36–75

Deng B, Liu S, Liu S, Jansa L, Li Z, Zhong Y (2013) Progressive Indosinian N-S deformation of the Jiaochang structure in the Songpan-Ganzi Fold-Belt, Western China. PLoS One 8(10):e76732. https://doi.org/10.1371/journal.pone.0076732

Ekström G, Stark CP (2013) Simple scaling of catastrophic landslide dynamics. Science 339(6126):1416–1419. https://doi.org/10.1126/science.1232887

Fan X, Huang R (2013) The landslide story. Nat Geosci 6(5):325–326. https://doi.org/10.1038/ngeo1806

Huang R (2009) Some catastrophic landslides since the twentieth century in the southwest of China. Landslides 6(1):69–81. https://doi.org/10.1007/s10346-009-0142-y

Huang R, Li W (2009) Analysis of the geo-hazards triggered by the 12 May 2008 Wenchuan earthquake. China Bull Eng Geol Environ 68:363–371. https://doi.org/10.1007/s10064-009-0207-0

Huang R, Wang Z, Pei S, Wang Y (2009) Crustal ductile flow and its contribution to tectonic stress in Southwest China. Tectonophysics 473(3):476–489. https://doi.org/10.1016/j.tecto.2009.04.001

Hungr O, Leroueil S, Picarelli L (2014) The Varnes classification of landslide types, an update. Landslides 11(2):167–194. https://doi.org/10.1007/s10346-013-0436-y

Jones LM, Han WB, Hauksson E, Jin A, Zhang Y, Luo Z (1984) Focal mechanisms and aftershock locations of the Songpan earthquakes of August 1976 in Sichuan, China. J Geophys Res 89(9):7697–7708

Koi T, Hotta N, Ishigaki I et al (2008) Prolonged impact of earthquake-induced landslides on sediment yield in a mountain watershed: the Tanzawa region, Japan. Geomorphology 101:692–702. https://doi.org/10.1016/j.geomorph.2008.03.007

Korup O (2005) Large landslides and their effect on sediment flux in South Westland, New Zealand. Earth Surf Process Landf 30:305–323. https://doi.org/10.1002/esp.1143

Li SB, Lee SP (1954) On the application of seismic scales. Chin J Sin 3(01):35–54 (In Chinese with English abstract)

Li TC, Schuster RL, Wu JS (1986) Landslide dams in south-central China. In: Schuster RL (ed) Landslide dams-processes, risk, and mitigation: American Society of Civil Engineers Geotechnical Special Publication 3:146–162

Li C, Xu W, Wu J, Gao M (2016) Using new models to assess probabilistic seismic hazard of the North–South Seismic Zone in China. Nat Hazards 82(1):659–681. https://doi.org/10.1007/s11069-016-2212-5

Lin CH (2015) Insight into landslide kinematics from a broadband seismic network. Earth Planets Space 67(1):1–6. https://doi.org/10.1186/s40623-014-0177-8

Lin CH, Kumagai H, Ando M, Shin TC (2010) Detection of landslides and submarine slumps using broadband seismic networks. Geophys Res Lett 37:L22309. https://doi.org/10.1029/2010GL044685

Lin CH, Jan JC, Pu HC, Tu Y, Chen CC, Wu YM (2015) Landslide seismic magnitude. Earth Planet Sci Lett 429:122–127. https://doi.org/10.1016/j.epsl.2015.07.068

Ling S (2015) Landslide damming in Western Sichuan Province, China, with special reference to the 1786 Dadu River and 1933 Diexi events. M.Sc. Thesis, University of Waterloo, Ontario, Canada, 99 pp., https://uwspace.uwaterloo.ca/handle/10012/9496

Manconi A, Picozzi M, Coviello V, De Santis F, Elia L (2016) Real-time detection, location, and characterization of rockslides using broadband regional seismic networks. Geophys Res Lett 43:6960–6967. https://doi.org/10.1002/2016GL069572

Tang R, Wen D, Huang Z (1991) The quaternary activity characteristics of several major active faults in the Songpan Longmenshan region. Earthq Res China 7(3):64–71 (In Chinese)

Tang C, Zhu J, Li WL, Liang JT (2009) Rainfall-triggered debris flows following the Wenchuan earthquake. Bull Eng Geol Environ 68:187–194. https://doi.org/10.1007/s10064-009-0201-6

Tian B, et al. (2017) Mapping Thermokarst Lakes on the Qinghai–Tibet plateau using nonlocal active contours in Chinese GaoFen-2 multispectral imagery. IEEE Journal of selected topics in Applied Earth Observations and Remote Sensing. https://doi.org/10.1109/JSTARS.2017.2666787

TRE ALTAMIRA (2017) Data in Focus: Precursor of Maoxian Landslide Measured from Space[EB/OL]. http://tre-altamira.com/news/data-focus-precursor-maoxian-landslide-measured-space/. 2017–06-29

Wang LS, Yang LZ, Li TB, Xu XN, Wang XQ, Cui J (2008) Diexi earthquake-induced landslide, Min River, Sichuan Province (1933). In: Huang R, Xu Q (eds) Catastrophic landslides in China 57–93. Science Press, Beijing ISBN: 9787030223500 (In Chinese)

Wang Y, Huang R, Luo Y, Xu H (2011) The genetic mechanism of the Wenchuan earthquake. J Mt Sci 8(2):336–344. https://doi.org/10.1007/s11629-011-2096-5

Wei X, Chen N, Cheng W, He N, Deng M, Tanoli JI (2014) Long-term activity of earthquake-induced landslides: a case study from Qionghai Lake basin, Southwest of China. J Mt Sci 11(3):607–624. https://doi.org/10.1007/s11629-013-2970-4

Xu X, Wen X, Yu G, Chen G, Klinger Y, Hubbard J, Shaw J (2009) Coseismic reverse- and oblique-slip surface faulting generated by the 2008 Mw 7.9 Wenchuan earthquake, China. Geology 37(6):515–518. https://doi.org/10.1130/G25462A.1

Xu Q, Fan X, Huang R, Yin Y, Hou S, Dong X, Tang M (2010) A catastrophic rockslide-debris flow in Wulong, Chongqing, China in 2009: background, characterization, and causes. Landslides 7(1):75–87

Xu Q, Li WL, Dong XJ, Xiao XX, Fan XM, Pei XJ (2017) The Xinmocun landslide on June 24, 2017 in Diexi, Maoxian, Sichuan. characteristics and failure mechanism, 2017, Chinese Journal of Rock Mechanics and Engineering (accepted, In Chinese)

Yamada M, Matsushi Y, Chigira M, Mori J (2012) Seismic recordings of landslides caused by typhoon Talas (2011), Japan. Geophys Res Lett 39(39):342–343. https://doi.org/10.1029/2012GL052174

Yin Y, Cheng Y, Liang J, Wang W (2016) Heavy-rainfall-induced catastrophic rockslide-debris flow at Sanxicun, Dujiangyan, after the Wenchuan Ms 8.0 earthquake. Landslides 13(1):9–23. https://doi.org/10.1007/s10346-015-0554-9

Yu B, Wu Y, Chu S (2014) Preliminary study of the effect of earthquakes on the rainfall threshold of debris flows. Eng Geol 182(B):130–135. https://doi.org/10.1016/j.enggeo.2014.04.007

Zhang M, Yin Y (2013) Dynamics, mobility-controlling factors and transport mechanisms of rapid long-runout rock avalanches in China. Eng Geol 167(12):37–58. https://doi.org/10.1016/j.enggeo.2013.10.010

Zhang D, Wang G, Yang T, Zhang M, Chen S, Zhang F (2013) Satellite remote sensing-based detection of the deformation of a reservoir bank slope in Laxiwa Hydropower Station, China. Landslides 10(2):231–238. https://doi.org/10.1007/s10346-012-0378-9
Acknowledgements
After the occurrence of the June 24th Xinmo Village landslide, the State Council, the Ministry of Land and Resources and various governmental departments at all levels in Sichuan Province immediately devoted their efforts into the emergency rescue operations, secondary hazard relief and geological surveying and monitoring. The preliminary results presented in this paper would not be achieved without a quick data acquisition, which has been facilitated greatly by the efforts of many staff members in different departments, to whom we express our sincere appreciation. We thank the Sichuan Provincial Surveying and Mapping Geographic Information Bureau, the High-resolution Earth Observation System Sichuan Data and Application Center, the Sichuan Shu Tong Geotechnical Engineering Company, the Beijing Digital Greenfield Technology Co. Ltd. and other units for the basic data collection. We express our gratitude to Prof. Yueping Yin from China Geological Environment Monitoring Institute, to Prof. Xiao Li from China Geological Survey, to Prof. Zhenhong Li from Newcastle University, to Prof. Lu Zhang and Prof. Mingsheng Liao from Wuhan University, to Prof. Qin Zhang from Chang'an University, to Prof. Shizhong Hong from Chengdu Earthquake Prevention and Hazard Mitigation Bureau, to Dr. Xinghui Huang from China Earthquake Networks Center to Prof. Yong Li from Chengdu University of Technology, to Prof. Chong Xu from Institute of Geology, China Earthquake Administration, for providing valuable information at the earliest time. We express sincere thanks to Dr. Yanan Jiang, Dr. Jing Ran, Xianxuan Xiao, Weiwei Zhan, Jing Ren, Yuanzhen Ju, Chen Guo, and other postgraduate students from Chengdu University of Technology for their hard work on the UAV aerial photography, GBSAR monitoring and other field work.
Funding
This research is financially supported by National Science Fund for Distinguished Young Scholars of China (Grant No. 41225011), the Funds for Creative Research Groups of China (Grant No. 41521002), National Science Fund for Outstanding Young Scholars of China (Grant No. 41622206), the AXA Fund.
About this article
Cite this article
Fan, X., Xu, Q., Scaringi, G. et al. Failure mechanism and kinematics of the deadly June 24th 2017 Xinmo landslide, Maoxian, Sichuan, China. Landslides 14, 2129–2146 (2017). https://doi.org/10.1007/s10346-017-0907-7
Received:

Accepted:

Published:

Issue Date:
Keywords
Rock avalanche

Landslide

Diexi earthquake

Failure mechanism

UAV and InSAR