Abstract
Two neighboring countries in the southeastern region of Europe, Croatia, and Bosnia and Herzegovina (BIH), belong to the same geotectonic units of the Dinarides and to the Pannonian Basin, which influence relief types, lithology, and types of slope movements, i.e., landslides. The Dinarides are a mountain chain with a northwest-southeast direction that span from Slovenia through Croatia, BIH and Montenegro to Albania. The Pannonian Basin is situated within the Alpine, Carpathian, and Dinaric mountain belts at the boundary between Central and Southeastern Europe. The paper describes the general geological and geomorphological conditions in the Dinarides and the European Pannonian Basin in Croatia and BIH that are preparatory causal factors for landslides in the following environments: the hills of the Istrian Peninsula and Rječina River Valley; hills, low- and mid-altitude mountains in the Dinarides; and lowlands and hills in the Pannonian Basin. Landslide types, dimensions, and activities in the described areas are related to natural conditions primarily influenced by tectonic evolution and by recent anthropogenic processes, e.g., urbanization. More detailed descriptions are provided for the following selected phenomena, which are interesting because of the associated damage and potential risk: translational block landslide Brus and erosion phenomena on the Istrian Penninsula; relict and historical large, deep-seated landslides in the Rječina River Valley, including the recently reactivated Grohovo and Valići Landslides; catastrophic landslides triggered by precipitation during Cyclone Tamara in BIH (2014) (the Mačkovac-Šerići Landslide, Mjestova Ravan Landslide, Kosova Landslide, and Lukavica Landslide); and a large, deep-seated landslide in urban area of Zagreb, the Kostanjek Landslide. Recent rainfall triggering conditions of landslides in Croatia (2013) and BIH (2014) are also specified to emphasize the landslide risk and necessity of landslide risk management. The conclusions of the paper also note historical and potential damage due to landslide reactivations together with the spatial distribution of landslide-prone areas, which requires landslide mapping in the form of landslide inventory, susceptibility, hazard, and risk maps.
This is a preview of subscription content, log in to check access.
Access options
Buy single article
Instant access to the full article PDF.
US$ 39.95
Price includes VAT for USA
Subscribe to journal
Immediate online access to all issues from 2019. Subscription will auto renew annually.
US$ 99
This is the net price. Taxes to be calculated in checkout.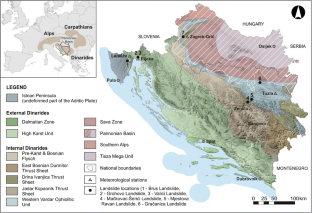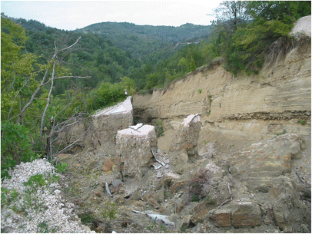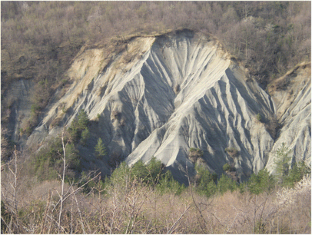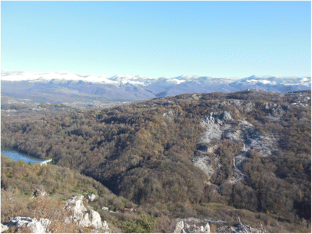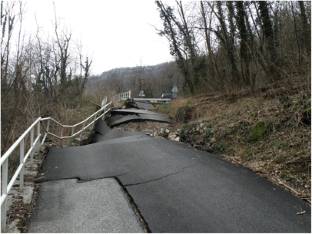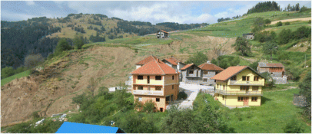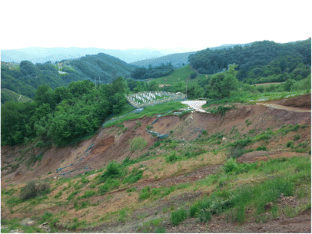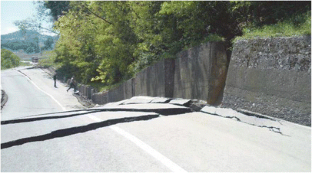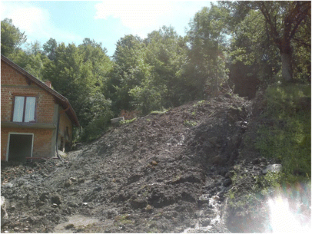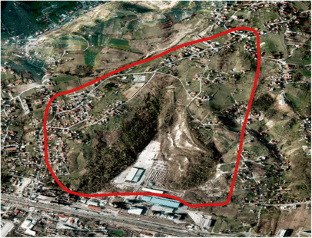 References
Abolmasov B (2016) Landslide risk management study in Bosnia and Herzegovina. United Nations Developing Programme Publications, Belgrade, p 82. http://www.ba.undp.org/content/bosnia_and_herzegovina/bs/home/library/environment_energy/landslide-risk-management-study-in-bh.html. Accessed 4 January 2017 (in Serbian)

Anon. (2011) Recovery of the Rječina River Channel. Croatian State Archive, Rijeka (unpublished)

Arbanas Ž, Benac Č, Jurak V (2006) Causes of debris flow formation in flysch area of North Istria, Croatia. In: De Lorenzini EG, Brebbia CA (eds) Monitoring, simulation, prevention and remediation of dense and debris flows. WIT Transaction on Ecology and the Environment, Southampton, pp 283–292

Arbanas Ž, Mihalić S, Grošić M, Dugonjić S, Vivoda M (2010) Landslide Brus, translational block sliding in flysch rock mass. In: Zhao J, Labiouse V, Dudt J-P, Mathier J-P (eds) Rock mechanics in civil and environmental engineering. Taylor & Francis Group, London, pp 635–638

Arbanas Ž, Sassa K, Marui H, Mihalić S (2012) Comprehensive monitoring system on the Grohovo landslide, Croatia. In: Eberhardt E, Froese C, Turner K, Leroueil S (eds) Proceedings of the 11th International and 2nd north American symposium on landslides: landslides and engineered slopes. Protecting Society through Improved Understanding. CRC Press, New York, pp 1441–1447

Arbanas Ž, Dugonjić S, Benac Č (2013) Causes of small scale landslides in flysch deposits of Istria, Croatia. In Margottini C, Canuti P, Sassa K (eds) Landslide science and practice, Volume 1: Landslide inventory and susceptibility and hazard zoning. Springer-Verlag Berlin Heidelberg, pp 221–226. https://doi.org/10.1007/978-3-642-31325-7-29

Arbanas Ž, Mihalić Arbanas S, Vivoda M, Peranić J, Dugonjić Jovančević S, Jagodnik V (2014) Identification, monitoring and simulation of landslides in the Rječina River Valley, Croatia. In: Sassa K, Khang QD (eds) Proceedings of the SATREPS workshop on landslide risk assessment technology. International Consortium on Landslides, Kyoto, pp 200–213

Arbanas Ž, Mihalić Arbanas S, Vivoda Prodan M, Peranić J, Dugonjić Jovančević S, Jagodnik V (2017a) Landslide comprehensive monitoring system: the Grohovo landslide case study, Croatia. In: Sassa K et al (eds) Landslide dynamics: ISDR-ICL landslide interactive teaching tools. Springer, Heidelberg, pp 1–20 (In press)

Arbanas Ž, Mihalić Arbanas S, Vivoda Prodan M, Peranić J, Sečanj M, Bernat Gazibara S, Krkač M (2017b) Preliminary investigations and numerical simulations of a landslide reactivation. In: Mikoš M, Tiwari B, Yin Y, Sassa K (eds) Advancing culture of living with landslides, 2: Advances in landslide science. Springer International Publishing AG, Switzerland, Cham, pp 649–657. https://doi.org/10.1007/978-3-319-53498-5_75

Babić F, Begić H, Sorić I, Belić N, Sokolić Ž (2017) Categorization of landslides in the municipality of Vogošća activated in May 2014. In: Abolmasov B, Marjanović M, Đurić U (eds) Proceedings of the 2nd Regional Symposium on landslides in the Adriatic-Balkan Region. University of Belgrade, Faculty of Mining and Geology, Belgrade, pp 233–238

Bašagić M, Spahić A (2017) Kosova landslide – atypical sanation. In: Abolmasov B, Marjanović M, Đurić U (eds) Proceedings of the 2nd Regional Symposium on landslides in the Adriatic-Balkan Region. University of Belgrade, Faculty of Mining and Geology, Belgrade, pp 85–87

Benac Č, Arbanas Ž, Jurak V, Oštrić M, Ožanić N (2005) Complex landslide in the Rječina River valley (Croatia): origin and sliding mechanism. Bull Eng Geol Environ 64(4):361–371

Benac Č, Dugonjić S, Vivoda M, Oštrić M, Arbanas Ž (2011) A complex landslide in the Rječina Valley: results of monitoring 1998-2010. Geologia Croatica 64(3):239–249

Benac Č, Oštrić M, Dugonjić Jovančević S (2014) Geotechnical properties in relation to grain-size and mineral composition: the Grohovo landslide case study (Croatia). Geologia Croatica 67(2):127–136

Bergant S, Tišljar J, Šparica M (2003) Eocen carbonates and flysch deposits of the Pazin basin. In: Vlahović I, Tišljar J (eds) Field trip guidebook of the 22nd IAS meeting of sedimentology. Croatian Geological Survey, Zagreb, pp 57–64

Bernat Gazibara S, Krkač M, Sečanj M, Begić H, Mihalić Arbanas S (2017a) Extreme rainfall events and landslide activation in Croatia and Bosnia and Herzegovina. In: Proceedings of the 3rd Regional Symposium on Landslides in the Adriatic-Balkan Region. Ljubljana, Slovenia. (In press)

Bernat Gazibara S, Krkač M, Sečanj M, Mihalić Arbanas S, (2017b) Identification and mapping of shallow landslides in the City of Zagreb (Croatia) using the LiDAR-based terrain model. In: Mikoš M, Tiwari B, Yin Y, Sassa K (eds) Advancing culture of living with landslides, volume 2: advances in landslide science. Springer International Publishing AG, Switzerland, Cham, pp 1093-a. https://doi.org/10.1007/978-3-319-53498-5_124

Bernat Gazibara S, Mihalić Arbanas S, Krkač M, Sečanj M (2017c) Catalog of precipitation events that triggered landslides in northwestern Croatia. In: Abolmasov B, Marjanović M, Đurić U (eds) Proceedings of the 2nd Regional Symposium on landslides in the Adriatic-Balkan Region. University of Belgrade, Faculty of Mining and Geology, Belgrade, pp 103–107

Bernat S, Mihalić Arbanas S, Krkač M (2014a) Landslides triggered in the continental part of Croatia by extreme precipitation in 2013. In: Lollino G, Giordan D, Crosta G, Corominas, Azzam R, Wasowski J, Sciarra N (eds) Engineering geology for society and territory, volume 2: landslide processes. Springer, Heidelberg, pp 1599–1603

Bernat S, Mihalić Arbanas S, Krkač M (2014b) Inventory of precipitation triggered landslides in the winter of 2013 in Zagreb (Croatia, Europe). In: Sassa K, Canuti P, Yin Y (eds) Landslide science for a safer Geoenvironment, Volume 2: Methods of landslide studies. Springer-Verlag Berlin Heidelberg, pp 829–836

Blašković I (1999) Tectonics of part of the Vinodol Valley within the model of the continental crust subduction. Geologia Croatica 52(2):153–189

Bognar A, Faivre S, Buzjak N, Bočić N (2012) Recent landform evolution in the Dinaric and Pannonian Regions of Croatia. In: Locy D, Stankoviansky M, Kotarba A (eds) Recent landform evolution. Springer, Heidelberg, pp 313–344

Bonacci O (1987) Karst hydrology with special reference to the Dinaric Karst. Springer-Verlag, Berlin

Clarizia M, Gullà G, Sorbino G (1996) Sui meccanismi di innesco dei soil slip. Int Conf Prev Hydrogeol Hazards Role Sci Res 1:585–597 (in Italian)

Crosta GB, Fratini P (2001) Rainfall thresholds for triggering soil slips and debris flow. In: Proc. 2nd EGS Plinius Conf. on Mediterranean Storms (Mugnai A, Guzzetti F, Roth G, eds). Siena, pp 463–487

Cruden DM, Varnes DJ (1996) Landslide types and processes. In: Turner AK, Schuster RL (eds) Landslide investigation and mitigation (Special Report/Transportation Research Board, National Research Council; 247). National Academy Press, Washington DC, chapter 3, pp 36–75

Dugonjić J, Arbanas Ž (2012) Recent landslides on the Istrian Peninsula, Croatia. Nat Hazards 62:1323–1338. https://doi.org/10.1007/s11069-012-0150-4

Dugonjić Jovančević S (2013) Landslide hazard assessment on flysch slopes. PhD Dissertation, Faculty of Civil Engineering, University of Rijeka, p 199 (in Croatian)

Grošić M, Bernat S, Arbanas Ž, Mihalić Arbanas S, Matjašić I, Vidović D (2014) Instabilities of open pit cut slopes: case studiy from the torine quarry in Croatia. In: Mihalić Arbanas S, Arbanas Ž (eds) Proceedings of the 1st Regional Symposium on landslides in the Adriatic-Balkan Region. Landslide and Flood Hazard Assessment. Croatian Landslide Group, Zagreb, pp 153–158

Gulam V (2012) The erosion of flysch badlands in the Central Istria. PhD Dissertation, Faculty of Mining, Geology and Petroleum Engineering, University of Zagreb, p 275 (in Croatian)

Gulam V, Pollak D, Podolszki L (2014) The analysis of the flysch badlands inventory in central Istria, Croatia. Geologia Croatica 67(1):1–15

Guzzetti F, Peruccacci S, Rossi M, Stark CP (2007) Rainfall thresholds for the initiation of landslides in central and southern Europe. Meteorog Atmos Phys 98:239–267

Guzzetti F, Peruccacci S, Rossi M, Stark CP (2008) The rainfall intensity–duration control of shallow landslides and debris flows: an update. Landslides 5:3–17

Hrvatović H (2006) Geological guidebook through Bosnia and Hercegovina. Geological Survey of Bosnia and Hercegovina, Sarajevo

Huggett RJ (2011) Fundamentals of geomorphology, 3rd edn. Routledge, London

ISRM (1978) Suggested methods for the quantitative description of discontinuities in rock masses. Int J Rock Mech Min Sci and Geomech Abstr 15:319–368

Karleuša B, Oštrić M, Rubinić J (2003) Water management elements in regional planning in Karst, Rječina catchment area—case study. In: Goluža M (ed) Proceedings of the Int. conference on water in karst area of watersheds Cetina, Neretva and Trebišnjica. Sveučilište u Mostaru, Mostar, pp 85–94 (in Croatian)

Krebs N, Penck A (2010) Die Halbinsel Istrien: Landeskundliche Studie (1907). Kessinger Publishing, Lepizig

Krkač M (2015) A phenomenological model of the Kostanjek landslide movement. PhD Dissertation, Faculty of Mining, Geology and Petroleum Engineering, University of Zagreb, p 210 (in Croatian)

Krkač M, Mihalić Arbanas S, Arbanas Ž, Bernat S, Špehar K (2014a) The Kostanjek landslide in the City of Zagreb: forecasting and protective monitoring. In: Lollino G, Manconi A, Guzzetti F, Culshaw M, Bobrowsky P, Luino F (eds) Proceedings of the XII IAEG congress, engineering geology for society and territory, Vol. 5, urban geology, sustainable planning and landscape exploitation. Springer, Heidelberg, pp 715–719

Krkač M, Mihalić Arbanas S, Nagai O, Arbanas Ž, Špehar K (2014b) The Kostanjek landslide—monitoring system development and sensor network. In: Mihalić Arbanas S, Arbanas Ž (eds) Proceedings of the 1st Regional Symposium on landslides in the Adriatic-Balkan Region, landslide and flood hazard assessment. Croatian Landslide Group, Zagreb, pp 27–32

Krkač M, Špoljarić D, Bernat S, Mihalić Arbanas S (2016) Method for prediction of landslide movements based on random forests. Landslides 14(3):947–960. https://doi.org/10.1007/s10346-016-0761-z

Malvić T, Velić J (2011) Neogene tectonics in Croatian part of the Pannonian Basin and reflectance in hydrocarbon accumulations. In: Schattner U (ed) New Frontiers in tectonic research—at the midst of plate convergence. InTech, Rijeka, pp 215–238

Marinčić S (1981) Eocene flysch of the Adriatic area. Geološki vjesnik 23:27–38

Mihalić Arbanas S, Krkač M, Bernat S (2016) Application of advanced technologies in landslide research in the area of the City of Zagreb (Croatia, Europe). Geologia Croatica 69(2):231–243. https://doi.org/10.4154/gc.2016.18

Mihalić Arbanas S, Krkač M, Bernat S, Komac M, Sečanj M, Arbanas Ž (2017a) A comprehensive landslide monitoring system: the Kostanjek landslide, Croatia. In: Sassa K et al (eds) Landslide dynamics: ISDR-ICL landslide interactive teaching tools. Springer, Heidelberg, pp 1–20 (In press)

Mihalić Arbanas S, Sečanj M, Bernat Gazibara S, Krkač M, Arbanas Ž (2017b) Identification and mapping of the Valići Lake landslide (Primorsko-Goranska County, Croatia). In: Abolmasov B, Marjanović M, Đurić U (eds) Proceedings of the 2nd Regional Symposium on landslides in the Adriatic-Balkan Region. University of Belgrade, Faculty of Mining and Geology, Belgrade, pp 197–202

Mihalić S, Arbanas Ž, Krkač M, Dugonjić S (2011) Analysis of sliding hazard in wider area of Brus landslide. In: Anagnostpoulos A, Pachakis M, Tsatsamifos C (eds) Proceedings of the 15th European conference on soil mechanics & geotechnical engineering: geotechnics of hard soils—weak rocks. IOS Press, Amsterdam, pp 1377–1382

Muhić Š (2015) Case study. Maglaj – Floods, May 2014, Unpublished document. OSCE, Maglaj, p 108

Mulać M, Žigić I (2017) The landslide causes and its zonation in Tuzla Region. In: Abolmasov B, Marjanović M, Đurić U (eds) Proceedings of the 2nd Regional Symposium on landslides in the Adriatic-Balkan Region. University of Belgrade, Faculty of Mining and Geology, Belgrade, pp 129–131

Ortolan Ž, Pleško J (1992) Repeated photogrammetric measurements at shaping geotechnical models of multi-layer landslides. Rudarsko-geološko-naftni zbornik 4:51–58

Oštrić M, Yamashiki Y, Takara K, Takahashi T (2011) Possible scenarios for Rjecina River catchment—on the example of Grohovo landslide. Ann Disaster Prev Res Inst 54B:1–7

Panagos P, Van Liedekerke M, Jones A, Montanarella L (2012) European soil data Centre: response to European policy support and public data requirements. Land Use Policy 29(2):329–338. https://doi.org/10.1016/j.landusepol.2011.07.003

Schmid SM, Bernoulli D, Fügenschuh B, Matenco L, Schefer S, Schuster R, Tischler M, Ustaszewski K (2008) The Alpine-Carpathian-Dinaridic orogenic system: correlation and evolution of tectonic units. Swiss J Geosci 101(1):139–183. https://doi.org/10.1007/s00015-008-1247-3

Stanić B, Nonveiller E (1996) The Kostanjek landslide in Zagreb. Eng Geol 42:269–283

Tomljenović B, Csontos L, Márton E, Márton P (2008) Tectonic evolution of the northwestern internal Dinarides as constrained by structures and rotation of Medvednica Mountains, North Croatia. In: Siegesmund S, Fügenschuh B, Froitzheim N (eds) Tectonic aspects of the alpine-Dinaride-Carpathian system, special publications, vol 298. Geological Society, London, pp 145–167

Van der Lingen GJ (1969) The turbidite problem. N Z J Geol Geophy 12(1):7–50

Velić I, Tišljar J, Matičec D, Vlahović I (1995) Opći prikaz geološke građe Istre. In: Vlahović I, Velić I (eds) Field trip guidebook of the 1st Croatian geological congress. Croatian Geological Survey, Zagreb, pp 5–30 (in Croatian)

Vivoda Prodan M (2016) The influence of weathering process on residual shear strength of fine grained lithological flysch components. PhD Dissertation, Faculty of Civil Engineering, University of Rijeka, p 197 (in Croatian)

Vivoda Prodan M, Arbanas Ž (2016) Weathering influence on properties of siltstones from Istria, Croatia. Adv Mater Sci Eng 2016:1–15, Article ID 3073202. https://doi.org/10.1155/2016/3073202

Vivoda M, Benac Č, Žic E, Đomlija P, Dugonjić Jovančević S (2012) Geohazards in the Rječina Valley in the past and present. Hrvatske vode 20:105–116 (in Croatian)

Vlahović I, Tišljar J, Velić I, Matičec D (2005) Evolution of the Adriatic carbonate platform: Palaeogeography, main events and depositional dynamics. Palaeogeogr, Palaeoclimatol, Palaeocol 220:333–360

Zaninović K, Gajić-Čapka M, Perčec Tadić M, Vučetić M, Milković J, Bajić A, Cindrić K, Cvitan L, Katušin Z, Kaučić D, Likso T, Lončar E, Lončar Ž, Mihajlović D, Pandžić K, Patarčić M, Srnec L, Vučetić V (2008) Climate atlas of Croatia 1961–1990, 1971–2000. Meteorological and Hydrological Service, Zagreb
About this article
Cite this article
Mihalić Arbanas, S., Sečanj, M., Bernat Gazibara, S. et al. Landslides in the Dinarides and Pannonian Basin—from the largest historical and recent landslides in Croatia to catastrophic landslides caused by Cyclone Tamara (2014) in Bosnia and Herzegovina. Landslides 14, 1861–1876 (2017). https://doi.org/10.1007/s10346-017-0880-1
Received:

Accepted:

Published:

Issue Date:
Keywords
Landslides

Dinarides

Pannonian Basin

Flysch

Karst

Cyclone Tamara