Abstract
Among the disasters facing Taiwan, earthquakes and typhoons incur the greatest monetary losses, and landslide disasters inflict the greatest damage in mountainous areas. The nationwide landslide susceptibility map gives an indication of where landslides are likely to occur in the future; however, there is no objective index indicating the location of landslide hotspots. In this study, we used statistical analysis to locate landslide hotspots in catchments in Taiwan. Global and local spatial autocorrelation analysis revealed the existence of landslide clusters between 2003 and 2012 and identified a concentration of landslide hotspots in the eastern part of Central Taiwan. The extreme rainfall brought by typhoon Morakot also led to the formation of new landslide hotspots in Southern Taiwan. This study provides a valuable reference explaining changes in landslide hotspots and identifying areas of high hotspot concentration to facilitate the formulation of strategies to deal with landslide risk.
Access options
Buy single article
Instant access to the full article PDF.
US$ 39.95
Tax calculation will be finalised during checkout.
Subscribe to journal
Immediate online access to all issues from 2019. Subscription will auto renew annually.
US$ 79
Tax calculation will be finalised during checkout.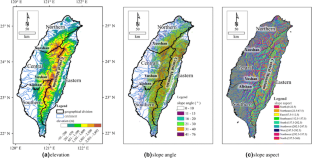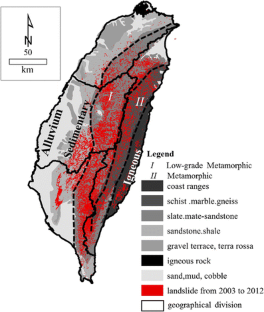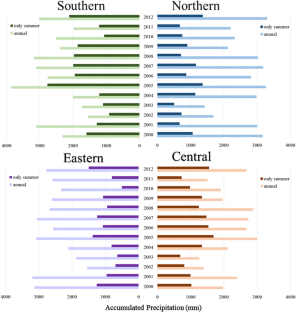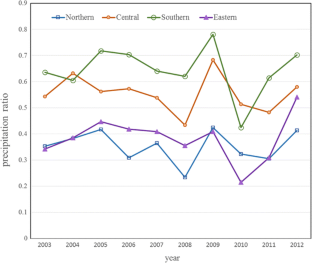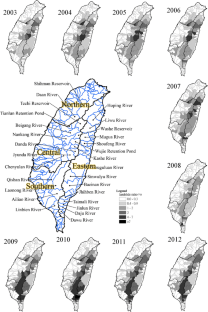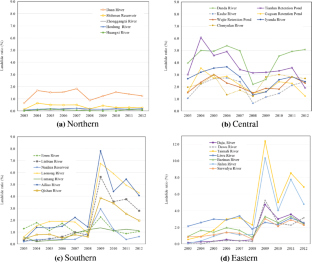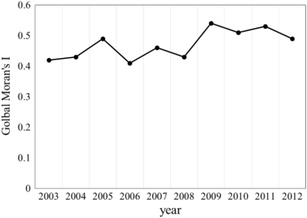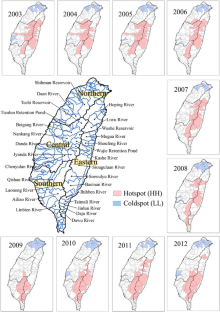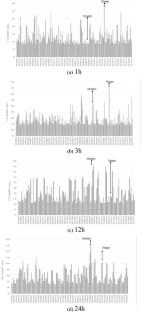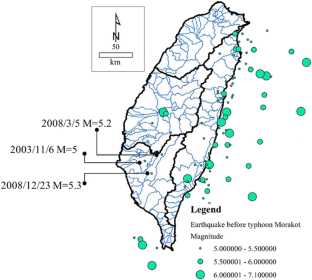 References
Anselin L (1995) Local indicators of spatial association—LISA. Geogr Anal 27(2):93–115

Anselin L (2004) Exploring spatial data with GeoDaTM: a workbook. Urbana 51:61801

Brody SD, Highfield W, Peck BM (2005) Exploring the mosaic of perceptions for water quality across watersheds in San Antonio, Texas. Landsc Urban Plan 73(2):200–214

Central Weather Bureau (2014) Typhoon hundred questions. Central Weather Bureau Report, 235p.

Chen CY (2016) Landslide and debris flow initiated characteristics after typhoon Morakot in Taiwan. Landslides 13(1):153–164

Cliff A, Ord JK (1973) Spatial autocorrelation, Lindon: Pion. Prog Hum Geogr 19(2):245–249

Forestry Bureau (2012) Using satellite images for analysis and interpretation of landslide disasters in Taiwan (I): 176p

Forestry Bureau (2013) Using satellite images for analysis and interpretation of landslide disasters in Taiwan (II): 183p

Getis A, Ord JK (1992) The analysis of spatial association by use of distance statistics. Geogr Anal 24(3):189–206

Graham AJ, Atkinson P, Danson FM (2004) Spatial analysis for epidemiology. Acta Trop 91(3):219–225

Keefer DK, Larsen MC (2007) Assessing landslide hazards. Sciences 316:1136–1137

Lee CT (2016) Landslide trends under extreme climate event. Terr Atmos Ocean. doi:10.3319/TAO.2016.05.28.01

Lee CT, Fei LY (2015) Nationwide landslide hazard analysis and mapping in Taiwan. Engineering Geology for Society and Territory 2:971–974

Lee CT, Pan KL, Lin ML (2005) Research of landslide susceptibility analyses. Taiwan Central Geological Survey Open-File Report 94-18:474

Lee CT, Huang CC, Lee JF, Pan KL, Lin ML, Dong JJ (2008) Statistical approach to storm event-induced landslide susceptibility. Natural Hazard Earth System 8:941–960

Lee CT, Chang CW, Lin SH (2012) Landslide hazard analysis and mapping in a wide region. EGU General Assembly Conference Abstracts 14.

Lin GW, Chen H (2013) Recurrence of hyper-concentration flows on the orogenic, subtropical island of Taiwan. J Hydrol 502:139–144

Lin GW, Chen H, Chen YH, Horng MJ (2008) Influence of typhoons and earthquakes on rainfall-induced landslides and suspended sediments discharge. Eng Geol 97(1–2):32–41

Lin CW, Chang WS, Liu SH, Tsai TT, Lee SP, Tsang YC, Shieh CL, Tseng CM (2011) Landslides triggered by the 7 August 2009 Typhoon Morakot in southern Taiwan. Eng Geol 123(1):3–12

McCullagh MJ (2006) Detecting hotspots in time and space. ISG06

Mitchell, Andy (2005) The ESRI guide to GIS analysis. ESRI Press, 2

Overmars KP, De Koning GHJ, Veldkamp A (2003) Spatial autocorrelation in multi-scale land use models. Ecol Model 164(2):257–270

Ratcliffe JH (2004) The hotspot matrix: a framework for the spatio-temporal targeting of crime reduction. Police Pract Res 5(1):5–23

Townsley M (2008) Visualizing space time patterns in crime: the hotspot plot. Crime Patterns and Analysis 1(1):61–74

Tsou KW (2004) Exploring land use changes and spatial dependence—a case study of settlement changes in the Taipei Basin. Journal of Taiwan geographical Information Science 1:29–40

Wu CH, Chen SC (2009) Determining landslide susceptibility in Central Taiwan from rainfall and six site factors using the analytical hierarchy process method. Geomorphology 112(3):190–204

Wu X, Gui P (2016) A study of the time–space evolution characteristics of urban–rural integration development in a mountainous area based on ESDA-GIS: the case of the Qinling-Daba Mountains in China. Sustainability 8(11):1085. doi:10.3390/su8111085

Wu CC, Kuo YH (1999) Typhoons affecting Taiwan: current understanding and future challenges. Bull Amer Meteor Soc 80:67–80
About this article
Cite this article
Lin, S.C., Ke, M.C. & Lo, C.M. Evolution of landslide hotspots in Taiwan. Landslides 14, 1491–1501 (2017). https://doi.org/10.1007/s10346-017-0816-9
Received:

Accepted:

Published:

Issue Date:
Keywords
Landslide hotspot

Spatial autocorrelation

Landslide clustering

Typhoon Morakot