Abstract
High magnitude earthquakes trigger numerous landslides and their occurrences are mainly controlled by terrain parameters. We created an inventory of 15,551 landslides with a total area of 90.2 km2 triggered by the 2015 Mw 7.8 (Gorkha) and Mw 7.3 (Dolakha) earthquakes in Nepal, through interpretation of very high resolution satellite images (e.g. WorldView, Pleiades, Cartosat-1 and 2, Resourcesat-2). Our spatial analysis of landslide occurrences with ground acceleration, slope, lithology and surface defomation indicated ubiquitous control of steep slope on landslides with ground acceleration as the trigger. Spatial distribution of landslides shows increasing frequency away from the Gorkha earthquake epicentre up to 130 km towards east, dropping sharply thereafter, which is an abnormal phenomenon of coseismic landslides. Landslides are laterally concentrated in three zones which matches well with the seismic rupture evolution of Gorkha earthquake, as reported through teleseismic measurements.
Access options
Buy single article
Instant access to the full article PDF.
US$ 39.95
Tax calculation will be finalised during checkout.
Subscribe to journal
Immediate online access to all issues from 2019. Subscription will auto renew annually.
US$ 79
Tax calculation will be finalised during checkout.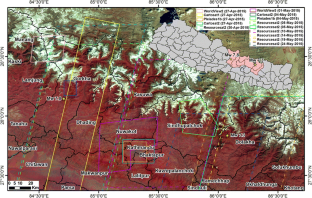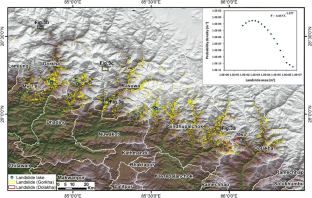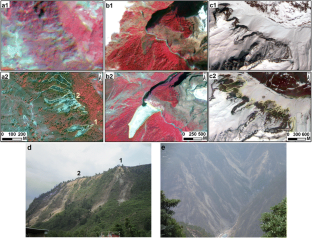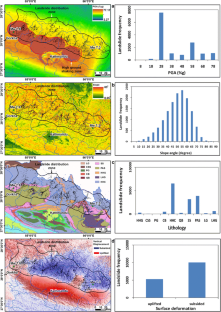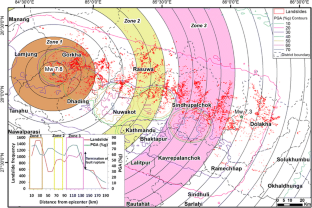 References
Avouac J-P, Meng L, Wei S, Wang T, Ampuero J-P (2015) Lower edge of locked main himalayan thrust unzipped by the 2015 Gorkha earthquake. Nat Geosci 8:708–711

Bilham R (2015) Raising Kathmandu. Nat Geosci 8:582–584

Collins BD and Jibson RW (2015) Assessment of existing and potential landslide hazards resulting from the April 25, 2015 Gorkha, Nepal earthquake sequence. U.S. Geological Survey Open File Report 2015–1142, Reston, VA

Dhital MR (2015) Geology of the Nepal Himalaya

Elliott JR, Jolivet R, González PJ, Avouac J-P, Hollingsworth J, Searle MP, Stevens VL (2016) Himalayan megathrust geometry and relation to topography revealed by the Gorkha earthquake. Nat Geosci 9:174–180

Evans SG and Clague JJ (1988) Catastrophic rock avalanches in glacial environments. Proceedings of fifth international symposium on landslides 2, p 1153–1158

Gorum T, Fan X, van Westen CJ, Huang RQ, Xu Q, Tang C, Wang G (2011) Distribution pattern of earthquake-induced landslides triggered by the 12 may 2008 Wenchuan earthquake. Geomorphology 133:152–167

Grandin R, Vallée M, Satriano C, Lacassin R, Klinger Y, Simoes M, Bollinger L (2015) Rupture process of the Mw = 7.9 2015 Gorkha earthquake (Nepal): insights into Himalayan megathrust segmentation. Geophys Res Lett 42:8373–8382

Guzzetti F, Ardizzone F, Cardinali M, Rossi M, Valigi D (2009) Landslide volumes and landslide mobilization rates in Umbria, Central Italy. Earth Planet Sci Lett 279:222–229

Harp EL, Keefer DK, Sato HP, Yagi H (2011) Landslide inventories: the essential part of seismic hazard analyses. Eng Geol 122:9–12

ICIMOD (2015) Nepal Earthquake 2015: Disaster Recovery and Reconstruction Information Platform. http://apps.geoportal.icimod.org/NDRRIP, Kathmandu

Jibson RW, Harp EL, Schulz W, Keefer DK (2006) Large rock avalanches triggered by the M 7.9 Denali fault, Alaska, earthquake of 3 November 2002. Eng Geol 83:144–160

Kargel JS, Leonard GJ, Shugar DH, Haritashya UK, Bevington A, Fielding EJ, Fujita K, Geertsema M, Miles ES, Steiner J, Anderson E, Bajracharya S, Bawden GW, Breashears DF, Byers A, Collins B, Dhital MR, Donnellan A, Evans TL, Geai ML, Glasscoe MT, Green D, Gurung DR, Heijenk R, Hilborn A, Hudnut K, Huyck C, Immerzeel WW, Liming J, Jibson R, Kääb A, Khanal NR, Kirschbaum D, Kraaijenbrink PDA, Lamsal D, Shiyin L, Mingyang Lv, McKinney D, Nahirnick NK, Zhuotong N, Ojha S, Olsenholler J, Painter TH, Pleasants M, Pratima KC, Yuan QI, Raup BH, Regmi D, Rounce DR, Sakai A, Donghui S, Shea JM, Shrestha AB, Shukla A, Stumm D, van der Kooij M, Voss K, Xin W, Weihs B, Wolfe D, Lizong W, Xiaojun Y, Yoder MR, Young N (2015) Geomorphic and geologic controls of geohazards induced by Nepal's 2015 Gorkha earthquake. Science 1–18. doi: 10.1126/science.aac8353

Keefer DK (2000) Statistical analysis of an earthquake-induced landslide distribution -- the 1989 Loma Prieta, California event. Eng Geol 58:231–249

Khazai B, Sitar N (2004) Evaluation of factors controlling earthquake-induced landslides caused by Chi-Chi earthquake and comparison with the Northridge and Loma Prieta events. Eng Geol 71:79–95

Larsen IJ, Montgomery DR, Korup O (2010) Landslide erosion controlled by hillslope material. Nat Geosci 3:247–251

Lindsey EO, Natsuaki R, Xu X, Shimada M, Hashimoto M, Melgar D, Sandwell DT (2015) Line of sight displacement from ALOS-2 interferometry: mw 7.8 Gorkha earthquake and mw 7.3 aftershock. Geophys Res Lett 42:6655–6661

Malamud BD, Turcotte DL, Guzzetti F, Reichenbach P (2004) Landslide inventories and their statistical properties. Earth Surf Process Landf 29:687–711

Martha TR, Vinod Kumar K (2013) September, 2012 landslide events in Okhimath, India—an assessment of landslide consequences using very high resolution satellite data. Landslides 10:469–479

Martha TR, Roy P, Babu Govindharaj K, Vinod Kumar K, Diwakar PG, Dadhwal VK (2015) Landslides triggered by the June 2013 extreme rainfall event in parts of Uttarakhand state, India. Landslides 12:135–146. doi:10.1007/s10346-014-0540-7

Meunier P, Uchida T, Hovius N (2013) Landslide patterns reveal the sources of large earthquakes. Earth Planet Sci Lett 363:27–33

Mukherjee S (2015) A review on out-of-sequence deformation in the Himalaya. In: S. M, Carosi R, , van der Beek P, Mukherjee BK and Robinson D (eds) Tectonics of the Himalaya, Geological Society, London, p 67–109

Parameswaran RM, Natarajan T, Rajendran K, Rajendran CP, Mallick R, Wood M, Lekhak HC (2015) Seismotectonics of the April–may 2015 Nepal earthquakes: an assessment based on the aftershock patterns, surface effects and deformational characteristics. J Asian Earth Sci 111:161–174

Parker RN, Densmore AL, Rosser NJ, de Michele M, Li Y, Huang R, Whadcoat S, Petley DN (2011) Mass wasting triggered by the 2008 Wenchuan earthquake is greater than orogenic growth. Nat Geosci 4:449–452

Roy P, Martha TR, Vinod Kumar K (2014) Assessment of the Sunkoshi (Nepal) landslide using multitemporal satellite images. Curr Sci 107:1961–1964

USGS (2015) M7.8–36 km E of Khudi, Nepal [N/OL]. http://www.usgs.gov/

Wang F, Cheng Q, Highland L, Miyajima M, Wang H, Yan C (2009) Preliminary investigation of some large landslides triggered by the 2008 Wenchuan earthquake, Sichuan Province, China. Landslides 6:47–54

Wartman J, Dunham L, Tiwari B, Pradel D (2013) Landslides in eastern Honshu induced by the 2011 Tōhoku earthquake. Bull Seismol Soc Am 103(2B):1503–1521

Xu C, Xu X, Yu G (2013) Landslides triggered by slipping-fault generated earthquake on a plateau: an example of the 14 April 2010, Ms 7.1, Yushu, China earthquake. Landslides 10:421–431

Yin Y, Wang F, Sun P (2009) Landslide hazards triggered by the 2008 Wenchuan earthquake, Sichuan, China. Landslides 6:139–152
Acknowledgments
This paper is the outcome of the disaster support work carried out under the Decision Support Centre (DSC) activities of NRSC supervised by Dr. V. K. Dadhwal, Dr. P. G. Diwakar and Shri G. Srinivasa Rao. T.R.M. was the Project Manager of ICMSD for the 25 April 2015 Nepal earthquake and would like to thank ICMSD and its affiliated organisations for sharing satellite images in timely manner. We thank Dr. M. R. Dhital for sharing the geological map of Nepal and Dr. S Mukherjee for suggesting important edits to the manuscript.
About this article
Cite this article
Martha, T.R., Roy, P., Mazumdar, R. et al. Spatial characteristics of landslides triggered by the 2015 Mw 7.8 (Gorkha) and Mw 7.3 (Dolakha) earthquakes in Nepal. Landslides 14, 697–704 (2017). https://doi.org/10.1007/s10346-016-0763-x
Received:

Accepted:

Published:

Issue Date:
Keywords
Thrust

Satellite data

Rock slide

PGA

DEM