Abstract
At 16:30 (Beijing time) on August 3rd, 2014, an Ms 6.5 earthquake occurred in Ludian County in Yunnan Province, China. The Ludian earthquake triggered a collapse in Chapingzi, right bank of the Niulanjiang River, and a landslide in Hongshiyan at the left bank on the same location. These events occurred 1.5 km downstream of the Hongshiyan hydropower station. Debris deposits from the collapse and the landslide blocked the river channel and formed a landslide dam. In this study, the Hongshiyan landslide dam induced by the Ludian earthquake was chosen as the study case to discuss integrated landslide dam management and its potential hydropower uses. After emergency management measures are carried out, further analysis shows the outflow through the Hongshiyan landslide dam is manageable, which indicate safety issues are controllable. Two management schemes are discussed in this paper: one that uses the Hongshiyan landslide dam for power generation and one that removes the debris deposit. The result shows that using the strengthened landslide dam for power generation is feasible and economically sound. This research estimate a capital recovery period of approximately 3 to 4 years with an investment-return ration of 1:40, which is considered a significant economic benefit.
Access options
Buy single article
Instant access to the full article PDF.
US$ 39.95
Tax calculation will be finalised during checkout.
Subscribe to journal
Immediate online access to all issues from 2019. Subscription will auto renew annually.
US$ 79
Tax calculation will be finalised during checkout.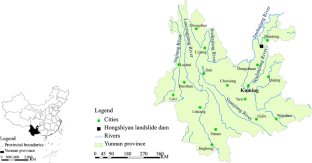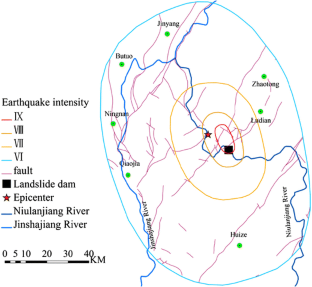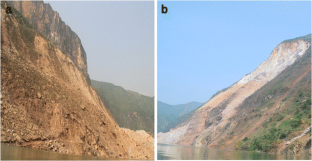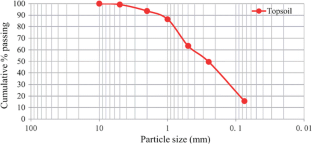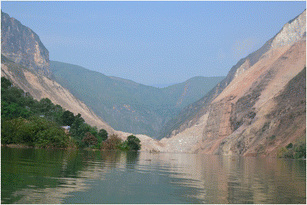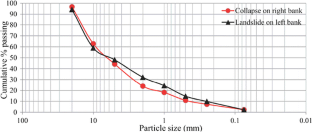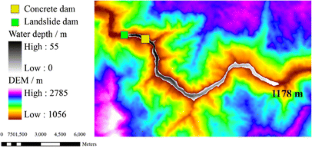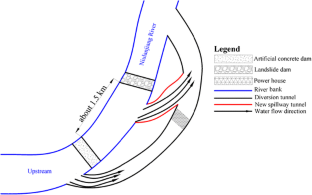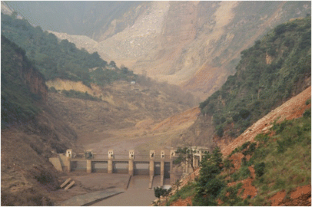 References
Canuti P, Casagli N, Ermini L (1998) Inventory of landslide dams in the Northern Apennine as a model for induced flood hazard forecasting. In: Andah K (ed) Managing hydro-geological disasters in a vulnerate environment. CNR-GNDCI Publication 1900. CNR-GNDCI-UNESCO (IHP), Perugia, pp 189–202

Casagli N, Ermini L (1999) Geomorphic analysis of landslide dams in the Northern Apennine. Trans Jpn Geomorphological Union 20(3):219–249

Casagli N, Ermini L (2000) Landslide dam management: from hazard source to environmental resource. In: Andah K (ed) Water resources management in a vulnerable environment for sustainable development. CNR-GNDCI Publication 2115 CNR-GNDCI-UNESCO (IHP), Perugia, pp 209–219

Casagli N, Ermini L (2002) Prediction of the behavior of landslide dams using a geomorphological dimensionless index. Earth Surf Process Landf 28:31–47

Casagli N, Ermini L, Rosati G (2003) Determining grain size distribution of the material composing landslide dams in the Northern Apennines: sampling and processing methods. Eng Geol 69:83–97

Chen KT, Kuo YS, Shieh CL (2014) Rapid geometry analysis for earthquake-induced and rainfall-induced landslide dams in Taiwan. J Mt Sci 11(2):360–370

Costa JE, Schuster RL (1988) The formation and failure of natural dams. Geol Soc Am Bull 100:1054–1068

Costa JE, Schuster RL (1991) Documented historical landslide dams from around the world. US Geological Survey Open-File Report 91–239, 1–486. http://pubs.usgs.gov/of/1991/0239/report.pdf

Cui P, Han YS, Chen XQ (2009) Distribution and risk analysis of dammed lakes reduced by Wenchuan earthquake. Journal of Sichuan University (Engineering Science Edition) 41(3):35–42 (in Chinese)

Dai FC, Lee CF, Deng JH, Tham LG (2005) The 1786 earthquake-triggered landslide dam and subsequent dam-break flood on the Dadu River, southwestern China. Geomorphology 65:205–221

Dal Sasso SF, Sole A, Pascale S, Sdao F, Bateman PA, Medina V (2014) Assessment methodology for the prediction of landslide dam hazard. Natural Hazards and Earth System Science 14:557–567

Dong JJ, Tung YH, Chen CC, Liao JJ, Pan YW (2009) Discriminant analysis of the geomorphic characteristics and stability of landslide dams. Geomorphology 110:162–171

Dong JJ, Tung YH, Chen CC, Liao JJ, Pan YW (2011) Logistic regression model for predicting the failure probability of a landslide dam. Eng Geol 117:52–61

Dong JJ, Lai PJ, Chang CP, Yang SH, Yeh KC, Liao JJ, Pan YW (2014) Deriving landslide dam geometry from remote sensing images for the rapid assessment of critical parameters related to dam-breach hazards. Landslides 11:93–105

Ermini L, Casagli N, Farina P (2006) Landslide dams: analysis of case histories and new perspectives from the application of remote sensing monitoring techniques to hazard and risk assessment. Ital J Eng Geol Environ special issues 1:45–52

Hu J, Tang LM, Tang C (2007) Study on characteristics and formation factor of geological hazards in Ludian County of Yunnan province. Journal of Geological Hazards and Environment Preservation 18(4):15–19 (in Chinese)

King J, Loveday I, Schuster RL (1989) The 1985 Bairaman landslide dam and resulting debris flow. Q J Eng Geol 22(4):257–270

Korup O (2002) Recent research on landslide dams—a literature review with special attention to New Zealand. Prog Phys Geogr 26:206–235

Korup O (2004) Geomorphic hazard assessment of landslide dams in South Westland, New Zealand: Fundamental problems and approaches. Geomorphology 66:167–188

Liu GG, Liu GH, Chen B (2005) Test study on the movable-bed model for Hongshiyan hydropower station. Water Power 31(6):27–28 (in Chinese)

Ma XL, Zhu ML, Fan RH (1995) County annals of Ludian. Yunnan People's Publishing House, Kunming (in Chinese)

McCuen RH (1998) Hydrologic analysis and design, Prentice Hall, Englewood Cliffs

Mora S, Madrigal C, Estrada J, Schuster RL (1993) The 1992 landslide dam, Costa Rica. Landslide News 7:19–22

Peng M, Zhang LM (2013) Breaching parameters of landslide dams. Landslides 9:13–31

Petley D (2010) Hunza landslide monitoring. http://hunzalandslide.blogspot.com

Petrakov DA, Tutubalina OV, Aleinikov AA, Chernomorets SS, Evans SG, Kidyaeva VM, Krylenko IN, Norin SV, Shakhmina MS, Seynova IB (2012) Monitoring of Bashkara glacier lakes (Central Caucasus, Russia) and modelling of their potential outburst. Nat Hazards 61(3):1293–1316

Plaza NG, Yepes H, Schuster RL (1990) Landslide dam on the Pasque River, Northern Ecuador. Landslide News 4:2–4

Read SA, Beetham R (1991) Lake Waikaremoana barrier a large landslide dam in New Zealand. Landslide News 51(4):1481–1487

Schenider JF, Gruber FE, Mergili M (2013) Impact of large landslides, mitigation measures. Ital J Eng Geol Environ 6:73–84

Schuster RL (1993) Landslide dams—a worldwide phenomenon. In: Proceedings annual symposium of the Japanese Landslide Society, Kansai Branch, 27 April, Osaka: 1–23

Schuster RL (1995) Landslide dams-a worldwide phenomenon. Journal Japanese Landslide Society 31(4):38–49

Schuster RL, Costa JE (1986) A perspective on landslide dams: In Schuster, R.L., ed., Landslide dams—processes, risk, and mitigation: Geotechnical Special Publication No. 3, American Society of Civil Engineers: 1–20. http://cedb.asce.org/cgi/WWWdisplay.cgi?48090

Shang YJ, Yang ZF, Li LH, Liu DA, Liao QL, Wang YC (2003) A super-large landslide in Tibet in 2000: background, occurrence, disaster, and origin. Geomorphology 54:225–243

Swanson FJ, Oyagi N, Tominaga M (1986) Landslide dam in Japan. In: Schuster RL (ed) Landslide Dam: Processes Risk and Mitigation, American Society of Civil Engineers, Geotechnical Special Publication 3:131–145

Wang ZY, Xu J, Li CZ (2004) Development of step-pool sequence and its effects in resistance and stream bed stability. Int J Sediment Res 19(3):161–171

Wang ZY, Cui P, Liu HX (2010) Management of quake lakes and triggered mass movements in Wenchuan earthquake. ShuiliXuebao 41(7):757–763 (in Chinese)

Wassmer P, Schneider JL, Pollet N, Schmitter-Voirin C (2004) Effects of internal structure of a rock-avalanche dam on the drainage mechanism of its impoundment, Films Sturzstrom and Ilanz paleo-lake, Swiss Apls. Geomorphology 61:3–17

Xu Q, Fan XM, Huang RQ, Westen CV (2009) Landslide dams triggered by the Wenchuan Earthquake, Sichuan Province, south west China. B Eng Geol Environ 68:373–386

Zhao YH (2008) Seepage control of the earthquake-induced barrier bar of Xiaonanhai Reservoir. Advances in Science and Technology of Water Resources 28(5):39–44 (in Chinese)
Acknowledgements
This research is supported by the Cooperation Project between Governments of China and Russia (Grant No. CR17-2) and RFBR (Grant No. 14-05-00768).
About this article
Cite this article
Zhang, S., Xie, X., Wei, F. et al. A seismically triggered landslide dam in Honshiyan, Yunnan, China: from emergency management to hydropower potential. Landslides 12, 1147–1157 (2015). https://doi.org/10.1007/s10346-015-0639-5
Received:

Accepted:

Published:

Issue Date:
Keywords
Ludian earthquake

Landslide

Landslide dam

Stable assessment

Hydroelectric power