Abstract
Bogotá is located in the central Andean region of Colombia, which is frequently affected by landslide processes. These processes are mostly triggered during the rainy season in the city. This fact remarks the importance of determining what rain-derived parameters (e.g. intensity, antecedent rain, daily rain) are better related with the occurrence of landslides. For this purpose, the linear discriminant analysis (LDA), a technique derived from multivariate statistics, was used. The application of this type of analysis led to obtain simple mathematical functions that represent the probability of occurrence of landslides in Bogotá. The functions also allow to identify the most relevant variables derived from records of rainfall linked to the generation of landslides. A proof of concept using the proposed methodology was done using historic rainfall data from a 9-km2 area of homogenous climatology and geomorphology in the south part of Bogotá. Landslides needed to be grouped for the LDA. Each one of these grouping categories represents landslides that occurred in similar geomorphologic conditions. Another set of events with no landslides was generated synthetically. Results of the proof of concept show that rainfall parameters such as normalized rainfall intensity I MAP, normalized daily rainfall R MAP and rainy-days normal RDN have the best statistical correlation with the landslides observed in the zone of analysis.
Access options
Buy single article
Instant access to the full article PDF.
US$ 39.95
Tax calculation will be finalised during checkout.
Subscribe to journal
Immediate online access to all issues from 2019. Subscription will auto renew annually.
US$ 79
Tax calculation will be finalised during checkout.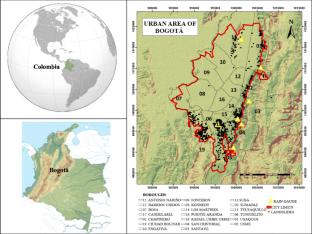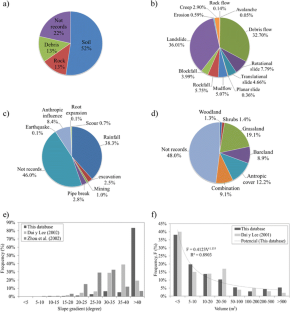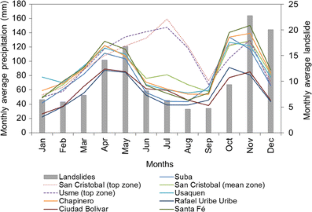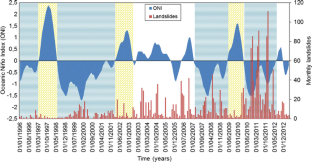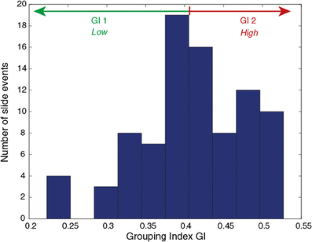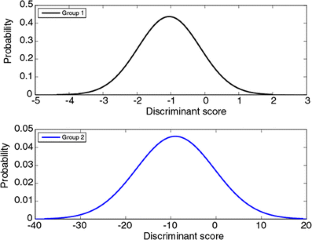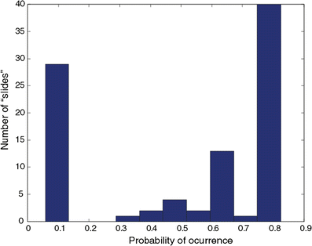 References
Akcali E, Arman H, Firat S, Saltabas L, Gunduz Z (2010) Rainfall threshold for the initiation of landslides in Trabzon province of Turkey. Int J Eng Appl Sci (IJEAC) 2(4):14–26

Ahmad R (2003) Developing early warning systems in Jamaica: rainfall thresholds for hydrological hazards. National Disaster Management Conference, Ocho Rios. St Ann, Jamaica 9–10

Aleotti P (2004) A warning system for rainfall-induced shallow failures. Eng Geol 73(3):247–265

Anderson TW (2003). An introduction to multivariate statistical analysis. John Wiley, 3rd Edition. 721 p

Arango-Gartner J (2000). Relaciones lluvias–deslizamientos y zonificación geotécnica en la comuna dos de la ciudad de Manizales. Master's thesis, Universidad Nacional de Colombia-Sede Manizales

Au S (1998) Rain-induced slope instability in Hong Kong. Eng Geol 51(1):1–36

Baecher G, Christian J (2003) Reliability and statistics in geotechnical engineering, 1st edn. John Wiley, Chichster

Baeza C, Corominas J (2001) Assessment of shallow landslide susceptibility by means of multivariate statistical techniques. Earth Surf Process Landf 26(12):1251–1263

Bacchini M, Zannoni A et al (2003) Relations between rainfall and triggering of debris-flow: case study of Cancia (Dolomites, Northeastern Italy). Natur Hazards Earth Syst Sci 3(1/2):71–79

Bell F, Maud R (2000) Landslides associated with the colluvial soils overlying the Natal Group in the greater Durban region of Natal, South Africa. Environ Geol 39(9):1029–1038

Brunetti M, Peruccacci S, Rossi M, Luciani S, Valigi D, Guzzetti F (2010) Rainfall thresholds for the possible occurrence of landslides in Italy. Natur Hazards Earth Syst Sci 10(3):447–458

Brardinoni F, Church M (2004) Representing the landslide magnitude–frequency relation: Capilano River basin, British Columbia. Earth Surf Process Landf 29(1):115–124

Caine N (1980) The rainfall intensity: duration control of shallow landslides and debris flows. Geografiska Annaler. Series A. Physical Geography 23–27

Cannon SH, Gartner JE (2005) Wildfire-related debris flow from a hazards perspective. In Debris-flow Hazards and Related Phenomena, pages 363–385. Springer

Castellanos R, González A (1996) Relaciones entre la lluvia anual y la lluvia crítica que dispara movimientos en masa. IX Jornadas Geotécnicas de la Ingeniería Colombiana. Santafé de Bogotá, pp 4.62–4.70

Castellanos R, González A (1997) Algunas relaciones de precipitación crítica-duración de lluvias que disparan movimientos en masa en Colombia. 2nd Panamerican Symposium on Landslides - ABMS, vol 2. Río de Janeiro, pp 863–878

Chau KT, Sze YL, Fung MK, Wong WY, Fong EL, Chan LCP (2004) Landslide hazard analysis for Hong Kong using landslide inventory and GIS. Comput Geosci 30(4):429–443

Chivatá Cárdenas I (2008) Using multinomial and imprecise probability for non-parametric modelling of rainfall in Manizales (Colombia). Ing e Investigación 28(2):22–29

Dai FC, Lee CF (2001) Frequency–volume relation and prediction of rainfall-induced landslides. Eng Geol 59(3):253–266

Dai FC, Lee CF (2002) Landslide characteristics and slope instability modeling using GIS, Lantau Island, Hong Kong. Geomorphology 42(3):213–228

Dahal RK, Hasegawa S (2008) Representative rainfall thresholds for landslides in the Nepal Himalaya. Geomorphology 100(3):429–443

Gabet EJ, Burbank DW, Putkonen JK, Pratt-Sitaula BA, Ojha T (2004) Rainfall thresholds for landsliding in the Himalayas of Nepal. Geomorphology 63(3):131–143

Glade T (1998) Establishing the frequency and magnitude of landslide-triggering rainstorm events in New Zealand. Environ Geol 35(2–3):160–174

Gray D H, Leiser AT (1982) Biotechnical slope protection and erosion control. Van Nostrand Reinhold Company Inc

Greenway DR (1987) Vegetation and slope stability. Slope stability: geotechnical engineering and geomorphology/edited by MG Anderson and KS Richards

Guidicini G, Iwasa O (1977) Tentative correlation between rainfall and landslides in a humid tropical environment. Bull Int Assoc Eng Geol Bull de l'Assoc Int Géol l'Ingénieur 16(1):13–20

Guzzetti F, Peruccacci S, Rossi M, Stark CP (2007) Rainfall thresholds for the initiation of landslides in central and southern Europe. Meteorog Atmos Phys 98(3–4):239–267

Guzzetti F, Peruccacci S, Rossi M, Stark CP (2008) The rainfall intensity–duration control of shallow landslides and debris flows: an update. Landslides 5(1):3–17

Imaizumi F, Sidle RC, Kamei R (2008) Effects of forest harvesting on the occurrence of landslides and debris flows in steep terrain of central Japan. Earth Surf Process Landf 33(6):827–840

Iverson RM (2000) Landslide triggering by rain infiltration. Water Resour Res 36:1897–1910

Jiménez-Perálvarez JD, Irigaray C, El Hamdouni R, Chacón J (2010) Landslide susceptibility mapping in a semi-arid mountain environment: an example from the southern slopes of Sierra Nevada (Granada, Spain). Bull Eng Geol Environ 70(2):265–277

Malamud BD, Turcotte DL, Guzzetti F, Reichenbach P (2004) Landslide inventories and their statistical properties. Earth Surf Process Landf 29:687–711

Mateos RM, García-Moreno I, Azañón JM (2012) Freeze–thaw cycles and rainfall as triggering factors of mass movements in a warm Mediterranean region: the case of the Tramuntana Range (Majorca, Spain). Landslides 9(3):417–432

Mathew J, Babu DG, Kundu S, Kumar KV, Pant C (2013) Integrating intensity–duration-based rainfall threshold and antecedent rainfall-based probability estimate towards generating early warning for rainfall-induced landslides in parts of the Garhwal Himalaya, India. Landslides 1–14

Moreiras SM (2005) Climatic effect of ENSO associated with landslide occurrence in the Central Andes, Mendoza province, Argentina. Landslides 2(1):53–59

Morrison D (1969) On the interpretation of discriminant analysis. J Mark Res 6:156–163

Moya Sánchez J, Corominas Dulcet J, Mavrouli OC, Copons Llorens R (2013) Aproximación probabilística al número y tamaño de bloques en desprendimientos con fragmentación. VIII Simposio Nacional sobre Taludes y Laderas Inestables. Palma de Mallorca: 2013, pages 1107–1118

NOAA (2014) Changes to Oceanic Niño Index (ONI). Consultado el 29 de Agosto de 2014. http://www.cpc.ncep.noaa.gov/products/analysis_monitoring/ensostuff/ensoyears.shtml

Paronuzzi P, Coccolo A, Garlatti G (1998) Eventi meteorici critici e debris flows nei bacini Montani del Friuli. La Acqua, Sezione I-Memorie, pages 39–50

Pasuto A, Silvano S (1998) Rainfall as a trigger of shallow mass movements. A case study in the Dolomites, Italy. Environ Geol 35(2–3):184–189

R Core Team (2014) R: A language and environment for statistical computing. R Foundation for Statistical Computing, Vienna, Austria. ISBN 3-900051-07-0, http://www.R-project.org/

Rosi A, Segoni S, Catani F, Casagli N (2012) Statistical and environmental analyses for the definition of a regional rainfall threshold system for landslide triggering in Tuscany (Italy). J Geogr Sci 22(4):617–629

Saito H, Nakayama D, Matsuyama H (2010) Relationship between the initiation of a shallow landslide and rainfall intensity-duration thresholds in Japan. Geomorphology 118(1):167–175

Shrestha BB, Nakagawa H, Kawaike K, Baba Y (2008) Numerical simulation on debris-flow deposition and erosion processes upstream of a check dam with experimental verification. Ann Disaster Prev Res Inst 51:613–624

Terlien MTJ (1996) Modelling spatial and temporal variations in rainfall-triggered landslides: the integration of hydrologic models, slope stability models and geographic information systems for the hazard zonation of rainfall-triggered landslides with examples from Manizales (Colombia). International Institute for Aerial Survey and Earth Sciences (ITC)

Trauth MH, Bookhagen B, Marwan N, Strecker MR (2003) Multiple landslide clusters record Quaternary climate changes in the northwestern Argentine Andes. Palaeogeogr Palaeoclimatol Palaeoecol 194(1):109–121

Wilson RC, Jayko AS (1997) Preliminary maps showing rainfall thresholds for debris-flow activity, San Francisco Bay Region, California. US Geological Survey Open-File Report 97–745F

Zhou CH, Lee CF, Li J, Xu ZW (2002) On the spatial relationship between landslides and causative factors on Lantau Island, Hong Kong. Geomorphology 43(3):197–207

Zhou W, Tang C (2013) Rainfall thresholds for debris flow initiation in the Wenchuan earthquake-stricken area, southwestern China. Landslides 1–11
Acknowledgments
The authors wish to thank IDIGER (Instituto Distrital de Gestión del Riesgo y Cambio Climático) for the access and use of the database of technical reports of landslides in Bogotá, registered between 1996 and 2013. In addition, the authors acknowledge the partial financial support for the development of this work from Pontificia Universidad Javeriana by grant number 6143 'Determination of onset of rainfall that triggered landslides at Bogotá - Colombia'.
About this article
Cite this article
Ramos-Cañón, A.M., Prada-Sarmiento, L.F., Trujillo-Vela, M.G. et al. Linear discriminant analysis to describe the relationship between rainfall and landslides in Bogotá, Colombia. Landslides 13, 671–681 (2016). https://doi.org/10.1007/s10346-015-0593-2
Received:

Accepted:

Published:

Issue Date:
Keywords
Rainfall–landslide relationship for Bogotá (Colombia)

Linear discriminant analysis

Probability of landslide