Abstract
A detailed analysis of the pre-failure behavior of the 3 December 2013 rockfall (1,012 m3) occurred on Puigcercós pilot study area (Catalonia, Spain) is presented. The exact date of failure was obtained based on a photographic monitoring performed every 4 h. The long-term monitoring (2,217 days) of the rock slope carried out by a Terrestrial LiDAR allowed the early detection of both pre-failure deformation and precursory rockfalls preceding the final failure. By means of the analysis of the pre-failure deformation, four different deformed areas were detected and the tertiary creep phase was observed in three of them. An attempt to predict the time to failure was performed using the Fukuzono's (1985) method. Furthermore, the temporal evolution of the precursory rockfalls occurred in those four areas during the progressive failure showed a close resemblance with the exponential pattern of the cumulated displacements at tertiary creep stage. Finally, the study of the meteorological conditions did not show any single triggering factor associated with the final failure. Reversely, the increase in the occurrence of precursory rockfalls on several areas of the slope together with the observed acceleration on the deformation pattern reinforce the role of a progressive degradation of the stability conditions, which ultimately leaded to the 3 December rockfall event.
Access options
Buy single article
Instant access to the full article PDF.
US$ 39.95
Tax calculation will be finalised during checkout.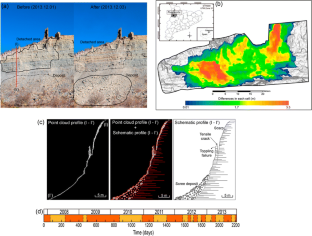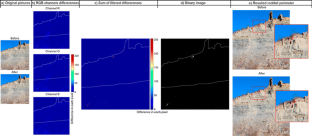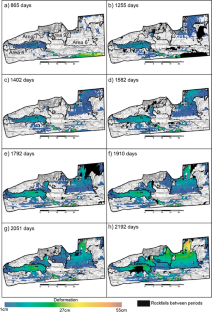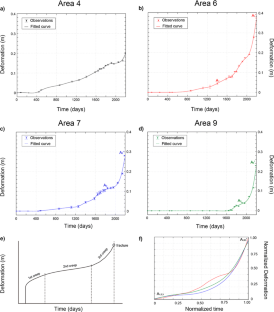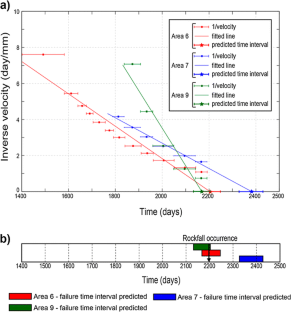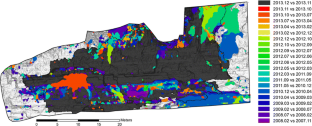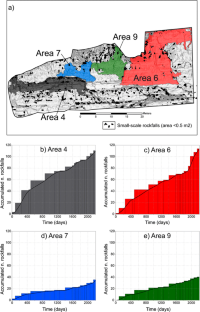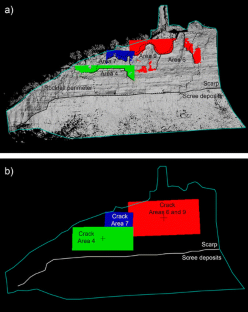 References
Abellán A, Jaboyedoff M, Oppikofer T, Vilaplana JM (2009) Detection of millimetric deformation using a terrestrial laser scanner: experiment and application to a rockfall event. Nat Hazards Earth Syst Sci 9:365–372

Abellán A, Vilaplana JM, Calvet J, Blanchard J (2010) Detection and spatial prediction of rockfalls by means of terrestrial laser scanning monitoring. Geomorphology 119:162–171

Abellán A, Oppikofer T, Jaboyedoff M, Rosser NJ, Lim M, Lato MJ (2014) Terrestrial laser scanning of rock slopes instabilities. Earth Surf Proc Landform 39:80–97

Amitrano D, Grasso JR, Senfaute G (2005) Seismic precursory patterns before a cliff collapse and critical point phenomena. Geophys Res Lett 32, L08314

Atzeni C, Barla M, Pieraccini M (2014) Antolini F (2014) Early warning monitoring of natural and engineered slopes with Ground-Based Synthetic-Aperture Radar. Rock Mech Rock Eng. doi:10.1007/s00603-014-0554-4

Blanchard J, Calvet J, Abellán A, García D, Khazaradze G, Vilaplana JM (2008) Estudio delescarpe del deslizamiento de Puigcercós mediante láser escáner terrestre. Conca de Tremp, Catalunya. Geotemas 10:1389–1392

Bottelin P, Lévy C, Baillet L, Jongmans D, Guéguen P (2013) Modal and thermal analysis of Les Arches unstable rock column (Vercors massif, French Alps). Geophys J Int 194:849–858

Burjánek J, Moore JR, Yugsi Molina FX, Fäh D (2012) Instrumental evidence of normal mode rock slope vibration. Geophys J Int 188(2):559–569

Carrea D, Abellán A, Derron M-H, Jaboyedoff M (2014) Automatic rockfalls volume estimation based on terrestrial laser scanning data, International Association Engineering Geology Conference, Sept 15–19, 2014 Torino (Italy)

Casagli N, Catani F, Del Ventisette C, Luzi G (2010) Monitoring, prediction, and early warning using ground-based radar interferometry. Landslides 7(3):291–301

Chen Y, Medioni G (1992) Object modelling by registration of multiple range images. Image Vis Comput 10:145–155

Corominas J, Alonso E (1984) Inestabilidad de laderas en el Pirineo catalán. Tipologia ycausas. Inestabilidad de laderas en el Pirineo. Ponencias y Comunicaciones. ETSICCPUPCC.1-C.53

Crosta GB, Agliardi F (2003) Failure forecast for large rock slides by surface displacement measurements. Can Geotech J 40:176–191

Cuevas JL (1992) Estratigrafía del "Garumniense" de la Conca de Tremp. Prepirineo deLérida. Acta Geol Hisp 27:95–108

Dewez T, Gebrayel D, Lhomme D, Robin Y (2009) Quantifying morphological changes ofsandy coasts by photogrammetry and cliff coasts by laser grammetry. La Houille Blanc 1:32–37

Eberhardt E, Stead D, Coggan JS (2004) Numerical analysis of initiation and progressive failure in natural rock slopes—the 1991 Randa rockslide. Int J Rock Mech Min Sci 41:69–87

Emery JJ (1979) Simulation of slope creep. In: Voight B (ed) Rock slides & avalanches. Developments in Geotechnical Engineering, 14b, Elsevier, Amsterdam, pp 669–691

Fukuzono T (1985) A new method for predicting the failure time of a slope. In: Proc. IVth International Conference and Field Workshop on Landslides, 1985, Tokyo

Gonzalez RC, Woods RE, Eddins SL (2004) Digital image processing using MATLAB. Pearson Prentice Hall, New Jersey

Jaboyedoff M, Oppikofer T, Abellán A, Derron MH, Loye A, Metzger R, Pedrazzini A (2012) Use of LIDAR in landslide investigations: a review. Nat Hazards 61(1):5–28

Lim M, Petley DN, Rosser NJ, Allison RJ, Long AJ, Pybus D (2006) Combined digital photogrammetry and time-of-flight laser scanning for monitoring cliff evolution. Photogrammetric Rec 20(1):109–129

Michoud C, Carrea D, Costa S, Derron MH, Jaboyedoff M, Delacourt C, Maquaire O, Letortu P, Davidson R (2014) Landslide detection and monitoring capability of boat-based mobile laser scanning along Dieppe coastal cliffs, Normandy. Landslides. doi:10.1007/s10346-014-0542-5

Oppikofer T, Jaboyedoff M, Keusen HR (2008) Collapse at the eastern Eiger flank in the Swiss Alps. Nat Geosci 1:531–535

Pedrazzini A, Oppikofer T, Jaboyedoff M, Guelli Pons M, Chantry R, Stampfli E (2010) Assessment of rockslide and rockfall problems in an active quarry: case study of the Arvel quarry (western Switzerland). In: European rock mechanics symposium (EUROCK 2010), Lausanne, Switzerland. CRC Press, Leiden, pp 593–596

Pujalte V, Schmitz B (2005) Revisión de la estratigrafía del Grupo Tremp ("Garumniense", Cuenca de Tremp-Graus, Pirineos meridionales). Geogaceta 38:79–82

Ravanel L, Allignol F, Deline P, Gruber S, Ravello M (2010) Rock falls in the Mont Blanc Massif in 2007 and 2008. Landslides 7:493–501

Rodriguez X, Abellán A, Calvet J, Vilaplana JM (2009) Estudio de la influencia de lalitología en el fenómeno de caída de bloques mediante láser escáner terrestre. Puigcercós, Pallars Jussà. In: Alonso E, Corominas J, Hürlimann M (eds) Proceedings of VII Simposio Nacional sobre Taludes y Laderas Inestables. Barcelona, Spain

Rose ND, Hungr O (2007) Forecasting potential rock slope failure in open pit mines usingthe inverse-velocity method. Int J Rock Mech Min Sci 44:308–320

Rosser NJ, Petley DN (2008) Monitoring and modeling of slope movement on rock cliffs prior to failure. In: Chen Z, Zhang J, Li Z, Wu F, Ho K (eds) Landslides and engineered slopes. From the past to the future. Proceedings of the 10th International Symposium on Landslides and Engineered Slopes, Xi'an, China

Rosser NJ, Petley DN, Lim M, Dunning SA, Allison RJ (2005) Terrestrial laser scanning for monitoring the process of hard rock coastal cliff erosion. Q J Eng Geol Hydrogeol 38:363–375

Rosser NJ, Lim N, Petley DN, Dunning S, Allison RJ (2007) Patterns of precursory rockfallprior to slope failure. J Geophys Res 112, F04014

Royán MJ, Abellán A, Jaboyedoff M, Vilaplana JM, Calvet J (2014) Spatio-temporal analysis of rockfall pre-failure deformation using Terrestrial LiDAR. Landslides 11:697–709

Saito M (1969) Forecasting time of slope failure by tertiary creep. Proc 7th Int Conference Soil Mech Found Eng 2:677–683

Sartori M, Baillifard F, Jaboyedoff M, Rouiller JD (2003) Kinematics of the 1991 Randa rockfall (Valais, Switzerland). Nat Hazard Earth Syst Sci 3:423–433

Senfaute G, Duperret A, Lawrence JA (2009) Micro-seismic precursory cracks prior to rock-fall on coastal chalk cliffs: a case study at Mesnil-Val, Normandie, NW France. Nat Hazard Earth Syst Sci 9:1625–1641

Singh A (1966) Creep phenomena in soils. Ph.D. thesis. University of California, Berkeley, California

Tarchi D, Casagli N, Fanti R, Leva D, Luzi G, Pasuto A, Pieraccini M, Silvano S (2003) Landslide monitoring by using ground based SAR interferometry: an example of application to the Tessina landslide in Italy. Eng Geol 68:15–30

Vidal LM (1881) Nota acerca de los hundimientos ocurridos en la Cuenca de Tremp (Lérida) en Enero de 1881. Boletin de la Comisión del Mapa Geológico de España VIII:113–129

Voight B (1989) A relation to describe rate-dependent material failure. Science 243:200–203

Zvelebil J, Moser M (2001) Monitoring based time-prediction of rock falls: three case histories. Phys Chem Earth (B) 26:159–167
Acknowledgments
The present study was partially supported by the NUTESA (CGL2010-18609, MICINN, and FEDER Founds), RISKNAT group (2009SGR/520 and 2014SGR/1243), and Swiss National Foundation (SNF 144040—Characterizing and analyzing 3D temporal slope evolution) projects. The first author was funded by the Spanish Ministry of Education, Culture and Sports through a pre-doctoral grant (FPU12/05823). We also acknowledge the technical support of D. Garcia-Sellés in the fieldwork campaigns, as well as J. Blanchard, X. Rodriguez, F. Sanchez, and S. Fontquerni for their support in several data acquisitions. Finally, we are very grateful to the editor (Alexander Strom) and the two anonymous reviewers for their critical revision of the manuscript.
About this article
Cite this article
Royán, M.J., Abellán, A. & Vilaplana, J.M. Progressive failure leading to the 3 December 2013 rockfall at Puigcercós scarp (Catalonia, Spain). Landslides 12, 585–595 (2015). https://doi.org/10.1007/s10346-015-0573-6
Received:

Accepted:

Published:

Issue Date:
Keywords
Rockfall

Monitoring

Pre-failure deformation

Precursory rockfall

Prediction

Laser scanner