Abstract
More than 150 landslides originated in the eastern part of the Czech Republic (region of the Flysch Outer Western Carpathians—hereinafter, OWC) due to soil saturation caused by antecedent precipitation and long lasting and intensive rainfalls on 16–18 May 2010 (>300 mm as measured by some stations). As a consequence, a multitude of small failures originated 88% of which was smaller than 104 m2. Most landslides are characterised as shallow (<10 m) or middle–deep (10–30 m) incipient (rather short travel) landslides, debris slides and soil slips spatially clustered to a geological domain underlain by rather weak thin-bedded flysch and unconsolidated Quaternary deposits. An exception to this is represented by a kilometre-long rockslide (∼2–3 mil m3) affecting tectonically weakened and weathered claystone/mudstone-dominated flysch on the southern slope of Mt. Girová (the Beskydy Mountains). The rockslide is one of the largest long runout landslides in the territory of the Czech Republic activated over the past few decades as it reaches the dimensions of the largest documented Holocene long runout landslides in the Czech part of the OWC. A majority of the May 2010 landslide events developed inside older (Holocene or historic) landslide terrains, which points to their spatial persistency and recurrent nature. In spite of the fact that the May 2010 landslide event was not as destructive as some previous landslide activisation in the OWC region (e.g. July 1997 event), it left many slope failures at the initial stage of their potential future reactivation.
Access options
Buy single article
Instant access to the full article PDF.
USD 39.95
Price includes VAT (USA)
Tax calculation will be finalised during checkout.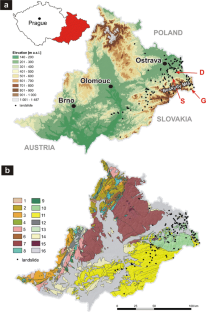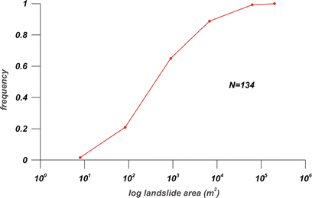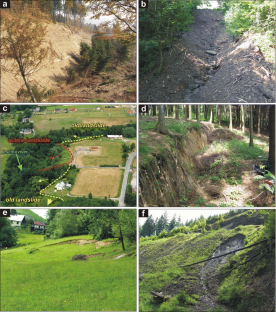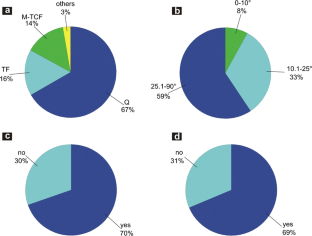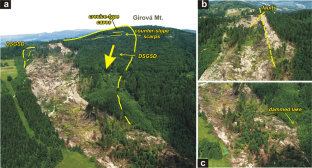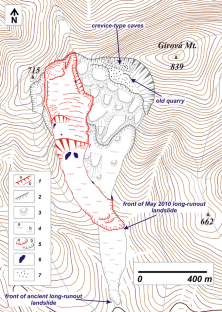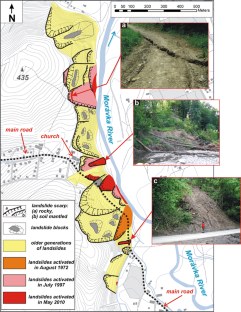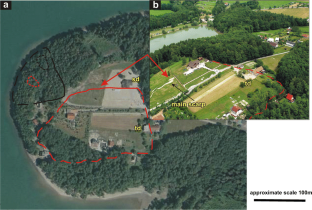 References
Bíl M, Müller I (2008) The origin of shallow landslides in Moravia (Czech Republic) in the spring 2006. Geomorphology 99:246–253

Borgatti L, Corsini A, Barbieri M, Sartini G, Truffelli G, Caputo G, Puglisi C (2006) Large reactivated landslides in weak rock masses: a case study from the Northern Apennines (Italy). Landslides 3:115–124

Brázdil R, Dobrovolný P, Elleder L, Kakos V, Kotyza O, Květoň V, Macková J, Müller M, Štekl J, Tolasz R, Valášek H (2005) Historical and recent floods in the Czech Republic. Masarykova univerzita and Český hydrometeorologický ústav, Brno-Praha (in Czech with English abstract)

Hladný J (1962) Some remarks on the problematics of parameters of precipitation–runoff relationships. Sborník mezinárodní hydrologické konference Slovenské akademie věd a Ústavu hydrologie a hydrauliky, Bratislava, pp 1–11 (in Czech)

Hradecký J, Pánek T (2008) Deep-seated gravitational slope deformations and their influence on consequent mass movements (case studies from the highest part of the Czech Carpathians). Nat Hazards 45:235–253

Kim HT, Cruden DM, Martin CD, Froese CR (2010) The 2007 Fox Creek landslide, Peace River Lowland, Alberta, Canada. Landslides 7:89–98

Klimeš J, Baroň I, Pánek T, Kosačík T, Burda J, Kresta F, Hradecký J (2009) Investigation of recent catastrophic landslides in the flysch belt of Outer Western Carpathians (Czech Republic): progress towards better hazard assessment. Nat Hazards Earth Syst Sci 9:119–128

Krejčí O, Baroň I, Bíl M, Jurová Z, Hubatka F, Kirchner K (2002) Slope movements in the Flysch Carpathians of Eastern Czech Republic triggered by extreme rainfalls in 1997: a case study. Phys Chem Earth 27:1567–1576

Menčík E (1970) Geological map M-34-86-B-c Jablunkov. Ústřední ústav geologický, Brno

Menčík E, Adamová M, Dvořák J, Dudek A, Jetel J, Jurková A, Hanzlíková E, Houša V, Peslová H, Rybářová L, Šmíd B, Šebesta J, Tyráček J, Vašíček Z (1983) Geology of Moravskoslezské Beskydy Mountains and Podbeskydská pahorkatina upland. Ústřední ústav geologický, Praha (in Czech with English abstract)

Mikoš M, Petkovšek A, Majes B (2009) Mechanisms of landslides in over consolidated clay and flysch. Landslides 6:367–371

Mudelsee M, Börngen M, Tetzlaff G, Grünewald U (2004) Extreme floods in central Europe over the past 500 years: role of cyclone pathway "Zugstrasse Vb". J Geophys Res 109:D23101. doi:10.1029/2004JD005034

Pánek T, Hradecký J, Minár J, Hungr O, Dušek R (2009a) Late Holocene catastrophic slope collapse affected by deep-seated gravitational deformation in flysch: Ropice Mountain, Czech Republic. Geomorphology 103:414–429

Pánek T, Hradecký J, Šilhán K (2009b) Geomorphic evidence of ancient catastrophic flow type landslides in the mid-mountain ridges of the Western Flysch Carpathian Mountains (Czech Republic). Int J Sediment Res 24:88–98

Pánek T, Šilhán K, Tábořík P, Hradecký J, Smolková V, Lenart J, Brázdil R, Kašičková L, Pazdur A (2011) Catastrophic slope failure and its origins: a case of the May 2010 Girová Mountain long-runout rockslide (Czech Republic). Geomorphology (in press)

Pecho J, Faško P, Lapin M, Kajaba P, Mikulová K, Šťastný P (2010) Extreme atmospheric precipitation in spring and the beginning of summer 2010 in Slovakia. Meteorologický časopis 13:69–80 (in Slovak with English abstract)

Rybář J, Stemberk J (2000) Avalanche-like occurrences of slope deformations in the Czech Republic and coping with their consequences. Landslide News 13:28–33

Saba SB, Van der Meide M, Van der Werff H (2010) Spatiotemporal landslide detection for the 2005 Kashmir earthquake region. Geomorphology 124:17–25

Sabatakakis N, Koukis G, Mourtas D (2005) Composite landslides induced by heavy rainfalls in suburban areas: city of Patras and surrounding area, Western Greece. Landslides 2:202–211

Štekl J, Brázdil R, Kakos V, Jež J, Tolasz R, Sokol Z (2001) Extreme daily precipitation totals over the territory of the Czech Republic in the 1879–2000 period and their synoptic reasons. Národní klimatický program Česká republika 31. Český hydrometeorologický ústav, Praha (in Czech with English abstract)

Tolasz R, Brázdil R, Bulíř O, Dobrovolný P, Dubrovský M, Hájková L, Halásová O, Hostýnek J, Janouch M, Kohut M, Krška K, Křivancová S, Květoň V, Lepka Z, Lipina P, Macková J, Metelka L, Míková T, Mrkvica Z, Možný M, Nekovář J, Němec L, Pokorný J, Reitschläger JD, Richterová D, Rožnovský J, Řepka M, Semerádová D, Sosna V, Stříž M, Šercl P, Škáchová H, Štěpánek P, Štěpánková P, Trnka M, Valeriánová A, Valter J, Vaníček K, Vavruška F, Voženílek V, Vráblík T, Vysoudil M, Zahradníček J, Zusková I, Žák M, Žalud Z (2007) Climate Atlas of Czechia. Český hydrometeorologický ústav, Universita Palackého, Praha, Olomouc (in Czech and English)

van Bebber WJ (1881) Die geographische Vertheilung und Bewegung, das Entstehen und Verschwinden der barometrischen Minima in den Jahren 1876 bis 1880. Zeitschrift der Österreichische Gesellschaft für Meteorologie 16:414–419
Acknowledgements
This research was supported by a project of the Czech Science Foundation no. P209/10/0309: "The effect of historical climatic and hydrometeorological extremes on slope and fluvial processes in the Western Beskydy Mountains and their forefield". Thanks are also extended to Monika Hradecká for English language corrections. We gratefully acknowledge both anonymous reviewers for valuable comments that significantly improved the manuscript.
About this article
Cite this article
Pánek, T., Brázdil, R., Klimeš, J. et al. Rainfall-induced landslide event of May 2010 in the eastern part of the Czech Republic. Landslides 8, 507–516 (2011). https://doi.org/10.1007/s10346-011-0268-6
Received:

Accepted:

Published:

Issue Date:
Keywords
Extreme precipitation

Rockslide

Recurrent landslides

Flysch Carpathians

Czech Republic