Abstract
Landslides constitute one of the most important natural hazards in Italy as they are widespread and result in considerable damage and fatalities every year. The Italian Landslide Inventory (IFFI) Project was launched in 1999 with the aim of identifying and mapping landslides over the entire Italian territory. The inventory currently holds over 480,000 landslides and has been available by means of Web services since 2005. The aim of this study is to define quality indices for evaluation of the homogeneity and completeness of the IFFI database. In order to estimate the completeness of the landslide attribute information, a heuristic approach has been used to assign weighting values to significant parameters selected from the landslide data sheet. The completeness and homogeneity of the landslide mapping has been evaluated by means of three different methods: an area-frequency distribution analysis; the proximity of the landslides surveyed to urban areas; variation of the landslide index within the same lithology. The quality indices have allowed identification of areas with a high level of completeness and critical areas in which the data collected have been underestimated or are not very accurate. The quality assessment of collected and stored data is essential in order to use the IFFI database for definition and implementation of landslide susceptibility models and for land use planning and management.
This is a preview of subscription content, log in to check access.
Access options
Buy single article
Instant access to the full article PDF.
US$ 39.95
Price includes VAT for USA
Subscribe to journal
Immediate online access to all issues from 2019. Subscription will auto renew annually.
US$ 99
This is the net price. Taxes to be calculated in checkout.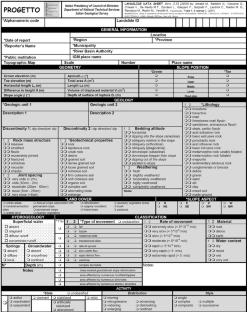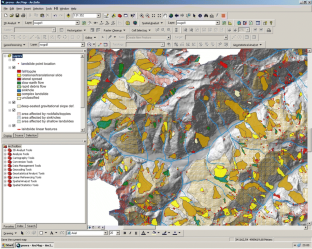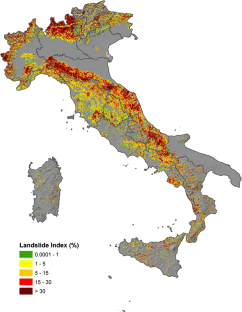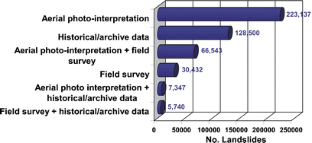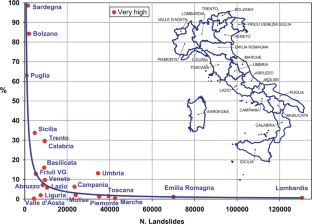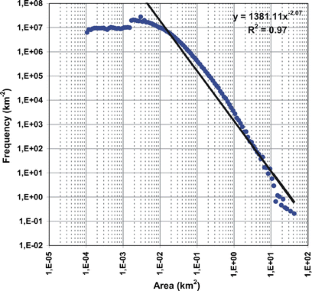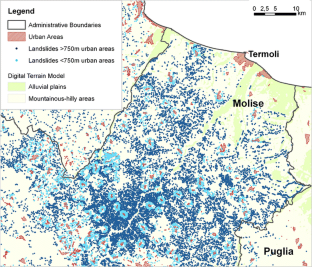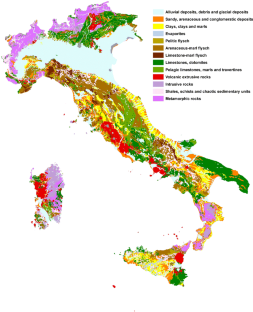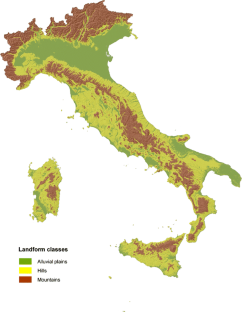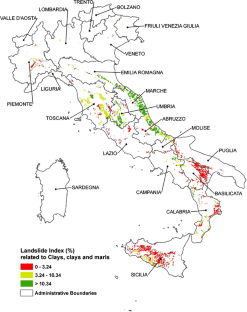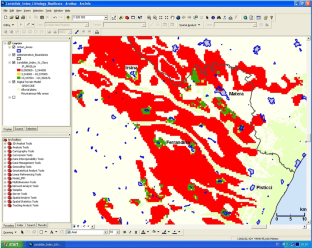 References
Amanti M, Bertolini G, Chiessi V, De Nardo MT, Ramasco M (2001) Guida alla compilazione della scheda frane IFFI. Geological Survey of Italy, Roma. http://www.mais.sinanet.apat.it/cartanetiffi/doc/Allegati_Tecnici/Allegato_1.pdf. Accessed 9 March 2010

ANPA-ARPAT (1998) 19 giugno 1996: alluvione in Versilia e Garfagnana. Un caso di studio. ARPAT, Firenze, 315 pp

Ardizzone F, Cardinali M, Carrara A, Guzzetti F, Reichenbach P (2002) Impact of mapping errors on the reliability of landslide hazard maps. Nat Hazards Earth Syst Sci 2:3–14

ARPA Piemonte (2003) Eventi alluvionali in Piemonte 13–16 ottobre 2000. ARPA Piemonte, Torino, 327 pp

Calcaterra D, Parise M, Palma B, Pelella L (2000) Multiple debris flow in volcanoclastic materials mantling carbonate slope. In: Proc. 2nd Int. Conf. on Debris-Flow Hazard Mitigation, Taipei, Taiwan 16–18 August 2000. Balkema, Rotterdam, pp 99–107

Carrara A, Cardinali M, Guzzetti F (1992) Uncertainty in assessing landslide hazard and risk. ITC Journal, The Netherlands 2:172–183

Carrara A, Cardinali M, Guzzetti F, Reichenbach P (1995) GIS technology in mapping landslide hazard. In: Carrara A, Guzzetti F (eds) Geographical information systems in assessing natural hazards. Kluwer, Dordrecht, pp 135–175

Carrara A, Crosta G, Frattini P (2003) Geomorphological and historical data in assessing landslide hazard. Earth Surf Proc Land 28:1125–1142

Cruden DM, Varnes DJ (1996) Landslide types and processes. In: Turner AK, Schuster RL (eds) Landslides investigation and mitigation (Special report 247). Transportation Research Board, Washington, D.C., pp pp 36–75

Del Prete M, Guadagno FM, Hawkins AB (1998) Preliminary report on the landslides of 5 May 1998 in Campania, Southern Italy. Bull. Eng. Geol. Env. 57:113–129

Frattini P, Crosta GB, Ceriani M, Fossati D (2003) Inventario delle frane e dei dissesti della Regione Lombardia: analisi statistica e probabilistica per una valutazione preliminare della pericolosità. Atti del 1° Convegno Nazionale AIGA, pp 427–448

Galli M, Ardizzone F, Cardinali M, Guzzetti F, Reichenbach P (2008) Comparing landslide inventory maps. Geomorphology 94:268–289

Guthrie RH, Evans SG (2004) Magnitude and frequency of landslides triggered by a storm event, Loughborough Inlet, British Columbia. Nat. Hazards Earth Syst. Sci. 4:475–483

Guzzetti F (2002) Landslide Cartography, Hazard Assessment and Risk Evaluation: Overview, Limits and Prospective. Proceedings of 3rd MITCH Workshop Floods, droughts and landslides who plans, who pays, Potsdam (Germany), November 24–26, 2002

Guzzetti F, Cardinali M, Reichenbach P (1994) The AVI Project: a bibliographical and archive inventory of landslides and floods in Italy. Environmental Management 18:623–633

Guzzetti F, Carrara A, Cardinali M, Reichenbach P (1999) Landslide hazard evaluation: a review of current techniques and their application in a multi-scale study, central Italy. Geomorphology 31:181–216

Guzzetti F, Malamud BD, Turcotte DL, Reichenbach P (2002) Power-law correlations of landslide areas in central Italy. Earth and Planetary Science Letters 195:169–183

Guzzetti F, Reichenbach P, Wieczorek GF (2003) Rockfall hazard and risk assessment in the Yosemite Valley, California, USA. Nat. Hazards Earth Syst. Sci. 3:491–503

Hergarten S (2002) Self-organized criticality in earth systems. Springer, Berlin, p 272 pp

Hovius N, Stark CP, Allen PA (1997) Sediment flux from a mountain belt derived by landslide mapping. Geology 25:231–234

Hovius N, Stark CP, Hao-Tsu C, Jiun-Chuan L (2000) Supply and Removal of Sediment in a Landslide Dominated Mountain Belt: Central Range, Taiwan. J Geol 108:73–89

IAEG–International Association Engineering Geology Commission on Landslides (1990) Suggested Nomenclature for Landslides. Bull Int Assoc Eng Geol 41:13–16

IUGS/WGL–International Union of Geological Science Working Group on Landslides (1995) A suggested method for describing the rate of movement of a landslide. Bull Int Assoc Eng Geol 52:75–78

Malamud BD, Turcotte DL (1999) Self-organized criticality applied to natural hazards. Natural Hazards 20:93–116

Malamud BD, Turcotte DL, Guzzetti F, Reichenbach P (2004) Landslide inventories and their statistical properties. Earth Surface Processes and Landforms 29(6):687–711

Open Geospatial Consortium (2006) OpenGIS® Web Map Server Implementation Specification (Version: 1.3.0). http://www.opengeospatial.org/standards/wms. Accessed 9 March 2010

Reichenbach P, Guzzetti F, Malamud BD, Turcotte DL (2002) Comparison of two landslide triggering events using frequency-area statistics. In: Deidda R, Mugnai A, Siccardi F (eds) Proceedings of the 3rd EGS Plinius Conference on Mediterranean Storms, Italy, 1–3 October 2001, pp 403–408

Stark CP, Hovius N (2001) The characterization of landslide size distributions. Geophysical Research Letters 28(6):1091–1094

The European Parliament and the Council of the European Union (2007) Directive 2007/2/EC establishing an Infrastructure for Spatial Information in the European Community (INSPIRE), UE, Brussels. http://inspire.jrc.ec.europa.eu. Accessed 9 March 2010

Trigila A (ed.) (2007) Rapporto sulle frane in Italia, Il Progetto IFFI – Metodologia, risultati e rapporti regionali (Rapporti 78/2007). APAT, Roma, 681 pp. http://www.apat.gov.it/site/it-IT/APAT/Pubblicazioni/Rapporti/Documento/rapporto_2007_78.html. Accessed 9 March 2010

Trigila A, Iadanza C (2008) Landslide in Italy – Special Report 2008 (Rapporti 83/2008). ISPRA, Roma, 32 pp. http://www.apat.gov.it/site/it-IT/APAT/Pubblicazioni/Rapporti/Documento/rapporto_83_08_landslides.html. Accessed 9 March 2010

Varnes DJ (1978) Slope movements types and processes. In: Schuster RL, Krizek RJ (eds) Landslides: analysis and control (Special Report 176). Transportation Research Board, National Academy of Science, Washington, pp pp 11–33

Wills CJ, Mc Crink TP (2002) Comparing landslide inventories: the map depends on the method. Environ Eng Geosci 8(4):279–293

WP/WLI-International Geotechnical Societies UNESCO Working Party on World Landslide Inventory (1990) A suggested method for reporting a landslide. Bull Int Assoc Eng Geol 41:5–12

WP/WLI-International Geotechnical Societies UNESCO Working Party on World Landslide Inventory (1991) A suggested method for a landslide summary. Bull Int Assoc Eng Geol 43:101–110

WP/WLI-International Geotechnical Societies UNESCO Working Party on World Landslide Inventory (1993) A suggested method for describing the activity of a landslide. Bull Int Assoc Eng Geol 47:53–57

WP/WLI-International Geotechnical Societies UNESCO Working Party on World Landslide Inventory (1993) Multilingual Landslide Glossary. Bitech Publisher, Richmond, British Columbia, Canada, 59 pp

WP/WLI-International Geotechnical Societies UNESCO Working Party on World Landslide Inventory (1994) A suggested method for reporting landslide causes. Bull Int Assoc Eng Geol 50:71–74
About this article
Cite this article
Trigila, A., Iadanza, C. & Spizzichino, D. Quality assessment of the Italian Landslide Inventory using GIS processing. Landslides 7, 455–470 (2010). https://doi.org/10.1007/s10346-010-0213-0
Received:

Accepted:

Published:

Issue Date:
Keywords
Landslide

Inventory

Quality index

Natural hazards

GIS

Italy