Abstract
The Piemonte regional warning system service, managed by the Environmental Protection Agency of Piemonte ("ARPA Piemonte" as official Italian acronym), is based on an advanced meteo-hydrological automatic monitoring system, and it is integrated with forecasting activities of severe weather-related natural hazards. At present, a meteo-hydrological chain is operated to provide flood forecasting on the main river pattern. The development of a forecasting tool for shallow landslides triggered by heavy rainfall is presented. Due to the difficulties in modelling shallow landslides triggering in a large and complex area like the Piemonte region, an empirical model is developed on the basis of the correlation between rainfall and previous landslides in historical documents. The research focuses on establishing rainfall thresholds for landslides triggering, differentiating the critical rainfall values through a geological characterisation of the different territories. The period from 1990 to 2002 is considered. A total number of 160 landslides with hourly information and time of triggering are used to calibrate the system. As a first outcome, two different zones have been identified: (1) zones in alpine environments, principally characterised by a bedrock composed of metamorphic rocks, igneous rocks, dolostones or limestones that require high values of critical rainfall and (2) zones in hilly environments, principally characterised by sedimentary bedrock that require low values of critical rainfall. Verification has been performed on a total number of 429 landslides with known date of occurrence. The results show a good agreement with the model with no missed alarms and a very low number of false alarms, thus suggesting an effective operational implementation.
This is a preview of subscription content,
to check access.
Access this article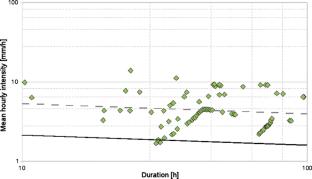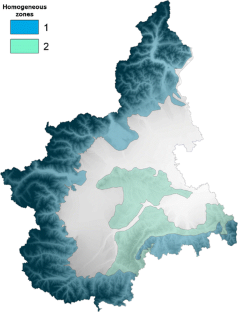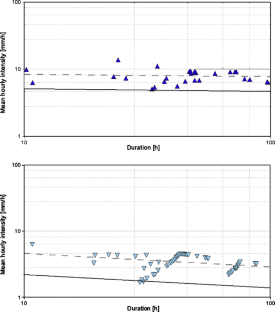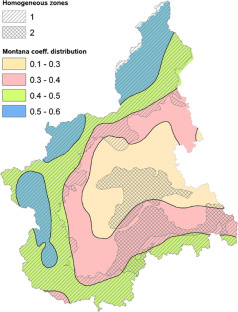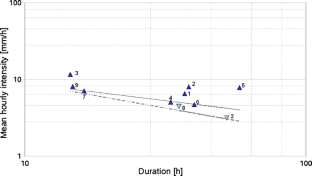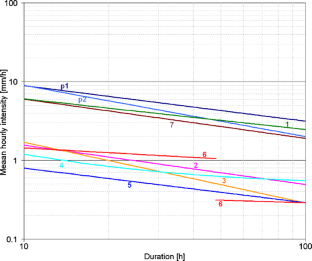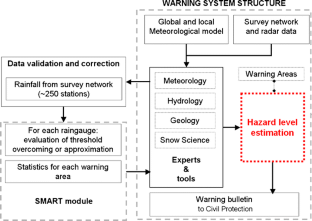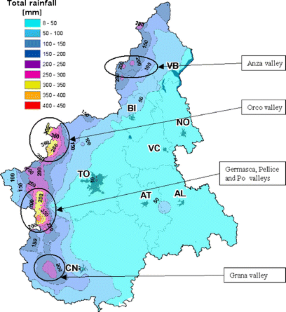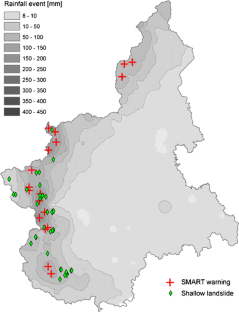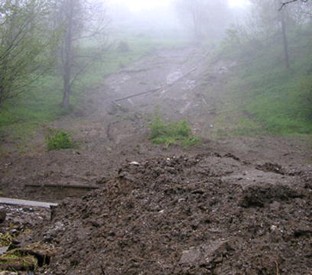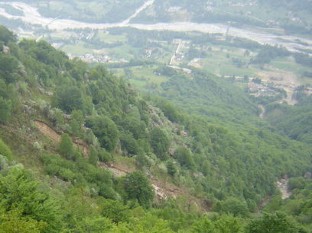 References
Aleotti P (2004) A warning system for rainfall-induced shallow failures. Eng Geol 73:247–265

Biancotti A, Bovo S (ed) (1998) Regional distribution of rainfalls and temperatures, vol 1. Climatological studies in Piedmont, Regione Piemonte, Torino, p 31

Boni G, Parodi A (2001) Sintesi pluviometrica regionale: realizzazione di un atlante delle piogge intense sulle Alpi franco-italiane. Rapporto Finale, Progetto INTERREG II Italia-Francia. Azione 3, 61–80

Bosco F, Campus S, Mensio L, Nicolò G, Tiranti D (2007) Forecasting landslides. In: Campus S, Barbero S, Bovo S, Forlati F (eds) Evaluation and prevention of natural risks. Balkema, Leiden, pp 353–390

Caine N (1980) The rainfall intensity-duration control of shallow landslides and debris flows. Geografiska Annal 62A:23–27

Cancelli A, Nova R (1985) Landslides in soil debris cover triggered by rainstorm in Valtellina (Central Alps, Italy). Proc 4th Int Conf on Landslides Tokyo 1:267–272

Cannon SH, Ellen SD (1985) Rainfall conditions for abundant debris avalanches, San Francisco Bay region, California. Calif Geol 38(12):267–272

Cannon SH, Gartner JE (2005) Wildfire-related debris flow from a hazards perspective. In: Jakob M, Hungr O (eds) Debris flow hazards and related phenomena. Springer, Berlin, pp 363–385

Canuti P, Casagli N (1996) Considerazioni sulla valutazione del rischio di frana. Da: Fenomeni franosi e centri abitati. Atti del Convegno di Bologna del 27 maggio 1994. CNR-GNDCI-Regione Emilia Romagna. Pubbl. n. 846, p 58

Ceriani M, Lauzi S, Padovan N (1994) Rainfall thresholds triggering debris flows in the alpine area of Lombardia Region Central Alps - Italy. In: "Man and Mountain '94", I Convegno internazionale per la protezione e lo sviluppo dell'ambiente montano, pp 123–139

Clarizia M, Gullà G, Sorbino G (1996) Sui meccanismi di innesco dei soil slip. International conference Prevention of hydrogeological hazards: the role of scientific research. 1:585–597, (in Italian)

Crosta GB (1998) Regionalization of rainfall thresholds: an aid to landslide hazard evaluation. Environ Geol 35(2–3):131–145

Crosta GB, Frattini P (2001) Rainfall thresholds for triggering soil slips and debris was not delineated as the lowest (minimum) threshold for the flow. In: Mugnai A, Guzzetti F, Roth G (eds) Mediterranean storms. Proceedings of the 2nd EGS Plinius Conference on Mediterranean Storms. Siena, Italy, pp 463–487

Cruden DM, Varnes DJ (1996) Landslides types and processes. In: Turner AK, Schuster RL (eds) Landslides: investigation and mitigation. Transportation Research Board Special Report 247. National Academy Press, Washington, pp 36–75

Einstein HH, Baecher GB (1983) Probabilistic and statistical methods in engineering geology. Part I: Exploration", Rock Mech. and Rock Eng. Vol 16 N° 1

Ellen SD, Algus MA, Cannon SH, Fleming RW, Reneau SL (1988) Description end mechanics of soil slip/debris flow in the storm, U.S.G.S. Prof. Paper 1434, pp 63–111

Estorge JL, Laborde JP, Zumstein JF (1980) Mise en évidence des relations entre le gradex des pluies journalières et les gradex des pluies de durées inférieures à 24h en Lorraine. La Météorologie série VI(20–21):139–149

Govi M, Sorzana PF (1980) Landslide susceptibility as a function of critical rainfall amount in Piedmont basins (NW Italia). Studia Geomorphologica Carpatho-Balcanica 14:43–61

Guzzetti F, Peruccacci S, Rossi M, Stark CP (2008) The rainfall intensity-duration control of shallow landslides and debris flow: an update. Landslides 5:3–17

Innes JL (1983) Debris flows. Prog Phys Geog 7:469–501

Kesseli LE (1943) Disintegrating soil slip of the Coast Ranges of Central California. Journ Geology Boll 51(5):342–352 Chicago

Mancini M, Rabuffetti D (2003) Sensitivity of rainfall thresholds triggering soil slip to soil hydraulic parameter and hillslope geometry, Proc. International Conference on: fast slope movements-prediction and prevention for risk mitigation, Sorrento, May, 11–13, pp 349–355

Mejėa-Navarro M, Wohl EE, Oaks SD (1994) Geological hazards, vulnerability and risk assessment using GIS: model for Glenwood Springs, Colorado. Geomorphology 10:331–354

Montgomery DR, Dietrich WE (1994) A physically based model for the topographic control os shallow landsliding. Water Resour Res 30:1153–1171

Montrasio L, Valentino R (2007) Experimental analysis and modelling of shallow landslides. Landslides 4:N. 3

Moser M, Hohensinn F (1983) Geotechnical aspects of soil slips in alpine regions. Eng Geol 19:185–211

Murphy AH, Katz RW (ed) (1985) Probability, statistics, and decision making in the atmospheric sciences. Westview Press, Boulder

Rabuffetti D, Barbero S (2005) Operational hydro-meteorological warning and real-time flood forecasting: the Piemonte region case study. Hydrol Earth Syst Sci 9(4):457–466

Rabuffetti D, Mensio L, Barbero S, Pelosini R, Bovo S (2003) An operating alert procedure for meteo-hydrological risk forecasting and management. Proceedings of the Sixth European Conference on Applications of Meteorology, Rome, 15–19 September 2003

Stanski H, Wilson LJ, Burrows WR (1989) Survey of common verification methods in meteorology. World Weather Watch Tech. Rept. No.8, WMO/TD No.358, WMO, Geneva, p 114

Tiranti D, Bonetto S, Mandrone G (2008) Quantitative basin characterisation to refine debris-flow triggering criteria and processes: an example from the Italian Western Alps. Landslides 5:45–57

Tropeano D, Luino F, Turconi L (2000) L'Evento alluvionale del 14–15 ottobre nell'Italia Nord-Occidentale. Fenomeni ed effetti. GEAM, pp 203–216

Tropeano D, Luino F, Turconi L (2006) Eventi di piena e frana in Italia Settentrionale nel periodo 2002–2004. CNR-IRPI/GNDCI. Pubbl. n. 2911, p 158

Varnes DJ (1978) Slope movements types and processes. In: Schuster RL, Krizeck RJ (eds) Landslides: analysis and control. Nat Acad of Science, Washington, DC, pp 11–30

Versace P, Sirangelo B, Capparelli G (2003) Forewarning model of landslides triggered by rainfall. Proc. of the III International Conference on Debris-Flow Hazards Mitigation, Mechanics, Prediction and Assessment, Davos 2:1233–1244

Wieczorek GF, Alger CS, Zatkin RS (1978) Real-time landslide warning during heavy rainfall. Science 238:921–926

Wieczorek GF, Mandrone G, Decola L (1997) The influence of hillslope on debris-flow initiation. In: Chen CL (ed) Debris-flow hazard mitigation: mechanics, prediction and assessment". Proceedings of the first international conference on debris-flow. San Francisco (USA)

Wu W, Sidle RC (1995) A distributed slope stability model for steep forested basin. Water Resour Res 31:2097–2110
Acknowledgements
This publication has been supported by the EU-FP7 "ACQWA" Project (www.acqwa.ch) under Contract Nr 212250. Special thanks to Luca Mensio for suggestions on regional threshold implementation, to Maria Graziadei for contributing in the estimation of false alarms and missed events estimation, to Alessio Salandin for development of SMART software end-user interface and to Luca Paro and to Luca Lanteri for providing some landslide data.
About this article
Cite this article
Tiranti, D., Rabuffetti, D. Estimation of rainfall thresholds triggering shallow landslides for an operational warning system implementation. Landslides 7, 471–481 (2010). https://doi.org/10.1007/s10346-010-0198-8
Received:

Accepted:

Published:

Issue Date:

DOI: https://doi.org/10.1007/s10346-010-0198-8
Keywords