Abstract
A global database of 2,626 rainfall events that have resulted in shallow landslides and debris flows was compiled through a thorough literature search. The rainfall and landslide information was used to update the dependency of the minimum level of rainfall duration and intensity likely to result in shallow landslides and debris flows established by Nel Caine in 1980. The rainfall intensity–duration (ID) values were plotted in logarithmic coordinates, and it was established that with increased rainfall duration, the minimum average intensity likely to trigger shallow slope failures decreases linearly, in the range of durations from 10 min to 35 days. The minimum ID for the possible initiation of shallow landslides and debris flows was determined. The threshold curve was obtained from the rainfall data using an objective statistical technique. To cope with differences in the intensity and duration of rainfall likely to result in shallow slope failures in different climatic regions, the rainfall information was normalized to the mean annual precipitation and the rainy-day normal. Climate information was obtained from the global climate dataset compiled by the Climate Research Unit of the East Anglia University. The obtained global ID thresholds are significantly lower than the threshold proposed by Caine (Geogr Ann A 62:23–27, 1980), and lower than other global thresholds proposed in the literature. The new global ID thresholds can be used in a worldwide operational landslide warning system based on global precipitation measurements where local and regional thresholds are not available..
Access options
Buy single article
Instant access to the full article PDF.
US$ 39.95
Tax calculation will be finalised during checkout.
Subscribe to journal
Immediate online access to all issues from 2019. Subscription will auto renew annually.
US$ 79
Tax calculation will be finalised during checkout.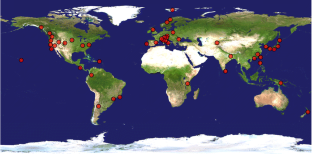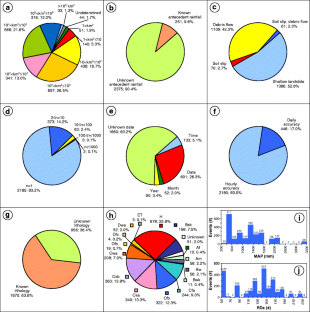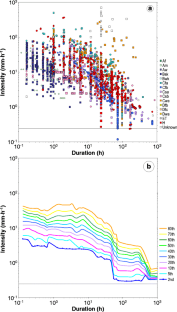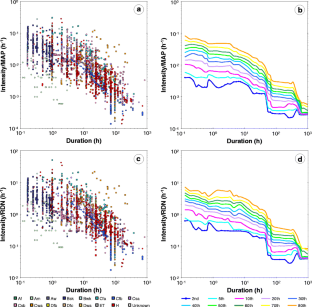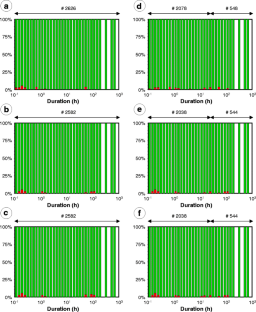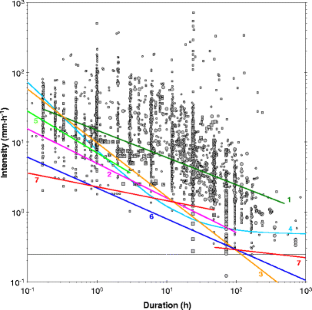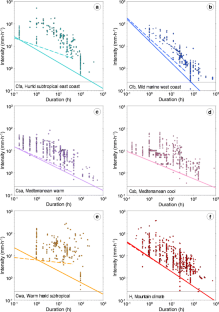 References
Abramowitz M, Stegun IA (1972) Handbook of mathematical functions with formulas, graphs, and mathematical tables, 10th edn. National Bureau of Standards. Wiley, New York, p 1046

Ahmad R (2003) Developing early warning systems in Jamaica: rainfall thresholds for hydrological hazards. National Disaster Management Conference, Ocho Rios, St Ann, Jamaica, 9–10 September 2003. At website: http://www.mona.uwi.edu/uds/rainhazards_files/frame.htm

Aleotti P (2004) A warning system for rainfall-induced shallow failures. Eng Geol 73:247–265

Barbero S, Rabuffetti D, Zaccagnino M (2004) Una metodologia per la definizione delle soglie pluviometriche a supporto dell'emissione dell'allertamento. In: Proceedings of 29th Convegno Nazionale di Idraulica e Costruzioni Idrauliche. Trento, Italy, 211–217 (in Italian)

Brabb EE, Harrod BL (eds.) (1989) Landslides: extent and economic significance. A.A. Balkema Publisher, Rotterdam, p 385

Caine N (1980) The rainfall intensity–duration control of shallow landslides and debris flows. Geogr Ann A 62:23–27

Cannon SH (1988) Regional rainfall-threshold conditions for abundant debris-flow activity. In: Ellen SD, Wieczorek GF (eds) Landslides, floods, and marine effects of the etorm of January 3–5, 1982, in the San Francisco Bay Region, California. US Geological Survey Professional Paper 1434, 35–42

Cannon SH, Gartner JE (2005) Wildfire-related debris flow from a hazards perspective. In: Jakob M, Hungr O (eds) Debris flow hazards and related phenomena. Springer, Berlin, pp 363–385

Chleborad AF (2003) Preliminary evaluation of a precipitation threshold for anticipating the occurrence of landslides in the Seattle, Washington, Area, US Geological Survey Open-File Report 03-463

Clarizia M, Gullà G, Sorbino G (1996) Sui meccanismi di innesco dei soil slip. International conference Prevention of hydrogeological hazards: the role of scientific research. 1:585–597, (in Italian)

Corominas J (2000) Landslides and climate. In: Bromhead E, Dixon N, Ibsen ML (eds) Keynote lecture of Proceedings of the 8th International Symposium on Landslides. A.A. Balkema, Cardiff, Wales, 4, pp 1–33

Crosta GB (1998) Regionalization of rainfall thresholds. : an aid to landslide hazard evaluation. Environ Geol 35(2–3):131–145

Crosta GB, Frattini P (2001) Rainfall thresholds for triggering soil slips and debris flow. In: Mugnai A, Guzzetti F, Roth G (eds) Mediterranean storms. Proceedings of the 2nd EGS Plinius Conference on Mediterranean Storms. Siena, Italy, pp 463–487

Crozier M (1996) The climate–landslide couple: a southern hemisphere perspective. Paleoclimate Res vol. 19(ESF Special Issue 12):329–350

Crozier MJ (1999) Prediction of rainfall-triggered landslides: a test of the antecedent water status model. Earth Surf Processess Landf 24:825–833

Crozier MJ, Eyles RJ (1980) Assessing the probability of rapid mass movement. In: Technical Groups (eds) Proceedings of 3rd Australia-New Zealand Conference on Geomechanics. Wellington: New Zealand Institution of Engineers, 6:247–251

D'Orsi R, D'Avila C, Ortigao JAR, Dias A, Moraes L, Santos MD (1997) Rio-Watch: the Rio de Janeiro landslide watch system. In: Proceedings of the 2nd PSL Pan-AM Symposium on Landslides. Rio de Janerio 1:21–30

Glade T, Crozier MJ, Smith P (2000) Applying probability determination to refine landslide-triggering rainfall thresholds using an empirical "Antecedent Daily Rainfall Model". Pure Appl Geophys 157(6/8):1059–1079

Godt JW, Baum RL, Chleborad AF (2006) Rainfall characteristics for shallow landsliding in Seattle, Washington, USA. Earth Surf Processes Landf 31:97–110

Govi M, Sorzana PF (1980) Landslide susceptibility as function of critical rainfall amount in Piedmont basin (North-Western Italy). Stud Geomorphol Carpatho- Balc 14:43–60

Guidicini G, Iwasa OY (1977) Tentative correlation between rainfall and landslides in a humid tropical environment. Bull Int Assoc Eng Geol 16:13–20

Guzzetti F (1998) Preface. Hydrological triggers of diffused landsliding. Environ Geol 35(2–3):79–80

Guzzetti F (2000) Landslide fatalities and evaluation of landslide risk in Italy. Engin Geol 58:89–107

Guzzetti F, Peruccacci S, Rossi M, Stark CP (2007) Rainfall thresholds for the initiation of landslides. Meteorology Atmospheric Physics (in press)

Heyerdahl H, Harbitz CB, Domaas U, Sandersen F, Tronstad K, Nowacki F, Engen A, Kjekstad O, Dévoli G, Buezo SG, Diaz MR, Hernandez W (2003) Rainfall induced lahars in volcanic debris in Nicaragua and El Salvador: practical mitigation. In: Proceedings of International Conference on Fast Slope Movements—Prediction and Prevention for risk Mitigation, IC-FSM2003. Naples, Italy

Innes JL (1983) Debris flows. Prog Phys Geogr 7:469–501

Iwamoto M (1990) Standard amount of rainfall for warning from debris disaster. In: Cancelli A (ed) ALPS 90, Proceedings of 6th International Conference and Field Workshop on Landslides. Milano: Ricerca Scientifica ed Educazione Permanente, 79b:77–88

Jakob M, Weatherly H (2003) A hydroclimatic threshold for landslide initiation on the north shore mountains of Vancouver, British Columbia. Geomorphology 54(3–4):137–156

Keefer DK, Wilson RC, Mark RK, Brabb EE, Brown WM-III, Ellen SD, Harp EL, Wieczorek GF, Alger CS, Zatkin RS (1987) Real-time landslide warning during heavy rainfall. Science 238:921–925

Köppen JM (1931) Grundriss der Klimakunde. Walter de Grayter, Berlin, p 388

Kummerow C, Simpson J, Thiele O, Barnes W, Chang ATC, Stocker E, Adler RF, Hou A, Kakar R, Wentz F, Ashcroft P, Kozu T, Hong Y, Okamoto K, Iguchi T, Kuroiwa H, Im E, Haddad Z, Huffman G, Ferrier B, Olson WS, Zipser E, Smith EA, Wilheit TT, North G, Krishnamurti T, Nakamura K (2000) The status of the Tropical Rainfall Measuring Mission (TRMM) after two years in orbit. J Appl Meteorol 39:1965–1982

New M, Hulme M, Jones P (1999) Representing twentieth-century space–time climate variability. Part I: Development of a 1961–90 mean monthly terrestrial climatology. J Climate 12:829–856

Onodera T, Yoshinaka R, Kazama H (1974) Slope failures caused by heavy rainfall in Japan. In: Proceedings of the 2nd International Congress of the International Association of Engineering Geology. Sao Paulo, Brazil, 11:1–10

Premchitt J, Brand EW, Chen PYM (1994) Rain-induced landslides in Hong kong, 1972–1992. Asia Engineer, June, 43–51

Reichenbach P, Cardinali M, De Vita P, Guzzetti F (1998) Regional hydrological thresholds for landslides and floods in the Tiber River Basin (Central Italy). Environ Geol 35(2–3):146–159

Terlien MTJ (1998) The determination of statistical and deterministic hydrological landslide-triggering thresholds. Environ Geol 35(2–3):124–130

Trewartha GT (1968) An introduction to climate, 4thth edn. McGraw-Hill, NY: New York, p 408

Wieczorek GF, Glade T (2005) Climatic factors influencing occurrence of debris flows. In: Jakob M, Hungr O (eds) Debris flow hazards and related phenomena. Berlin, Springer, pp 325–362

Wilson RC, Jayko AS (1997) Preliminary maps showing rainfall thresholds for debris-flow activity, San Francisco Bay Region, California. US Geological Survey Open-File Report 97-745 F

Wilson RC, Torikai JD, Ellen SD (1992) Development of rainfall thresholds for debris flows in the Honolulu District, Oahu. US Geological Survey Open-File Report 92-521, p 45
Acknowledgements
The research was supported by RISKAWARE, and the E2-C2 research projects were financed by the European Commission. We are grateful to the two reviewers and the guest editors for their constructive comments.
About this article
Cite this article
Guzzetti, F., Peruccacci, S., Rossi, M. et al. The rainfall intensity–duration control of shallow landslides and debris flows: an update. Landslides 5, 3–17 (2008). https://doi.org/10.1007/s10346-007-0112-1
Received:

Accepted:

Published:

Issue Date:
Keywords
Rainfall

Threshold

Shallow landslides

Debris flow