Abstract
On 17 February 2006, a rockslide-debris avalanche cascaded down the steep slope of Mt. Can-abag, burying the entire village of Guinsaugon in St. Bernard, Southern Leyte, Philippines. Casualties include 139 dead with 980 still missing and presumed dead, making it perhaps the most catastrophic landslide in Philippine history. The landslide started at the ridge top along a fault plane associated with the active Philippine Fault Zone. It started as a block slide that transformed into an avalanche. The entire event lasted for only a few minutes. Estimated maximum landslide velocity is 120–130 m/s. The landslide left behind a deep, wedge-shaped scarp. The central part of the deposit exhibits a hummocky topography typical of avalanches, in contrast to the flatter surface of the debris-flow-type marginal deposit. High amounts of soil in the matrix were derived from the scouring of ancient landslide deposits and rice fields in the valley. The landslide has a total area of 3.2 km2 and a runout distance of 4.1 km. Estimated volume of debris is approximately 20 Mm3. At least four streams were dammed by the landslide debris. Intense precipitation and earthquakes preceding the landslide are the potential triggers. Preliminary back analyses assuming a planar and wedge slip surface yielded very low factors of safety even under dry conditions. A more rigorous analysis of the failure mechanism of the landslide is needed.
Access options
Buy single article
Instant access to the full article PDF.
US$ 39.95
Tax calculation will be finalised during checkout.
Subscribe to journal
Immediate online access to all issues from 2019. Subscription will auto renew annually.
US$ 79
Tax calculation will be finalised during checkout.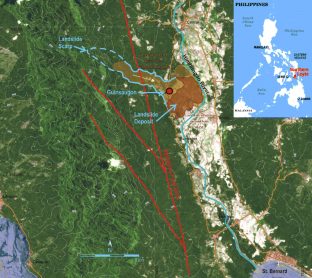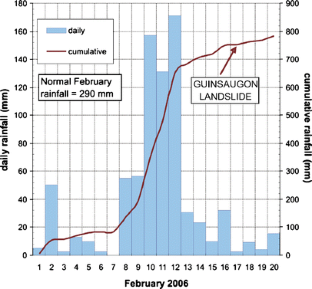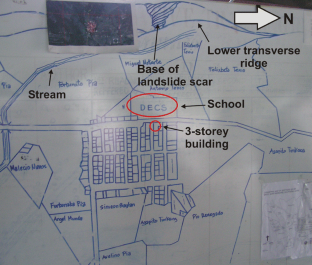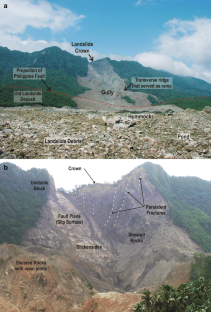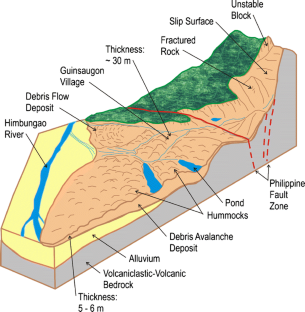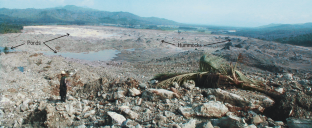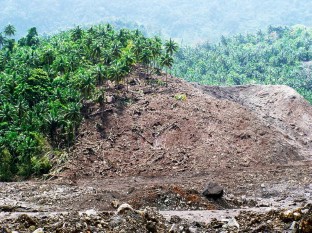 References
Catane SG, Cabria HB, Tomarong CP Jr, Saturay RM Jr, Zarco MAH, Pioquinto WC (2006) Extremely rapid rockslide-debris avalanche at St. Bernard, Southern Leyte, Philippines (in Japanese). Tsuki to Kiso 54-5(580):33–34

Cole J, McCabe R, Moriarty T, Malicse JA, Delfin FG, Tebar H, Ferrer HP (1989) A preliminary Neogene paleomagnetic data set from Leyte and its relation to motion on the Philippine fault. Tectonophysics 168:205–221

Duquesnoy Th (1997) Contributions de la géodésie à l'étude de grands décrochements actifs associés à des zones de subduction à convergence oblique. Thése de docteur en sciences. University of Paris–XI, Orsay

Hoek E, Bray J (1981) Rock slope engineering, 3rd edn. E & FN Spon, London, pp 150–198

JICA-MMAJ (1990) The mineral exploration—mineral deposits and tectonics of two contrasting geologic environments in the Republic of the Philippines. Consolidated report on Leyte, Dinagat and Surigao areas. Japan International Cooperation Agency–Metal Mining Agency of Japan, Japan

Lagmay AM, Ong JB, Fernandez F, Lapus M, Rodolfo R, Tengonciang AM, Soria JL, Baliatan E, Quimba Z, Uichanco E, Paguican A, Remedio G, Lorenzo G, Valdivia W, Avila F (2006) Scientists investigate recent Philippine landslide. EOS 87(12):121–124

PAGASA (2006) Rainfall data from Otikon, Libagon, Southern Leyte. Philippine Atmospheric, Geophysical and Astronomical Services Agency, Philippines
Acknowledgements
We thank UP-NIGS, NIGS's Commission on Higher Education (CHED) Grant, and PNOC-EDC for supporting this initial study. Technical and logistic support extended by Joseph Foronda, Peter Zamora, Allan Mandanas, Leo Campo, and Ms. Sampaguita Capili is highly appreciated. We also thank Hiroshi Suwa for the critical review and editorial handling.
About this article
Cite this article
Catane, S.G., Cabria, H.B., Tomarong, C.P. et al. Catastrophic rockslide-debris avalanche at St. Bernard, Southern Leyte, Philippines. Landslides 4, 85–90 (2007). https://doi.org/10.1007/s10346-006-0050-3
Received:

Accepted:

Published:

Issue Date:
Keywords
Landslide

Debris avalanche

Slope stability

Guinsaugon

Philippines