Abstract
The Egyptian mongoose (Herpestes ichneumon L.) is a medium-size carnivore widely distributed in Africa and in a small part of southern Europe, the Iberian Peninsula, where mongoose populations have recently expanded. The mongoose is relatively easily detectable because of its diurnal habits and because it is the only species of Herpestidae occurring in the Iberian Peninsula. Therefore, its distribution could be monitored through citizen science. In this sense, information provided by stakeholders that make frequent use of natural environments, including hunters, landowners, or wildlife rangers, would be potentially very valuable. Nevertheless, the accuracy of the information provided by these stakeholders as regards mongoose occurrence has never been tested. To do so, we compared mongoose occurrences gathered through field transects (i.e., 2-km walking surveys in which direct observations and indirect signs were recorded) carried out in 218 Andalusian municipalities during 2010–2015 with those obtained through questionnaires conducted in 2016 to hunters (n = 251), landowners (n = 116), and wildlife rangers (n = 133). We did not find any significant difference between mongoose distribution estimated by the reference method (i.e., field surveys) and by questionnaire to wildlife rangers. In contrast, mongoose occurrences reported by hunters and landowners were significantly correlated among them, but not with those collected in field transects (nor with those provided by the rangers). This suggests that a participatory network for monitoring mongoose distribution could rely on the information provided by wildlife rangers. Previous studies showed that hunters can provide useful information from less accessible areas like private estates where official data are not collected. In this sense, our results suggest that further effort is needed to incorporate hunters and landowners in a participatory network to monitor mongoose distribution, and this could include collaborative actions to promote their involvement in addition to increasing their skills in mongoose detection.
Access options
Buy single article
Instant access to the full article PDF.
US$ 39.95
Tax calculation will be finalised during checkout.
Subscribe to journal
Immediate online access to all issues from 2019. Subscription will auto renew annually.
US$ 79
Tax calculation will be finalised during checkout.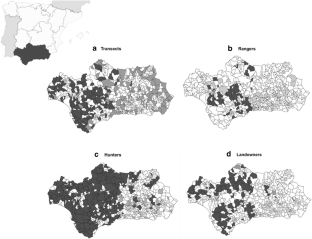 Data availability
All the data is stored by the UIRCP and is available for consultation. The data of the transects come from the Andalusian public administration's own files.
References
Adedokun OA, Burgess WD (2012) Analysis of paired dichotomous data: a gentle introduction to the McNemar test in SPSS. J Interdiscip Multidiscip Res 8(17):125–131

AMAyA (2013) Control of predator populations in Andalusia May, 2013, Unit of evaluation and planning of hunting and fish resources-AMAyA, Unpublished report in Spanish pp 4–8

Balmori A, Carbonell R (2012) Expansion and distribution of the Egyptian mongoose (Herpestes ichneumon) in the Iberian Peninsula. Galemys 24:83–85

Barros T, Carvalho J, Pereira MJR, Ferreira JP, Fonseca C (2015) Following the trail: factors underlying the sudden expansion of the egyptian mongoose (Herpestes ichneumon) in Portugal. PLoS One 10(8)

Barros T, Fonseca C (2011) Expansao do sacarrabos Herpestes ichneumon (Linnaeus, 1758) em Portugal. Galemys 23:9–15

Bonney R, Shirk JL, Phillips TB, Wiggins A, Ballard HL, Miller-Rushing AJ, Parrish JK (2014) Next steps for citizen science. Science 28:1436–1437

Brammer JR, Brunet ND, Burton AC, Cuerrier A, Danielsen F, Dewan K, Herrmann TM, Jackson M, Kennett R, Larocque G, Mulrennan M, Pratihast AK, Saint-Arnaud M, Scott C, Humphries MM (2016) The role of digital data entry in participatory environmental monitoring. Conserv Biol 30:1277–1287

Callaghan CT, Martin JM, Major RE, Kingsford RT (2018) Avian monitoring–comparing structured and unstructured citizen science. Wildl Res 45(2):176–184

Cretois B, Linnell JD, Grainger M, Nilsen EB, Rød JK (2020) Hunters as citizen scientists: contributions to biodiversity monitoring in Europe. GECCO 23:e01077

Chandler M, See L, Copas K, Bonde AMZ, López BC, Danielsen F, Legind JK, Masinde S, Miller-Rushing AJ, Newman G, Rosemartin A, Turak E (2017) Contribution of citizen science towards international biodiversity monitoring. Biol Conserv 213:280–294

Conrad CC, Hilchey KG (2011) A review of citizen science and community-based environmental monitoring: issues and opportunities. Environ Monit Assess 176(1–4):273–291

Cooper CB, Dickinson J, Phillips T, Bonney R (2007) Citizen science as a tool for conservation in residential ecosystems. Ecol Soc 12(2):11

Courter JR, Johnson RJ, Stuyck CM, Lang BA, Kaiser EW (2013) Weekend bias in citizen science data reporting: implications for phenology studies. Int J Biometeorol 57:715–720

Danielsen F, Burgess ND, Balmford A (2005) Monitoring matters: examining the potential of locally-based approaches. Biodivers Conserv 14(11):2507–2542

Delaney DG, Sperling CD, Adams CS, Leung B (2008) Marine invasive species: validation of citizen science and implications for national monitoring networks. Biol Invasions 10:117–128

Dickinson JL, Zuckerberg B, Bonter DN (2010) Citizen science as an ecological research tool: challenges and benefits. Annu Rev Ecol Evol Syst 41:149–172

Gregory RD, Van Strien A, Vorisek P, Gmelig Meyling AW, Noble DG, Foppen RPB, Gibbons DW (2005) Developing indicators for European birds. Philos Trans R Soc B 360:269–288

Heigl F, Stretz CR, Steiner W, Suppan F, Bauer T, Laaha G, Zaller JG (2016) Comparing road-kill datasets from hunters and citizen scientists in a landscape context. Remote Sens 8(10):832

Higa M, Yamaura Y, Koizumi I, Yabuhara Y, Senzaki M, Ono S (2015) Mapping large-scale bird distributions using occupancy models and citizen data with spatially biased sampling effort. Divers Distrib 21:46–54

Kosmala M, Wiggins A, Swanson A, Simmons B (2016) Assessing data quality in citizen science. Front Ecol Environ 14:551–560

Mair L, Ruete A (2016) Explaining spatial variation in the recording effort of citizen science data across multiple taxa. PLoS One 11(1):e0147796

Martínez-Jauregui M, Linares O, Carranza J, Soliño M (2017) Dealing with conflicts between people and colonizing native predator species. Biol Conserv 209:239–244

McKinley DC, Miller-Rushing AJ, Ballard HL, Bonney R, Brown H, Cook-Patton SC, Evans DM, French RA, Parrish JK, Phillips TB, Ryan SF, Shanley LA, Shirk JL, Stepenuck KF, Weltzin JF, Wiggins A, Boyle OD, Briggs RD, Chapin SF, Hewitt DA, Preuss PW, Soukup MA (2017) Citizen science can improve conservation science, natural resource management, and environmental protection. Biol Conserv 208:15–28

Palomares F, Delibes M (1992) Circadian activity patterns of free-ranging large gray mongooses, Herpestes ichneumon, in southwestern Spain. J Mammal 73:173–177

Palomares F (2007) Herpestes ichneumon (Linnaeus, 1758). Pp. 327-329. In: Palomo, L.J., Gisbert J., Blanco, J.C. (eds.). Atlas y libro rojo de los mamíferos de España. Dirección General para la Biodiversidad-SECEM-SECEMU, Madrid, pp 327–329

Pillay R, Miller DAW, Hines JE, Joshi AA, Madhusudan MD (2014) Accounting for false positives improves estimates of occupancy from key informant interviews. Divers Distrib 20:223–235

Pocock MJ, Tweddle JC, Savage J, Robinson LD, Roy HE (2017) The diversity and evolution of ecological and environmental citizen science. PLoS One 12(4):e0172579

Recio MR, Virgós E (2010) Predictive niche modelling to identify potential areas of conflicts between human activities and expanding predator populations: a case study of game management and the grey mongoose (Herpestes ichneumon) in Spain. Wildl Res 37:343–354

Schmeller DS, Henry PY, Julliard R, Gruber B, Clobert J, Dziock F, Lengyel S, Nowicki P, De'ri E, Budrys E, Kull T, Tali K, Bauch B, Settele J, Van Swaay C, Kobler A, Babij V, Papastergiadou E, Henle K (2009) Advantages of volunteer-based biodiversity monitoring in Europe. Conserv Biol 23:307–316

Silverton J (2009) A new dawn for citizen science. Trends Ecol Evol 24:467–471

Sullivan BL, Wood CL, Iliff MJ, Bonney RE, Fink D, Kelling S (2009) eBird: a citizen-based bird observation network in the biological sciences. Biol Conserv 142:2282–2292

Tiago P, Ceia-Hasse A, Marques TA, Capinha C, Pereira HM (2017) Spatial distribution of citizen science casuistic observations for different taxonomic groups. Sci Rep 7(1):1–9

Touza J, Drechsler M, Smart JC, Termansen M (2013) Emergence of cooperative behaviours in the management of mobile ecological resources. Environ Model Softw 45:52–63

Walter T, Zink R, Laaha G, Zaller JG, Heigl F (2018) Fox sightings in a city are related to certain land use classes and sociodemographics: results from a citizen science project. BMC Ecol 18(1):50

Weir LA, Royle JA, Nanjappa P, Jung RE (2005) Modeling anuran detection and site occupancy on North American Amphibian Monitoring Program (NAAMP) routes in Maryland. J Herpetol 39(4):627–639
Acknowledgments
We are grateful to AMAYA for KAI data, Junta de Andalucía for their wildlife rangers' collaboration, "APROCA," and "Federación Andaluza de Caza" partners for the help on questionnaire distribution, and J. Seoane for his help on mapping work.
Funding
This study is framed within the projects INIA-CON15-189, RTI2018-096348-RC21, and SBPLY/17/180501/000184.
Additional information
Publisher's note
Springer Nature remains neutral with regard to jurisdictional claims in published maps and institutional affiliations.
About this article
Cite this article
Linares, O., Carranza, J., Soliño, M. et al. Citizen science to monitor the distribution of the Egyptian mongoose in southern Spain: who provide the most reliable information?. Eur J Wildl Res 66, 65 (2020). https://doi.org/10.1007/s10344-020-01408-8
Received:

Revised:

Accepted:

Published:
Keywords
Herpestes ichneumon

Hunters

Landowners

Stakeholders

Wildlife rangers

Community-based monitoring

Wildlife monitoring network