Abstract
We analyzed data from traffic counters installed on 143 Czech roads (motorways and primary roads) which precisely indicated current traffic volume during occurrences of ungulate-vehicle collisions (UVC). One thousand nine hundred ninety-five UVCs were identified over the period 2009–2015 on these 143 road segments. The overall range of annual average daily traffic (AADT) values, for the respective roads, was between 1547 and 78,320 AADT (vehicles/day). Almost 80% of UVC took place at volume lower than 1000 vehicles/h. We demonstrate that traffic volume has a different distribution during the day when compared with UVC distribution. The highest relative risk of UVC was identified for traffic up to 750 vehicles/h. The risk of UVC varied over the course of the year as it was influenced by ungulate locomotory activity. We concluded that the AADT, representing average annual daily traffic, does not accurately represent the actual traffic volume which is present during the night hours, where the majority of UVC usually occur. Therefore, there is a danger that UVC risk modeling, relying on AADT, will be distorted.
Access options
Buy single article
Instant access to the full article PDF.
US$ 39.95
Tax calculation will be finalised during checkout.
Subscribe to journal
Immediate online access to all issues from 2019. Subscription will auto renew annually.
US$ 79
Tax calculation will be finalised during checkout.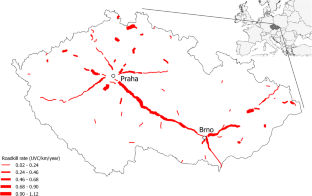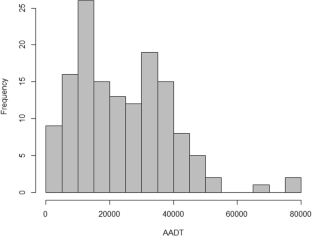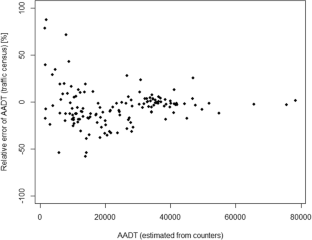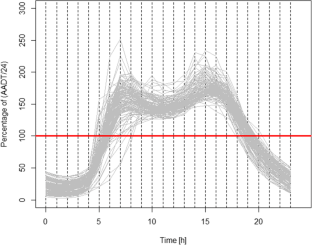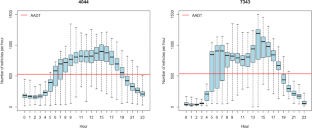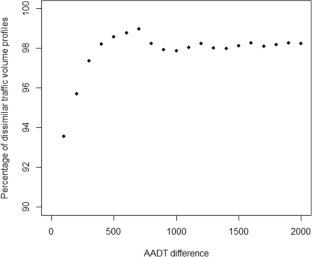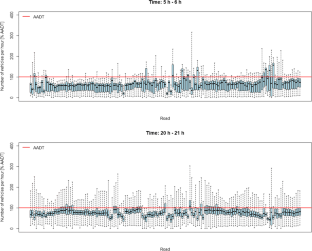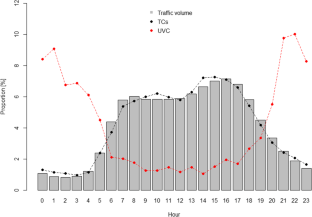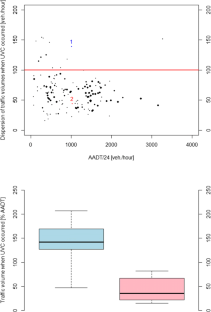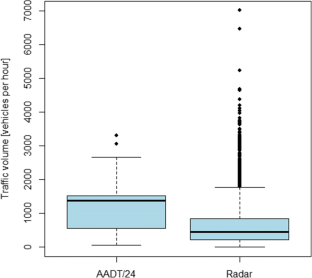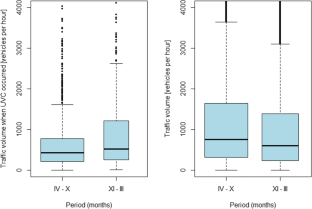 References
Anastasopoulos PC, Mannering FL, Shankar VN, Haddock JE (2012) A study of factors affecting highway accident rates using the random-parameters tobit model. Accid Anal Prev 45:628–633

Bíl M, Kubeček J, Sedoník J, Andrášik R (2017) Srazenazver.cz: a system for evidence of animal-vehicle collisions along transportation networks. Biol Conserv 213PA:167–174

Clopper CJ, Pearson ES (1934) The use of confidence or fiducial limits illustrated in the case of the binomial. Biometrika 26:404–413

Core Team R (2014) A language and environment for statistical computing. R foundation for Statistical Computing, Vienna

Diaz-Varela ER, Vazquez-Gonzalez I, Marey-Pérez MF, Álvarez-López CJ (2011) Assessing methods of mitigating wildlife–vehicle collisions by accident characterization and spatial analysis. Transp Res D 16:281–287

Elvik R (2008) The predictive validity of empirical Bayes estimates of road safety. Accid Anal Prev 40:1964–1969

Gkritza K, Baird M, Hans ZN (2010) Deer-vehicle collisions, deer density, and land use in Iowa's urban deer herd management zones. Accid Anal Prev 42:1916–1925

Haikonen H, Summala H (2001) Deer–vehicle crashes: extensive peak at 1 h after sunset. Am J Prev Med 21(3):209–213

Hauer E (2001) Overdispersion in modelling accidents on road sections and in Empirical Bayes estimation. Accid Anal Prev 33:799–808

Huijser MP, Fuller J, Wagner ME, Hardy A, Clevenger AP (2007) Animal–vehicle collision data collection. A Synthesis of Highway Practice. NCHRP Synthesis 370. Project 20-05/Topic 37–12. Transportation Research Board of the National Academies, USA

Iuell B, Bekker G, Cuperus R et al (2003) Wildlife and traffic: an European handbook for identifying conflicts and designing solutions. KNNV, Bruxelles

Jacobson SL, Bliss-Ketchum LL, de Rivera CE, Smith WP (2016) A behavior-based framework for assessing barrier effects to wildlife from vehicle traffic volume. Ecosphere 7(4):e01345

Kämmerle J-L, Brieger F, Kröschel M, Hagen R, Storch I, Suchant R (2017) Temporal patterns in road crossing behaviour in roe deer (Capreolus capreolus) at sites with wildlife warning reflectors. PLoS ONE 12(9):e0184761. https://doi.org/10.1371/journal.pone.0184761

Kamler JF, Jedrzejewska B, Jedrzejewski W (2007) Factors affecting daily ranges of red deer Cervus elaphus in Bialowieza Primeval Forest, Poland. Acta Theriol 52:113–118

Kruuse M, Enno S-E, Oja T (2016) Temporal patterns of wild boar-vehicle collisions in Estonia, at the northern limit of its range. Eur J Wildl Res 62(6):787–791

Kušta T, Keken Z, Ježek M, Holá M, Šmíd P (2017) The effect of traffic intensity and animal activity on probability of ungulate-vehicle collisions in the Czech Republic. Saf Sci 91:105–113

Madsen AB, Strandgaard H, Prang A (2002) Factors causing traffic killings of roe deer Capreolus capreolus in Denmark. Wildl Biol 8(1):55–61

Milligan C, Montufar J, Regehr J, Ghanney B (2016) Road safety performance measures and AADT uncertainty from short-term counts. Accid Anal Prev 97:186–196

Niemi M, Rolandsen CM, Neumann W, Kukko T, Tiilikainen R, Pusenius J, Solberg EJ, Ericsson G (2017) Temporal patterns of moose-vehicle collisions with and without personal injuries. – Accid. Anal Prev 98:167–173

Romin LA, Bissonette JA (1996) Deer-vehicle collisions: status of state monitoring activities and mitigation efforts. Wildl Soc Bull 24:276–283

Seiler A (2004) Trends and spatial patterns in ungulate-vehicle collisions in Sweden. Wildl Biol 10:301–313

Seiler A (2005) Predicting locations of moose-vehicle collisions in Sweden. J Appl Ecol 42:371–382

Steiner W, Leisch F, Hackländer K (2014) A review on the temporal pattern of deer-vehicle accidents: impact of sesonal, diurnal and lunar effects in cervids. Accid Anal Prev 66:168–181

Sullivan JM (2011) Trends and characteristics of animal-vehicle collisions in the United States. J Saf Res 42:9–16

Thurfjell H, Spong G, Olsson M, Ericsson G (2015) Avoidance of high traffic levels results in lower risk of wild boar-vehicle accidents. Landsc Urban Plan 133:98–104

Vangala P, Lord D, Geedipally SR (2015) Exploring the application of the Negative Binomial-Generalized Exponential model for analyzing traffic crash data with excess zeros. Anal Methods Accid Res 7:29–36

Vanlaar WGM, Barrett H, Hing MM, Brown SW, Robertson RD (2019) Canadian wildlife-vehicle collisions: an examination of knowledge and behavior for collision prevention. J Saf Res 68:181–186

Yu H, Liu P, Chen J, Wang H (2014) Comparative analysis of the spatial analysis methods for hotspot identification. Accid Anal Prev 66:80–88

Zuberogoitia I, del Real J, Torres JJ, Rodríguez L, Alonso M, Zabala J (2014) Ungulate vehicle collisions in a peri-urban environment: consequences of transportation infrastructures planned assuming the absence of ungulates. PLoS ONE 9(9):e107713
Acknowledgments
This work was supported by the Ministry of Education, Youth and Sports within the National Sustainability Program I, project of Transport R&D Centre (LO1610), on the research infrastructure acquired from the Operation Program Research and Development for Innovations (CZ.1.05/2.1.00/03.0064). We would like to thank Tomáš Kušta for inspiring discussion regarding the locomotory activity of ungulates. We would also like to thank David Livingstone for proofreading the English and the four anonymous reviewers for their constructive comments and suggestions.
Additional information
Publisher's note
Springer Nature remains neutral with regard to jurisdictional claims in published maps and institutional affiliations.
This article is part of the Topical Collection on Road Ecology Guest Editor: Marcello D'Amico
About this article
Cite this article
Bíl, M., Kubeček, J. & Andrášik, R. Ungulate-vehicle collision risk and traffic volume on roads. Eur J Wildl Res 66, 59 (2020). https://doi.org/10.1007/s10344-020-01397-8
Received:

Revised:

Accepted:

Published:
Keywords
Traffic volume

Ungulate-vehicle collisions

Road ecology

Ungulates