Abstract
The intensification of human activities is responsible for habitat loss which is the major cause of biodiversity regression. In this context, it becomes critical to consider with more attention highly transformed or artificial habitats that may have a significant value for biodiversity conservation. It is also equally important to evaluate the significance of management measures in remaining semi-natural habitat. Squamate reptiles (lizards and snakes) usually have limited dispersal capacities and are consequently particularly vulnerable to habitat changes. We studied the abundance of an endangered species, the smooth snake (Coronella austriaca), in 112 sites located in the southern part of Belgium. We wanted to compare population size and density in a semi-natural habitat (dry grassland) and two artificial ones (rocky habitats and railway). We also wanted to compare snake density in grasslands depending on management measures (either mowing, grazing, or no management). Our results suggest that smooth snake population sizes are low with fewer than 20 individuals on 85% of the sampled sites. Highest density and population sizes were reported along railways and in artificial rocky habitats when compared with grasslands. Population density was lower in nature reserves reflecting notably the negative effect of management (grazing). Our study suggests that transformed habitat can provide significant structural diversity and can be beneficial as long as human pressure remains low. In turn, management measures deployed in semi-natural habitats may dramatically affect microhabitat diversity and significantly impact squamate populations.
Access options
Buy single article
Instant access to the full article PDF.
USD 39.95
Price includes VAT (USA)
Tax calculation will be finalised during checkout.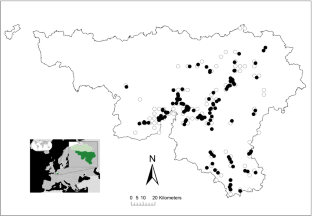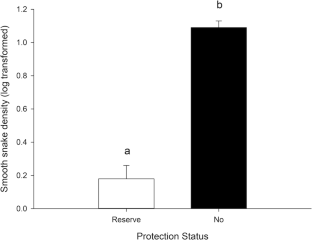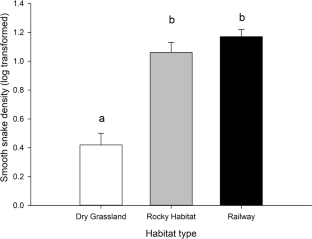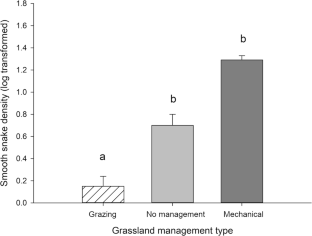 References
Bakker JP (1989) Nature management by grazing and cutting. On the ecological significance of grazing and cutting regimes applied to restore former species-rich grassland communities in the Netherlands, 1st edn. Springer Netherlands

Barrientos R, Ascensao F, Beja P et al (2019) Railway ecology vs road ecology: similarities and differences. Eur J Wildl Res 65:12. https://doi.org/10.1007/s10344-018-1248-0

Blouin-Demers G, Weatherhead PJ (2002) Habitat-specific behavioural thermoregulation by black rat snakes (Elaphe obsoleta obsoleta). Oikos 97:59–68. https://doi.org/10.1034/j.1600-0706.2002.970106.x

Bobbink R, Willems JH (1987) Increasing dominance of Brachypodium pinnatum (L.) Beauv. in chalk grasslands: a threat to a species-rich ecosystem. Biol Conserv 40:301–314

Böhm M, Collen B, Baillie JEM et al (2013) The conservation status of the world's reptiles. Biol Conserv 157:372–385

Brown GP, Weatherhead PJ (1999) Demography and sexual size dimorphism in northern water snakes, Nerodia sipedon. Can J Zool 77:1358–1366

Burel F, Baudry J, Butet A et al (1998) Comparative biodiversity along a gradient of agricultural landscapes. Acta Oecol 19:47–60

Burkhardt M, Rossi L, Boller M (2008) Diffuse release of environmental hazards by railways. Desalination 226:106–113. https://doi.org/10.1016/j.desal.2007.02.102

Butchart SHM, Walpole M, Collen B, van Strien A, Scharlemann JP, Almond RE, Baillie JE, Bomhard B, Brown C, Bruno J, Carpenter KE, Carr GM, Chanson J, Chenery AM, Csirke J, Davidson NC, Dentener F, Foster M, Galli A, Galloway JN, Genovesi P, Gregory RD, Hockings M, Kapos V, Lamarque JF, Leverington F, Loh J, McGeoch M, McRae L, Minasyan A, Hernández Morcillo M, Oldfield TE, Pauly D, Quader S, Revenga C, Sauer JR, Skolnik B, Spear D, Stanwell-Smith D, Stuart SN, Symes A, Tierney M, Tyrrell TD, Vié JC, Watson R (2010) Global biodiversity: indicators of recent declines. Science 328:1164–1168. https://doi.org/10.1126/science.1187512

Cooper WE, Wilson DS (2008) Thermal cost of refuge use affects refuge entry and hiding time by striped plateau lizards Sceloporus virgatus. Herpetologica 64:406–412

Dias MP, Lecoq M, Moniz F, Rabaca JE (2014) Can human-made saltpans represent an alternative habitat for shorebirds? Implications for a predictable loss of estuarine sediment flats. Environ Manag 53:163–171. https://doi.org/10.1007/s00267-013-0195-5

Dick DCD, Mebert K (2017) Between housing and deep forest: long-term population biology and dispersal of suburban smooth snakes (Coronella austriaca). Zool Anz 270:98–106. https://doi.org/10.1016/j.jcz.2017.09.007

Driscoll DA (2004) Extinction and outbreaks accompany fragmentation of a reptile community. Ecol Appl 14:220–240

Fahrig L, Baudry J, Brotons LL, Burel FG, Crist TO, Fuller RJ, Sirami C, Siriwardena GM, Martin JL (2011) Functional landscape heterogeneity and animal biodiversity in agricultural landscapes. Ecol Lett 14:101–112. https://doi.org/10.1111/j.1461-0248.2010.01559.x

Ficheux S, Olivier A, Fay R et al (2014) Rapid response of a long-lived species to improved water and grazing management: the case of the European pond turtle (Emys orbicularis) in the Camargue, France. J Nat Conserv 22:342–348. https://doi.org/10.1016/j.jnc.2014.03.001

Flavenot T, Fellous S, Abdelkrim J, Baguette M, Coulon A (2015) Impact of quarrying on genetic diversity: an approach across landscapes and over time. Conserv Genet 16:181–194. https://doi.org/10.1007/s10592-014-0650-8

Francis EA, Moldowan PD, Greischar MA, Rollinson N (2019) Anthropogenic nest sites provide warmer incubation environments than natural nest sites in a population of oviparous reptiles near their northern range limit. Oecologia 190:511–522. https://doi.org/10.1007/s00442-019-04383-3

Garden JG, McAlpine CA, Possingham HP, Jones DN (2007) Habitat structure is more important than vegetation composition for local-level management of native terrestrial reptile and small mammal species living in urban remnants: a case study from Brisbane, Australia. Austral Ecology 32:669–685. https://doi.org/10.1111/j.1442-9993.2007.01750.x

Gaston KJ, Fuller RA (2007) Biodiversity and extinction: losing the common and the widespread. Prog Phys Geogr 31:213–225. https://doi.org/10.1177/0309133307076488

Gent AH, Spellerberg IF (1993) Movement rates of the smooth snake Coronella austriaca (Colubridae) - a radio-telemetric study. Herpetol J 3:140–146

Gherghel I, Strugariu A, Sahlean TC, Zamfirescu O (2009) Anthropogenic impact or anthropogenic accommodation? Distribution range expansion of the common wall lizard (Podarcis muralis) by means of artificial habitats in the north-eastern limits of its distribution range. Acta Herpetologica 4:183–189

Gibbons JW, Scott DE, Ryan TJ et al (2000) The global decline of reptiles, Deja vu amphibians. Bioscience 50:653–666

Goddard P (1984) Morphology, growth, food-habits and population characteristics of the smooth snake Coronella austriaca in Southern Britain. J Zool 204:241–257

Graitson E (2006) Distribution and ecology of reptiles on the rail network in Wallonia. Bulletin de la Societe Herpetologique de France:15–32

Graitson E (2008) The herpetological settlement of calcareous chalk grassland in Belgium. Parcs & Réserves 63:4–12

Graitson E, Jacob JP (2007) La coronelle lisse, Coronella austriaca (Laurenti 1768). Amphibiens et Reptiles de Wallonie:244–255

Graitson E, Naulleau G (2005) Artificial shelters: a technique for completing species check-lists and for monitoring reptiles populations. Bulletin de la Societe Herpetologique de France 115:5–22

Guiller G (2009) Les voies ferrées: une alternative pour la conservation des ophidiens. Bulletin de la Société des sciences naturelles de l'Ouest de la France 31:1–21

Hailey A, Davies PMCC (1987) Growth, movement and population dynamics of Natrix maura in a drying river. Herpetol J 1:185–194

Hartel T, Öllerer K, Farczády L et al (2009) Using species detectability to infer distribution, habitat use and absence of a cryptic species: the smooth snake (Coronella austriaca) in Saxon Transylvania. Acta Scientiarum Transylvanica 17:61–76

Hillman SS, Drewes RC, Hedrick MS, Hancock TV (2014) Physiological vagility and its relationship to dispersal and neutral genetic heterogeneity in vertebrates. J Exp Biol 217:3356–3364. https://doi.org/10.1242/jeb.105908

IUCN (2016) IUCN red list of threatened species. In: Version 2016–3. http://www.iucnredlist.org/

Jofré GM, Reading CJ (2012) An assessment of the impact of conservation grazing on reptile populations.

Käsewieter D (2002) Ökologischen Untersuchungen an der Schlingnatter (Coronella austriaca Laurenti 1768). Universität Bayreuth

Kery M (2002) Inferring the absence of a species - a case study of snakes. J Wildl Manag 66:330–338

King RB (1986) Population ecology of the lake Erie water snakes, Nerodia sipedon insularum. Copeia:757–772

Krauss J, Bommarco R, Guardiola M, Heikkinen RK, Helm A, Kuussaari M, Lindborg R, Ockinger E, Pärtel M, Pino J, Pöyry J, Raatikainen KM, Sang A, Stefanescu C, Teder T, Zobel M, Steffan-Dewenter I (2010) Habitat fragmentation causes immediate and time-delayed biodiversity loss at different trophic levels. Ecol Lett 13:597–605. https://doi.org/10.1111/j.1461-0248.2010.01457.x

Kühnis J (1996) – Verbreitung und Biologie der Schlingnatter (Coronella austriaca Laurenti, 1768) entlang des liechtensteinischen Bahn-geländes. Ber. Bot. Zool. Ges. Liechtenstein-Sargans-Werdenberg, 23:185-207

Le Viol I, Julliard R, Kerbiriou C et al (2008) Plant and spider communities benefit differently from the presence of planted hedgerows in highway verges. Biol Conserv 141:1581–1590. https://doi.org/10.1016/j.biocon.2008.04.003

Lelièvre H, Blouin-Demers G, Bonnet X, Lourdais O (2010a) Thermal benefits of artificial shelters in snakes: a radiotelemetric study of two sympatric colubrids. J Therm Biol. https://doi.org/10.1016/j.jtherbio.2010.06.011

Lelièvre H, Le Hénanff M, Blouin-Demers G et al (2010b) Thermal strategies and energetics in two sympatric colubrid snakes with contrasted exposure. J Comp Physiol B Biochem Syst Environ Physiol 180:415–425. https://doi.org/10.1007/s00360-009-0423-8

Lenders AJW (2001) Het belang van spoorwegen voor de herpetofauna. De Ijzeren Rijn als habitat voor reptielen en amfibieën. Natuurhistorisch Maanblad 90:81–88

Lepart J, Marty P (2009) Sortir des espaces protégés pour conserver la biodiversité. Géographie et cultures 69:11–24. https://doi.org/10.4000/gc.3534

Lind AJ, Welsh HH, Tallmon DA (2005) Garter snake population dynamics from a 16-year study: considerations for ecological monitoring. Ecol Appl 15:294–303. https://doi.org/10.1890/03-5322

Lourdais O, Guillon M, DeNardo DF, Blouin-Demers G (2013) Cold climate specialization: adaptive covariation between metabolic rate and thermoregulation in pregnant vipers. Physiol Behav 119:149–155. https://doi.org/10.1016/j.physbeh.2013.05.041

Löwenborg K, Shine R, Kärvemo S et al (2010) Grass snakes exploit anthropogenic heat sources to overcome distributional limits imposed by oviparity. Funct Ecol 24:1095–1102. https://doi.org/10.1111/j.1365-2435.2010.01730.x

Lundholm JT, Richardson PJ (2010) Habitat analogues for reconciliation ecology in urban and industrial environments. J Appl Ecol 47:966–975

Masero JA (2003) Assessing alternative anthropogenic habitats for conserving waterbirds: salinas as buffer areas against the impact of natural habitat loss for shorebirds. Biodivers Conserv 12:1157–1173. https://doi.org/10.1023/A:1023021320448

Mazerolle MJ (2005) Drainage ditches facilitate frog movements in a hostile landscape. Landsc Ecol 20:579–590. https://doi.org/10.1007/s10980-004-3977-6

McKinney ML (2002) Urbanization, biodiversity, and conservation. BioScience 52:883. https://doi.org/10.1641/0006-3568(2002)052[0883:UBAC]2.0.CO;2

Meister B, Ursenbacher S, Baur B (2012) Frequency of multiple paternity in the grass snake (Natrix natrix). Amphibia-Reptilia 33:308–312

Newbold T, Hudson LN, Hill SLL, Contu S, Lysenko I, Senior RA, Börger L, Bennett DJ, Choimes A, Collen B, Day J, de Palma A, Díaz S, Echeverria-Londoño S, Edgar MJ, Feldman A, Garon M, Harrison ML, Alhusseini T, Ingram DJ, Itescu Y, Kattge J, Kemp V, Kirkpatrick L, Kleyer M, Correia DL, Martin CD, Meiri S, Novosolov M, Pan Y, Phillips HR, Purves DW, Robinson A, Simpson J, Tuck SL, Weiher E, White HJ, Ewers RM, Mace GM, Scharlemann JP, Purvis A (2015) Global effects of land use on local terrestrial biodiversity. Nature 520:45–50. https://doi.org/10.1038/nature14324

Newbold T, Hudson LN, Arnell AP, Contu S, De Palma A, Ferrier S, Hill SLL, Hoskins AJ, Lysenko I, Phillips HRP, Burton VJ, Chng CWT, Emerson S, Gao D, Pask-Hale G, Hutton J, Jung M, Sanchez-Ortiz K, Simmons BI, Whitmee S, Zhang H, Scharlemann JPW, Purvis A (2016). Has land use pushed terrestrial biodiversity beyond the planetary boundary? A global assessment. Science 353:288–291. https://doi.org/10.1126/science.aaf2201

Otis DL, Burnham KP, White GC, Anderson DR (1978) Statistical inference from capture data on closed animal populations. Wildl Monogr 62:3–135. https://doi.org/10.2307/2287873

Palmeirim AF, Vieira MV, Peres CA (2017) Herpetofaunal responses to anthropogenic forest habitat modification across the neotropics: insights from partitioning beta-diversity. Biodivers Conserv 26:2877–2891. https://doi.org/10.1007/s10531-017-1394-9

Penone C, Machon N, Julliard R, Le Viol I (2012) Do railway edges provide functional connectivity for plant communities in an urban context? Biol Conserv 148:126–133. https://doi.org/10.1016/j.biocon.2012.01.041

Popp JN, Boyle SP (2017) Railway ecology: underrepresented in science? Basic and Applied Ecology 19:84–93. https://doi.org/10.1016/j.baae.2016.11.006

R Development Core Team (2016) R: a Language and Environment for Statistical Computing. Vienna: R Foundation for Statistical Computing

Rautsaw RM, Martin SA, Vincent BA et al (2018) Stopped dead in their tracks: the impact of railways on gopher tortoise (Gopherus polyphemus) movement and behavior. Copeia 106:135–143. https://doi.org/10.1643/CE-17-635

Reading CJ, Jofre GM (2018) The relative performance of smooth snakes inhabiting open heathland and conifer plantations. For Ecol Manag 427:333–341. https://doi.org/10.1016/j.foreco.2018.06.020

Reading CJ, Jofré GM (2015) Habitat use by smooth snakes on lowland heath managed using "conservation training.". Herpetol J 25:225–231

Sauer A (1994) Methode zur Identifizierung der Schlingnatter (Coronella austriaca). Salamandra 30:43–47

Sillero N, Campos J, Bonardi A et al (2014) Updated distribution and biogeography of amphibians and reptiles of Europe. Amphibia-Reptilia 35:1–31. https://doi.org/10.1163/15685381-00002935

Simberloff D (1998) Flagships, umbrellas, and keystones: is single species management passé in the landscape era? Biol Conserv 83:247–257. https://doi.org/10.1016/S0006-3207(97)00081-5

Spellerberg IF, Phelps TE (1977) Biology, general ecology and behaviour of the snake, Coronella austriaca Laurenti. Biol J Linn Soc 9:133–164

Stoate C, Boatman N, Borralho R, Carvalho CR, de Snoo GR, Eden P (2001) Ecological impacts of arable intensification in Europe. J Environ Manag 63:337–365. https://doi.org/10.1006/jema.2001.0473

Strijbosch H (2002) Reptiles and grazing. Vakblad natuurbeheer 41:28–30

Stumpel AHP (2004) Reptiles and amphibians as targets for nature management. Wageningen University

Stumpel AHP, van der Werf DC (2012) Reptile habitat preference in heathland: implications for heathland management. Herpetol J 22:179–182

Szaro RC, Belfit SC, Aitkin JK, Rinne JN (1985) Impact of grazing on a riparian garter snake. In: Johnson RR, Ziebell CD, Patton DR, et al. (eds) Riparian ecosystems and their management: reconciling conflicting uses. USDA Forest Service general technical report RM-120. pp 359–363

Tscharntke T, Klein AM, Kruess A et al (2005) Landscape perspectives on agricultural intensification and biodiversity - ecosystem service management. Ecol Lett 8:857–874. https://doi.org/10.1111/j.1461-0248.2005.00782.x

Twerd L, Krzyzynski M, Waldon-Rudzionek B, Olszewski P (2017) Can soda ash dumping grounds provide replacement habitats for digger wasps (Hymenoptera, Apoidea, Spheciformes)? PLoS One 12:e0175664. https://doi.org/10.1371/journal.pone.0175664

Ursenbacher S, Monney J (2003) Résultats de 5 années de suivi d'une population de Vipères péliades (Vipera berus) dans le Jura suisse: estimation des effectifs et discussion des méthodes d'estimation. Bulletin de la Société Herpétologique de France 107:15–25

Vacher JP, Geniez M (2010) Les reptiles de France, Suisse, Belgique et Luxembourg. Biotope, Mèze (Collection Parthénope); Muséum national d'Histoire naturelle, Paris

Vad CF, Péntek AL, Cozma NJ, Földi A, Tóth A, Tóth B, Böde N, Móra A, Ptacnik R, Ács É, Zsuga K, Horváth Z (2017) Wartime scars or reservoirs of biodiversity? The value of bomb crater ponds in aquatic conservation. Biol Conserv 209:253–262. https://doi.org/10.1016/j.biocon.2017.02.025

Vandevelde JC, Bouhours A, Julien JF et al (2014) Activity of European common bats along railway verges. Ecol Eng 64:49–56. https://doi.org/10.1016/j.ecoleng.2013.12.025

WallisDeVries MF, Noordijk J, Sierdsema H, Zollinger R (2013) Begrazing in Brabantste heidegebieden-Effecten op de faune. Nijmegen

WallisDeVries MF, Poschlod P, Willems JH (2002) Challenges for the conservation of calcareous grasslands in northwestern Europe: integrating the requirements of flora and fauna. Biol Conserv 104:265–273. https://doi.org/10.1016/S0006-3207(01)00191-4

White GC, Burnham KP (1999) Program MARK: survival estimation from populations of marked animals. Bird Study 46:120–139

Wiens JA (2009) Landscape ecology as a foundation for sustainable conservation. Landsc Ecol 24:1053–1065. https://doi.org/10.1007/s10980-008-9284-x
Acknowledgments
We warmly thank the people who contributed to data collection: Florent Bignon, Jonas Bogacsyk, Jacques Bultot, Guido Catthoor, Didier Cavelier, Olivier Decocq, Jean Delacre, Jean-Noël Funtowicz, José Hussin, Eddy Kosmala, Charlotte Mathelart, Noël Méganck, Marc Paquay, Thibault Petit, Arthur Timmermans, Charles Uyttenhoven, and Olivier Vanderstraeten. This research was supported by the Department of the Natural and Agricultural Environment (DEMNA) of the Public Service of Wallonia.
Ethics declarations
This study was performed in accordance with laws relative to capture of a protected species Coronella austriaca. Capture permit was issue annually by the Department of the natural and agricultural environment (DEMNA) of the Public Service of Wallonia. All field procedures complied with Belgium regulation and ethical standards for animal welfare.
Conflict of interest
The authors declare that they have no competing interests.
Additional information
Publisher's note
Springer Nature remains neutral with regard to jurisdictional claims in published maps and institutional affiliations.
For consideration in: European Journal of Wildlife Research
This article is part of the Topical Collection on Road Ecology
Guest Editor: Marcello D'Amico
About this article
Cite this article
Graitson, E., Ursenbacher, S. & Lourdais, O. Snake conservation in anthropized landscapes: considering artificial habitats and questioning management of semi-natural habitats. Eur J Wildl Res 66, 39 (2020). https://doi.org/10.1007/s10344-020-01373-2
Received:

Revised:

Accepted:

Published:
Keywords
Habitat

Conservation

Snakes

Management

Grazing