Abstract
Here, we provide evidence that the number of Western European ospreys wintering in the Iberian Peninsula has been increasing over nearly two decades due to a reduction of the migration distances. We compared trends in wintering and breeding populations of ospreys in the Iberian Peninsula and western Europe, respectively, and we provide a detailed description of the present distribution and the numbers of ospreys wintering in the Iberian Peninsula. Observations of the species were collected as a citizen science project in January 2017. Based on the long-term data series from the Andalusian region (2004–2016) and from the Bay of Cadiz site (2000–2016), we estimated temporal trends in the population size of the ospreys wintering in these areas. Trends in the western European breeding population were derived from counts of ospreys migrating over the Strait of Gibraltar conducted by volunteers (1999–2016). All the trends were estimated by fitting a linear regression to the logarithm of the annual counts. For quantifying the origin of ospreys wintering in the Iberian Peninsula, we collected 204 confirmed field sightings of wintering ospreys in Spain and 155 in Portugal. We showed that the number of wintering ospreys has been increasing in southern Spain over the last 16 years. The magnitude of this increase is similar to the rate of change observed in the ospreys breeding across Western Europe. Recoveries of ringed birds in the Iberian Peninsula during winter indicate a reduction in the migration distances of Central and Northern European ospreys, making these birds winter at higher latitudes more than before. According to our results, this reduction in the migration distance was fairly uniform among different breeding populations in western Europe, but it did not affect all age classes equally, with juvenile birds more prone to winter at higher latitudes compared to adult birds. Our results showed that the overall number of ospreys which are shortening their migration distance, now over 3% of the total breeding population estimated for western Europe, is on an upward trend.
Access options
Buy single article
Instant access to the full article PDF.
US$ 39.95
Tax calculation will be finalised during checkout.
Subscribe to journal
Immediate online access to all issues from 2019. Subscription will auto renew annually.
US$ 79
Tax calculation will be finalised during checkout.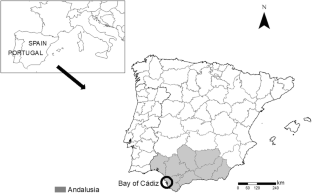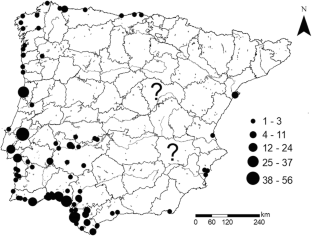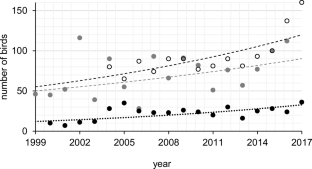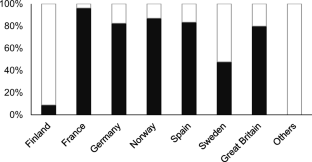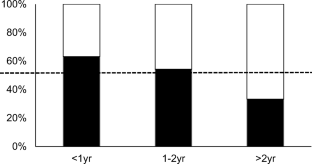 References
Akaike H (1973) Information theory and an extension of the maximum likelihood principle. In: Petrov B, Caski F (eds) Proceedings of the second international symposium on information theory. Akademiaiai Kiado, Budapest, pp 267–281

Alerstam T, Hake M, Kjellén N (2006) Temporal and spatial patterns of repeated migratory journeys by ospreys. Anim Behav 71:555–566. https://doi.org/10.1016/j.anbehav.2005.05.016

Bai ML, Schmidt D (2012) Differential migration by age and sex in central European ospreys Pandion haliaetus. J Ornithol 153:75–84. https://doi.org/10.1007/s10336-011-0697-y

Bernis F (1980) La Migración de las aves en el Estrecho de Gibraltar (Época Posnupcial). In: Aves Planeadoras, vol 1. Universidad Complutense, Madrid

Bibby C, Burgess ND, Hill DA (1992) Bird census techniques. Academic Press, London, p 257

Bierregaard RO, Poole AF, Washburn BE (2014) Ospreys (Pandion haliaetus) in the 21st century: populations, migration, management, and research priorities. In: https://doi.org/10.3356/0892-1016-48.4.301. http://www.bioone.org/doi/abs/10.3356/0892-1016-48.4.301. Accessed 11 Dec 2017

Bierregaard RO, Poole AF, Martell MS, Pyle P, Patten MA (2016) Osprey (Pandion haliaetus), version 2.0. In: Rodewald PG (ed) The birds of North America. Cornell Lab of Ornithology, Ithaca, NY, USA. https://doi.org/10.2173/bna.683

Bird D, Varland D, Alonso J (1996) Raptors in human landscapes. Academic Press

BirdLife International (2015) European red list of birds. Office for Official Publications of the European Communities, Luxembourg

BirdLife International (2017) Species factsheet: Pandion haliaetus. Downloaded from http://www.birdlife.org on 24/07/2017

Blanco G, Rodriguez-Estrella R (1999) Reduced sexual plumage dimorphism in ospreys from Baja California Sur, México. Ibis 141:502–504. https://doi.org/10.1111/j.1474-919X.1999.tb04422.x

Box GEP, Jenkins GM, Reinsel GC (2008) Time series analysis: forecasting and control, 4th edn. John Wiley & Sons, Upper Saddle River, NJ

Burnham KP, Anderson DR (2002) Model selection and multimodel inference: a practical information-theoretic approach. Springer New York, New York

Cabral MJ, Almeida J, Almeida PR et al (2005) Livro Vermelho dos Vertebrados de Portugal Peixes Dulciaquícolas e Migradores, Anfíbios, Répteis, Aves e Mamíferos. Instituto da Conservação da Natureza, Lisboa

Casado E (1999) Viabilidad de la reintroducción del Aguila Pescadora (Pandion haliaetus) en costas, estuarios y pantanos de Andalucía. Technical report. Estación Biológica de Doñana (CSIC), Sevilla

Casado E, Ferrer M (2005) Analysis of reservoir selection by wintering ospreys (Pandion haliaetus haliaetus) in Andalusia, Spain: a potential tool for reintroduction. J Raptor Res 39:168–173

Catry P, Costa H, Elias G, Matias R (2010) Aves de Portugal—Ornitologia do território continental. Assírio & Alvim, Lisboa

CMAOT (2016) Programa de Emergencias, Control Epidemiológico y Seguimiento de Fauna Silvestre. In: Invernada de aves acuáticas en Andalucía 2015. Consejería de Medio Ambiente y Ordenación del Territorio, Junta de Andalucía

Cramp S, Simmons KEL (eds) (1980) The birds of the Western Palearctic, vol Vol. II. Oxford University Press, Oxford

Cristol D, Baker M, Carbone C (1999) Differential migration revisited. Latitudinal segregation by age and sex class. In: Nolan V, Ketterson E, Thompson C (eds) Current ornithology. Plenum Publishers, New York, pp 33–88

De la Cruz A, Onrubia A, Pérez B et al (2011) Seguimiento de la migración de las aves en el estrecho de Gibraltar: Resultados del Programa Migres 2009. Migres Revista de Ecología 2:65–78

Dennis R (2008) A life of ospreys. Whittles Publishing, Dunbeath

Dennis R (2016) Plan for the recovery and conservation of ospreys in Europe and the Mediterranean region in particular. In: 36th meeting Strasbourg, 15–18 November 2016. Standing Committee, Strasbourg

Domínguez J (1990) Distribution of estuarine waders wintering in the Iberian Peninsula en 1978-1982. Wader Stud Group Bull 59:25–28

Dunn EH, Hussell DJT (2009) Steps for basic analysis of daily migration counts, using multiple regression. Version 2009

Equipa Atlas (2008) Atlas das aves nidificantes em Portugal (1999–2005). Instituto de Conservação da Natureza e da Biodiversidade, Sociedade Portuguesa para o Estudo das Aves, Parque Natural da Madeira e Secretaria Regional do Ambiente e do Mar, Assírio e Alvim, Lisboa

Farmer CJ, Hussell DJT (2008) The raptor population index in practice, pp 165–178

Ferguson-Lees IJ (1963) Changes in the status of birds of prey in Europe. Br Birds 56:140–148

Ferrer M, Casado E (2014) Manuales de Desarrollo Sostenible. 14. Reintroducción del águila pescadora. Fundación Banco Santander

Fuentes C, Muñoz del Viejo A, Ruiz de la Concha JI (1998) Distribución espacio-temporal y selección de hábitat del Águila pescadora Pandion haliaetus en las zonas húmedas de la cuenca media del Guadiana. In: Chancellor R, Meyburg B-U, Ferrero JJ (eds) Holarctic birds of prey. ADENEX-WWGBP, WWGP, Berlin, Germany, pp 329–338

Fundación Migres, Amigos del águila pescadora, Aves de Portugal (2017) Inveranda del águila pescadora en la península Ibérica. El Corzo Bol Soc Gad Hist Nat 5:108–116

Galarza A (2019) Primeros éxitos de la suelta de águilas pescadoras en Urdaibai. Quercus 395:56–57

Gil JM, Valenzuela G (1997) El águila pescadora en aguas interiores de Granada. Quercus 138:16–18

Glutz von Blotzheim ÜN, Bauer KM, Bezzel E (1971) Handbuch der Vögel Mitteleuropas 4. Frankfurt, p 629

Gouraguine A, Moranta J, Ruiz-Frau A, Hinz H, Reñones O, Ferse SCA, Jompa J, Smith DJ (2019) Citizen science in data and resource-limited areas: a tool to detect long-term ecosystem changes. PLoS One 14:e0210007. https://doi.org/10.1371/journal.pone.0210007

Hake M, Kjellén N, Alerstam T (2001) Satellite tracking of Swedish ospreys Pandion haliaetus: autumn migration routes and orientation. J Avian Biol 32:47–56. https://doi.org/10.1034/j.1600-048X.2001.320107.x

Irwin A (2018) No PhDs needed: how citizen science is transforming research. Nature 562:480–482

Janss G, Ferrer M (1999) Mitigation of raptor electrocution on steel power poles. Wildl Soc Bull 27:263–273

Jiménez JJ, de las Heras M (2015) Invernada del águila pescadora (Pandion haliaetus) en la provincia de Cádiz. SGHN 5:40–48

Klaassen RHG, Hake M, Strandberg R, Koks BJ, Trierweiler C, Exo KM, Bairlein F, Alerstam T (2014) When and where does mortality occur in migratory birds? Direct evidence from long-term satellite tracking of raptors. J Anim Ecol 83:176–184. https://doi.org/10.1111/1365-2656.12135

La Sorte FA, Thompson FR (2007) Poleward shifts in winter ranges of North American birds. Ecology 88:1803–1812

Lensink R (1997) Range expansion of raptors in Britain and the Netherlands since the 1960s: testing an individual-based diffusion model. J Anim Ecol 66:811–826. https://doi.org/10.2307/5997

Link WA, Sauer JR (1997) Estimation of population trajectories from count data. Biometrics 53:488–497

Mancini M, Haro G, Bucco C, Salinas V, Miquelarena A (2009) Composition and diversity of icthyofauna in la Viña reservoir (Córdoba, Argentina). Braz J Biol 69:49–55

Martin J, Kitchens W, Hines J (2007) Importance of well-designed monitoring programs for the conservation of endangered species: case study of the snail kite

Martín B, Onrubia A, Ferrer M (2014) Effects of climate change on the migration behavior of the common buzzard (Buteo buteo). Clim Res. https://doi.org/10.3354/cr01233

Martín B, Onrubia A, Ferrer M (2016a) Migration timing responses to climate change differ between adult and juvenile white storks across Western Europe. Clim Res 69:9–23

Martín B, Onrubia A, de la Cruz A, Ferrer M (2016b) Trends of autumn counts at Iberian migration bottlenecks as a tool for monitoring continental populations of soaring birds in Europe. Biodivers Conserv 25:295–309. https://doi.org/10.1007/s10531-016-1047-4

Monti F (2015) Scale-dependent approaches in conservation biogeography of a cosmopolitan raptor: the osprey. University of Ferrara/University of Montpellier, Ferrara/Montpellier, France

Monti F, Dominici JM, Choquet R, Duriez O, Sammuri G, Sforzi A (2014) The osprey reintroduction in Central Italy: dispersal, survival and first breeding data. Bird Study 61:465–473

Monti F, Grémillet D, Sforzi A, Sammuri G, Dominici JM, Triay Bagur R, Muñoz Navarro A, Fusani L, Duriez O (2018) Migration and wintering strategies in vulnerable Mediterranean osprey populations. Ibis 160:554–567

Moreno-Opo J (2012) Águila pescadora (Pandion haliaetus). In: SEO/Birdlife (ed) Atlas de las aves en invierno en España 2007–2010. Ministerio de Agricultura, Alimentación y Medio Ambiente-SEO/BirdLife, Madrid, pp 192–193

Muriel R, Ferrer M, Casado E, Calabuig CP (2010) First successful breeding of reintroduced ospreys Pandion haliaetus in mainland Spain. Ardeola 57:175–180

Newton I (1979) Population ecology of raptors. Poyser Monographs, London

Österlöf S (1977) Migration, wintering areas and site tenacity of the European osprey, Pandion haliaetus haliaetus (L.). Ornis Scand 8:60–78

Palma L, Safara J, Dias A et al (2019) The Portugese osprey reintroduction project: achievements, lessons and perspectives. Raptors Conservation 38:23–42

Pinheiro J, Bates D, DebRoy S et al (2017) nlme: linear and nonlinear mixed effects models. In: R package version 3, pp 1–131 https://CRAN.R-project.org/package=nlme. Accessed 21 Sept 2018

Poole A (1982) Brood reduction in temperate and subtropical ospreys. Oecologia 53:111–119

Poole AF (1989) Ospreys. A natural and unnatural history. Cambridge University Press, Cambridge

Poole AF, Kirwan GM, Christie DA, Marks JS (2017) Osprey (Pandion haliaetus). In: Del Hoyo J, Elliot A, Sargatal J, et al. (eds) Handbook of the birds of the world alive. (retrieved from http://www.hbw.com/node/52947 on 24 July 2017). Lynx Edicions, Barcelona

Porter R, Beaman M (1985) A resume of raptor migration in Europe and the Middle East. ICBP Technical Publ 5:237–242

Sanz T (1997) Migración e invernada del águila pescadora en España. Quercus 139:14–15

Saurola P (2002) Satelliitit sauraavat sääksiämme. Linnut-vuosikirja 2002

Sayago JM (2011) Monitoring wintering population of osprey (Pandion haliatus) in the province of Huelva (1996–2009). In: Zuberogoitia I, Martínez JE (eds) Ecology and conservation of European forest-dwelling raptors. Diputación Foral de Bizkaia, Bilbao, pp 298–301

Schmidt D (1998) Osprey Pandion haliaetus breeding numbers in the Western Palearctic. In: Chancellor RD, Meyburg B-U, Ferrero JJ (eds) Proceedings international conference. Badajoz, pp 323–327

Schmidt-Rothmund D, Dennis R, Saurola P (2014) The osprey in the Western Palearctic: breeding population size and trends in the early 21st century. J Raptor Res 48:375–386. https://doi.org/10.3356/JRR-13-OSPR-13-03.1

Scholer MN, Martín B, Ferrer M, Onrubia A, Bechard MJ, Kaltenecker GS, Carlisle JD (2016) Variable shifts in the autumn migration phenology of soaring birds in southern Spain. Ardea 104:83–93. https://doi.org/10.5253/arde.v104i1.a

SEO/BirdLife (2012) Análisis preliminar del banco de datos de anillamiento de aves del Ministerio de Agricultura, Alimentación y Medio Ambiente, para la realización de un atlas de migración de aves de España. SEO/BirdLife-Fundación Biodiversidad, Madrid

Thibault JC, Bretagnolle V (2001) Monitoring, research and conservation of osprey Pandion haliaetus on Corsica, Mediterranean, France. Vogelwelt 122:173–178

Triay R, Siverio M (2008) El águila pescadora en España. Población en 2008 y método de censo. SEO/BirdLife, Madrid

Visser ME, Perdeck AC, Van Balen JH, Both C (2009) Climate change leads to decreasing bird migration distances. Glob Chang Biol 15:1859–1865. https://doi.org/10.1111/j.1365-2486.2009.01865.x

Wahl R, Barbraud C (2013) The demography of a newly established osprey Pandion haliaetus population in France. Ibis. https://doi.org/10.1111/ibi.12114

Wood E, Kellerman J (2015) Phenological synchrony and bird migration: changing climate and seasonal resources in North America. CRC Press, Boca Raton

Zwarts L, Bijlsma RG, van der Kamp J, Wymenga E (2009) Living on the edge: wetlands and birds in a changing Sahel. KNNV Publishing, Zeist, The Netherlands
Acknowledgements
We are grateful to the volunteers and collaborators who collected the information presented in this study (Fundación Migres et al. 2017; Migres programme 1999–2016) as well as to the Board of the Migres Foundation. We are also grateful to the Spanish Ornithological Society (SEO) which made the recovery data available and to the many ringers and ringing scheme staff who have gathered and prepared the data. Special thanks to Andrew Paterson for his kind revision of the language of the manuscript. Finally, we would like to thank the editor and two anonymous referees for providing us with comments and suggestions that greatly help to improve the manuscript.
Additional information
Publisher's note
Springer Nature remains neutral with regard to jurisdictional claims in published maps and institutional affiliations.
Electronic supplementary material
About this article
Cite this article
Martín, B., Torralvo, C.A., Elias, G. et al. Are Western European ospreys (Pandion haliaetus) shortening their migration distances? Evidence from trends of the wintering population in the Iberian Peninsula. Eur J Wildl Res 65, 72 (2019). https://doi.org/10.1007/s10344-019-1311-5
Received:

Revised:

Accepted:

Published:
Keywords
Citizen science

Long-distance migrant

Mediterranean Basin

Monitoring

Raptor

Osprey

Pandion haliaetus