Abstract
Proper delineation of flyways is a prerequisite for adequate management of migratory birds. The implementation of coordinated international management for greylag goose (Anser anser) is currently underway in Europe for the north-west/south-west (NW/SW) population. Some uncertainty remained as to whether greylags wintering in Camargue, Southern France, belonged to this population and bred in Norway, Sweden and Finland, or rather originated from the Central European population, especially since most neck collar observations were of birds ringed in the Czech Republic. Stable hydrogen isotope (δ2H) analyses of feathers from 147 individuals hunted or trapped during winter in Camargue provide some insight into this question and suggest north-central Europe as a more likely area of origin. This indicates that greylags wintering along the Mediterranean coast may be largely separate from the birds of the NW/SW European population breeding in Fennoscandia, although some individuals may also come from the Polish or German regions of the NW/SW flyway, since the combined ringing and stable isotope analyses suggest these birds are mostly breeding and moulting in an isotopic area consistent with the Czech Republic, Poland and northern Germany. Earlier studies show birds wintering in other French regions rather originate from Sweden and Norway. These results should be considered for the management plan currently being developed for greylag goose in Europe. More generally, they question whether birds from two distinct populations/flyways should be applied similar or potentially different management plans within a given country.
This is a preview of subscription content,
to check access.
Access this article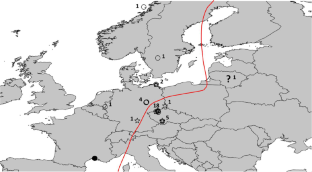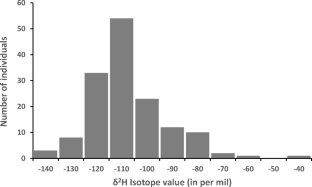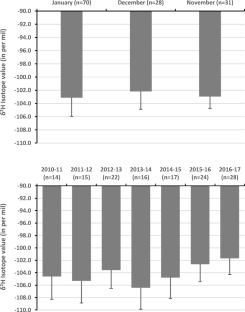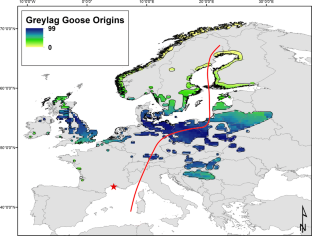 Similar content being viewed by others
References
Bacon L, Madsen J, Jensen GH, de VL, Follestad A, Koffijberg K, Kruckenberg H, Loonen M, Månsson J, Nilsson L, Voslamber B, Guillemain M (2019) Spatio–temporal distribution of greylag goose Anser anser resightings on the north-west/south-west European flyway: guidance for the delineation of transboundary management units. Wildl Biol 2019. https://doi.org/10.2981/wlb.00533

BirdLife International, NatureServe (2011) Bird species distribution maps of the world. Birdlife International and NatureServe, Cambridge and Arlington

Bivand RS, Lewin-Koh N (2015) Maptools Version 0.8-37. http://CRAN.R-project.org/package=maptools

Bowen GJ, Wassenaar LI, Hobson KA (2005) Global application of stable hydrogen and oxygen isotopes to wildlife forensics. Oecologia 143:337–348

Bradbeer DR, Rosenquist C, Christensen TK, Fox AD (2017) Crowded skies: conflicts between expanding goose populations and aviation safety. Ambio 46(Suppl.2):S290–S300

Dehorter O, CRBPO (2018) Base de données de baguage et de déplacements d'oiseaux de France/Bird ringing and movement database for France. Centre de Recherches sur la Biologie des Populations d'Oiseaux, Muséum National d'Histoire Naturelle, Paris. http://crbpo.mnhn.fr/. Exctracted on 14th February 2018

Desnouhes L, Pichaud M, Le Clainche N, Mesléard F, Giroux JF (2003) Activity budget of an increasing wintering population of greylag geese Anser anser in southern France. Wildfowl 54:41–51

Dick G, Baccetti N, Boukhalfa D, Darolova A, Faragó S, Hudek K, Leito A, Markkola J, Witkowski J (1999) Greylag goose Anser anser: Central Europe/North Africa. In: Madsen J, Cracknell G, Fox T (eds) Goose populations of the western Palearctic. Wetlands International publication no. 48. National Environmental Research Institute, Rönde, pp 202–213

Fouquet M, Schricke V, Fouque C (2009) Greylag geese Anser anser depart earlier in spring: an analysis of goose migration from western France over the years 1980-2005. Wildfowl 59:143–151

Fox AD, Madsen J (2017) Threatened species to super-abundance: the unexpected international implications of successful goose conservation. Ambio 46(Suppl.2):S179–S187

Fox AD, Elmberg J, Tombre IM, Hessel R (2017) Agriculture and herbivorous waterfowl: a review of the scientific basis for improved management. Biol Rev 92:854–877

Gaudard C, Quaintenne G, Ward A, Dronneau C, Dalloyau S (2018) Synthèse des dénombrements d'Anatidés, de foulques et de limicoles hivernant en France à la mi-janvier 2017. Ligue pour la Protection des Oiseaux, Rochefort

Guillemain M, Van Wilgenburg SL, Legagneux P, Hobson KA (2014) Assessing geographic origins of teal (Anas crecca) through stable-hydrogen (δ2H) isotope analyses of feathers and ring-recoveries. J Ornithol 155:165–172

Guillemain M, Calenge C, Champagnon J, Hearn R (2017) Determining the boundaries of migratory bird flyways: a Bayesian model for Eurasian teal Anas crecca in western Europe. J Avian Biol 48:1331–1341

Hijmans RJ (2015) Raster version 2.3-24. Accessible at http://CRAN.R-project.org/package=raster

Hobson KA (2018) Application of isotopic methods for tracking animal movements. In: Hobson KA, Wassenaar LI (eds) Tracking animal migration with stable isotopes, Second edn. Academic Press, London, pp 85–116

Hobson KA, Wassenaar LI (eds) (2018) Tracking animal migration with stable isotopes, Second edn. Academic Press, London

Hobson KA, Wunder MB, Van Wilgenburg SL, Clark RG, Wassenaar LI (2009) A method for investigating population declines of migratory birds using stable isotopes: origins of harvested lesser scaup in North America. PLoS One 4:e7915. https://doi.org/10.1371/journal.pone.0007915

Hudec K (2008) Husa velká Anser anser. In: Cepák J, Klvaňa P, Formánek J, Horák D, Jelínek M, Schröpfer L, Škopek J, Zárybnický J (eds) Altas migrace ptáků. České a Slovenské republiky. Czech and Slovak bird migration atlas. Aventinum, Prague, pp 112–115

Jensen GH, Fox AD, Christensen TK, Clausen P, Koffijberg K, Liljebäck N, Mitchell C, Nilsson L, Alhainen M (2018) Taiga bean goose population status report 2017–2018. Report from the AEWA European Goose Management Platform Data Centre. Available from http://www.unep-aewa.org/sites/default/files/document/AEWA_EGMIWG_3_11_TBG_pop_report.pdf

Korner-Nievergelt F, Liechti FHS (2012) Migratory connectivity derived from sparse ring reencounter data with unknown numbers of ringed birds. J Ornithol 153:771–782

Kraus RHS, van Hooft P, Megens H-J, Tsvey A, Fokin SY, Ydenberg RC, Prins HT (2013) Global lack of flyway structure in a cosmopolitan bird revealed by a genome wide survey of single nucleotide polymorphisms. Mol Ecol 22:41–55

Madsen J, Tjørnløv RS, Frederiksen M, Mitchell C, Sigfússon AT (2014) Connectivity between flyway populations of waterbirds: assessment of rates of exchange, their causes and consequences. J Appl Ecol 51:183–193

Madsen J, Williams JH, Johnson FA, Tombre IM, Dereliev S, Kuijken E (2017) Implementation of the first adaptive management plan for a European migratory waterbird population: the case of the Svalbard pink-footed goose Anser brachyrhynchus. Ambio 46(Suppl.2):S275–S289

Massez G (2009) Oie cendrée Anser anser. In: Flitti A, Kabouche B, Kayser Y, Olioso G (eds) Atlas des oiseaux nicheurs de Provence-Alpes-Cote d'Azur. Delachaux et Niestlé, Paris, pp 40–41

Mitchell C, Fox AD (1999) Feral greylag geese Anser anser: United Kingdom. In: Madsen J, Cracknell G, Fox T (eds) Goose populations of the western Palearctic. Wetlands International Publication No. 48. National Environmental Research Institute, Rönde, pp 178–180

Nilsson L, Follestad A, Koffijberg K, Kuijken E, Madsen J, Mooij J, Mouronval JB, Persson H, Schricke V, Voslamber B (1999) Greylag goose Anser anser: Northwest Europe. In: Madsen J, Cracknell G, Fox T (eds) Goose populations of the western Palearctic. Wetlands International Publication No. 48. National Environmental Research Institute, Rönde, pp 182–201

Office National de la Chasse et de la Faune Sauvage (2014) Amélioration des connaissances sur l'oie cendrée en France. Rapport final. ONCFS, Paris

Podhrázský M, Musil P, Musilová Z, Zouhar J, Adam M, Závora J, Hudec K (2017) Central European greylag geese Anser anser show a shortening of migration distance and earlier spring arrival over 60 years. Ibis 159:352–365

Powolny T, Jensen GH, Nagy S, Czajkowski A, Fox AD, Lewis M, Madsen J (Compilers) (2018) AEWA international single species management plan for the greylag goose (Anser anser) - northwest/southwest European population. AEWA Technical Series, Bonn

R Core Development Team (2015) R: a language and environment for statistical computing. R Foundation for statistical computing, Vienna

Reckerth A, Stichler W, Schmidt A, Stumpp C (2017) Long-term data set analysis of isotopes in German rivers. J Hydrol 552:718–731

Royle JA, Rubenstein DR (2004) The role of species abundance in determining breeding origins of migratory birds with stable isotopes. Ecol Appl 14:1780–1788

Scott DA, Rose PM (1996) Atlas of Anatidae populations in Africa and Western Eurasia. Wetlands International, Wageningen

StatSoft (2011) STATISTICA, version 10. www.statsoft.fr

Van der Zanden HB, Wunder MB, Hobson KA, Van Wilgenburg SL, Wassenaar LI, Welker JM, Bowen GJ (2015) Space-time tradeoffs in the development of precipitation isotope models for determining migratory origin. J Avian Biol 46:658–667

Van Dijk JGB, Meissner W, Klaassen M (2014) Improving provenance studies in migratory birds when using feather hydrogen stable isotopes. J Avian Biol 45:103–108

Wassenaar LI, Hobson KA (2003) Comparative equilibration and online technique for determination of non-exchangeable hydrogen of keratins for use in animal migration studies. Isot Environ Healt S 39:1–7
Acknowledgements
We would first like to thank the Camargue hunters, especially those from the Tour du Valat hunting group, for providing the greylag feathers. We also thank the Camargue ornithologists who have provided their resightings of neck-collared birds, as well as the Centre de Recherches sur la Biologie des Populations d'Oiseaux, Muséum National d'Histoire Naturelle, especially Olivier Dehorter and all the ringers in Central Europe who contributed to this dataset, for the ring recovery data. The neck collar observation data for the Camargue were kindly provided by Lisenka de Vries for www.geese.org. We also greatly appreciated the valuable information provided by Ingolf Todte, Tomasz Mokwa and Łukasz Ławicki. Tony Fox, Richard Inger, Ruedi Nager, Christian Gortázar and an anonymous referee provided valuable comments on an earlier version of the manuscript.
Additional information
Publisher's note
Springer Nature remains neutral with regard to jurisdictional claims in published maps and institutional affiliations.
Electronic supplementary material
About this article
Cite this article
Guillemain, M., Bacon, L., Kardynal, K.J. et al. Geographic origin of migratory birds based on stable isotope analysis: the case of the greylag goose (Anser anser) wintering in Camargue, southern France. Eur J Wildl Res 65, 67 (2019). https://doi.org/10.1007/s10344-019-1304-4
Received:

Revised:

Accepted:

Published:

DOI: https://doi.org/10.1007/s10344-019-1304-4
Keywords