Abstract
This paper is the first dealing with animal-vehicle collisions (AVC) with red and roe deer in South Tyrol, Northern Italy. The Autonomous Province of Bolzano (South Tyrol) has been collecting AVC data since 2012 on the entire provincial road network. Each year, AVC data accounted for more than 700 cases per year, with several socioeconomic and ecological implications. The aim of this research is to identify the locations where AVC occur more frequently than expected (hotspots) and better outline subsequent implementation of mitigation measures. For an effective identification of AVC hotspots, we applied a combined methodology of temporal and spatial analysis on AVC data collected on the South Tyrol road network in the years 2012–2014. AVC data enabled the identification of the temporal patterns, which showed different behaviors of the two target species in close proximity of the road network and throughout the 12 months. The KDE+ software applied to the 2012–2014 AVC database allowed for spatial analysis and the identification of hotspots, i.e., the road sections having the highest risk for drivers. The integration of the results, coming from the abovementioned methodologies, contributes to a detailed assessment of roads that would allow the identification of the local contributing factors and a base-line of potential problematic areas that will highlight the need for further investigation to assess whether the risk-rank is accurate and allocate effectively limited resources to a feasible number of identified hotspots and reduce the current degree of AVC in the South Tyrolean road network.
This is a preview of subscription content, log in to check access.
Access options
Buy single article
Instant access to the full article PDF.
US$ 39.95
Price includes VAT for USA
Subscribe to journal
Immediate online access to all issues from 2019. Subscription will auto renew annually.
US$ 99
This is the net price. Taxes to be calculated in checkout.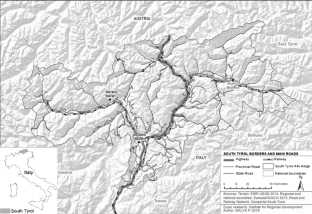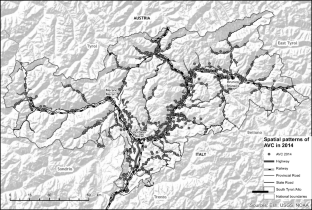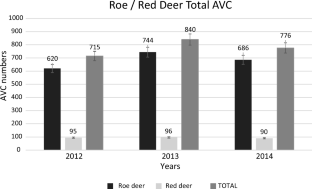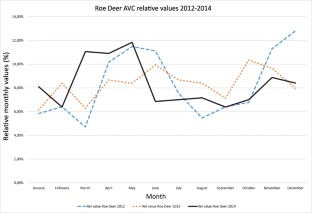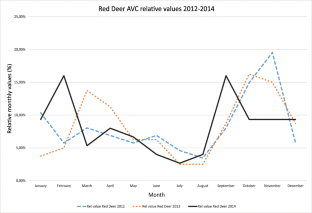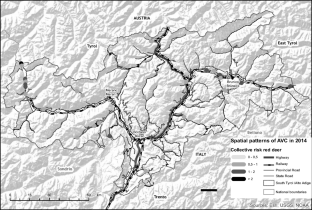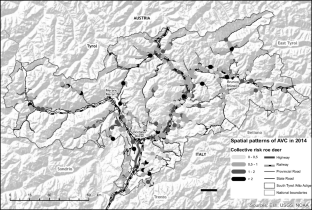 References
Agreiter A (2013) Cervo, i censimenti confermano il trend. Giornale del cacciatore 2, 2013, 36–37

Alto Adige on line. (2012). Orso investito e ucciso sulla MeBo. Auto bruciata. http://www.altoadige.it/cronaca/bolzano/orso-investito-e-ucciso-sulla-mebo-auto-bruciata-1.572687. Accessed 16th April 2018

Andrášik R, Bíl M (2015) Traffic accidents: random or pattern occurrence? Safety and reliability of complex engineered systems. Podofiliny et al. (Eds.), ISBN 978–1–138-02879-1

ASTAT (2012). Mobilità e traffico in Alto Adige – 2011. http://astat.provincia.bz.it/it/mobilita-turismo.asp. Accessed 30 March 2017

ASTAT (2013). 6. Landwirtschaftszählung / 6° Censimento generale dell'agricoltura 2010 (6th Agricultural census 2010). Bozen/Bolzano

ASTAT (2017). Mobilità e traffico in Provincia di Bolzano – 2015. http://astat.provincia.bz.it/it/news-pubblicazioni.asp?news_action=300&news_image_id=917117. Accessed on line 27th November 2017

Bacci M., Dinetti M., Martini P, Fiduccia A., (2005). Dossier tecnico in materia di mitigazioni degli impatti ambientali sugli ecosistemi in conseguenza di infrastrutture lineari. Dattiloscritto. APAT, Roma

Bartonička, T., Andrášik, R., Duľa, M., Sedoník, J., Bíl, M., 2018. Identification of local factors causing clustering of animal-vehicle collisions on roads. Journal of Wildlife Management. DOI: https://doi.org/10.1002/jwmg.21467

Battisti C., 2004. Frammentazione ambientale, connettività, reti ecologiche. Un contributo teorico e metodologico con particolare riferimento alla fauna selvatica. Provincia di Roma, Assessorato alle Politiche ambientali, Agricoltura e Protezione civile

Bhattacharya M, Primack RB, Gerwein J (2003) Roads and railroads barriers to bumblebee movement in a temperate suburban conservation area? Biological Conservation 109:37–45. https://doi.org/10.1016/S0006-3207(02)00130-1

Bíl M, Andrášik R, Janoška Z (2013) Identification of hazardous road locations of traffic accidents by means of kernel density estimation and cluster significance evaluation. Accident Anal. Prev 55:265–273

Bíl M, Andrášik R, Svoboda T, Sedoník J (2016) The KDE+ software: a tool for effective identification and ranking of animal-vehicle collision hotspots along networks. Landscape Ecology 31:231–237

Bissonette JA, Adair W (2007) Restoring habitat permeability to roaded landscapes with isometrically-scaled wildlife crossings. Biological Conservation 141:482–488. https://doi.org/10.1016/j.biocon.2007.10.019

Bissonette JA, Kassar CA (2008) Locations of deer-vehicle collisions are unrelated to traffic volume or posted speed limit. Human Wildlife Conflicts 2:122–130

Bissonette JA, Storch I (2003) Landscape theory and resource management: linking theory to management. Island Press, Washington DC

Blackwell BF, DeVaut TL, Fernandez-Juricic E, Gese EM, Gilbert-Norton L, Breck SW (2016) No single solution: application of behavioural principles in mitigating human-wildlife conflict. Animal Behaviour 120:245–254

Borer F, Fry GL (2003) Safety and economic considerations. In: Trocmé M, Cahill S, De Vries JG, Farall H, Folkeson L, Fry GL, Hicks C, Peymen J (eds) COST 341 - Habitat fragmentation due to transportation infrastructure: the European review. Office for official publications of the European communities. Luxembourg, pp 175–182

Bruinderink GWTA, Hazebroek E (1996) Ungulate traffic collisions in Europe. Conservation Biology 10:1059–1067

Cerofolini A (2006) Danni agli autoveicoli causati da fauna selvatica. Silvae 2(4):267–278

Chen X, Wu S (2014) Examining patterns of animal-vehicle collisions in Alabama, USA. Human-wildlife Interactions 8(2):235–244

Ciabo S, Fabrizio M (2012). Linee guida per la prevenzione di incidenti stradali causati da fauna selvatica nella Provincia di Pescara. Provincia di Pescara, 136 pp. Available on line: https://www.researchgate.net/profile/Serena_Ciabo/publication/261911916_Linee_guida_per_la_prevenzione_di_incidenti_stradali_causati_da_fauna_selvatica_nella_Provincia_di_Pescara/links/02e7e535e60b0b664c000000/Linee-guida-per-la-prevenzione-di-incidenti-stradali-causati-da-fauna-selvatica-nella-Provincia-di-Pescara.pdf. Accessed on line on 22nd June 2018

Clevenger AP, Hardy A, Gunson K (2006) Analyses of wildlife vehicle collision data: applications for guiding decision making for wildlife crossing mitigation and motorist safety. In: Bissonette J (ed) Methods and applications: hotspot identification of wildlife-vehicle collisions for transportation planning. Utah State University, Logan, p 23

Cocchi R (2014). Validazione di un sistema di prevenzione dell'incidentalità stradale da fauna selvatica (ungulati) in Provincia di Rimini. Un caso di studio. Regione Emilia Romagna, Provincia di Rimini and ISPRA. Available on line: https://agricoltura.regione.emilia-romagna.it/caccia/doc/formazione-esami-venatori-equipollenze/corso-sulla-conservazione-e-gestione-della-fauna/validazione-di-un-sistema-di-prevenzione-dellincidentalita-stradale-da-ungulati-in-provincia-di-rimini/at_download/file/Cocchi_IncidentiStradali_23092014.pdf. Accessed on line on 22nd June 2018

Conover MR, Pitt WC, Kessler KK, Dubow TJ, Sanborn WA (1995) Review of human injuries, illnesses, and economic losses caused by wildlife in the United States. Wildl. Soc. Bull. 23:407–414

Craighead AC, Roberts EA, Craighead FL (2001) Bozeman Pass wildlife linkage and highway safety study. Craighead Environmental Research Institute (CERI), Bozeman. Montana, USA, p 24

Danielson BJ, Hubbard MW (1998) A literature review for assessing the status of current methods of reducing deer-vehicle collisions. Report prepared for The Task Force on Animal Vehicle Collisions, The Iowa Department of Transportation, and The Iowa Department of Natural Resources. Submitted September 1998. 29 pp.

Danks ZD, Porter WF (2010) Temporal, spatial, and landscape habitat characteristics of moose-vehicle collisions in western Maine. J Wildl Manag 74(6):1229–1241

Diaz-Varela ER, Vazquez-Gonzalez I, Marey-Pérez MF, Álvarez-López CJ (2011) Assessing methods of mitigating wildlife–vehicle collisions by accident characterization and spatial analysis. Transportation Res Part D: Transport Environ 16:281–287. https://doi.org/10.1016/j.trd.2011.01.002

Dinetti M (2016). Sicurezza stradale e incidenti con la fauna selvatica. Strade e Autostrade 116 Marzo/Aprile 2016

Eisenstecken K (2013) Wie durchlässig ist Südtirol für wandernde Wildtiere? Diplomarbeit / Masterarbeit - Institut für Wildbiologie und Jagdwirtschaft (IWJ). (University of Natural Resources and Life Sciences, 2013)

Elvik R (2008a) The predictive validity of empirical Bayes estimates of road safety. Accident Analysis Prevention 40:1964–1969

Elvik R (2008b) A survey of operational definitions of hazardous road locations in some European countries. Accident Analysis Prevention 40:1830–1835

Ewers RM, Kliskey AD, Walker S, Rutledge D, Harding JS, Didham RK (2006) Past and future trajectories of forest loss in New Zealand. Biological Conservation 133:312–325. https://doi.org/10.1016/j.biocon.2006.06.018

Forest department, Autonomous Province of Bozen/Bolzano – South Tyrol (2016). Südtirols Wald: Flächen (South Tyrols forests: areas), Retrieved June 28, 2016 from http://www.provinz.bz.it/forst/wald-holz-almen/zahlen.asp

Forman RTT, Sperling D, Bissonette JA, Clevenger AP, Cutshall CD, Dale VD, Fahrig L, France R, Goldman CR, Heanue K, Jones JA, Swanson FJ, Turrentine T, Winter TC (2003) Road ecology: science and solutions. Island Press, Washington DC

Gilbert SL, Sivy KJ, Pozzanghera CB, DuBour A, Overduijn K, Smith MM, Zhou J, Little JM, Prugh LR (2017) Socioeconomic benefits of large carnivore recolonization through reduced wildlife-vehicle collisions. CONSERVATION LETTERS 10:431–439. https://doi.org/10.1111/conl.12280

Gomes L, Grilo C, Silva C, Mira A (2009) Identification methods and deterministic factors of owl roadkill hotspot locations in Mediterranean landscapes. Ecol Res 24(2):355–370

Gonser RA, Jensen RR, Wolf SE (2009) The spatial ecology of deer–vehicle collisions. Appl Geography 29:527–532. https://doi.org/10.1016/j.apgeog.2008.11.005

Gordon IJ (2009) What is the future for wild, large herbivores in human-modified agricultural landscapes? Wildl. Biol. 15:1–9

Grilo C, Bissonette JA, Santos-Reis M (2009) Spatial-temporal patterns in mediterranean carnivore road casualties: consequences for mitigation. Biological Conservation 142:301–313. https://doi.org/10.1016/j.biocon.2008.10.026

Grilo C, Bissonette JA, Cramer PC (2010) Mitigation measures to reduce impact on biodiversity. In: Highways: Construction, management and maintenance (Eds Samantha R. Jones), pp 73–114. Nova Science Publishers, Inc. 2010

Groot-Bruinderink GW, Hazebroek E (1996) Ungulate traffic collisions in Europe. Conserv. Biol. 10:1059–1067

Gufler V (2000) Schalenwildwechsel am übergeordneten Straßennetz in Südtirol. Eine Skizze. Vertiefungsprojekt für Landschaftsplaner über Biotopmanagement und Wildtierökologie (WS 1999/2000 und SS 2000). BOKU, Institut für Wildbiologie und Jagdwirtschaft. (University of Natural Resources and Life Sciences, 2000)

Hafner M (2002) Nekatere značilnosti izgub srnjadi zaradi prometa. Lovec 85:13–16 (in Slovene)

Haines AM, Tewes ME, Laack LL, Horne JS, Young JH (2006) A habitat-based population viability analysis for ocelots (Leopardus pardalis) in the United States. Biological Conservation 132:424–436. https://doi.org/10.1016/j.biocon.2006.04.035

Hell P, Plavý R, Slamečka J, Gašparík J (2005) Losses of mammals (Mammalia) and birds (Aves) on roads in the Slovak part of the Danube Basin. European J Wildlife Res 51:35–40. https://doi.org/10.1007/s10344-004-0068-6

Holand O (1992) Winter digestive strategy of a concentrate selector in Norway: the European roe deer. Can. J. Zool. 70:1331–1335

Hughes WE, Saremi AR, Paniati JF (1996) Vehicle-animal crashes: an increasing safety problem. Institute Trans Engineers J 66:24–28

Huijser M, McGowen PT, Fuller J, Hardy A, Kocjolek A (2008) Wildlife-vehicle collision reduction study: report to congress (No. FHWA-HRT-08-034). McClean, VA

Huijser MP, Fuller J. Wagner ME, Hardy A, Clevenger AP (2007) Animal-vehicle collision data collection. A synthesis of highway practice. NCHRP Synthesis 370. Project 20–05/Topic 37–12. Transportation Research Board of the National Academies, Washington DC, USA

Joyce TL, Mahoney SP (2001) Spatial and temporal distributions of moose-vehicle collisions in Newfoundland. Wildlife Soc Bulletin 29:281–291

Kohler Y, Plassmann G, Ullrich A, Götz A, Scheurer T, Hölscher S, Savoia S (2008) The continuum project. Mountain Res Development 28:168–172. https://doi.org/10.1659/mrd.1010. Accessed 12th April 2017

Lagos L, Picos J, Valero E (2012) Temporal pattern of wild ungulate-related traffic accidents in northwest Spain. European J Wildlife Res 58:661–668

Langbein J, Putman R (2005) Deer vehicle collisions in Britain – a nationwide issue. Ecol. Environ. Managem. 47:2–7

Langbein J, Putman R, Pokorny B (2011) Traffic collisions involving deer and other ungulates in Europe and available measures for mitigation. In: Ungulate management in Europe (Putman et al eds.). Cambridge University Press: 215–259 pp.

Lavsund S, Sandegren F (1991) Moose-vehicle relations in Sweden. Alces 27:118–126

Levine N (2004) CrimeStat III—a spatial statistics program for the analysis of crime incident locations. Ned Levine and Associates: Houston, Texas, and the National Institute of Justice, Washington, DC, USA. Available from http:// www.geovista.psu.edu/sites/geocomp99/Gc99/105/abs99-105.htm

LIFE Strade Project (2013) http://www.lifestrade.it/index.php/en/the-road-kill-issue/road-mortality. Accessed 20 Nov 2017

Lord D, Mannering F (2010) The statistical analysis of crash-frequency data: a review and assessment of methodological alternatives. Transportation Res A 44(5):291–305

Madsen AB, Strandgaard H, Prang A (2002) Factors causing traffic killings of roe deer Capreolus capreolus in Denmark. Wildlife Biology 8:55–61

Maine Interagency Work Group on Wildlife/Motor Vehicle Collisions (2001) Collisions between large wildlife species and motor vehicles in Maine. Interim Report. April 2001

Malo JE, Suarez F, Dıez A (2004) Can we mitigate animal vehicle accidents using predictive models? J Appl Ecol 41(4):701–710

Markolt F, Szemethy L, Lehoczki R, Heltai M (2012) Spatial and temporal evaluation of wildlife-vehicle collisions along the M3 Highway in Hungary. North-Western. J Zoology 8:414–425

Masciarelli, L (2009). Guida la natura. Fauna selvatica e sicurezza stradale. Provincia di Firenze, 2009. Available on line: http://www.provincia.fi.it/fileadmin/assets/Agricoltura_caccia_e_pesca/Fauna%20selvatica%20e%20sicurezza%20stradale.pdf. Accessed on line on 22nd June 2018

Mata CIH, Herranz J, Suarez F, Malo JE (2005) Complementary use by vertebrates of crossing structures along a fenced Spanish motorway. Biological Conservation 124:397–405. https://doi.org/10.1016/j.biocon.2005.01.044

Mkanda FX, Chansa W (2011) Changes in temporal and spatial pattern of road kills along the Lusaka-Mongu (M9) highway, Kafue National Park. Zambia. South African J Wildlife Res 41:68–78

Morelle K, Lehaire F, Lejeune P (2013) Spatio-temporal patterns of wildlife-vehicle collisions in a region with a high-density road network. Nature Conservation 5:53–73. https://doi.org/10.3897/natureconservation.5.4634

Ng JW, Nielson C, St Clair CC (2008) Landscape and traffic factors influencing deer-vehicle collisions in an urban environment. Hum Wildl Inter 2(1):34–47

Noro M (2010) Analysis of deer ecology and landscape features as factors contributing to deer-vehicle collisions in Hokkaido, Japan. Transportation Research Board, Washington 15 p

Okabe A, Satoh T, Sugihara K (2009) A kernel density estimation method for networks, its computational method and a GIS-based tool. Int J Geogr Inf Syst 23(1):7–32

Pelliccioni ER, Riga F, Toso S (2013) Linee guida per la gestione degli ungulati – Cervidi e Bovidi. ISPRA, Manuali e Linee Guida 91/2013

Peters W, Hebblewhite M, Cavedon M, Pedrotti L, Mustoni A, Zibordi F, Groff C, Zanin M, Cagnacci F (2015) Resource selection and connectivity reveal conservation challenges for reintroduced brown bears in the Italian Alps. Biological Conservation 186:123–133

Province of Bolzano (2016). Relazione agraria e forestale 2016. http://www.provinz.bz.it/agricoltura/flip/raf2016/. Accessed 16th April 2018

Province of Bolzano (2017a) Nuova legge provinciale territorio e paesaggio. Bozza 16.03.2017. Titoli I-VII. http://www.provincia.bz.it/natura-territorio/download/20170316__Gesetzesentwurf_I-VII.docx.pdf. Accessed 30 March 2017

Province of Bolzano (2017b) Legge su territorio e paesaggio: ecco la nuova bozza. http://www.provincia.bz.it/news/it/news.asp?news_action=4&news_article_id=583284. Accessed 6th April 2017

Putman RJ (1997) Deer and road traffic accidents: Options for management. J Environ Management 51:43–57

Ramp D, Caldwell J, Edwards KA, Warton D, Croft DB (2005) Modelling of wildlife fatality hotspots along the snowy mountain highway in New South Wales. Aust Biol Conserv 126(4):474–490

Ramp D, Wilson VK, Croft DB (2006) Assessing the impacts of roads in peri-urban reserves: road-based fatalities and road usage by wildlife in the Royal National Park, New South Wales. Australia. Biological Conservation 129:348–359

Rodrıguez A, Delibes M (2004) Patterns and causes of non-natural mortality in the Iberian lynx during a 40-year period of range contraction. Biological Conservation 118:151–161. https://doi.org/10.1016/j.biocon.2003.07.018

Roger E, Laffan SW, Ramp D (2007) Habitat selection by the common wombat (Vombatus ursinus) in Disturbed environments: implications for the conservation of a common species. Biological Conservation 137:437–449. https://doi.org/10.1016/j.biocon.2007.03.001

Rosell C, Fernandéz-Bou M, Camps F, Bonorat C, Navàs F, Martínez M, Sorolla A (2013). Animal-vehicle collisions: a new cooperative strategy is needed to reduce the conflict. Proceedings of the 2013 International Conference on Ecology and Transportation (ICOET 2013)

Sáenz-de-Santa-Maria A, Tellería JL (2015) Wildlife-vehicle collisions in Spain. European J Wildlife Res 61(3):399–406

Scoccianti C, Ferri V (2000) Fauna selvatica e infrastrutture viarie. Atti I Congresso S.H.I.Torino, 2–6 ott. 1996. Boll. Mus. reg. Sci. nat. di Torino: 815–821

Seiler A (2001) Ecological effects of roads: a review. Introductory research essay no. 9. Department of Conservation Biology, SLU, Uppsala 2001

Seiler A, Helldin JO (2006) Mortality in wildlife due to transportation. In: The ecology of transportation: managing mobility for the environment (Davenport, J., Davenport, J.L. eds): 165–189

Sforzi A, Lovari S (2000) Some effects of hunting on wild mammalian populations. IBEX JME 5:165–171

Snow NP, Andelt WF, Gould NP (2011) Characteristics of road kill locations of San Clemente Island foxes. Wildl Soc Bull 35(1):32–39

Sullivan JM (2011) Trends and characteristics of animal-vehicle collisions in the United States. J Safety Res 42(1):9–16

Tornambé L, Halilaj E (2015) Corridoi Ecologici. Casi studio nella Provincia di Bolzano. Ripartizione Natura, Paesaggio e sviluppo del Territorio. Ufficio Ecologia del Paesaggio, Provincia Autonoma di Bolzano 2015

Trombulak SC, Frissell CA (2000) Review of ecological effects of roads on terrestrial and aquatic communities. Conservation Biology 14:18–30. https://doi.org/10.1046/j.1523-1739.2000.99084.x

Wahlström LK, Liberg O (1995) Patterns of dispersal and seasonal migration in roe deer (Capreolus capreolus). J Zoology 235:455–467. https://doi.org/10.1111/j.1469-7998.1995.tb01762.x

Weigel L (2005) Results of a national opinion poll conducted for the International Association of Fish and Wildlife Agencies to ascertain the American public's perceptions and values of wildlife. As presented at the Association for Conservation Information Conference, Ogden, Utah, July, 2005

Xie Z, Yan J (2008) Kernel density estimation of traffic accidents in a network space. Comput Environ Urban Syst 32(5):396–406
Acknowledgements
Michal Bíl, Jiří Sedoník, and Richard Andrášik were supported by project of Transport R&D Centre (LO1610) and the research infrastructure acquired from CZ.1.05/2.1.00/03.0064.
The authors thank Lena Schober of the Hunting Office Administration of the Bolzano Province, Philip Sicher of the Road Office Administration of the Bolzano Province, Lothar Gerstgrasser of the South Tyrol Hunting Association for providing the data, Paulina Malys and Julia Stauder of Eurac Research for cooperating in analyzing data and preparing the maps and figures.
Additional information
This article is part of the Topical Collection on Road Ecology Guest Editor: Marcello D'Amico
Electronic supplementary material
About this article
Cite this article
Favilli, F., Bíl, M., Sedoník, J. et al. Application of KDE+ software to identify collective risk hotspots of ungulate-vehicle collisions in South Tyrol, Northern Italy. Eur J Wildl Res 64, 59 (2018). https://doi.org/10.1007/s10344-018-1214-x
Received:

Revised:

Accepted:

Published:
Keywords
Animal-vehicle collisions

Bolzano

Hotspots

Kernel density estimation

Italy

South Tyrol