Abstract
The European Journal of Wildlife Research introduces a new Topical Collection focused on Road Ecology. This Topical Collection aims to be a useful tool for the development of generalized principles and applications concerning wildlife-related aspects of Road Ecology. Submissions exploring new or lesser-known costs and potential benefits for wildlife coexisting with road networks are encouraged.
Access options
Buy single article
Instant access to the full article PDF.
USD 39.95
Price includes VAT (USA)
Tax calculation will be finalised during checkout.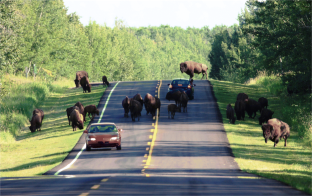 References
Borda-de-Água L, Barrientos R, Beja P, Pereira HM (2017) Railway ecology. Springer, Cham

Brieger F, Hagen R, Kröschel M, Hartig F, Petersen I, Ortmann S, Suchant R (2017) Do roe deer react to wildlife warning reflectors? A test combining a controlled experiment with field observations. Eur J Wildl Res 63:Article number 72. https://doi.org/10.1007/s10344-017-1130-5

D'Amico M, Catry I, Martins RC, Ascensão F, Barrientos R, Moreira F (2018) Bird on the wire: landscape planning considering costs and benefits for bird populations coexisting with power lines. Ambio. https://doi.org/10.1007/s13280-018-1025-z

Forman RTT (1998) Road ecology: a solution for the giant embracing us. Landsc Ecol 13:3–5. https://doi.org/10.1023/A:100803660

Forman RTT (2000) Estimate of the area affected ecologically by the road system in the United States. Conserv Biol 14:31–35. https://doi.org/10.1046/j.1523-1739.2000.99299.x

Forman RTT, Alexander LE (1998) Roads and their major ecological effects. Annu Rev Ecol Syst 29:207–231. https://doi.org/10.1146/annurev.ecolsys.29.1.207

Forman RTT, Sperling D, Bissonette J, Clevenger AP, Cutshall CD, Dale VH, Fahrig L, France R, Goldman CR, Heanue K, Jones JA, Swanson FJ, Turrentine T, Winter TC (2003) Road ecology: science and solutions. Island Press, Washington DC

Mata C, Ruiz-Capillas P, Malo JE (2017) Small-scale alterations in carnivore activity patterns close to motorways. Eur J Wildl Res 63:Article number 64. https://doi.org/10.1007/s10344-017-1118-1

Skuban M, Finďo S, Kajba M, Koreň M, Chamers J, Antal V (2017) Effects of roads on brown bear movements and mortality in Slovakia. Eur J Wildl Res 63:Article number 82. https://doi.org/10.1007/s10344-017-1138-x

Trombulak SC, Frissell CA (2000) Review of ecological effects of roads on terrestrial and aquatic communities. Conserv Biol 14:18–30. https://doi.org/10.1046/j.1523-1739.2000.99084.x

van der Ree R, Smith DJ, Grilo C (2015) Handbook of road ecology. John Wiley & Sons, Oxford
Acknowledgments
P. James Macaluso Jr. improved the English.
Funding
MD was supported by a Juan de la Cierva Formación post-doctoral grant, FA by an FCT (Fundação para a Ciência e a Tecnologia) post-doctoral grant, MF by a University of Molise grant for PhD stays in foreign countries, and RB by a University of Alcalá post-doctoral grant.
Additional information
This article is a contribution to the Topical Collection Road Ecology, Guest Editor: Marcello D'Amico
About this article
Cite this article
D'Amico, M., Ascensão, F., Fabrizio, M. et al. Twenty years of Road Ecology: a Topical Collection looking forward for new perspectives. Eur J Wildl Res 64, 26 (2018). https://doi.org/10.1007/s10344-018-1186-x
Received:

Accepted:

Published:
Keywords
Road Ecology

Road-kills

Wildlife crossing-structures

Habitat loss and fragmentation

Barrier effect

Linear infrastructures