Abstract
Providing accurate long-term information is essential in enhancing invasive species management. The management of invasive species—for example, outdoor cats—depends on human behavior and requires cooperation among stakeholders. Previous studies have evaluated stakeholders' attitudes concerning invasive species, however, far too little attention has been paid to long-term information provisions. This study analyzes the information on cats in the Ogasawara Islands, a World Natural Heritage Site in Japan. We used monthly newsletters published by the local government for 21 years, which contain 150 articles about cats. We then applied content analysis to the data to assess both the frequency of keywords and co-occurrence network of words in order to understand the trends in keywords' appearances and changing contexts. We categorized the data into three periods of seven years each, and found distinct differences. Results showed that information on cat management has gradually changed, as policies have changed. In the first period, there were three co-occurrence networks, which focused on capturing outdoor cats, proper keeping of pet cats, and veterinary care. During the second period, there were two networks, which focused on cat and World Natural Heritage Site management. During the third period, all keywords were connected into one network that included the words "outdoor cat," "pet," and "World Natural Heritage Site." The changes imply that contents of information have shifted from pest management to ecosystem management. Visualizing how this information is provided over the long-term can remind stakeholders of previous communication efforts and enhance their cooperation on future conservation.
Access options
Buy single article
Instant access to the full article PDF.
USD 39.95
Price excludes VAT (USA)
Tax calculation will be finalised during checkout.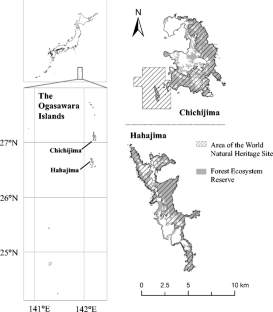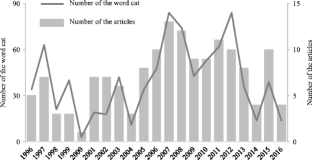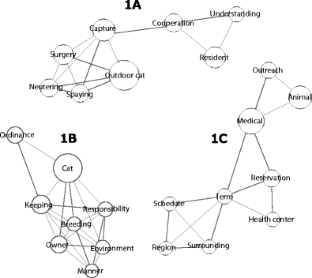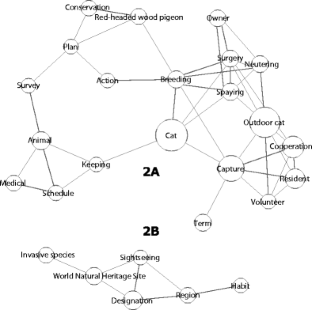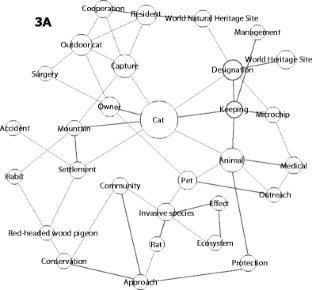 References
Bhatia S, Athreya V, Grenyer R, Macdonald DW (2013) Understanding the role of representations of human-leopard conflict in Mumbai through media-content analysis. Conserv Biol 27(3):588–594. https://doi.org/10.1111/cobi.12037

Bremner A, Park K (2007) Public attitudes to the management of invasive non-native species in Scotland. Biol Conserv 139(3-4):306–314. https://doi.org/10.1016/j.biocon.2007.07.005

Calver M, Thomas S, Bradley S, McCutcheon H (2007) Reducing the rate of predation on wildlife by pet cats: the efficacy and practicability of collar-mounted pounce protectors. Biol Conserv 13:341–348

Connor P, Harris E, Guy S, Fernando J, Shank DB, Kurz T, Bain PG, Kashima Y (2016) Interpersonal communication about climate change: how messages change when communicated through simulated online social networks. Clim Chang 136(3–4):463–476. https://doi.org/10.1007/s10584-016-1643-z

Early R, Bradley BA, Dukes JS, Lawler JJ, Olden JD, Blumenthal DM, Gonzalez P, Grosholz ED, Ibanez I, Miller LP, Sorte CJB, Tatem AJ (2016) Global threats from invasive alien species in the twenty-first century and national response capacities. Nat Commun 7. https://doi.org/10.1038/ncomms12485

Evans JM, Wilkie AC, Burkhardt J (2008) Adaptive management of nonnative species: moving beyond the "either-or" through experimental pluralism. J Agric Environ Ethics 21(6):521–539. https://doi.org/10.1007/s10806-008-9118-5

Fischer A, Young JC (2007) Understanding mental constructs of biodiversity: implications for biodiversity management and conservation. Biol Conserv 136(2):271–282. https://doi.org/10.1016/j.biocon.2006.11.024

Ford-Thompson AES, Snell C, Saunders G, White PCL (2012) Stakeholder participation in management of invasive vertebrates. Conserv Biol 26(2):345–356. https://doi.org/10.1111/j.1523-1739.2011.01819.x

Government of Japan (2010) Nomination of the Ogasawara Islands for inscription on the World Heritage List. ​Government of Japan, pp 24–102

Gozlan RE, Burnard D, Andreou D, Britton JR (2013) Understanding the threats posed by non-native species: public vs. conservation managers. PLoS One 8(1):e53200. https://doi.org/10.1371/journal.pone.0053200

Higuchi K (2004) Quantitative analysis of textual data: differentiation and coordination of two approaches. Sociological Theory and Methods 19(1):101–115

Horikoshi K, Suzuki H, Sasaki T, Chiba H (2009) The impact assessment of invasive alien mammals on sea bird colonies. Global Environmental Research 14:103–105

Horikoshi K, Itoh K, Hayama S, Murayama A, Suzuki H, Traylor-Holzer K, Ballou J, Miller P (2010) Red-headed wood pigeon population and habitat viability assessment workshop final report.  Conservation Planning Specialist Group (CPSG)Web. http://www.cpsg.org/content/red-headed-wood-pigeon-phva-2008. Accessed 24 Jan 2018

Jager C, Nelson MP, Goralnik L, Gore ML (2016) Michigan mute swan management: a case study to understand contentious natural resource management issues. Hum Dimens Wildl 21(3):189–202. https://doi.org/10.1080/10871209.2015.1129679

Keller RP, Lodge DM, Finnoff DC (2007) Risk assessment for invasive species produces net bioeconomic benefits. Proc Natl Acad Sci 104(1):203–207. https://doi.org/10.1073/pnas.0605787104

Lepczyk CA, Mertig AG, Liu J (2004) Landowners and cat predation across rural-to-urban landscapes. Biol Conserv 115(2):191–201. https://doi.org/10.1016/S0006-3207(03)00107-1

Lohr CA, Lepczyk CA (2014) Desires and management preferences of stakeholders regarding feral cats in the Hawaiian islands. Conserv Biol 28(2):392–403. https://doi.org/10.1111/cobi.12201

Lord LK (2008) Attitudes toward and perceptions of free-roaming cats among individuals living in Ohio. Javma-Journal of the American Veterinary Medical Association 232(8):1159–1167. https://doi.org/10.2460/javma.232.8.1159

Lowe S, Browne M, Boudjelas S, De Poorter M (2000) 100 of the world's worst invasive alien species: a selection from the global invasive species database. ​Invasive Species Specialist Group, Auckland

Mameno K, Kubo T, Suzuki M (2017) Social challenges of spatial planning for outdoor cat management in Amami Oshima Island, Japan. Global Ecology and Conservation 10:184–193. https://doi.org/10.1016/j.gecco.2017.03.007

McLeod LJ, Driver AB, Bengsen AJ, Hine DW (2017a) Refining online communication strategies for domestic cat management. Anthrozoös 30(4):635–649. https://doi.org/10.1080/08927936.2017.1370237

McLeod LJ, Hine DW, Bengsen AJ, Driver AB (2017b) Assessing the impact of different persuasive messages on the intentions and behaviour of cat owners: a randomised control trial. Preventive veterinary medicine 146:136–142. https://doi.org/10.1016/j.prevetmed.2017.08.005

Muter BA, Gore ML, Gledhill KS, Lamont C, Huveneers C (2013) Australian and U.S. news media portrayal of sharks and their conservation. Conserv Biol 27(1):187–196. https://doi.org/10.1111/j.1523-1739.2012.01952.x

Nakayama R (2009) Collaboration of government, local residents and scientists against invasive alien species in Ogasawara. Chikyu Kankyo 14:107–114

Niemiec R, Ardoin N, Wharton C, Asner G (2016) Motivating residents to combat invasive species on private lands: social norms and community reciprocity. Ecol Soc 21(2):30

Nogales M, Vidal E, Medina FM, Bonnaud E, Tershy BR, Campbell KJ, Zavaleta ES (2013) Feral cats and biodiversity conservation: the urgent prioritization of island management. Bioscience 63(10):804–810. https://doi.org/10.1525/bio.2013.63.10.7

O'Keefe DJ, Jensen JD (2009) The relative persuasiveness of gain-framed and loss-framed messages for encouraging disease detection behaviors: a meta-analytic review. J Commun 59(2):296–316. https://doi.org/10.1111/j.1460-2466.2009.01417.x

Osbaldiston R, Schott JP (2012) Environmental sustainability and behavioral science: meta-analysis of proenvironmental behavior experiments. Environ Behav 44(2):257–299. https://doi.org/10.1177/0013916511402673

Osipova E, Wilson L, Blaney R, Shi Y, Fancourt M, Strubel M, Salvaterra T, Brown C, Verschuuren B (2014) The benefits of natural World Heritage: identifying and assessing ecosystem services and benefits provided by the world's most iconic natural places. IUCN, Gland

Pasko S, Goldberg J (2014) Review of harvest incentives to control invasive species. Management of Biological Invasions 5(3):263–277. https://doi.org/10.3391/mbi.2014.5.3.10

Reed MS (2008) Stakeholder participation for environmental management: a literature review. Biol Conserv 141(10):2417–2431. https://doi.org/10.1016/j.biocon.2008.07.014

Robinson BS, Inger R, Crowley SL, Gaston KJ (2017) Weeds on the web: conflicting management advice about an invasive non-native plant. J Appl Ecol 54(1):178–187. https://doi.org/10.1111/1365-2664.12712

Selge S, Fischer A, van der Wal R (2011) Public and professional views on invasive non-native species: a qualitative social scientific investigation. Biol Conserv 144(12):3089–3097. https://doi.org/10.1016/j.biocon.2011.09.014

Strayer DL, Eviner VT, Jeschke JM, Pace ML (2006) Understanding the long-term effects of species invasions. Trends Ecol Evol 21(11):645–651. https://doi.org/10.1016/j.tree.2006.07.007

van Heezik Y (2010) Pussyfooting around the issue of cat predation in urban areas. Oryx 44(02):153–154. https://doi.org/10.1017/S003060531000027X

Vane M, Runhaar HAC (2016) Public support for invasive alien species eradication programs: insights from the Netherlands. Restor Ecol 24(6):743–748. https://doi.org/10.1111/rec.12379

Vaske JJ, Jacobs MH, Sijtsma MTJ (2011) Wildlife value orientations and demographics in The Netherlands. Eur J Wildl Res 57(6):1179–1187. https://doi.org/10.1007/s10344-011-0531-0

Wald DM, Jacobson SK, Levy JK (2013) Outdoor cats: identifying differences between stakeholder beliefs, perceived impacts, risk and management. Biol Conserv 167:414–424. https://doi.org/10.1016/j.biocon.2013.07.034

Warner KD, Kinslow F (2013) Manipulating risk communication: value predispositions shape public understandings of invasive species science in Hawaii. Public Underst Sci 22(2):203–218. https://doi.org/10.1177/0963662511403983

Weiss JA, Tschirhart M (1994) Public information campaigns as policy instruments. Journal of policy analysis and management 13(1):82–119. https://doi.org/10.2307/3325092

Yoshida M (2012) World natural heritage and the conservation of biological diversity. Chijin Shokan, Shinjuku
Acknowledgments
We are grateful to the Ministry of the Environment, the Forestry Agency, Ogasawara Branch of the Tokyo Metropolitan Office, Ogasawara Village, and Institute of Boninology for their help to collect the data. We thank Shoji, Y. and Mameno, K. for their helpful comments on early draft of the manuscript. We gratefully acknowledge funding provided by the Japan Society for the Promotion of Science (Grant Number 16K00697).
About this article
Cite this article
Mitsui, S., Kubo, T. & Yoshida, M. Analyzing the change in long-term information provision on cat management around a world natural heritage site. Eur J Wildl Res 64, 9 (2018). https://doi.org/10.1007/s10344-018-1170-5
Received:

Revised:

Accepted:

Published:

DOI: https://doi.org/10.1007/s10344-018-1170-5
Keywords