Abstract
The extractive nature of recreational hunting may provide a service to both the ecosystem and society, namely the control of problem species. We reviewed the annual wild boar hunting bag data from hunting sites in Asturias (Spain) from 2000/01 to 2013/14, paying particular attention to the evolution on hunting estates after ban periods. We hypothesized that the annual hunting bag after a hunting ban would be larger than that of the pre-ban period, and that this difference could provide an indication of hunters' relative contribution to wild boar population regulation. The total hunting bag grew during the study period, from 3723 wild boar (0.39ind/km2) in the 2000/01 hunting year to 7593 in that of 2013/14 (0.79ind/km2)—a mean annual increase of 5.63%. Low hunting quotas cannot be blamed for these growing trends, since no more than 50% of the authorized animals are hunted. The growth of the mean annual pre-ban hunting bag on the estates on which hunting bans took place was 8.46%. The hunting bag grew by 40.33% immediately after the hunting ban ended—a growth rate seven times higher than that of the background hunting bag. This constitutes a proxy of the regulatory effect of hunters on wild boar population growth. Following the remarkable increase after the ban, the wild boar hunting bag attained values that were slightly lower than those of the pre-ban period, which indicates that hunters are able to reduce wild boar abundance. Hunting, therefore, provides an important service to both the ecosystem and society by contributing to regulating the growth of problem species such as the wild boar.
Access options
Buy single article
Instant access to the full article PDF.
US$ 39.95
Tax calculation will be finalised during checkout.
Subscribe to journal
Immediate online access to all issues from 2019. Subscription will auto renew annually.
US$ 79
Tax calculation will be finalised during checkout.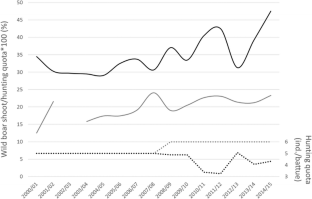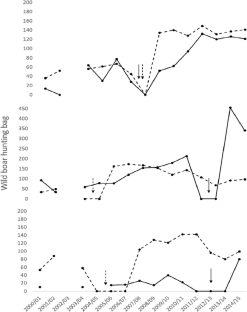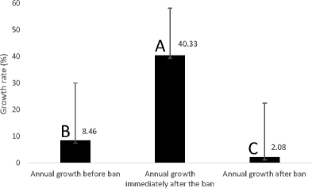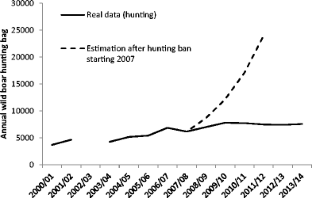 References
Acevedo P, Farfán MA, Márquez AL, Delibes-Mateos M, Real R, Vargas JM (2011) Past, present and future of wild ungulates in relation to changes in land use. Landsc Ecol 26:19–31

Acevedo P, Quirós-Fernández F, Casal J, Vicente J (2014) Spatial distribution of wild boar population abundance: basic information for spatial epidemiology and wildlife management. Ecol Indic 36:594–600

Acevedo P, Vicente J, Alzaga V, Gortázar C (2009) Wild boar abundance and hunting effectiveness in Atlantic Spain: environmental constraints. Galemys 21:13–29

Acevedo P, Vicente J, Höfle U, Cassinello J, Ruiz-Fons F, Gortázar C (2007) Estimation of European wild boar relative abundance and aggregation: a novel method in epidemiological risk assessment. Epidemiol Infect 135:519–527

Alexander NS, Massei G, Wint W (2016) The European distribution of Sus scrofa. Model outputs from the project described within the poster—where are all the boars? An attempt to gain a continental perspective. Open Health Data 4:e1

Apollonio M, Anderson R, Putman R (2010) European ungulates and their management in the 21st century. Cambridge University Press, Cambridge

Bieber C, Ruf T (2005) Population dynamics in wild boar Sus scrofa: ecology, elasticity of growth rate and implications for the management of pulsed resource consumers. J Appl Ecol 42:1203–1213

Boitani L, Trapanese P, Mattei L (1995) Methods of population estimates of a hunted wild boar (Sus scrofa L.) population in Tuscany (Italy). Journal of Mountain Ecology 3:204–208

Bowyer RT, Bleich VC, Sterwary KM, Whiting JC, Monteith KL (2014) Density dependence in ungulates: a review of causes, and concepts with some clarifications. California Fish and Game 100:550–572

Bueno CG, Barrio IC, García-González R, Alados CL, Gómez-García D (2010) Does wild boar rooting affect livestock grazing areas in alpine grasslands? Eur J Wildl Res 56:765–760

Bunnefeld N, Hoshino E, Milner-Gulland EJ (2011) Management strategy evaluation: a powerful tool for conservation? (Opinion). Trends in Ecology and Evolution 26:441–447.

Fisher B, Turner RK, Morling P (2009) Defining and classifying ecosystem services for decision making. Ecol Econ 68:643–653

Fischer A, Kerezi V, Arroyo B, Delibes-Mateos M, Tadie D, Lowassa A, Krange O, Skogen K (2013) (De)legitimising hunting—discourses over the morality of hunting in Europe and eastern Africa. Land Use Policy 32:261–270

Frauendorf M, Gethöffer F, Siebert Y, Keuling O (2016) The influence of environmental and physiological factors on the litter size of wild boar (Sus scrofa) in an agricultural dominated area in Germany. Sci Total Environ 541:877–882

Geisser H, Reyer H-U (2004) Efficacy of hunting, feeding, and fencing to reduce crop damage by wild boars. J Wildl Manag 68:939–946

Gortázar C, Ruiz-Fons JF, Höfle U (2016) Infections shared with wildlife: an updated perspective. Eur J Wildl Res 62:511–525

Herrero J, Garcia-Serrano A, Couto S, Ortuno V, Garcia-Gonzalez R (2006) Diet of wild boar Sus scrofa L. and crop damage in an intensive agroecosystem. Eur J Wildl Res 52:245–250

Imperio S, Ferrante M, Grignetti A, Santini G, Focardi S (2010) Investigating population dynamics in ungulates: do hunting statistics make up a good index of population abundance? Wildl Biol 16:205–214

Keuling O, Baubet E, Duscher A, Ebert C, Fischer C, Monaco A, Podgórski T, Prevot C, Ronnenberg K, Sodeikat G, Stier N, Thurfjell H (2013) Mortality rates of wild boar Sus scrofa L. in central Europe. Eur J Wildl Res 59:805–814

Keuling O, Strauß E, Siebert U (2016) Regulating wild boar populations is "somebody else's problem"!—human dimension in wild boar management. Sci Total Environ 554-555:311–319

Martín-López B, Iniesta-Arandia I, García-Llorente M, Palomo I, Casado-Arzuaga I, García Del Amo D, Gómez-Baggethun E, Oteros-Rozas E, Palacios-Agundez I, Willaarts B, González JA, Santos-Martín F, Onaindia M, López-Santiago C, Montes C (2012) Uncovering ecosystem service bundles through social preferences. PLoSONE 7(6):e38970

Massei G, Kindberg J, Licoppe A, Gačić D, Šprem N, Kamler J, Baubet E, Hohmann U, Monaco A, Ozoliņš J, Cellina S, Podgórski T, Fonseca C, Markov N, Pokorny B, Rosell C, Náhlik A (2015) Wild boar populations up, numbers of hunters down? A review of trends and implications for Europe. Pest Manag Sci 71:492–500

Melis C, Szafrańska P, Jędrzejewska B, Bartoń K (2006) Biogeographical variation in the population density of wild boar (Sus scrofa) in western Eurasia. J Biogeogr 33:803–811

Mori E, Benatti L, Lovari S, Ferretti F (2017) What does the wild boar mean to the wolf? Eur J Wildl Res 63:9. doi:10.1007/s10344-016-1060-7

Muñoz-Mendoza M, Marreros N, Boadella M, Gortázar C, Menéndez S, de Juan L, Bezos J, Romero B, Copano MF, Amado J, Sáez JL, Mourelo J, Balseiro A (2013) Wild boar tuberculosis in Iberian Atlantic Spain: a different picture from Mediterranean habitats. BMC Vet Res 9:176

Mysterud A, Mcisingset EL, Veiberg V, Langvatn R, Solberg EJ, Loc LE, Stenseth NC (2007) Monitoring population size of red deer Cervus elaphus: an evaluation of two types of census data from Norway. Wildl Biol 13:285–298

Nores C, Llaneza L, Álvarez MA (2008) Wild boar Sus scrofa mortality by hunting and wolf Canis lupus predation: an example in northern Spain. Wildl Biol 14:44–51

Putman RJ, Apollonio M, Andersen R (2011) Ungulate management in Europe: problems and practices. Cambridge University Press, Cambridge

Riley SJ, Decker DJ, Enck JW, Curtis PD, Lauber TB (2003) Deer populations up, hunter populations down: implications of interdependence of deer and hunter population dynamics on management. Ecoscience 10:455–461

Sáenz-de-Santa-María A, Tellería JL (2015) Wildlife-vehicle collisions in Spain. Eur J Wildl Res 61:399–406

Sáez-Royuela C, Tellería JL (1986) The increased population of wild boar (Sus scrofa L.) in Europe. Mammal Rev 16:97–101

Schley L, Dufrêne M, Krier A, Frantz AC (2008) Patterns of crop damage by wild boar (Sus scrofa) in Luxembourg over a 10-year period. Eur J Wildl Res 54:589–599

Segura A, Acevedo P, Rodríguez O, Naves J, Obeso JR (2014) Biotic and abiotic factors modulating wild boar relative abundance in Atlantic Spain. Eur J Wildl Res 60:469–476

Shackleton DM (1997) Wild sheep and goats and their relatives: status survey and conservation action plan for Caprinae. IUCN, Gland

Wagar JA (1964) The carrying capacity of wildlands for recreation. Society of American Foresters. Forest Science Service Monograph 7:23

Walters C (1997) Challenges in adaptive management of riparian and coastal ecosystems. Conserv Ecol 1(2):1 Available from the Internet. URL: http://www.consecol.org/vol1/iss2/art1
Acknowledgements
We would like to thank our many colleagues from the Principado de Asturias for facilitating this research. We are also most indebted to all the hunters, fish, and game officers for producing and reporting valuable information on the wild boar hunting bag. P. Acevedo is supported by MINECO-UCLM through a Ramón y Cajal contract (RYC-2012-11970) and partially by the AGL2016-76358-R grant (MINECO-FEDER, UE).
About this article
Cite this article
Quirós-Fernández, F., Marcos, J., Acevedo, P. et al. Hunters serving the ecosystem: the contribution of recreational hunting to wild boar population control. Eur J Wildl Res 63, 57 (2017). https://doi.org/10.1007/s10344-017-1107-4
Received:

Revised:

Accepted:

Published:
Keywords
Ecosystem service

Hunting

Population dynamics

Sus scrofa

Wild ungulates