Abstract
Osteophagia is a common behaviour among ungulates. It has been considered as a mineral source for cervids, mainly related to phosphorus deficiency. In this study, we aimed to study the seasonality in antler consumption of Iberian red deer (Cervus elaphus) and to assess the differences among sex/age classes. In a game reserve located in South-Eastern Spain, antlers were offered to free-ranging animals, and their chewing behaviour was recorded with camera traps. Red deer was the species observed with greatest frequency (90.5%), and only red deer was observed chewing the offered antlers. Males showed greatest peak of consumption at the end of antler growth; females showed the greatest peak at the beginning of the lactation and calves after delivery of the newborn. All groups showed an important second peak of consumption in September. We conclude that osteophagia might have a role as a natural mineral supplement for red deer, but not for wild boar or foxes; and that each sex/age class uses this resource at different times according to differential needs in calcium and phosphorus, supporting the "seasonally increased requirements hypothesis".
Access options
Buy single article
Instant access to the full article PDF.
USD 39.95
Price excludes VAT (USA)
Tax calculation will be finalised during checkout.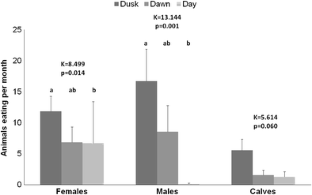 References
Atwood TC Jr, Weeks HP (2002) Sex-and age-specific patterns of mineral lick use by white-tailed deer (Odocoileus virginianus). Am Midl Nat 148:289–296

Banfield AWF (1954) Preliminary investigation of the barren ground caribou. Department of Northern Affairs and National Resources, National Parks Branch, Canadian Wildlife Service, Canada

Banks WJ, Epling GP, Kainer RA, Davis RW (1968) Antler growth and osteoporosis I. Morphological and morphometric changes in the costal compacta during the antler growth cycle. Anat Rec 162:387–397

Barrette C (1985) Antler eating and antler growth in wild Axis deer. Mammalia 49:491–500

Baxter BJ, Andrews RN, Barrell GK (1999) Bone turnover associated with antler growth in red deer (Cervus elaphus). Anat Rec 256:14–19

Blair-West JR, Denton DA, Nelson JF, McKinley MJ, Radden BG, Ramshaw EH (1989) Recent studies of bone appetite in cattle. Acta Physiol Scand 583:53–58

Bomjardim HA, Oliveira C, Silveira JAS, Silva NS, Duarte MD, Faial KCF, Brito MF, Barbosa JD (2015) Mineral deficiencies in lactating cows from the dairy basin of Rondon do Pará, Brazil. Pesquisa Vet Brasil 35:409–416

Bowyer RT (1983) Osteophagia and antler breakage among Roosevelt elk. Calif Fish Game 69:84–88

Bredin IP, Skinner JD, Mitchell G (2008) Can osteophagia provide giraffes with phosphorus and calcium? Onderstepoort J Vet 75:1–9

Brothwell D (1976) Further evidence of bone chewing by ungulates: the sheep of North Ronaldsay Orkney. J Archaeol Sci 3:179–182

Cáceres I, Esteban-Nadal M, Bennàsar M, Fernández-Jalvo Y (2011) Was it the deer or the fox? J Archaeol Sci 38:2767–2774

Cáceres I, Esteban-Nadal M, Bennàsar M, Monfort MDM, Pesquero MD, Fernández-Jalvo Y (2013) Osteophagia and dental wear in herbivores: actualistic data and archaeological evidence. J Archaeol Sci 40:3105–3116

Carlson AJ (1940) Eating of bone by the pregnant and lactating gray squirrel. Science 91:573

Carranza J, de Trucios SJH, Medina R, Valencia J, Delgado J (1991) Space use by red deer in a Mediterranean ecosystem as determined by radio-tracking. Appl Anim Behav Sci 30:363–371

Ceacero F, Landete-Castillejos T, Miranda M, García AJ, Martínez A, Gallego L (2014) Why do cervids feed on aquatic vegetation? Behav Process 103:28–34

Clutton-Brock TH, Guinness FE, Albon SD (1982) Red deer: behaviour and ecology of two sexes. University of Chicago Press

Cohen BS, Osborn DA, Gallagher GR, Warren RJ, Miller KV (2014) Behavioral measure of the light-adapted visual sensitivity of white-tailed deer. Wildlife Soc B 38:480–485

Dansie W (1968) Muntjac pecularities. Deer 1:181

Darling FF (1937) A herd of red deer. Oxford University Press

Denton DA, Blair-West JR, McKinley MJ, Nelson JF (1986) Problems and paradigms: physiological analysis of bone appetite (osteophagia). BioEssays 4:40–43

Domínguez-Solera SD, Domínguez-Rodrigo M (2009) A taphonomic study of bone modification and of tooth-mark patterns on long limb bone portions by suids. Int J Osteoarchaeol 19:345–363

Duthie AG, Skinner JD (1986) Osteophagia in the cape porcupine Hystrix africaeaustralis. S Afri J of Zoo 21:316–318

Estévez JA, Landete-Castillejos L, García AJ, Ceacero F, Gallego L (2008) Population management and bone structural effects in composition and radio-opacity of Iberian red deer (Cervus elaphus hispanicus) antlers. Eur J Wildlife Res 54:215–223

Estévez JA, Landete-Castillejos T, Martínez A, García AJ, Ceacero F, Gaspar-López E, Calatayud A, Gallego L (2009) Antler mineral composition of Iberian red deer (Cervus elaphus hispanicus) is related to mineral profile of diet. Acta Theriol 54:235–242

Estévez JA, Landete-Castillejos T, García AJ, Ceacero F, Martínez A, Gaspar-López E, Calatayud A, Gallego L (2010) Seasonal variations in plant mineral content and free-choice minerals consumed by deer. Anim Prod Sci 50:177–185

Fillios MA (2016) Food for thought: using game cameras to better understand the movement of bones by scavenging in archaeological faunal assemblages. Archaeol Anthropol Sci 8:317–328

Glen AS, Cockburn S, Nichols M, Ekanayake J, Warburton B (2013) Optimising camera traps for monitoring small mammals. PLoS One 8:e67940

Gómez S, García AJ, Luna S, Kierdorf U, Kierdorf H, Gallego L, Landete-Castillejos T (2013) Labeling studies on cortical bone formation in the antlers of red deer (Cervus elaphus). Bone 52:506–515

Greenfield HJ (1988) Bone consumption by pigs in a contemporary Serbian village: implications for the interpretation of prehistoric faunal assemblages. J Field Archaeol 15:473–479

Harper JA, Harn JH, Bentley WW, Yocom CF (1967) The status and ecology of the Roosevelt Elk in California. Wildlife Monogr 16:3–49

Haynes G (1980) Evidence of carnivore gnawing on Pleistocene and recent mammalian bones. Paleobiology 6:341–351

Hutson JM, Burke CC, Haynes G (2013) Osteophagia and bone modifications by giraffe and other large ungulates. J Archaeol Sci 40:4139–4149

Keating KA (1990) Bone chewing by Rocky Mountain bighorn sheep. Western N Am Naturalist 50:89

Kierdorf U (1993) Fork formation and other signs of osteophagia on a long bone swallowed by a red deer male (Cervus elaphus). Int J Osteoarchaeol 3:37–40

Kierdorf U (1994) A further example of long-bone damage due to chewing by deer. Int J Osteoarchaeol 4:209–213

Krausman PR, Bissonette JA (1977) Bone-chewing behavior of desert mule deer. Southwest Nat 22:125–126

Manghat P, Sodi R, Swaminathan R (2014) Phosphate homeostasis and disorders. Ann Clin Biochem 51:631–656

McCabe RA (1957) Observations on the disappearance of shed caribou antlers. J Mammal 38:275–277

McDowell LR (2003) Mineral in animal and human nutrition. Elsevier, Amsterdam

Meek PD, Ballard G, Fleming P (2012) An introduction to camera trapping for wildlife surveys in Australia. PestSmart Toolkit publication. Invasive Animals Cooperative Research Centre, Canberra

Millais JC (1907) Newfoundland and its untrodden ways. Longmans, Green and Co., London

Muir PD, Sykes AR, Barrell GK (1987) Calcium metabolism in red deer (Cervus elaphus) offered herbages during antlerogenesis: kinetic and stable balance studies. J Agril Sci 109:357–364

Murden D, Hunnam J, De Groef B, Rawlin G, McCowan C (2016) Comparison of methodologies in determining bone marrow fat percentage under different environmental conditions assessing a tool for ruminant welfare investigations. J Vet Diag Invest 29:93–90

Murie OJ (1935) Alaska-Yukon caribou. North Am Fauna 54:1–92

Newbold HG, King CM (2009) Can a predator see 'invisible' light? Infrared vision in ferrets (Mustela furo). Wildlife Res 36:309–318

O'Connell A, Nichols J, Karanth K (2011) Camera traps in animal ecology. Methods and Analyses, Japan

Oftedal OT (1985) Pregnancy and lactation. In Hudson R, White RG, (ed) Bioenergetics of wild herbivores. CRC Press, Boca Raton, Florida (USA), pp 215–238

Palomo LJ, Gisbert J, Blanco JC (2007) Atlas y Libro Rojo de los Mamíferos Terrestres de España. Dirección General para la Biodiversidad-SECEM-SECEMU, Madrid

Pathak NN, Pattanaik AK, Patra RC, Arora BM (2001) Mineral composition of antlers of three deer species reared in captivity. Small Ruminant Res 42:61–65

Penido MGM, Alon US (2012) Phosphate homeostasis and its role in bone health. Pediatr Nephrol 27:2039–2048

Ping X, Li C, Jiang Z, Liu W, Zhu H (2011) Sexual difference in seasonal patterns of salt lick use by South China sika deer Cervus nippon. Mammal Biol 76:196–200

Prior R (1968) The roe deer of Cranborne chase: an ecological survey. Oxford University Press, United Kingdom

Riet-Correa F, Medeiros RMT, Tokarnia CH, Carvalho CJSD, Franklin FLAA, Dias ACS, Ferreira RMM, Silva SMMS (2012) Botulism by clostridium botulinum type C in goats associated with osteophagia. Small Ruminant Res 106:201–205

Sekulic R, Estes RD (1977) A note on bone chewing in the sable antelope in Kenya. Mammalia 41:537–539

Sibbald AM (1994) Effect of changing daylength on the diurnal pattern of intake and feeding behaviour in penned red deer (Cervus elaphus). Appetite 22:197–203

Sulzle PA (1996) Bone eater in the Rockies. Alberta Naturalist 26:12

Sutcliffe AJ (1973) Similarity of bones and antlers gnawed by deer to human artefacts. Nature 166:112

Sutcliffe AJ (1977) Further notes on bones and antlers chewed by deer and other ungulates. Deer 4:73–82

Ullrey DE (1982) Nutrition and antler development in white-tailed deer. In Brown RD, (ed) Antler Development in Cervidae. Caesar Kleberg Wildlife Research Institute. Kingsville, Texas (USA) pp 49–58

Wald EJ (2011) Osteophagy by the grizzly bear, Ursus arctos. Northwest Sci 85:491–449

Walter WD, Bryant RL, Leslie DM (2005) Unusual documentation of elk behaviors using automated cameras. Proc Okla Acad of Sci 85:81–83

Warrick G, Krausman PR (1986) Bone-chewing by desert bighorn sheep. The Southwestern Nat 31:414

Wika M (1982) Antlers—a mineral source in Rangifer. Acta Zool Stockholm 63:7–10
Acknowledgements
The authors wish to thank Carlos Cano for providing antlers of free-ranging males from the regional government game state "Zona de Caza Controlada Las Dehesas", and for the permission for performing this study in the area. We are especially thankful to Francisco Jesús Pérez Ortíz, Jose Manuel Navarro and all the team of keepers of the state for their collaboration during the whole experiment. José Estévez, Martina Komárková and Jana Dubcová helped during data collection. This study was supported by the grant IGA-20172007 (Faculty of Tropical AgriSciences, Czech Republic) and PEII-2014-004-P (Consejería de Educación y Deportes de Castilla-La Mancha, Spain).
Electronic supplementary material
About this article
Cite this article
Gambín, P., Ceacero, F., Garcia, A.J. et al. Patterns of antler consumption reveal osteophagia as a natural mineral resource in key periods for red deer (Cervus elaphus). Eur J Wildl Res 63, 39 (2017). https://doi.org/10.1007/s10344-017-1095-4
Received:

Revised:

Accepted:

Published:

DOI: https://doi.org/10.1007/s10344-017-1095-4
Keywords