Abstract
European badgers (Meles meles) in Ireland and the UK are a reservoir for Mycobacterium bovis, the causative agent of bovine tuberculosis (TB). A number of interventions have been evaluated in attempts to control bovine TB within badger populations, and many of which rely on the capture of badgers. One strategy being implemented within Ireland is intramuscular vaccination using Bacillus Calmette-Guérin (BCG), as an alternative to badger culling. The success of vaccination as a disease control strategy depends on the ability to capture badgers and administer vaccines; thus, trapping success is crucial to effectively vaccinate the population (maximize vaccine coverage). A field vaccine trial was conducted in County Kilkenny, Ireland, from 2010–2013. We used data from this trial to evaluate the association between weather (precipitation and temperature data), badger sett characteristics, and badger trapping success. Approximately 10% of capture efforts resulted in a badger capture. Our results indicate that badger captures were the highest in drizzle, rain, and heavy rain weather conditions, and when minimum temperatures ranged from 3–8 °C. Badger captures were the highest at main setts (large burrow systems), and when sett activity scores were high (qualitative classes 4 or 5). Using local precipitation and temperature data in conjunction with observed sett characteristics provides wildlife managers with guidelines to optimize trapping success. Implementing capture operations under optimal conditions should increase the trapping success of badgers and allow for increased delivery of vaccines to manage bovine TB.
This is a preview of subscription content, log in to check access.
Access options
Buy single article
Instant access to the full article PDF.
US$ 39.95
Price includes VAT for USA
Subscribe to journal
Immediate online access to all issues from 2019. Subscription will auto renew annually.
US$ 99
This is the net price. Taxes to be calculated in checkout.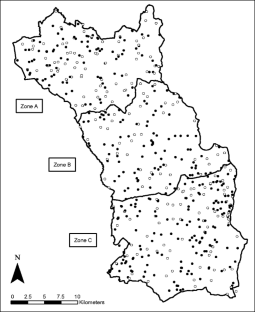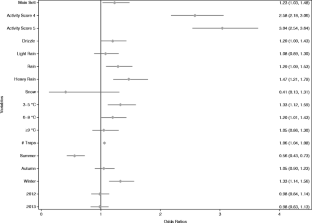 References
Abdou M, Frankena K, O'Keeffe J, Byrne AW (2016) Effect of culling and vaccination on bovine tuberculosis infection in a European badger (Meles meles) population by spatial simulation modelling. Prev Vet Med 125:19–30. doi:10.1016/j.prevetmed.2015.12.012

Acevedo P, González-Quirós P, Prieto JM et al (2014) Generalizing and transferring spatial models: a case study to predict Eurasian badger abundance in Atlantic Spain. Ecol Model 275:1–8. doi:10.1016/j.ecolmodel.2013.12.011

Baker PJ, Harris S, Robertson CP et al (2001) Differences in the capture rate of cage-trapped red foxes Vulpes vulpes and an evaluation of rabies control measures in Britain. J Appl Ecol 38:823–835

Begon M (2009) Ecological epidemiology. The Princeton Guide to Ecology, In, pp 220–226

Burnham KP, Anderson DR (2002) Model selection and multimodel inference a practical information-theoretic approach. Springer, New York

Byrne AW, O'Keeffe J, Green S et al (2012a) Population estimation and trappability of the European badger (Meles meles): implications for tuberculosis management. PLoS One 7:e50807. doi:10.1371/journal.pone.0050807

Byrne AW, Paddy Sleeman D, O'Keeffe J, Davenport J (2012b) The ecology of the European badger (Meles meles) in Ireland: a review. Biol Environ Proc R Ir Acad 112:105–132. doi:10.3318/BIOE.2012.02

Byrne AW, O'Keeffe J, Sleeman DP et al (2013a) Factors affecting European badger (Meles meles) capture numbers in one county in Ireland. Prev Vet Med 109:128–135. doi:10.1016/j.prevetmed.2012.08.016

Byrne AW, O'Keeffe J, Sleeman DP et al (2013b) Impact of culling on relative abundance of the European badger (Meles meles) in Ireland. Eur J Wildl Res 59:25–37. doi:10.1007/s10344-012-0643-1

Byrne AW, Fogarty U, O'Keeffe J, Newman C (2015a) In situ adaptive response to climate and habitat quality variation: spatial and temporal variation in European badger (Meles meles) body weight. Glob Change Biol n/a-n/a. doi:10.1111/gcb.12939

Byrne AW, O'Keeffe J, Fogarty U et al (2015b) Monitoring trap-related injury status during large-scale wildlife management programmes: an adaptive management approach. Eur J Wildl Res. doi:10.1007/s10344-015-0916-6

Chambers MA, Rogers F, Delahay RJ et al (2011) Bacillus Calmette-Guerin vaccination reduces the severity and progression of tuberculosis in badgers. Proc R Soc B Biol Sci 278:1913–1920. doi:10.1098/rspb.2010.1953

Cox GW, Hunt J (1992) Relation of seasonal activity patterns of valley pocket gophers to temperature, rainfall, and food availability. J Mammal 73:123–134. doi:10.2307/1381873

Cross ML, Buddle BM, Aldwell FE (2007) The potential of oral vaccines for disease control in wildlife species. Vet J 174:472–480. doi:10.1016/j.tvjl.2006.10.005

Elliott S, O'Brien J, Hayden TJ (2015) Impact of human land use patterns and climatic variables on badger (Meles meles) foraging behaviour in Ireland. Mammal Res 60:331–342. doi:10.1007/s13364-015-0242-0

Fowler PA, Racey PA (1988) Overwintering strategies of the badger, Meles meles, at 57 °N. J Zool 214:635–651

Goszczyński J, Jedrzejewska B, Jedrzejewski W (2000) Diet composition of badgers (Meles meles) in a pristine forest and rural habitats of Poland compared to other European populations. J Zool 250:495–505

Hardstaff JL, Bulling MT, Marion G et al (2013) Modelling the impact of vaccination on tuberculosis in badgers. Epidemiol Infect 141:1417–1427. doi:10.1017/S0950268813000642

Lesellier S, Palmer S, Dalley DJ et al (2006) The safety and immunogenicity of Bacillus Calmette-Guérin (BCG) vaccine in European badgers (Meles meles). Vet Immunol Immunopathol 112:24–37. doi:10.1016/j.vetimm.2006.03.009

Lesellier S, Palmer S, Gowtage-Sequiera S et al (2011) Protection of Eurasian badgers (Meles meles) from tuberculosis after intra-muscular vaccination with different doses of BCG. Vaccine 29:3782–3790. doi:10.1016/j.vaccine.2011.03.028

Maguire CC (1999) Rainfall, ambient temperature, and Clethrionomys californicus capture frequency. Mammal Rev 29:135–142

McClune DW, Kostka B, Delahay RJ et al (2015) Winter is coming: seasonal variation in resting metabolic rate of the European badger (Meles meles). PLoS One 10:e0135920. doi:10.1371/journal.pone.0135920

More SJ, Good M (2015) Understanding and managing bTB risk: perspectives from Ireland. Vet Microbiol 176:209–218. doi:10.1016/j.vetmic.2015.01.026

Newman C, Zhou Y-B, Buesching CD et al (2011) Contrasting sociality in two widespread, generalist, mustelid genera, Meles and Martes. Mammal Study 36:169–188. doi:10.3106/041.036.0401

Noonan MJ, Rahman MA, Newman C et al (2015) Avoiding verisimilitude when modelling ecological responses to climate change: the influence of weather conditions on trapping efficiency in European badgers (Meles meles). Glob Change Biol n/a-n/a. doi:10.1111/gcb.12942

O'Keeffe JJ (2006) Description of a medium term national strategy toward eradication of tuberculosis in cattle in Ireland. In: Proceeding of the 11th Symposium of the International Society of Veterinary Epidemiology and Economics, Cairns, p 502

Pawlina IM, Proulx G (1999) Factors affecting trap efficiency: a review. In: Mammal trapping. Alpha Wildlife Research & Management, Sherwood Park, pp 95–115

Roper TJ (2010) Badger. Collins, London

Ruette S, Stahl P, Albaret M (2003) Factors affecting trapping success of red fox Vulpes vulpes, stone marten Martes foina and pine marten M. martes in France. Wildl Biol 9:11–19

Sleeman DP, Davenport J, More SJ et al (2009) How many Eurasian badgers Meles meles L. are there in the Republic of Ireland? Eur J Wildl Res 55:333–344. doi:10.1007/s10344-008-0244-1

Smal C (1995) The badger and habitat survey of Ireland. Department of Agriculture, Food and Forestry, Dublin

StataCorp (2013) Stata Statistical Software: Release 13. StataCorp LP, College Station, TX

Tuyttens FAM, Macdonald DW, Delahay R et al (1999) Differences in trappability of European badgers Meles meles in three populations in England. J Appl Ecol 36:1051–1062

Wilkinson D, Smith GC, Delahay RJ, Cheeseman CL (2004) A model of bovine tuberculosis in the badger Meles meles: an evaluation of different vaccination strategies. J Appl Ecol 41:492–501

Wilson GJ, Delahay RJ, de Leeuw ANS et al (2003) Quantification of badger (Meles meles) sett activity as a method of predicting badger numbers. J Zool 259:49–56. doi:10.1017/S0952836902002947

Wobeser G (2002) Disease management strategies for wildlife. Rev Sci Tech Int Off Epizoot 21:159–178
Acknowledgements
We thank the field staff who made this study possible and John Cummins and Richie Browne in particular. Thanks to Danny Martin for his assistance with map creation. Comments from Tom Hobbs, Beth Ross, Emily Weiser, Drew Ricketts, and Bram Verheijen improved earlier drafts of this manuscript.
Ethics declarations
Funding
LEM was supported by the Morris Animal Foundation Veterinary Fellowship for Advanced Study (grant ID: D15ZO-906). This manuscript has not been reviewed or endorsed by the Morris Animal Foundation, and the views expressed herein do not necessarily reflect the views of the Foundation. The fieldwork was funded by the Irish Department of Agriculture, Food and the Marine.
Conflict of interest
The authors declare that they have no conflict of interest.
Ethical approval
All badger captures were conducted under licenses issued by the Irish Department of Health & Children and approved by the University College Dublin animal ethics committee. All applicable international, national, and/or institutional guidelines for the care and use of animals were followed. This article does not contain any studies with human participants performed by any of the authors.
About this article
Cite this article
Martin, L.E.R., Byrne, A.W., O'Keeffe, J. et al. Weather influences trapping success for tuberculosis management in European badgers (Meles meles). Eur J Wildl Res 63, 30 (2017). https://doi.org/10.1007/s10344-017-1089-2
Received:

Revised:

Accepted:

Published:
Keywords
Wildlife management

Badger capture probability

Climate effects

Wildlife vaccine