Abstract
Invasive alien vertebrates (IAVs) pose a significant threat to island biodiversity worldwide, and their removal is an important nature conservation management goal. As methods advance, eradications from larger islands and of multiple species simultaneously are increasingly undertaken. Effective targeting to maximise conservation gain is important given limited resources. We build on existing prioritisation methods and use the islands of the UK and Crown Dependencies (UK) as an example of how vertebrate eradications might be prioritised and invasive-free status maintained through biosecurity. For each of the 9688 UK islands, we assessed ecological importance for native vertebrates and the anticipated impacts of the IAVs present to estimate the benefit of restoration based on the feasibility and sustainability of IAV eradications in relation to island size, human population and risk of unassisted reinvasion by swimming. As reinvasion poses a threat to the long-term benefits of eradication, we incorporated species-specific swimming distances and explored the effects of varying reinvasion probability from risk-averse to higher-risk strategies. The 25 islands that would benefit most from eradications were in Scotland, Northern Ireland and the Channel Islands. Our prioritisation method should be seen as an initial guide to identify islands that might benefit from intervention when faced with a large list of potential sites. Feasibility studies taking account of factors such as interspecific interactions, anthropogenic reinvasion, views of residents or 'social feasibility' and cost need to be undertaken before planning any eradication. We prioritised biosecurity for rat-free islands to highlight where comprehensive measures might be most beneficial.
This is a preview of subscription content, log in to check access.
Access options
Buy single article
Instant access to the full article PDF.
US$ 39.95
Tax calculation will be finalised during checkout.
Subscribe to journal
Immediate online access to all issues from 2019. Subscription will auto renew annually.
US$ 99
Tax calculation will be finalised during checkout.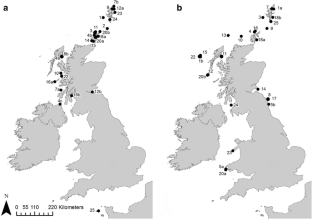 References
Abbott I (2000) Improving the conservation of threatened and rare mammal species through translocation to islands: case study Western Australia. Biol Conserv 93:195–201

Arntzen JW, Wilkinson JW, Butôt R (2014) A new vertebrate species native to the British isles: Bufo spinosus Daudin, 1803 in Jersey. The Herpetological Journal 24:209–216

Balmer DE et al (2013) Bird atlas 2007–11: the breeding and wintering birds of Britain and Ireland. BTO, Thetford

BirdLife International (2004) Birds in Europe: population estimates, trends and conservation status. Cambridge

BirdLife International (2015) European red list of birds. Office for Official Publications of the European Communities, Luxembourg

Booker H, Price D (2014) Manx shearwater recovery on Lundy: population and distribution change from 2001 to 2013. Journal of the Lundy Field Society 4:105–116

BRIG (2007) Report on the species and habitat review: report to the UK standing committee June 2007. Biodiversity Reporting and Information Group, Peterborough

Brooke ML, Hilton G, Martins T (2007) Prioritizing the world's islands for vertebrate-eradication programmes. Anim Conserv 10:380–390

Buxton RT, Jones C, Moller H, Towns DR (2014) Drivers of seabird population recovery on New Zealand islands after predator eradication. Conserv Biol 28:333–344

Clout MN, Russell JC (2008) The invasion ecology of mammals: a global perspective. Wildl Res 35:180–184

Courchamp F, Chapuis J-L, Pascal M (2003) Mammal invaders on islands: impact, control and control impact. Biol Rev 78:347–383

Dawson J et al (2015) Prioritizing islands for the eradication of invasive vertebrates in the United Kingdom overseas territories. Conserv Biol 29:143–153

DIISE (2016) The database of island invasive species eradications, developed by island conservation, coastal conservation action laboratory UCSC, IUCN SSC invasive species specialist group. University of Auckland and Landcare Research New Zealand, Auckland http://diise.islandconservation.org

Donlan C, Wilcox C (2007) Complexities of costing eradications. Anim Conserv 10:154–156

Donlan CJ, Luque GM, Wilcox C (2015) Maximizing return on Investment for Island Restoration and Species Conservation. Conserv Lett 8:171–179

Eaton M et al (2015) Birds of conservation concern 4: the population status of birds in the UK, Channel Islands and Isle of Man. British Birds 108:708–746

Ecosure (2009) Prioritisation of high conservation status of offshore islands. Report to the Australian Government Department of the Environment, Water, Heritage and the Arts. Ecosure, Cairns, Queensland

Edgar P (2010) The amphibians and reptiles of the UK Overseas Territories, Crown Dependencies and Sovereign Base Areas: Species inventory and overview of conservation and research priorities. Final Report to the Amphibian and Reptile Conservation, Boscombe, UK

Fraser EJ, Lambin X, McDonald RA, Redpath SM (2015) Stoat (Mustela erminea) on the Orkney Islands – assessing risks to native species vol No. 871. Scottish Natural Heritage Commissioned Report

Game ET, Kareiva P, Possingham HP (2013) Six common mistakes in conservation priority setting. Conserv Biol 27:480–485

Genovesi P, Carnevali L (2011) Invasive alien species on European islands: eradications and priorities for future work. In: Veitch CR, Clout MN, Towns DR (eds) Island invasives: eradication and management. IUCN, (International Union for Conservation of Nature), Gland, Switzerland, pp 56–62

Glen AS et al (2013) Eradicating multiple invasive species on inhabited islands: the next big step in island restoration? Biol Invasions 15:2589–2603

Harris S, Yalden DWY (2008) Mammals of the British Isles: handbook. Mammal society

Harris S, Morris P, Wray S, Yalden D (1995) A review of British mammals: population estimates and conservation status of British mammals other than cetaceans. Joint Nature Conservation Committee, Peterborough, UK, p 52

Harris D, Gregory SD, Bull L, Courchamp F (2012) Island prioritization for invasive rodent eradications with an emphasis on reinvasion risk. Biol Invasions 14:1251–1263

Heaney V, St Pierre P (2015) The status of seabirds breeding in the Isles of Scilly 2015. Unpublished Royal Society for the Protection of Birds report

Heaney V, Lock L, St Pierre P, Brown A (2008) Important bird areas: breeding seabirds on the isles of Scilly. British Birds 101:418–438

Heath M, Evans M, Hoccom D, Payne A, Peet N, Birdlife International C (2000) Important bird areas in Europe priority sites for conservation. v. 1: Northern Europa. v. 2: Southern Europe BirdLife Conservation Series (RU)

Helmstedt KJ, Shaw JD, Bode M, Terauds A, Springer K, Robinson SA, Possingham HP (2016) Prioritizing eradication actions on islands: it's not all or nothing. J Appl Ecol. doi:10.1111/1365-2664.12599

Hervías S et al (2013) Studying the effects of multiple invasive mammals on Cory's shearwater nest survival. Biol Invasions 15:143–155

Holmes N, Campbell K, Keitt B, Griffiths R, Beek J, Donlan C, Broome K (2015) Reporting costs for invasive vertebrate eradications. Biol Invasions 17:2913–2925

Howald G et al (2007) Invasive rodent eradication on islands. Conserv Biol 21:1258–1268

Iucnredlistorg (2016) Iucnredlistorg. Retrieved 30 June 2016, from http://www.iucnredlist.org

Jones HP, et al. (2016) Invasive-mammal eradication on islands results in substantial conservation gains. Proceedings of the National Academy of Sciences. 113.15:4033–4038

Martins T, Brooke ML, Hilton G, Farnsworth S, Gould J, Pain D (2006) Costing eradications of alien mammals from islands. Anim Conserv 9:439–444

Mitchell PI, Newton SF, Ratcliffe N, Dunn TE (2004) Seabird populations of Britain and Ireland. T and AD Poyser, London

Morgan G (2012) The bird populations of Ramsey and Grassholm. British Birds 105:716–732

Mulville J (2010) Red deer on Scottish islands. In: Sykes NJ (ed) Extinctions and invasions: a social history of British fauna. Windgather Press, Oxbow Books, Oxford, pp 43–50

Ogden J, Gilbert J (2009) Prospects for the eradication of rats from a large inhabited island: community based ecosystem studies on great Barrier Island, New Zealand. Biol Invasions 11(7):1705–1717

Onsgovuk (2016) Onsgovuk. Retrieved 30 June, 2016, from https://www.ons.gov.uk/census/2011census/2011ukcensuses

Oppel S, Beaven BM, Bolton M, Vickery J, Bodey TW (2011) Eradication of invasive mammals on islands inhabited by humans and domestic animals. Conserv Biol 25:232–240

R Development Core Team (2015) R: a language and environment for statistical computing. R Foundation for Statistical Computing, Vienna, Austria ISBN 3–900051–07–0, URL: http://www. R-project. org

Ratcliffe N, Mitchell I, Varnham K, Verboven N, Higson P (2009) How to prioritize rat management for the benefit of petrels: a case study of the UK, Channel Islands and Isle of Man. Ibis 151:699–708

Roy SS, Chauvenet AL, Robertson PA (2015) Removal of American mink (Neovison vison) from the Uists, outer Hebrides, Scotland. Biol Invasions 17(10):2811–2820

Ruscoe WA et al (2011) Unexpected consequences of control: competitive vs. predator release in a four-species assemblage of invasive mammals. Ecol Lett 14:1035–1042

Russell JC, Clout MN (2004) Modelling the distribution and interaction of introduced rodents on New Zealand offshore islands. Glob Ecol Biogeogr 13:497–507

Russell JC, Beaven BM, MacKay JW, Towns DR, Clout MN (2008a) Testing island biosecurity systems for invasive rats. Wildl Res 35:215–221

Russell JC, Towns DR, Clout MN (2008b) Review of rat invasion biology: implications for island biosecurity. Science for conservation

Scotlandscensusgovuk (2016) Scotlandscensusgovuk. Retrieved 30 June, 2016, from http://www.scotlandscensus.gov.uk/census-results

Serjeantson D (1990) The introduction of mammals to the outer Hebrides and the role of boats in stock management. Anthropozoologica:7–18

Stoneman J, Zonfrillo B (2005) The eradication of brown rats from Handa Island, Sutherland. Scottish Birds 25:17

Tabak MA, Poncet S, Passfield K, Martinez del Rio CC (2015) Modeling the distribution of Norway rats (Rattus norvegicus) on offshore islands in the Falkland Islands. NeoBiota 24:33–48

UK Parliamentuk (2012). Parliamentuk. Retrieved 23 August, 2016, from http://www.publications.parliament.uk/pa/cm201314/cmselect/cmenvaud/332/332vw05.htm

Veale A (2013) Observations of stoats (Mustela erminea) swimming. New Zealand Journal of Zoology 40:166–169
Acknowledgements
The authors would like to acknowledge everyone who helped construct the benefit and IAV databases; from those carrying out surveys, submitting ad hoc records, writing ecological atlases or working on national recording schemes to local experts providing information directly to the project. J. Russell, J. Millett, N. Holmes and J. Dawson provided valuable advice at different stages of the project.
Electronic supplementary material
About this article
Cite this article
Stanbury, A., Thomas, S., Aegerter, J. et al. Prioritising islands in the United Kingdom and crown dependencies for the eradication of invasive alien vertebrates and rodent biosecurity. Eur J Wildl Res 63, 31 (2017). https://doi.org/10.1007/s10344-017-1084-7
Received:

Revised:

Accepted:

Published:
Keyword
Invasive alien vertebrate

Eradication

Island restoration

Prioritisation

Natural reinvasion risk

Rodent biosecurity