Abstract
The red-legged partridge (Alectoris rufa) is the most important gamebird in Spain. Due to population declines in recent decades, management approaches increasingly include the release of farm-reared partridges and the establishment of so-called intensive estates, where hunting is based on put-and-take partridges. The release of farm-reared partridges is controversial because these birds negatively affect wild populations. However, according to managers, releases are necessary to maintain commercial hunting. We analysed economic parameters using data provided by 20 red-legged partridge hunting estates with different management and economic aims in central Spain. We calculated total revenues, total expenses, benefits and profitability of these estates and simulated results under two different scenarios (prices for buying farm-reared partridges being 15 % higher and prices for hunting in estates not using releases being 15 % higher) attempting to mimic the internalization of some ecological costs of farm-reared birds or possible rewards from using wild populations sustainably. Non-commercial estates (n = 5), as expected, just broke even, with almost no benefits. Benefits of intensive estates, where massive releases throughout the hunting season allow a much higher harvest, were on average an order of magnitude higher (20,404 ± 24,413 €/km2, n = 8) than those of other commercial estates (1713 ± 1280 €/km2, n = 7). Benefits of non-intensive commercial estates using releases were on average lower than those of commercial estates without releases. In fact, profitability of non-intensive commercial estates not using releases was similar to that of intensive estates. Any of the two price scenarios considered led to non-intensive commercial estates not using releases being the most profitable on average. Thus, efforts should be made to identify ways of improving economic profitability of non-intensive estates, which may be important for promoting hunting management styles that are ecologically more beneficial.
Access options
Buy single article
Instant access to the full article PDF.
USD 39.95
Price excludes VAT (USA)
Tax calculation will be finalised during checkout.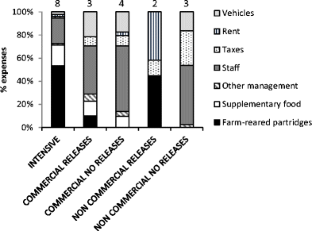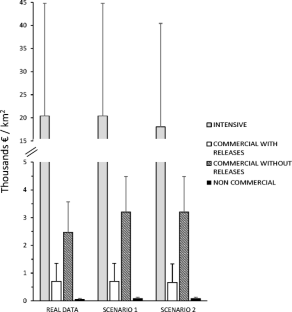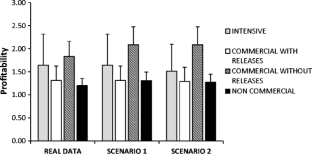 References
Arnett EB, Southwick R (2015) Economic and social benefits of hunting in North America. Int J Environ Stud 72:734–745

Arroyo B, Delibes-Mateos M, Díaz-Fernández S, Viñuela J (2012) Hunting management in relation to profitability aims: red-legged partridge hunting in central Spain. Eur J Wildlife Res 58:847–855

Beja P, Gordinho L, Reino L, Loureiro F, Santos-Reis M, Borralho R (2009) Predator abundance in relation to small game management in southern Portugal: conservation implications. Eur J Wildlife Res 55:227–238

Bernabéu R (2002) La caza en Castilla-La Mancha y sus estrategias de desarrollo. Ediciones de la Universidad de Castilla-La Mancha, Cuenca

Blanco-Aguiar J (2007) Variación espacial en la biología de la perdiz roja (Alectoris rufa): una aproximación multidisciplinar. PhD thesis, Universidad Complutense de Madrid, Madrid

Blanco-Aguiar JA, Virgós E, Villafuerte R (2003) La perdiz roja Alectoris rufa. In: Martí R, del Moral JC (eds) Atlas de las aves reproductoras de España. Dirección General de Conservación de la Naturaleza and Sociedad Española de Ornitología, Madrid, pp 212–213

Blanco-Aguiar JA, Virgós E, Villafuerte R (2004) Perdiz roja (Alectoris rufa). In: Madroño A, González C, Atienza JC (eds) Libro Rojo de las Aves de España. Dirección General para la Biodiversidad-SEO/ BirdLife, Madrid, pp 182–185

Blanco-Aguiar JA, González-Jara P, Ferrero ME, Sánchez-Barbudo I, Virgós E, Villafuerte R, Dávila JA (2008) Assessment of game restocking contributions to anthropogenic hybridization: the case of the Iberian red-legged partridge. Anim Conserv 11:535–545

Buenestado F, Ferreras P, Blanco-Aguiar JA, Tortosa FS, Villafuerte R (2009) Survival and causes of mortality among wild red-legged partridges Alectoris rufa in Southern Spain: implications for conservation. Ibis 151:720–730

Caro J, Delibes-Mateos M, Vicente J, Arroyo B (2014) A quantitative assessment of the release of farm-reared red-legged partridges (Alectoris rufa) for shooting in central Spain. Eur J Wildlife Res 60:919–926

Caro J, Delibes-Mateos M, Viñuela J, Arroyo B (2015) Regulatory mechanisms of hunting pressure in red-legged partridge: how to optimize decision-making for sustainable hunting. Sustain Sci 10:479–489

Casas F, Mougeot F, Sánchez-Barbudo I, Dávila JA, Viñuela J (2012) Fitness consequences of anthropogenic hybridization in wild red-legged partridge (Alectoris rufa, Phasianidae) populations. Biol Invasions 14:295–305

Casas F, Arroyo B, Viñuela J, Guzmán JL, Mougeot F (2016) Are farm-reared red-legged partridge releases increasing hunting pressure on wild breeding partridges in central Spain? E J Wildl Res. doi:10.1007/s10344-015-0975-8

Chardonet P, des Clers B, Fischer J, Gerhold R, Jori F, Lamarque F (2002) The value of wildlife. Rev Sci Tech Off Int Epiz 21:15–51

Clavero M (2016) Species substitutions driven by anthropogenic positive feedbacks: Spanish crayfish species as a case study. Biol Cons 193:80–85

Cross FB (1989) Natural resource damage valuation. Vanderbilt Law Rev 42:269–321

Delibes-Mateos M, Fernández-Díaz S, Ferreras P, Viñuela J, Arroyo, B (2013) The role of economic and social factors driving predator control in small game estates in central Spain. Ecology and Society 38:18

Delibes-Mateos M, Giergiczny M, Caro J, Viñuela J, Riera P, Arroyo B (2014) Does hunters' willingness-to-pay match the best hunting options for biodiversity conservation? A choice experiment application for partridge hunting in Spain. Biol Conserv 177:36–42

Delibes-Mateos M, Viñuela J, Arroyo B (2015) Attitudes of game managers toward the release of farm-reared red-legged partridges in hunting estates within central Spain. J Nat Conserv 26:1–8

Díaz-Fernández S, Viñuela J, Arroyo B (2012) Harvest of red-legged partridge in central Spain. J Wild Manag 76:1354–1363

Díaz-Fernández S, Arroyo B, Casas F, Haro M, Viñuela J (2013a) Effect of management techniques on red-legged partridge abundance. PLoS One 8(6):e66671

Díaz-Fernández S, Arroyo B, Viñuela J, Patiño I, Riera P (2013b) Market value of restocking and landscape management in red-legged partridge hunting. Wildlife Res 40:336–343

Díaz-Sánchez S, Mateo-Moriones A, Casas F, Höfle U (2012) Prevalence of Escherichia coli, Salmonella sp. and Campylobacter sp. in the intestinal flora of farm-reared, restocked and wild red-legged partridges (Alectoris rufa): is restocking using farm-reared birds a risk? Eur J Wildlife Res 58:99–105

Estrada A, Delibes-Mateos M, Caro J, Viñuela J, Díaz-Fernández S, Casas F, Arroyo B (2015) Does small-game management benefit steppe-birds of conservation concern? A field study in central Spain. Anim Conserv 18:567–575

Fischer A, Sandstrom C, Delibes-Mateos M, Arroyo B, Tadie D, Randall D, Hailu F, Lowassa A, Msuha M, Kerezi V, Linnell J, Majic A (2013) On the multifunctionality of hunting—an institutional analysis of eight cases from Europe and Africa. J Environ Plann Man 56:531–552

Fontoura AP (1992) Importance socio-économique de la chasse à la perdrix rouge (Alectoris rufa) au Portugal. Gibier Faune Sauvage 9:871–878

Gálvez Cano MR (2006) El derecho de caza en España. Comares, Granada

Garrido JL (2012) La caza. Sector económico: valoración por subsectores. FEDENCA-EEC, Madrid

González-Redondo P (2004) Un caso de cambio en el manejo de los recursos cinegéticos: la historia de la cría en cautividad de la perdiz roja en España. Estudios agrosociales y pesqueros 204:179–203

González-Redondo P, Delgado-Pertinez M, Toribio S, Ruiz FA, Mena Y, Caravaca FP, Castel JM (2010) Characterisation and typification of the red-legged partridge (Alectoris rufa) game farms in Spain. Span J Agric Res 8:624–633

Gortázar C, Villafuerte R, Martín M (2000) Success of traditional restocking of red-legged partridge for hunting purposes in areas of low density of northeast Spain Aragón. Zeitschrift fur Jagdwissenschaft 46:23–30

Gortázar C, Acevedo P, Ruiz-Fons F, Vicente J (2006) Disease risk and overabundance of game species. Eur J Wildlife Res 52:81–87

Herruzo C, Martínez-Jauregui M, Carranza J, Campos P (2016) Commercial income and capital of hunting: an application to forest estates in Andalucia. Forest Policy Econ 69:53–61

Hennart J-F (1986) What is internalization? Rev World Econ 122:791–804

Lucio AJ (1998) Recuperación y gestión de la perdiz roja en España. En: Sáenz de Buruaga, M. (coord.), La Perdiz Roja. I curso, pp. 63–92. Grupo Editorial V-FEDENCA. Madrid, España

MAGRAMA (2015) Avance anuario de estadística de agricultura alimentación y medio ambiente 2014. MAGRAMA, Madrid. http://www.magrama.gob.es/estadistica/pags/anuario/2014-Avance/AE_2014_Avance.pdf. Accessed 23 November 2015

Martínez-Jauregui M, Pardos M, Balogh P, Chauvin C, Klopcic M, Wilhelmsson E, Herruzo AC (2014) Hunting in Europe mountain systems: an economic assessment of game gross margins in nine case study areas. Eur J Wildlife Res 60:933–936

Mileson SA (2009) Hunting. In: Blair J, Hamerow H (eds) Medieval history and archaeology: parks in medieval England. Oxford University Press, Oxford, pp 15–44

Minton AP, Rose RL (1997) The effects of environmental concern on environmentally friendly consumer behaviour: an exploratory study. J Bus Research 40:37–48

Perea R, Girardello M, San Miguel A (2014) Big game or big loss? High deer densities are threatening woody plant diversity and vegetation dynamics. Biodivers Conserv 23:1303–1318

Rao M, Htun S, Zaw T, Myint T (2010) Hunting, livelihoods, and declining wildlife in the Hponkanrazi Wildlife Sanctuary, North Myanmar. Environ Manag 46:143–153

Reboussin B (1991) Fonctions et significations sociales de la chasse: exemple de la chasse de Francueil (Indre et Loire). Bulletin Mensuel de l'Office National de la Chasse 161:41–48

Ríos-Saldaña A (2010) Los planes técnicos de caza de Castilla-La Mancha y su aplicación en la gestión y conservación de las especies cinegéticas. PhD thesis, University of Castilla-La Mancha, Ciudad Real

Robertson PA, Park KJ, Barton AF (2001) Loss of heather Calluna vulgaris moorland in the Scottish uplands: the role of red grouse Lagopus lagopus scoticus management. Wildlife Biol 7:11–16

Rose AL (2001) Social changes and social values in mitigating bushmeat commerce. In: Bakaar MI, Fonseca GABD, Mittermeier RA, Rylands AB, Painemilla KW (eds) Hunting and bushmeat utilisation in the African Rain Forest: perspectives towards a blue print for conservation action. Conservation International, Washington DC, pp 59–74

Sanchez-Garcia C, Alonso ME, Perez JA, Rodriguez PL, Gaudioso VR (2011) Comparing fostering success between wild-caught and game farm bred captive red-legged partridges (Alectoris rufa, L.). Appl Anim Behav Sci 133:70–77

Shen J (2012) Understanding the determinants of consumers' willingness to pay for eco-labeled products: an empirical analysis of the China Environmental Label. J Serv Sci Manag 5:87–94

Sokos CK, Peterson M, Birtsas PK, Hasanagas N (2014) Insights for contemporary hunting from ancient hellenic culture. Wildl Soc Bull 38:451–457

Sotherton N, Tapper S, Smith A (2009) Hen harriers and red grouse: economic aspects of red grouse shooting and the implications for moorland conservation. J Appl Ecol 46:955–960

Tompkins DM, Draycott RAH, Hudson PJ (2000) Field evidence for apparent competition mediated via the shared parasites of two gamebird species. Ecol Lett 3:10–14

Villanúa D, Pérez-Rodríguez L, Casas F, Alzaga V, Acevedo P, Viñuela J, Gortázar C (2008) Sanitary risks of red-legged partridge releases: introduction of parasites. Eur J Wildlife Res 54:199–204
Acknowledgements
We are very grateful to the game managers for their collaboration and cooperation and to M. Martínez-Jáuregui and two anonymous referees for comments on the manuscript. Sarah Young edited the text. Work was supported by the European Commission (7th Framework Programme for R&D through project HUNT, 212160, FP7-ENV-2007-1), JCCM through project 'Efecto del medio natural, las prácticas agrícolas, ganaderas y de gestión cinegética sobre las poblaciones de caza menor en los cotos pertenecientes a la Asociación de cotos de caza Sierra de Alcaraz-Campo de Montiel', and by CSIC (PIE 201330E105). S. Díaz-Fernández had a predoctoral grant funded by the European Social Fund (ESF) and by JCCM (Operational Programme PRINCET 2005-2010). M. Delibes-Mateos is supported by the V Plan Propio de Investigación of the University of Seville.
Electronic supplementary material
About this article
Cite this article
Arroyo, B., Caro, J., Muñoz-Adalia, E.J. et al. Reconciling economic and ecological sustainability: can non-intensive hunting of red-legged partridges be economically profitable?. Eur J Wildl Res 63, 14 (2017). https://doi.org/10.1007/s10344-016-1073-2
Received:

Revised:

Accepted:

Published:

DOI: https://doi.org/10.1007/s10344-016-1073-2
Keywords
Alectoris rufa

Game management

Interview survey

Profitability

Spain

Sustainable harvest