Abstract
Diseases transmitted from wildlife to livestock or people may be managed more effectively if it is known where transmission occurs. In Britain, farm buildings have been proposed as important sites of Mycobacterium bovis transmission between wild badgers (Meles meles) and cattle, contributing to the maintenance of bovine tuberculosis (TB). Farmers are therefore advised to exclude badgers from buildings. We used Global Positioning System (GPS) collars and remote cameras to characterise badgers' use of farm buildings at four TB-affected sites in southwestern Britain. Across 54 GPS-collared badgers, 99.8% of locations fell ≥3 m from farm buildings. Remote cameras deployed in feed stores recorded just 12 nights with badger visits among 3134 store nights of monitoring. GPS-collared badgers used space near farm buildings less than expected based on availability, significantly preferring land ≥100 m from buildings. There was no positive association between badgers' use of farm buildings and the infection status of either badgers or cattle. Six GPS-collared badgers which regularly visited farm buildings all tested negative for M. bovis. Overall, test-positive badgers spent less time close to farm buildings than did test-negative animals. Badger visits to farm buildings were more frequent where badger population densities were high. Our findings suggest that, while buildings may offer important opportunities for M. bovis transmission between badgers and cattle, building use by badgers is not a prerequisite for such transmission. Identifying ways to minimise infectious contact between badgers and cattle away from buildings is therefore a management priority.
This is a preview of subscription content, log in to check access.
Access options
Buy single article
Instant access to the full article PDF.
US$ 39.95
Price includes VAT for USA
Subscribe to journal
Immediate online access to all issues from 2019. Subscription will auto renew annually.
US$ 99
This is the net price. Taxes to be calculated in checkout.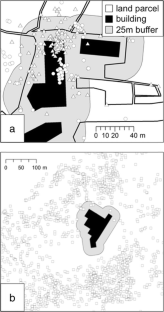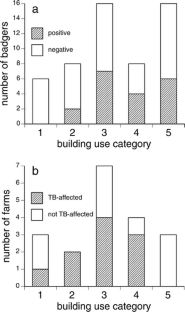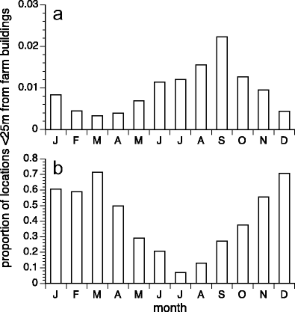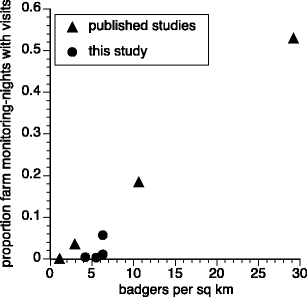 References
Aebischer NJ, Robertson PA, Kenward RE (1993) Compositional analysis of habitat use from animal radio-tracking data. Ecology 74:1313–1325

Agriculture and Horticulture Development Board (2015) Biosecurity for Farm Buildings. http://www.tbhub.co.uk/biosecurity/wildlife/biosecurity-guidance-farm-buildings/

Benham PFJ, Broom DM (1989) Interactions between cattle and badgers at pasture with reference to bovine tuberculosis transmission. Br Vet J 145:226–241

Böhm M, Hutchings MR, White PCL (2009) Contact networks in a wildlife-livestock host community: identifying high-risk individuals in the transmission of bovine TB among badgers and cattle. PLoS One 4:e5016. doi:10.1371/journal.pone.0005016

Bourne J, Donnelly CA, Cox DR, Gettinby G, McInerney JP, Morrison WI & Woodroffe R (2007) Bovine TB: the scientific evidence. Defra, http://webarchive.nationalarchives.gov.uk/20081107201922/http://defra.gov.uk/animalh/tb/isg/pdf/final_report.pdf, London

Chambers MA, Crawshaw T, Waterhouse S, Delahay R, Hewinson RG, Lyaschenko KP (2008) Validation of the BrockTB Stat-Pak assay for detection of tuberculosis in Eurasian badgers (Meles meles) and influence of disease severity on diagnostic accuracy. J Clin Microbiol 46:1498–1500

Cheeseman CL, Mallinson PJ (1981) Behaviour of badgers (Meles meles) infected with bovine tuberculosis. J Zool 194:284–289

Crawshaw TR, Griffiths IB, Clifton-Hadley RS (2008) Comparison of a standard and a detailed badger necropsy protocol to determine the sensitivity of the standard protocol for detecting Mycobacterium bovis. Vet Rec 163:473–477

Dalley D, Dave D, Lesellier S, Palmer S, Crawshaw T, Hewinson RG, Chambers M (2008) Development and evaluation of a gamma-interferon assay for tuberculosis in badgers (Meles meles). Tuberculosis 88:235–243. doi:10.1016/j.tube.2007.11.001

de Leeuw ANS, Forrester GJ, Spyvee PD, Brash MGI, Delahay RJ (2004) Experimental comparison of ketamine with a combination of ketamine, butorphanol and medetomidine for general anaesthesia of the Eurasian badger (Meles meles L.). Vet J 167:186–193. doi:10.1016/s1090-0233(03)00113-8

Department of Agriculture Environment and Rural Affairs (2015) TB bioexclusion webinar. http://www.daera-ni.gov.uk/articles/tb-bioexclusion-webinar

Donnelly CA, Nouvellet P (2013) The contribution of badgers to confirmed tuberculosis in cattle in high incidence areas in England. PLoS Curr Outbr. doi:10.1371/currents.outbreaks.097a904d3f3619db2fe78d24bc776098

Donnelly CA, Woodroffe R, Cox DR, Bourne FJ, Cheeseman CL, Wei G, Gettinby G, Gilks P, Jenkins H, Johnston WT, Le Fevre AM, McInerney JP, Morrison WI (2006) Positive and negative effects of widespread badger culling on cattle tuberculosis. Nature 439:843–846

Donnelly CA, Woodroffe R, Cox DR, Bourne J, Gettinby G, Le Fevre AM, McInerney JP, Morrison WI (2003) Impact of localized badger culling on TB incidence in British cattle. Nature 426:834–837

Drewe JA, O'Connor HM, Weber N, McDonald RA, Delahay RJ (2013) Patterns of direct and indirect contact between cattle and badgers naturally infected with tuberculosis. Epidemiol Infect 141:1467–1475. doi:10.1017/s0950268813000691

Drewe JA, Tomlinson AJ, Walker NJ, Delahay RJ (2010) Diagnostic accuracy and optimal use of three tests for tuberculosis in live badgers. PLoS One 5:e11196

Garnett BT, Delahay RJ, Roper TJ (2002) Use of cattle farm resources by badgers (Meles meles) and risk of bovine tuberculosis (Mycobacterium bovis) transmission to cattle. Proc R Soc Lond Ser B 269:1487–1491

Getz WM, Fortmann-Roe S, Cross PC, Lyons AJ, Ryan SJ, Wilmers CC (2007) LoCoH: Nonparameteric kernel methods for constructing home ranges and utilization distributions. PLoS One 2:e207

Godfray HCJ, Donnelly CA, Kao RR, Macdonald DW, McDonald RA, Petrokofsky G, Wood JLN, Woodroffe R, Young DB, McLean AR (2013) A restatement of the natural science evidence base relevant to the control of bovine tuberculosis in Great Britain. Proc R Soc Lond Ser B 280:20131634. doi:10.1098/rspb.2013.1634

Griffin JM, Williams DH, Kelly GE, Clegg TA, O'Boyle I, Collins JD, More SJ (2005) The impact of badger removal on the control of tuberculosis in cattle herds in Ireland. Prev Vet Med 67:237–266

Grimes JET, Croll D, Harrison WE, Utzinger J, Freeman MC, Templeton MR (2014) The relationship between water, sanitation and schistosomiasis: a systematic review and meta-analysis. Plos Neglect Trop Dis 8:12. doi:10.1371/journal.pntd.0003296

Judge J, McDonald RA, Walker N, Delahay RJ (2011) Effectiveness of biosecurity measures in preventing badger visits to farm buildings. PLoS One 6:8. doi:10.1371/journal.pone.0028941

Judge J, Wilson GJ, Macarthur R, Delahay RJ, McDonald RA (2014) Density and abundance of badger social groups in England and Wales in 2011-2013. Sci Rep 4:3809

King HC, Murphy A, James P, Travis E, Porter D, Hung YJ, Sawyer J, Cork J, Delahay RJ, Gaze W, Courtenay O, Wellington EM (2015) The variability and seasonality of the environmental reservoir of Mycobacterium bovis shed by wild European badgers. Sci Rep 5:7. doi:10.1038/srep12318

Kruuk H (1978) Foraging and spatial organisation in the European badger, Meles meles L. Behav Ecol Sociobiol 4:75–89

Kruuk H, Parish T (1983) Seasonal and local differences in the weight of European badgers (Meles meles) in relation to food supply. Z Saugetier 48:45–50

Kruuk H, Parish T, Brown CAJ, Carera J (1979) The use of pasture by the European badger (Meles meles). J Appl Ecol 16:453–459

Kukielka E, Barasona JA, Cowie CE, Drewe JA, Gortazar C, Cotarelo I, Vicente J (2013) Spatial and temporal interactions between livestock and wildlife in South Central Spain assessed by camera traps. Prev Vet Med 112:213–221. doi:10.1016/j.prevetmed.2013.08.008

Langley RB (1999) Dilution of precision. GPS World May 1999:52–59

Lyons A, Getz WM & R Development Core Team (2015) T-LoCoH: Time local convex hull homerange and time use analysis. R package version 1.34. http://tlocoh.r-forge.r-project.org

Mullen EM, MacWhite T, Maher PK, Kelly DJ, Marples NM, Good M (2013) Foraging Eurasian badgers Meles meles and the presence of cattle in pastures. Do badgers avoid cattle? Appl Anim Behav Sci 144:130–137. doi:10.1016/j.applanim.2013.01.013

Mullen EM, MacWhite T, Maher PK, Kelly DJ, Marples NM, Good M (2015) The avoidance of farmyards by European badgers Meles meles in a medium density population. Appl Anim Behav Sci 171:170–176. doi:10.1016/j.applanim.2015.08.021

Mushi EZ, Rurangirwa FR (1981) Epidemiology of bovine malignant catarrhal fevers—a review. Vet Res Commun 5:127–142. doi:10.1007/bf02214977

Neal E, Cheeseman C (1996) Badgers. Poyser, London

O'Mahony DT (2014) Badger-cattle interactions in the rural environment: implications for bovine tuberculosis transmission. http://www.dardni.gov.uk/badger-cattle-proximity-report.pdf, Belfast: Agri-food and Biosciences Institute

O'Mahony DT (2015) Multi-species visit rates to farmyards: implications for biosecurity. Vet J 203:126–128. doi:10.1016/j.tvjl.2014.10.011

Palmer MV, Waters WR, Whipple DL (2004) Investigation of the transmission of Mycobacterium bovis from deer to cattle through indirect contact. Am J Vet Res 65:1483–1489. doi:10.2460/ajvr.2004.65.1483

Parrott D, Prickett A, Pietravalle S, Etherington TR, Fletcher M (2012) Estimates of regional population densities of badger Meles meles, fox Vulpes vulpes and hare Lepus europaeus using walked distance sampling. Eur J Wildl Res 58:23–33. doi:10.1007/s10344-011-0536-8

Payne A, Chappa S, Hars J, Dufour B, Gilot-Fromont E (2016) Wildlife visits to farm facilities assessed by camera traps in a bovine tuberculosis-infected area in France. Eur J Wildl Res 62:33–42. doi:10.1007/s10344-015-0970-0

Rogers LM, Cheeseman CL, Langton S (1997) Body weight as an indication of density-dependent regulation in badgers (Meles meles) at Woodchester Park, Gloucestershire. J Zool 242:597–604

Smith PG (2005) Compos analysis, version 6.2 plus. Smith Ecology Ltd., Abergavenny, UK

Tolhurst BA, Delahay RJ, Walker NJ, Ward AI, Roper TJ (2009) Behaviour of badgers (Meles meles) in farm buildings: opportunities for the transmission of Mycobacterium bovis to cattle? Appl Anim Behav Sci 117:103–113. doi:10.1016/j.applanim.2008.10.009

Tolhurst BA, Ward AI, Delahay RJ, MacMaster AM & Roper TJ (2008) The behavioural responses of badgers (Meles meles) to exclusion from farm buildings using an electric fence. 113:224–235. 10.1016/j.applanim.2007.11.006

Tuyttens FAM, Macdonald DW, Rogers LM, Cheeseman CL, Roddam AW (2000) Comparative study on the consequences of culling badgers (Meles meles) on biometrics, population dynamics and movement. J Anim Ecol 69:567–580

Ward AI, Tolhurst BA, Walker NJ, Roper TJ, Delahay RJ (2008) Survey of badger access to farm buildings and facilities in relation to contact with cattle. Vet Rec 163:107–111

Woodroffe R, Donnelly CA, Ham C, Jackson SYB, Moyes K, Chapman K, Stratton NG, Cartwright SJ (2016) Badgers prefer cattle pasture but avoid cattle: implications for bovine tuberculosis control. Ecol Lett 19:1201–1208

Woodroffe R, Macdonald DW (1995) Female/female competition in European badgers Meles meles: effects on breeding success. J Anim Ecol 64:12–20
Acknowledgements
We thank all landholders for allowing fieldwork access to their land, livestock and buildings, the Department of Environment, Food and Rural Affairs for financial support, and APHA Starcross for diagnostic testing. CAD thanks the Medical Research Council for Centre funding.
Ethics declarations
Funding
This study was funded by the UK Department of Environment, Food and Rural Affairs (grant number SE3046).
Conflict of interest
The authors declare that they have no conflict of interest.
Ethical approval
All applicable international, national and/or institutional guidelines for the care and use of animals were followed. All procedures performed in studies involving animals were in accordance with the ethical standards of the institution or practice at which the studies were conducted.
Electronic supplementary material
About this article
Cite this article
Woodroffe, R., Donnelly, C.A., Ham, C. et al. Use of farm buildings by wild badgers: implications for the transmission of bovine tuberculosis. Eur J Wildl Res 63, 6 (2017). https://doi.org/10.1007/s10344-016-1065-2
Received:

Revised:

Accepted:

Published:
Keywords
Cattle

Disease ecology

Farm ecology

Meles meles
Mycobacterium bovis

Wildlife disease