Abstract
Collisions with large ungulates are considered to be a serious problem in many countries over the world. These incidents create a rising concern in traffic safety and cause extensive ecological and economical damage. In this paper, we investigate temporal distribution of wild boar-related traffic accidents—seasonal, weekday and diurnal patterns. We analysed 918 collision reports collected by Estonian environmental emergency hotline, police and insurance companies during 2004–2013. Notable increase in wild boar abundance and harvest numbers appeared during the study period, leading not only to higher road collision risk but also having been referred to African swine fever emergence in the area. Our results suggest that the highest risk for collision is in October, November and December. More wild boar-vehicle collisions (WBVCs) occur during weekends with a peak on Friday probably due to higher traffic volumes. Regarding diurnal patterns, most of WBVCs occur after sunset, and the frequency of collisions remains high until late night. Knowledge about temporal patterns of WBVCs is important, as it may help to improve suitable mitigation measures.
Access options
Buy single article
Instant access to the full article PDF.
USD 39.95
Price includes VAT (USA)
Tax calculation will be finalised during checkout.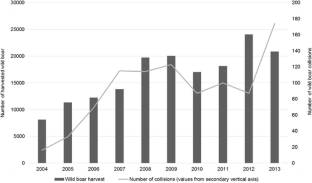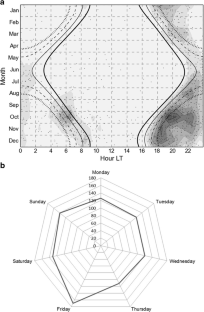 References
Balčiauskas L, Balčiauskienė L (2008) Wildlife–vehicle accidents in Lithuania, 2002–2007. Acta biol univ Daugavpil 8(1):89–94

Boitani L, Mattei L, Nonis D, Corsi F (1994) Spatial and activity patterns of wild boars in Tuscany, Italy. J Mammal 75:600–612

Dussault C, Poulin M, Courtois R, Ouellet J-P (2006) Temporal and spatial distribution of moose-vehicle accidents in the Laurentides Wildlife Reserve, Quebec, Canada. Wildl Biol 12(4):415–425

Estonian Environment Agency (2014) Aastaraamat Mets 2013. (Yearbook Forest 2013. In Estonian). Available at http://www.keskkonnainfo.ee/failid/Mets_2013.pdf. Accessed 22 December 2015

Estonian Road Administration (2014) Aastaraamat 2014. (Yearbook 2014. In Estonian). Available at https://issuu.com/maanteeamet/docs/aastaraamat_2014. Accessed 22 December 2015

Groot Bruinderink GWTA, Hazebroek E (1996) Ungulate traffic collisions in Europe. Conserv Biol 10:1059–1067

Hothorn T, Müller J, Held L, Möst L, Mysterud A (2015) Temporal patterns of deer-vehicle collisions consistent with deer activity pattern and density increase but not general accident risk. Accid Anal Prev 81:143–152

Järv O, Ahas R, Saluveer E, Derudder B, Witlox F (2012) Mobile phones in a traffic flow: a geographical perspective to evening rush hour traffic analysis using call detail records. PLoS ONE 7(11):e49171. doi:10.1371/journal.pone.0049171

Kaal L, Metlitski S, Jentson M, Teder A (2014) Liiklusloenduse tulemused 2013. aastal. (Results of traffic counts in 2013. In Estonian). AS Teede Tehnokeskus, Tallinn

Koonik V (2008) Tallinn-Tartu-Võru-Luhamaa põhimaanteel üle 12 m pikkuste sõidukite ja autorongide liikluse reedeti kella 13.00-st kuni kella 20.00-ni kehtinud piirangu (eksperimendi) analüüs. (Analysis of experimental road usage restriction for vehicles over a length of 12 m and road trains on Fridays from 13:00 to 20:00. In Estonian). Estonian Road Administration. Available at http://www.mnt.ee/?id=15956. Accessed 22 December 2015

Lagos L, Picos J, Valero E (2012) Temporal pattern of wild ungulate-related traffic accidents in northwest Spain. Eur J Wildl Res 58:661–668

Mardiste M (1992) Liiklusõnnetused metsloomadega. (Traffic accidents related to wild animals. In Estonian). Eesti Loodus 5:290–295

Massei G, Kindberg J, Licoppe A, Gačić D, Šprem N, Kamler J, Baubet E, Hohmann U, Monaco A, Ozolinš J, Cellina S, Podgórski T, Fonseca C, Markov N, Pokorny B, Rosell C, Náhlik A (2014) Wild boar populations up, numbers of hunters down? A review of trends and implications for Europe. Pest Manag Sci 71:492–500

Morelle K, Lehaire F, Lejeune P (2013) Spatio-temporal patterns of wildlife-vehicle collisions in a region with a high-density road network. Nat Conserv 5:53–73

Neumann W, Ericsson G, Dettki H, Bunnefeld N, Keuler NS, Helmers DP, Radeloff VC (2012) Difference in spatiotemporal patterns of wildlife road-crossings and wildlife-vehicle collisions. Biol Conserv 145:70–78

Nurmoja I (2016) Sigade Aafrika katk—uuringutest ja tulemustest. (African swine fever—research and results. Presentation for hunters. In Estonian). Estonian Veterinary and Food Laboratory. Available at http://www.ejs.ee/wp-content/uploads/2016/03/SAK-uuringutest-VTL_-Imbi-Nurmoja.pdf. Accessed 17 June 2016

Oja R, Kaasik A, Valdmann H (2014) Winter severity or supplementary feeding – which matters more for wild boar? Acta Theriol 59:553–559

Oļševskis E, Guberti V, Seržants M, Westergaard J, Gallardo C, Rodze I, Depner K (2016) African swine fever virus introduction into the EU in 2014: experience of Latvia. Res Vet Sci 105:28–30

Putzu N, Bonetto D, Civallero V, Fenoglio S, Meneguz PG, Preacco N, Tizziani P (2014) Temporal patterns of ungulate-vehicle collisions in a subalpine Italian region. Ital J Zool 81:463–470

R Core Team (2014) R: a language and environment for statistical computing. R Foundation for Statistical Computing, Vienna, http://www.R-project.org/

Rodríguez-Morales B, Díaz-Varela ER, Marey-Pérez MF (2013) Spatiotemporal analysis of vehicle collisions involving wild boar and roe deer in NW Spain. Accid Anal Prev 60:121–133

Romin LA, Bissonette JA (1996) Deer-vehicle collisions: status of state monitoring activities and mitigation efforts. Wildl Soc Bull 24:276–283

Statistics Estonia (2015) Statistical database. Available at http://pub.stat.ee/px-web.2001/Dialog/statfile1.asp. Accessed 22 December 2015

Steiner W, Leisch F, Hackländer K (2014) A review on the temporal pattern of deer-vehicle accidents: impact of seasonal, diurnal and lunar effects in cervids. Accid Anal Prev 66:168–181

Thurfjell H, Spong G, Olsson M, Ericsson G (2015) Avoidance of high traffic levels results in lower risk of wild boar-vehicle accidents. Landsc Urban Plan 133:98–104

Valero E, Picos J, Álvarez X (2015) Road and traffic factors correlated to wildlife-vehicle collisions in Galicia (Spain). Wildl Res 42:25–34

van Emden HF (2008) Statistics for terrified biologists. Blackwell Publishing Ltd, UK

Veeroja R, Männil P (2014) Population development and reproduction of wild boar (Sus scrofa) in Estonia. Wildl Biol Pract 10(3):17–21

Zuberogoitia I, del Real J, Torres JJ, Rodríguez L, Alonso M, Zabala J (2014) Ungulate vehicle collisions in a peri-urban environment: consequences of transportation infrastructures planned assuming the absence of ungulates. PLoS ONE 9(9):e107713. doi:10.1371/journal.pone.0107713
Acknowledgments
This research was supported by the project IUT2-16 'Global Warming and Material Cycling in Landscapes. Global Warming- and Human-Induced Changes of Landscape Structure and Functions: Modelling and Ecotechnological Regulation of Material Fluxes in Landscapes', financed by the Estonian Research Council.
We are grateful to the Estonian Environmental Inspectorate and Estonian Road Administration for providing the collision data. Special thanks to Villu Lükk and Sirje Lilleorg from the Estonian Road Administration for their useful comments about the data, and the anonymous reviewers for constructive criticism on an earlier draft of this manuscript. We would also like to thank all road users, hunters and police officers who have reported collisions or animal carcasses on the road.
Electronic supplementary material
Below is the link to the electronic supplementary material.
About this article
Cite this article
Kruuse, M., Enno, SE. & Oja, T. Temporal patterns of wild boar-vehicle collisions in Estonia, at the northern limit of its range. Eur J Wildl Res 62, 787–791 (2016). https://doi.org/10.1007/s10344-016-1042-9
Received:

Revised:

Accepted:

Published:

Issue Date:
Keywords
Road ecology

Wild boar-vehicle collisions

Temporal patterns

Traffic safety