Abstract
The Amazonian brown brocket deer (Mazama nemorivaga) is an endemic species of the Amazon rainforest region, which has suffered constant threats due to hunting and increasing deforestation. Artificial insemination (AI), combined with genomic banks, is considered an important tool for maintaining conservation programs of endangered species; however, the number of live offspring born from AI in non-domesticated cervids is extremely low. Thus, studies designed to develop, adapt, or enhance AI techniques are of fundamental importance. This report describes a successful transposition of the cervix with semen deposition in the uterine lumen of a M. nemorivaga female, based on the transcervical AI technique used in sheep, as well as using specific tools develop for IA in small ruminants, which have resulted in the birth of a healthy male fawn.
This is a preview of subscription content, log in to check access.
Access options
Buy single article
Instant access to the full article PDF.
US$ 39.95
Price includes VAT for USA
Subscribe to journal
Immediate online access to all issues from 2019. Subscription will auto renew annually.
US$ 99
This is the net price. Taxes to be calculated in checkout.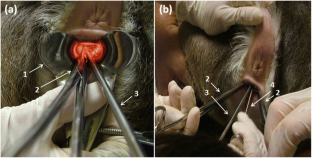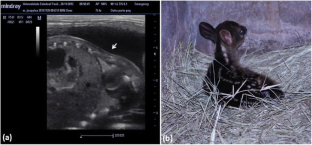 References
Aller JF, Fernandez O, Sanchez E (2009) Fixed-time artificial insemination in red deer (Cervus elaphus) in Argentina. Anim Reprod Sci 115:312–316. doi:10.1016/j.anireprosci.2008.11.018

Asher GW, Fisher MW, Smith JF, Jabbour HN, Morrow CJ (1990) Temporal relationship between the onset of oestrus, the pre-ovulatory LH surge and ovulation in farmed-fallow deer (Dama dama). J Reprod Fertil 89:761–767

Drion PV, Hanzen C, Wirth D et al (2003) Physiologie de la reproduction et endocrinologie chez les cervidés: une revue. Ann Med Vet 147:291–313

Duarte JMB, Garcia JM (1995) Reprodução assistida em cervídeos brasileiros. Rev Bras Repr Anim 19:111–121

Fonseca JF, Souza-Fabjan JMG, Oliveira MEF, Leite CR, Nascimento-Penido PMP, Brandão FZ, Lehloenya KC (2016) Nonsurgical embryo recovery and transfer in sheep and goats. Theriogenology 86:144–151

Holt WV, Pickard AR (1999) Role of reproductive technologies and genetic resource banks in animal conservation. Rev Reprod 4:143–150

Krepschi VG, Polegato BF, Zanetti ES, Duarte JMB (2013) Fecal progestins during pregnancy and postpartum periods of captive red brocket deer (Mazama americana). Anim Reprod Sci 137:62–68. doi:10.1016/j.anireprosci.2012.11.016

Morrow CJ, Penfold LM, Wolfe BA (2009) Artificial insemination in deer and non-domestic bovids. Theriogenology 71:149–165. doi:10.1016/j.theriogenology.2008.09.001

Mulley RC, Moore NW, English AW (1988) Successful uterine insemination of fallow deer with fresh and frozen semen. Theriogenology 29:1149–1153

Oliveira MEF, Fonseca JF (2013) Inseminação artificial. In: Oliveira MEF, Teixeira PPM, Vicente WRR (eds) Biotécnicas reprodutivas em ovinos e caprinos. Editora Med Vet, São Paulo, pp 91–102

Pereira RJG, Zanetti ES, Polegato BF (2010) Femele reprodution. In: Duarte JMB, González S (eds) Neotropical cervidology. Funep, Jaboticabal, pp 51–63

Peroni EFC (2013) Inseminação artificial intrauterina por videolaparoscopia em veado catingueiro (Mazama gouazoubira), com sêmen congelado. São Paulo State University, Masters Dissertation

Rossi RV, Duarte JMB (2008) Mazama nemorivaga. IUCN 2013. IUCN Red List of threatened species. Version 2013.2. http://www.iucnredlist.org. Accessed 22 November 2013

Rossi RV, Bodmer R, Duarte JMB, Trovati RG (2010) Amazonian brown brocket deer Mazama nemorivaga (Cuvier 1817). In: Duarte JMB, González S (eds) Neotropical cervidology. Funep, 210, p 202

Wildt DE (1989) Reproductive research in conservation biology: priorities and avenues for support. J Zoo Wild Med 20:391–395

Zanetti ES, Polegato BF, Duarte JMB (2009) Primeiro relato de inseminação artificial com tempo-fixo em veado-mateiro (Mazama americana). In: Anais XVIII Congresso Brasileiro de Reprodução Animal

Zanetti ES, Polegato BF, Duarte JMB (2010) Comparison of two methods of synchronization of estrus in brown brocket deer (Mazama gouazoubira). Anim Reprod Sci 117:266–274. doi:10.1016/j.anireprosci.2009.05.010
Ethics declarations
All experimental procedures were compliant with the guidelines on the Ethics and Animal Welfare and had been approved by the College of Agricultural and Veterinary Sciences (FCAV) Animal Care Committee, São Paulo State University, Jaboticabal, SP, Brazil (protocol no. 000180/11).
About this article
Cite this article
Oliveira, M.E.F., Zanetti, E.d.S., Cursino, M.S. et al. First live offspring of Amazonian brown brocket deer (Mazama nemorivaga) born by artificial insemination. Eur J Wildl Res 62, 767–770 (2016). https://doi.org/10.1007/s10344-016-1040-y
Received:

Revised:

Accepted:

Published:

Issue Date:
Keywords
Transcervical insemination

Cervical traction

Neotropical deer