Abstract
We provide confirmed sightings of the elusive Arabian sand cat (Felis margarita harrisoni) using trail camera traps in Baynouna Abu Dhabi, United Arab Emirates. A total of 46 photographs were obtained using five camera traps, during 278 trap nights, between March and December 2015. A total of three individuals were recorded of which one was confirmed as a male. About 80 % of the sightings were between 00:00 and 06:00 h, and 39 % were recorded during the full moon phase. These are the first confirmed sightings of the presence of Arabian sand cat in the Western Region of Abu Dhabi Emirate after an unconfirmed sighting reported in 2005.
Access options
Buy single article
Instant access to the full article PDF.
USD 39.95
Price excludes VAT (USA)
Tax calculation will be finalised during checkout.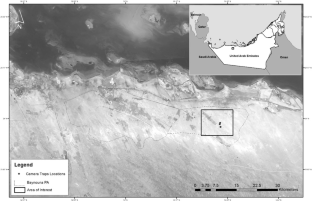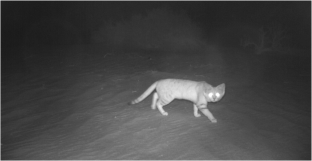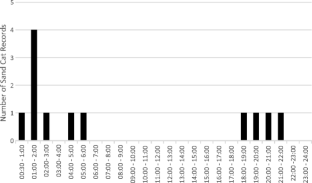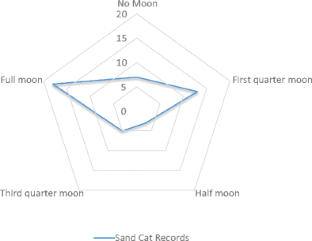 References
Abbadi M (1992) Israel's elusive feline: sand cats. Cat News 18:15–16

Ancrenaz M, Hearn JA, Ross J, Sollmann R, Wilting A (2012) Handbook for wildlife monitoring using camera-traps. 2012 BBEC II Secretariat 2-4.

Banfield LM, Al Qahtani H, Mallon D (2014) Arabian sand cat Felis margarita harrisoni status review and conservation strategy. Al Ain Zoo, Abu Dhabi

Cunningham P (2002) Status of the sand cat, Felis margarita, in the United Arab Emirates. Zool Middle East 25:9–14

Drew CR, Tourenq C (2005) The Red List of terrestrial mammalian species of the Abu Dhabi Emirate. Terrestrial Environment Research Center, Environmental Research and Wildlife Development Agency, Abu Dhabi

Firouz E (2005) The complete fauna of Iran. I.B. Tauris, London and New York

Gasperetti J, Harrison DL, Büttiker W (1985) The carnivora of Arabia. Fauna Saudi Arabia 7:397–461

Goodman SM, Helmy L (1986) The sand cat Felis margarita Loche, 1858 in Egypt. Mammalia 50:120–123

Harrison DL, Bates PJJ (1991) The mammals of Arabia, 2nd edn. Harrison Zoological Museum.

Heptner VH, Sludskii AA (1972) Mammals of the Soviet Union. Volume II Part 2. Carnivore (Hyaenas and Cats). Vysshaya Shkola, Moscow. English translation 1992, Brill EJ, Leiden.

Hornby R (1996) A Red List of mammals for the United Arab Emirates. Tribulus 6(1):13–14

Mallon DP, Sliwa A, Strauss M (2011) Felis margarita. The IUCN Red List of Threatened Species. http://www.iucnredlist.org downloaded on 24 February 2016

Manley PN, Van HB, Roth JK, Zielinski WJ, McKenzie MM, Weller TJ, Weckerly FW, Vojta C, Mallon D, Budd K, Manley PN, Van HB, Roth JK, Zielinski WJ, McKenzie MM, Weller TJ, Weckerly FW, Vojta C, Mallon D, Budd K (eds) (2011) Regional Red list status of carnivores in the Arabian Peninsula. IUCN, Cambridge, UK and Gland, Switzerland and Environment and Protected Areas Authority, Sharjah, UAE. 2006. Multiple species inventory and monitoring technical guide. Gen. Tech. Rep. WO-73. U.S. Department of Agriculture, Forest Service, Washington Office, Washington, DC, p 204

Mohammad MK, Lahony SR, Al-Rammahi HM (2013) First record of the sand cat, Felis margarita Loche, 1858 (Mammalia: Carnivora, Felidae) from Iraq. Zool Middle East 59:358–359

Nowell K, Jackson P (compilers and editors) (1996) Wild cats: status survey and conservation action plan. IUCN/SSC Cat Specialist Group. IUCN, Gland

Osborne PO (1992) cited in Cunningham P (2002) Status of the sand cat, Felis margarita, in the United Arab Emirates. Zool Middle East 25:9–14

Ostrowski S, van Vuuren M, Lenain DM, Durand A (2003) A serologic survey of wild felids from central west Saudi Arabia. J Wildl Dis 39(3):696–702

Roberts TJ (1977) Felis margarita. In: Mammals of Pakistan. Ernest Benn Ltd, London, pp 142–143

Schauenberg P (1974) Cited in Harrison DL and Bates PJJ (1991) The mammals of Arabia, 2nd edn. Harrison Zoological Museum

Serra G, Scheisch Abdallah M, Al Qaim G (2007) Occurrence of Rappel's Fox, Vulpes rüueppelli, and sand cat, Felis margarita, in Syria. Zool Middle East 42:99–101

Soorae PS, Al Dhaheri A, Al Zaabi R (2012) Capture of a sand cat (Felis margarita) in Sweihan, Abu Dhabi emirate ‐ 2012, EAD‐TMBS Unpublished Report, pp 3

Strauss M, Shobrak M, Sher Shah M (2007) First trapping results from a new sand cat study in Saudi Arabia. Cat News 47:20–21
About this article
Cite this article
Ahmed, S., Al Zaabi, R., Soorae, P. et al. Rediscovering the Arabian sand cat (Felis margarita harrisoni) after a gap of 10 years using camera traps in the Western Region of Abu Dhabi, United Arab Emirates. Eur J Wildl Res 62, 627–631 (2016). https://doi.org/10.1007/s10344-016-1035-8
Received:

Revised:

Accepted:

Published:

Issue Date:

DOI: https://doi.org/10.1007/s10344-016-1035-8
Keywords
Abu Dhabi

Camera traps

Arabia

Felis margarita harrisoni

Baynouna