Abstract
Pakistan's northern expanses have rich diversity of mammalian carnivores, but majority of them are either threatened or endangered due to habitat degradation and conflict with humans. This study was conducted between May and June 2014 with the aim of determining the diversity of mammalian carnivores and their conflict with humans in Musk Deer National Park (MDNP), Azad Jammu and Kashmir (AJK). Forty motion-triggered cameras (Reconyx™) were installed in different watersheds of MDNP to determine carnivore species diversity. A human-carnivore conflict study was conducted through semi-structured questionnaires where 149 respondents were randomly selected from 18 villages in the park. A total of nine carnivore species were documented, namely snow leopard (Panthera uncia), common leopard (Panthera pardus), leopard cat (Prionailurus bengalensis), brown bear (Ursus arctos), Asiatic black bear (Ursus thibetinus), grey wolf (Canis lupus), red fox (Vulpes vulpes), stone marten (Martes foina), and yellow-throated marten (Martes flavigula). During the past year, a total of 817 livestock were lost to disease and carnivore predation. Carnivores were held responsible for 276 livestock losses which translated into an annual economic loss of USD 28,145 (USD 189 per household). Both Asiatic black bear and brown bear also damaged maize and potato crops causing economic losses of USD 16,330 (USD 110 per household). Depredation of livestock was greatly affected by four factors: prey type, season of depredation, location of depredation, and livestock guarding practices. Based on the responses, the people of Folwai village showed the most negative perception towards carnivores. Majority of the respondents declared grey wolf, brown bear, and Asiatic black bear to be the most dangerous carnivores in the park. Our results showed that MDNP has rich diversity of carnivores but their survival in the park is in danger due to conflict with humans over excessive livestock depredations and crop raiding. Active livestock guarding practices can reduce carnivore attacks. Educating local people, vaccinating their livestock, and compensating affected families can greatly reduce negative perceptions.
Access options
Buy single article
Instant access to the full article PDF.
US$ 39.95
Tax calculation will be finalised during checkout.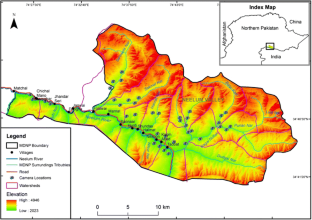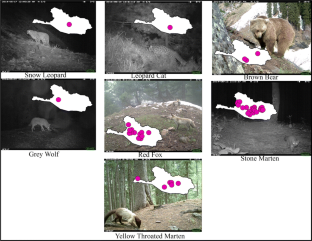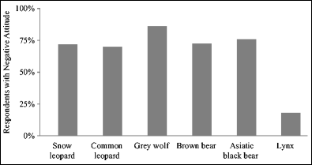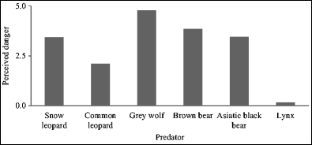 References
Ahmed RA, Prusty K, Jena J, Dave C, Sunit KRD, Hemanta KS, Rout SD (2012) Prevailing human carnivore conflict in Kanha-Achanakmar corridor, Central India. World J Zool 7:158–164

Allen LR, Sparkes EC (2001) The effect of dingo control on sheep and beef cattle in Queensland. J Appl Ecol 38:76–87

Bibi SS, Minhas RA, Awan MS, Ali U, Dar NI (2013) Study of ethno-carnivore relationship in Dhirkot, Azad Jammu and Kashmir. P J Anim Plant Sci 23:854–859

Bischof R, Hameed S, Ali H, Kabir M, Younas M, Shah KA, Din JU, Nawaz MA (2014) Using time-to-event analysis to complement hierarchical methods when assessing determinants of photographic detectability during camera trapping. Methods Ecol Evol 5:44–53

Breitenmoser U (1998) Large predators in the Alps: the fall and rise of man's competitors. Biol Conserv 83:279–289

Conforti VA, de Azevedo FCC (2003) Local perceptions of jaguars (Panthera onca) and pumas (Puma concolor) in the Iguacu National Park area, south Brazil. Biol Conserv 111:215–221

Conover MR, Pitt WC, Kessler KK, DuBow TJ, Sanborn WA (1995) Review of human injuries, illnesses, and economic losses caused by wildlife in the United States. Wildl Soc Bull 23:407–414

Dar MEUI (2003) Ethno botanical uses of plants of Lawat District Muzaffarabad, Azad Jammu and Kashmir. Asian J Plant Sci 2:680–682

Dar NI, Minhas RA, Zaman Q, Linkie M (2009) Predicting the patterns, perceptions and causes of human-carnivore conflict in and around Machiara National Park, Pakistan. Biol Conserv 10:2076–2082

Din J, Nawaz M (2010) Status of the Himalayan lynx in district Chitral, NWFP, Pakistan. J Anim Plant Sci 20:17–22

Din J, Nawaz M (2011) Status of snow leopard and prey species in Torkhow valley, District Chitral, Pakistan. J Anim Plant Sci 21:836–840

Din JU, Hameed S, Shah KA., Khan MA, Khan S, Ali M, Nawaz MA (2013) Abundance of canids and human canid conflict in the Hindu Kush Mountain range of Pakistan. wbp 9:20–29

Distefano E (2005) Human-wildlife conflict worldwide: a collection of case studies, analysis of management strategies and good practices. FAO, Rome, p 34

Espuno N, Lequette B, Poulle ML, Migot P, Lebreton JD (2004) Heterogeneous response to preventive sheep husbandry during wolf recolonization of the French Alps. Wildl Soc Bull 32:1195–1208

Frank KT, Petrie B, Choi JS, Leggett WC (2005) Trophic cascades in a formerly cod-dominated ecosystem. Science 308:1621–1623

Guil F, Agudin S, El-Khadir N, Fernandez-Olalla M, Figueredo J, Dominguez FG, Garzon P, Gonzalez G, Muioz-Igualada J, Oria J (2010) Factors conditioning the camera-trapping efficiency for the Iberian lynx (Lynx pardinus). Eur J Wildl Res 56:633–640

Hameed S, Abbas K, Younas M, Murtaza G, Mahdi G, Nawaz MA (2013) Himalayan brown bear in Deosai National Park: current status and threats. Snow Leopard Foundation, Islamabad

Holmern T, Nyahongo J, Røskaft E (2006) Livestock loss caused by predators outside the Serengeti National Park, Tanzania. Biol Conserv 135:518–526

Hussain S (2003) The status of the snow leopard in Pakistan and its conflict with local farmers. Oryx 37:26–33

Ikeda N (2004) Economic impacts of livestock depredation by snow leopard Uncia uncia in the Kanchenjunga Conservation Area, Nepal Himalaya. Environ Conserv 31:322–330

Jackson RM, Hunter DO (1996) Snow leopard survey and conservation handbook. International Snow Leopard Trust, Seattle

Jackson RM, Wangchuk R (2004) A community-based approach to mitigating livestock depredation by snow leopards. Hum Dimens Wildl 9:307–315

Jackson RM, Roe JD, Wangchuk R, Hunter DO (2006) Estimating snow leopard population abundance using photography and capture recapture techniques. Wildl Soc Bull 34:772–781

Jiménez CF, Quintana H, Pacheco V, Melton D, Torrealva J, Tello G (2010) Camera trap survey of medium and large mammals in a montane rainforest of northern Peru. Rev Peru Biol 17:191–196

Kabir M, Ghoddousi A, Awan MS, Awan MN (2014) Assessment of human-leopard conflict in Machiara National Park, Azad Jammu and Kashmir, Pakistan. Eur J Wildl Res 60:291–296

Karanth KU, Nichols JD (1998) Estimation of tiger densities in India using photographic captures and recaptures. J Ecol 79:2852–2862

Kolowski JM, Holekamp KE (2006) Spatial, temporal and physical characteristics of livestock depredation by large carnivores along a Kenyan reserve border. Biol Conserv 128:529–541

Li J, Yin H, Wang D, Jiagong Z, Lu Z (2013a) Human-snow leopard conflict in the Sanjiangyuan Region of Tibetan Plateau. Biol Conserv 166:118–123

Li X, Buzzard P, Chen Y, Jiang X (2013b) Patterns of livestock predation by carnivores: human-wildlife conflict in northwest Yunnan, China. Environ Manag 52:1334–1340

Lindsey PA, Du Toit JT, Mills M (2005) Attitudes of ranchers towards African wild dogs Lycaon pictus: conservation implications on private land. Biol Conserv 125:113–121

Linkie M, Dinata Y, Nofrianto A, Leader-Williams N (2007) Patterns and perceptions of wildlife crop raiding in and around Kerinci Seblat National Park, Sumatra. Anim Conserv 10:127–135

Linnell JD, Andersen R, Kvam T, Andren H, Liberg O, Odden J, Moa P (2001) Home range size and choice of management strategy for lynx in Scandinavia. Environ Manag 27:869–879

Lodhi A (2007) Conservation of leopards in Ayubia National Park, Pakistan. The University of Montana, Missoula

Macdonald DW, Sillero-Zubiri C (2002) Large carnivores and conflict: lion conservation in context. Wildlife Conservation Research Unit, Oxford University, Oxford, pp 1–8

Mazzolli M, Graipel ME, Dunstone N (2002) Mountain lion depredation in southern Brazil. Biol Conserv 105:43–51

McCarthy KP, Fuller TK, Ming M, McCarthy TM, Waits L, Jumabaev K (2008) Assessing estimators of snow leopard abundance. J Wildl Manag 72:1826–1833

Meriggi A, Lovari S (1996) A review of wolf predation in southern Europe: does the wolf prefer wild prey to livestock? J Appl Ecol 33:1561–1571

Mishra C (1997) Livestock depredation by large carnivores in the Indian trans-Himalaya: conflict perceptions and conservation prospects. Environ Conserv 24:338–343

Mishra C, Allen P, McCarthy T, Madhusudan MD, Bayarjargal A, Prins HHT (2003) The role of incentive programs in conserving the snow leopard. Conserv Biol 17:1512–1520

Musiani M, Mamo C, Boitani L, Challaghan C, Gates C, Mattei L, Visalberghi E, Breck S, Volpi G (2003) Wolf depredation trends and the use of fla dry barriers to protect livestock in western North America. Conserv Biol 17:1538–1547

Namgail T, Fox JL, Bhatnagar YV (2007) Carnivore-caused livestock mortality in Trans-Himalaya. Environ Manag 39:490–496

Naughton-Treves L (1998) Predicting patterns of crop damage by wildlife around Kibale National Park, Uganda. Conserv Biol 12:156–168

Ogada MO, Woodroffe R, Oguge NO, Frank LG (2003) Limiting depredation by African carnivores: the role of livestock husbandry. Conserv Biol 17:1521–1530

Oli MK, Taylor IR, Rogers ME (1994) Snow leopard Panthera uncia predation of livestock: an assessment of local perceptions in the Annapurna Conservation Area, Nepal. Biol Conserv 68:63–68

Packer C, Ikanda D, Kissui B, Kushnir H (2005) Conservation biology: lion attacks on humans in Tanzania. Nature 436:927–928

Patterson BD, Kasiki SM, Selempo E, Kays RW (2004) Livestock predation by lions (Panthera leo) and other carnivores on ranches neighboring Tsavo National Parks, Kenya. Biol Conserv 119:507–516

Perveen F, Abid M (2013) Asian black bear, Ursus thibetanus: human-bear conflict in the Palas Valley, Kohistan, Pakistan. IJFAS 2:1172–1178

Polisar J, Maxit I, Scognamillo D, Farrell L, Sunquist ME, Eisenburg JF (2003) Jaguars, pumas, their prey base and cattle ranching: ecological interpretations of a management problem. Biol Conserv 109:297–310

Qamar QZ, Awan MS, Anwar M, Mahboob S (2006) Status of wildlife species and their management in Ghomat Game Reserve District Muzaffarabad. J Nat Sci 3–4:100–108

Qamar QZ, Dar NI, Ali U, Minhas RA, Ayub J, Anwar M (2010) Human-leopard conflict: an emerging issue of common leopard conservation in Machiara National Park, Azad Jammu and Kashmir, Pakistan. Pak J Wildl 1:50–56

R Core Team (2013) R: A language and environment for statistical computing. R Foundation for Statistical Computing, Vienna, Austria. URL http://www.R-project.org/

Rao A, Marwat A (2003) NASSD background paper: Forestry. IUCN Pakistan, Northern Areas Progamme, Gilgit (Pakistan) 66p (Available at www.northernareas.gov.pk/nassd)

Ripple WJ, Beschta RL (2012) Trophic cascades in Yellowstone: the first 15 years after wolf reintroduction. Biol Conserv 145:205–213

Roberts TJ (1997) The mammals of Pakistan. Benn, London, pp 217–221

Røskaft E, Handel B, Bjerke T, Kaltenborn BP (2007) Human attitudes towards large carnivores in Norway. Wildl Biol 13:172–185

Rovero F, Marshall AR (2009) Camera trapping photographic rate as an index of density in forest ungulates. J Appl Ecol 46:1011–1017

Sheikh KM, Molur S (2004) Status and red list of Pakistan's mammals based on the Pakistan Mammal Conservation Assessment and Management Plan Workshop. IUCN Pakistan, Islamabad, p 312

Sillero-Zubiri C, Laurenson M (2001) Interactions between carnivores and local communities: conflict or co-existence? Cons Biol Series-Cambridge, 282–312

Singh R, Nigam P, Qureshi Q, Sankar K, Krausman PR, Goyal SP, Nicholoson KL (2015) Characterizing human-tiger conflict in and around Ranthambhore Tiger Reserve, western India. Eur J Wildl Res 61:255–261

Sogbohossou EPA, de Iongh HH, Sinsin B, de Snoo GR, Funston PJ (2011) Human-carnivore conflict around Pendjari Biosphere Reserve, northern Benin. Oryx 45:569–578

Suryawanshi KR, Bhatnagar YV, Redpath S, Mishra C (2013) People, predators and perceptions: patterns of livestock depredation by snow leopards and wolves. J Appl Ecol 50:550–560

Terborgh J (2010) Trophic cascades: predators, prey, and the changing dynamics of nature. Island Press, Washington DC

Treves A, Karanth KU (2003) Human-carnivore conflict and perspectives on carnivore management worldwide. Biol Conserv 17:1491–1499

Treves A, Mwima P, Plumptre AJ, Isoke S (2010) Camera-trapping forest woodland wildlife of western Uganda reveals how gregariousness biases estimates of relative abundance and distribution. Biol Conserv 143:521–528

Trolle M, Kéry M (2005) Camera-trap study of ocelot and other secretive mammals in the northern Pantanal. Mammalia 69:405–412

Vos J (2000) Food habits and livestock depredation of two Iberian wolf packs (Canis lupus signatus) in the north of Portugal. J Zool 251:457–462

Wang SW, MacDonald DW (2006) Livestock predation by carnivores in Jigme Singye Wangchuck National Park, Bhutan. Biol Conserv 129:558–565

White LA, Gehrt SD (2009) Coyote attacks on humans in the United States and Canada. Hum Dimens Wildl 14:419–432

Woodroffe R, Thirgood S, Rabinowitz A (2005) People and wildlife, conflict or co-existence? Cambridge University Press, Cambridge

Yalden D (1993) The problems of reintroducing carnivores. In: Symp. Zool. Soc. Lond, p 289–306
Acknowledgments
We are thankful to the Pakistan Army for granting us permission to conduct our study in an area along the international border and for providing security. The main funding for this study was provided by the International Bear Association (IBA). We are also grateful to the AJK Fisheries and Wildlife Department for its cooperation during the study survey. The Himalayan Wildlife Foundation (HWF) provided logistic support during field work. We thank the Snow Leopard Trust (SLT), Panthera, and the Norwegian University of Life Sciences for providing trail cameras. We acknowledge the valuable cooperation of the local staff of the AJK Fisheries and Wildlife Department and the people of MDNP.
About this article
Cite this article
Ahmad, S., Hameed, S., Ali, H. et al. Carnivores' diversity and conflicts with humans in Musk Deer National Park, Azad Jammu and Kashmir, Pakistan. Eur J Wildl Res 62, 565–576 (2016). https://doi.org/10.1007/s10344-016-1029-6
Received:

Revised:

Accepted:

Published:

Issue Date:
Keywords
Carnivores

Camera trapping

Musk deer national park

Human-carnivore conflict

Livestock depredation