Abstract
The structure of woodland bat communities is influenced by numerous environmental factors, and amongst these, the availability of suitable roosts is of prime importance. Temperate zone forest-dwelling bats use a great variety of roost types, ranging from natural tree cavities to human-made shelters. Given the frequent habit of forest bats to switch roosts, even within the reproductive season, bat-friendly forest management requires information about the number of cavities necessary to maintain populations. We identified the rate of roost switching, number of roosts used and site characteristics of two forest bat species at risk, the Bechstein's bat (Myotis bechsteinii) and the Barbastelle bat (Barbastella barbastellus) in suburban forests of SW Switzerland. Radio tracking of 9 M. bechsteinii females showed that a colony used at least 15 roost sites in an area of 3 km2 throughout the reproductive season. B. barbastellus used at least 11 roost sites located in France in two areas 15 km from each other. This illustrates the borderless nature of bat conservation and calls for the maintenance of a trans-frontier cooperation programme. There were clear species-specific roost preferences: M. bechsteinii used tree cavities whereas B. barbastellus used exclusively human-made shelters. These results provide some preliminary guidance for bat-friendly forest management.
Access options
Buy single article
Instant access to the full article PDF.
US$ 39.95
Tax calculation will be finalised during checkout.
Subscribe to journal
Immediate online access to all issues from 2019. Subscription will auto renew annually.
US$ 79
Tax calculation will be finalised during checkout.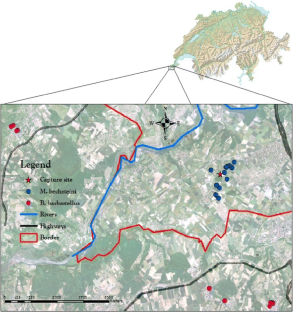 References
Ancillotto L, Cistrone L, Mosconi F, Jones G, Boitani L, Russo D (2015) The importance of non-forest landscapes for the conservation of forest bats: lessons from barbastelles (Barbastella barbastellus). Biodivers Conserv 24:171–185

Braunisch V, Coppes J, Arlettaz R, Suchant R, Zellweger F, Bollmann K (2014) Temperate mountain forest biodiversity under climate change: compensating negative effects by increasing structural complexity. PLoS One 9:e97718

Findley JS (1976) Structure of bat communities. Am Nat 110:129–139

Hillen J, Kiefer A, Veith M (2009) Foraging site fidelity shapes the spatial organisation of a population of female western barbastelle bats. Biol Conserv 142:817–823

Hillen J, Kiefer A, Veith M (2010) Interannual fidelity to roosting habitat and flight paths by female western barbastelle bats. Acta Chiropterol 12:187–195

Hutson AM, Mickleburgh SP, Racey PA (2001) Microchiropteran bats: global status survey and conservation action plan. IUCN/SSC Chiroptera Specialist Group, p 36–46

Kanuch P, Danko S, Celuch M, Kristin A, Pjencak P, Matis S, Smidt J (2008) Relating bat species presence to habitat features in natural forests of Slovakia (Central Europe). Mamm Biol 73:147–155

Kerth G, Weissmann K, Konig B (2001a) Day roost selection in female Bechstein's bats (Myotis bechsteinii): a field experiment to determine the influence of roost temperature. Oecologia 126:1–9

Kerth G, Wagner M, Konig B (2001b) Roosting together, foraging apart: information transfer about food is unlikely to explain sociality in female Bechstein's bats (Myotis bechsteinii). Behav Ecol Sociobiol 50:283–291

Lewis SE (1995) Roost fidelity of bats–a review. J Mammal 76:481–496

Napal M, Garin I, Goiti U, Salsamendi E, Aihartza J (2009) Selection of maternity roosts by Myotis bechsteinii (Kuhl, 1817) in the Southwestern Iberian Peninsula. Acta Chiropterol 11:425–433

Obrist MK, Rathey E, Bontadina F, Martinoli A, Conedera M, Christe P, Moretti M (2011) Response of bat species to sylvo-pastoral abandonment. For Ecol Manag 261:789–798

Reckardt K, Kerth G (2007) Roost selection and roost switching of female Bechstein's bats (Myotis bechsteinii) as a strategy of parasite avoidance. Oecologia 154:581–588

Russo D, Cistrone L, Jones G, Mazzoleni S (2004) Roost selection by barbastelle bats (Barbastella barbastellus, Chiroptera : Vespertilionidae) in beech woodlands of central Italy: consequences for conservation. Biol Conserv 117:73–81

Russo D, Cistrone L, Jones G (2005) Spatial and temporal patterns of roost use by tree-dwelling barbastelle bats Barbastella barbastellus. Ecography 28:769–776

Russo D, Cistrone L, Jones G (2007) Emergence time in forest bats: the influence of canopy closure. Acta Oecol 31:119–126

Russo D, Cistrone L, Garonna AP, Jones G (2010) Reconsidering the importance of harvested forests for the conservation of tree-dwelling bats. Biodivirs Conserv 9:2501–2515

Zeale MRK, Davidson-Watts I, Jones G (2012) Home range use and habitat selection by barbastelle bats (Barbastella barbastellus): implications for conservation. J Mammal 93:1110–1118
Acknowledgments
We thank C. Rochet, D. Kuhnert, G. Schaub and F. Russier for their help in the field and D. Russo for the helpful comments on the manuscript. 'Les services de la Faune et de la Pêche de Genève', especially G. Dändliker has funded part of the study. Thanks also to T. Jenkins for the English corrections.
About this article
Cite this article
Kühnert, E., Schönbächler, C., Arlettaz, R. et al. Roost selection and switching in two forest-dwelling bats: implications for forest management. Eur J Wildl Res 62, 497–500 (2016). https://doi.org/10.1007/s10344-016-1021-1
Received:

Revised:

Accepted:

Published:

Issue Date:
Keywords
Bechstein's bat

Barbastelle bat

Roost preferences

Commuting

Radio tracking

Forest management