Abstract
Long-term success of conservation in protected areas requires the cooperation and participation from local people, especially in developing countries where local people often endure most of the cost from human-wildlife conflict. This study investigated crop damage due to wildlife in Thanapati Village adjacent to Shivapuri Nagarjun National Park, Nepal. Household interviews and field measurements were conducted between March 2009 and April 2010 to quantify the actual area damaged by crop-raiding wildlife and the associated economic loss. Of the seven wildlife groups evaluated, we identified the wild boar as the primary crop raider, which is in agreement with several previous studies in the Indo-Himalaya region. Approximately US$24,000 (9 % of the expected profit) were lost to wildlife damage annually, with c. 0.28 km2 (8 % of the farmlands) of crops damaged. We found that the local people's assessment of the primary crop raider (i.e., wild boar) and the area damaged by wildlife to be quite accurate. Considering the ecology of the wild boar (e.g., tolerant to human activities, striving along the edge of habitats, consuming as well as trampling of crops) and the socioeconomic situation in the surrounding villages of Shivapuri Nagarjun National Park (e.g., resource-dependent economy, small farmers), we believe the solution to reduce human-wildlife conflict in this case lies in the following: (1) the use of innovative methods to deter wild boars; (2) active management of population size and carrying capacity of wild boars, possibly through regulated hunting; and (3) a fair compensation scheme or alternative economic means to offset crop damage.
Access options
Buy single article
Instant access to the full article PDF.
US$ 39.95
Tax calculation will be finalised during checkout.
Subscribe to journal
Immediate online access to all issues from 2019. Subscription will auto renew annually.
US$ 79
Tax calculation will be finalised during checkout.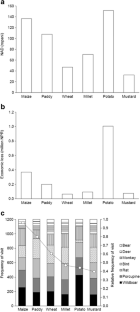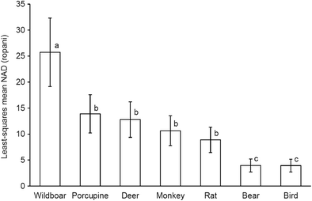 References
Allendorf TD, Smith JLD, Anderson DH (2007) Residents' perceptions of Royal Bardia National Park, Nepal. Landsc Urban Plan 82:33–40. doi:10.1016/j.landurbplan.2007.01.015

Baral N, Heinen JT (2007) Resources use, conservation attitudes, management intervention and park-people relations in the Western Terai landscape of Nepal. Environ Conserv 34:64–72. doi:10.1017/S0376892907003670

Barrios-Garcia MN, Ballari SA (2012) Impact of wild boar (Sus scrofa) in its introduced and native range: a review. Biol Invasions 14:2283–2300

Budhathoki P (2004) Linking communities with conservation in developing countries: buffer zone management initiatives in Nepal. Oryx 38:334–341. doi:10.1017/S0030605304000584

Carter NH, Shrestha BK, Karki JB, Pradhan NMB, Liu J (2012) Coexistence between wildlife and humans at fine spatial scales. Proc Natl Acad Sci U S A 109:15360–15365. doi:10.1073/pnas.1210490109

Dickman AJ (2010) Complexities of conflict: the importance of considering social factors for effectively resolving human–wildlife conflict. Anim Conserv 13:458–466. doi:10.1111/j.1469-1795.2010.00368.x

District Profile (2008) District Profile of Nuwakot District, Government of Nepal, Nuwakot, Nepal

DNPWC (2002) Protected Area of Nepal. A booklet published by Department of National Park and wildlife Conservation in Nepal, Babarmahal, Kathmandu. 43pp

Geisser H, Reyer HU (2005) The influence of food and temperature on population density of wild boar Sus scrofa in the Thurgau (Switzerland). J Zool London 267:89–96. doi:10.1016/j.tvjl.2009.03.033

Gusset M, Swarner MJ, Mponwane L, Keletile K, McNutt JW (2009) Human–wildlife conflict in northern Botswana: livestock predation by endangered African wild dog Lycaon pictus and other carnivores. Oryx 43:67–72. doi:10.1017/S0030605308990475

Heinen JT (1993) Park–people relations in Kosi Tappu Wildlife Reserve, Nepal: a socio-economic analysis. Environ Conserv 20:25–34. doi:10.1017/S037689290003719X

Heinen JT, Kattel B (1992) A review of conservation legislation in Nepal: past progress and future needs. Environ Manag 16:723–733

Heinen JT, Yonzon PB (1994) A review of conservation issues and programs in Nepal: from a single species focus toward biodiversity protection. Mt Res Dev 14:61–76, http://www.jstor.org/stable/3673738

Herrero J, García-Serrano A, Couto S, Ortuño VM, García-González R (2006) Diet of wild boar Sus scrofa L. and crop damage in an intensive agroecosystem. Eur J Wildl Res 52:245–250. doi:10.1007/s10344-006-0045-3

Jnawali SR (1989) Park-people conflict: Assessment of crop damage and human harassment by rhinoceros (Rhinoceros unicornis) in Sauraha area adjacent to Chitwan National Park, Nepal. M.Sc. Thesis, Agricultural University of Norway. 102pp

Jnawali SR, Baral HS, Lee S, Subedi N, Acharya KP, Upadhyay GP, Pandey M, Shrestha R, Joshi D, Lamichhane BR, Griffiths J, Khati-wada A, Amin R (compilers) (2011) The status of Nepal's mammals: the National Red List Series. Department of National Parks and Wildlife Conservation, Kathmandu, Nepal

Karanth KK, Nepal SK (2012) Local residents perception of benefits and losses from protected areas in India and Nepal. Environ Manag 49:372–386. doi:10.1007/s00267-011-9778-1

Kharel FR (1997) Agricultural crop and livestock depredation by wildlife in Langtang National Park, Nepal. Mt Res Dev 17:127–134, http://www.jstor.org/stable/3673827

Linkie M, Dinata Y, Nofrianto A, Leader-Williams N (2007) Patterns and perceptions of wildlife crop raiding in and around Kerinci Seblat National Park, Sumatra. Anim Conserv 10:127–135. doi:10.1111/j.1469-1795.2006.00083.x

Madden F (2004) Creating coexistence between humans and wildlife: global perspectives on local efforts to address human–wildlife conflict. Hum Dimens Wildl 9:247–257. doi:10.1080/10871200490505675

Mishra HR (1982) Balanching human needs and conservation in Nepal's Chitwan National Park. Ambio 11:246–251, http://www.jstor.org/stable/4312814

Morelle K, Lejeune P (2015) Seasonal variations of wild boar Sus scrofa distribution in agricultural landscapes: a species distribution modelling approach. Eur J Wildl Res 61:45–56. doi:10.1007/s10344-014-0872-6

Myers N, Mittermeier RA, Mittermeier CG, Da Fonseca GA, Kent J (2000) Biodiversity hotspots for conservation priorities. Nature 403:853–858. doi:10.1038/35002501

Nepal SK, Weber KE (1995) Prospects for coexistence: wildlife and local people. Ambio 24:238–245, http://www.jstor.org/stable/4314336

NRB (2015) Nepal Rastra Bank. Foreign exchange rates. Available at http://nrb.org.np/fxmexchangerate1.php?YY=2010&MM=02&DD=10&B1=Go Accessed 09.02.15

Powell DM (2004) Pigs (Suidae). In: Kleiman DG, Geist V, McDade M (eds) Grzimek's animal life encyclopedia, vol 15, 2nd edn. Mammals IV. - Gale, Farmington Hills, pp 275–290

Rao KS, Maikhuri RK, Nautiyal S, Saxena KG (2002) Crop damage and livestock depredation by wildlife: a case study from Nanda Devi Biosphere Reserve, India. J Environ Manag 66:317–327. doi:10.1006/jema.2002.0587

Rothley KD, Knowler DJ, Poudyal M (2004) Population model for the greater one-horned rhinoceros (Rhinoceros unicornis) in Royal Chitwan National Park, Nepal. Pachyderm 37:19–27, http://cmsdata.iucn.org/downloads/pachy37.pdf#page=21

Sapkota S, Aryal A, Baral SR, Hayward MW, Raubenheimer D (2014) Economic analysis of electric fencing for mitigating human-wildlife conflict in Nepal. J Resour Ecol 6:237–243. doi:10.5814/j.issn.1674-764x.2014.03.006

Schley L, Roper TJ (2003) Diet of wild boar Sus scrofa in Western Europe, with particular reference to consumption of agricultural crops. Mammal Rev 33:43–56. doi:10.1046/j.1365-2907.2003.00010.x

Schley L, Dufrêne M, Krier A, Frantz AC (2008) Patterns of crop damage by wild boar (Sus scrofa) in Luxembourg over a 10-year period. Eur J Wildl Res 54:589–599. doi:10.1007/s10344-008-0183-x

Sekhar NU (1998) Crop and livestock depredation caused by wild animals in protected areas: the case of Sariska Tiger Reserve, Rajasthan, India. Environ Conserv 25:160–171

Sharma UR (1990) An overview of park-people interactions in Royal Chitwan National Park, Nepal. Landsc Urban Plan 19:133–44. doi:10.1016/0169-2046(90)90049-8

Shrestha TK (1997) Mammals of Nepal. R.K. Printer, Kathmandu, Nepal

Studsord JE, Wegge P (1995) Park people relationships: a case study of damaged caused by park animals around the BNP, Nepal. Environ Conserv 22:133–142

Sukumar R (1989) The Asian elephant. Ecology and management. Cambridge University Press, Cambridge

Thapa S (2010) Effectiveness of crop protection methods against wildlife damage: a case study of two villages at Bardia National Park, Nepal. Crop Prot 29:1297–1304. doi:10.1016/j.cropro.2010.06.015

Thurfjell H, Ball JP, Åhlén PA, Kornacher P, Dettki H, Sjöberg K (2009) Habitat use and spatial patterns of wild boar Sus scrofa (L.): agricultural fields and edges. Eur J Wildl Res 55:517–523. doi:10.1007/s10344-009-0268-1

Treves A, Wallace RB, Naughton-Treves L, Morales A (2006) Co-managing human–wildlife conflicts: a review. Hum Dimens Wildl 11:383–396. doi:10.1080/10871200600984265

Wegge P, Odden M, Pokharel CP, Storaas T (2009) Predator–prey relationships and responses of ungulates and their predators to the establishment of protected areas: a case study of tigers, leopards and their prey in Bardia National Park, Nepal. Biol Conserv 142:189–202. doi:10.1016/j.biocon.2008.10.020

Weladji RB, Tchamba MN (2003) Conflict between people and protected areas within the Bénoué Wildlife Conservation Area, North Cameroon. Oryx 37:72–79. doi:10.1017/S0030605303000140
Acknowledgments
The authors would like to thank the Department of National Parks and Wildlife Conservation and Shivapuri Nagarjun National Park for research permission. Special thanks to political leaders and local people of Thanapati VDC for their cooperation. We thank Ram Bahadur Pathak, Shree Ram Pathak, Rajan Thapaliya and Ajaya Pathak for their assistance in the field.
Electronic supplementary material
Below is the link to the electronic supplementary material.
About this article
Cite this article
Pandey, P., Shaner, PJ.L. & Sharma, H.P. The wild boar as a driver of human-wildlife conflict in the protected park lands of Nepal. Eur J Wildl Res 62, 103–108 (2016). https://doi.org/10.1007/s10344-015-0978-5
Received:

Revised:

Accepted:

Published:

Issue Date:
Keywords
Crop damage

Human livelihood

Net area damage

Sus scrofa