Abstract
Habitat modification through rural and urban expansions negatively impacts most wildlife species. However, anthropogenic food sources in habitations can benefit certain species. The red fox Vulpes vulpes can exploit anthropogenic food, but human subsidies sometimes also sustain populations of its potential competitor, the free-ranging dog Canis familiaris. As human habitations expand, populations of free-ranging dog are increasing in many areas, with unknown effects on wild commensal species such as the red fox. We examined occurrence and diet of red fox along a gradient of village size in a rural mountainous landscape of the Indian Trans-Himalaya. Diet analyses suggest substantial use of anthropogenic food (livestock and garbage) by red fox. Contribution of livestock and garbage to diet of red fox declined and increased, respectively, with increasing village size. Red fox occurrence did not show a clear relationship with village size. Red fox occurrence showed weak positive relationships with density of free-ranging dog and garbage availability, respectively, while density of free-ranging dog showed strong positive relationships with village size and garbage availability, respectively. We highlight the potential conservation concern arising from the strong positive association between density of free-ranging dog and village size.
Access options
Buy single article
Instant access to the full article PDF.
US$ 39.95
Tax calculation will be finalised during checkout.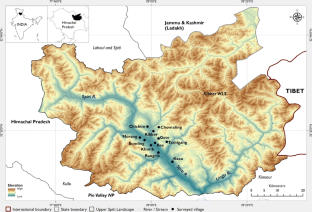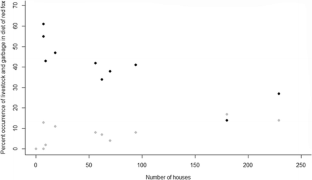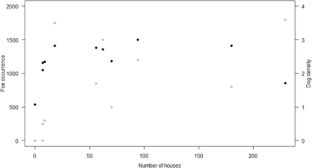 References
Abay GY, Bauer H, Gebrihiwot K, Deckers J (2011) Peri-urban spotted hyena (Crocuta crocuta) in northern Ethiopia: diet, economic impact, and abundance. Eur J Wildl Res 57:759–765

Aryal A, Sathyakumar S, Kreigenhofer B (2010) Opportunistic animal's diet depend on prey availability: spring dietary composition of the red fox (Vulpes vulpes) in the dhorpatan hunting reserve, Nepal. J Ecol Natl Environ 2(4):59–63

Bidlack LA, Merenlender A, Getz MW (2006) Distribution of non-native red foxes in East Bay Oak Woodlands. General Technical Report PSW-GTR-217. In: Sixth California Oak Symposium: Today's challenges, tomorrow's opportunities, October 9–12, 2006, Rohnert Park, California

Blair RB (1996) Land use and avian species diversity along an urban gradient. Ecol Appl 6:506–519

Blanchard BM (1987) Size and growth patterns of the Yellowstone grizzly bear. Bears Their Biol Manag 7:99–107

Brassine MC, Parker DM (2011) Does the presence of large predators affect the diet of a mesopredator? Afr J Ecol Notes and Records: 1–4

Champion FW, Seth SK (1968) A revised survey of the forest types of India. Government of India, India

Contesse P et al (2004) The diet of urban foxes (Vulpes vulpes) and the availability of anthropogenic food in the city of Zurich, Switzerland. Mamm Biol 69(2):81–95

Ditchkoff SS, Saalfeld ST, Gibson CJ (2006) Animal behavior in urban ecosystems: modifications due to human-induced stress. Urban Ecosyst 9:5–12

Doncaster CP, Dickman CR, Macdonald DW (1990) Feeding ecology of red foxes (Vulpes vulpes) in the city of Oxford, England. J Mammal 71:188–194

Dyck MG, Romberg S (2007) Observations of a wild polar bear (Ursus maritimus) successfully fishing Arctic charr (Salvelinus alpinus) and Fourhorn sculpin (Myoxocephalus quadricornis). Polar Biol. doi:10.1007/s00300-007-0338-3

Elfström M, Zedrosser A, Støen OG, Swenson JE (2012) Ultimate and proximate mechanisms underlying the occurrence of bears close to human settlements: review and management implications. Mammal Rev. doi:10.1111/j.1365-2907.2012.00223.x

Fuhrmann B (2002) Tracking down Yellowstone's Red Fox: skis, satellites, and historical sightings. Yellowstone Scie 10(1):8–15

Gaston KJ (2008) Biodiversity and extinction: the importance of being common. Prog Phys Geog 32(1):73–79

Gaston KJ (2010) Valuing common species. Science 327:154–155

Gaston KJ, Fuller RA (2007) Biodiversity and extinction: losing the common and the widespread. Prog Phys Geog 31(2):213–225

Gaston KJ, Fuller RA (2008) Commonness, population depletion and conservation biology. Trends Ecol Evol 23(1):14–19

Gloor S et al (2001) The rise of urban fox populations in Switzerland. Mamm Biol 66:155–164

Green RE et al (2004) Diclofenac poisoning as a cause of vulture population declines across the Indian subcontinent. J Appl Ecol 41:793–800

Hughes J, Macdonald DW (2013) A review of the interactions between free-roaming domestic dogs and wildlife. Biol Conserv 157:341–351

Macdonald DW (1979) The flexible social system of the golden jackal, Canis aureus. Behav Ecol Sociobiol 5:17–38

Macdonald DW, Reynolds JC (2008) Vulpes vulpes. IUCN 2011. IUCN Red list of threatened species. Version 2011.2. HYPERLINK "http://www.iucnredlist.org/"www.iucnredlist.org. Accessed 07 May 2012.

Mateos MD, Simon JF, Villafuerte R, Ferreras P (2007) Feeding responses of the red fox (Vulpes vulpes) to different wild rabbit (Oryctolagus cuniculus) densities: a regional approach. Eur J Wildl Res 54(1):71–78

McKinney ML (2002) Urbanization, biodiversity, and conservation. Bioscience 52:883–890

Mishra C (2000) Socio-economic transitions and wildlife conservation in the Indian Trans-Himalaya. J Bom Natl Hist Soc 95:215–220

Mishra C (2001) High altitude survival: conflicts between pastoralism and wildlife in the Trans-Himalaya. PhD Dissertation, Wageningen University, The Netherlands

Mitchell BD, Banks PB (2005) Do wild dogs exclude foxes? Evidence for competition from dietary and spatial overlaps. Austral Ecol 30:581–591

Mukherjee S, Goyal SP, Chellam R (1994) Standardisation of scat analysis techniques for leopard (Panthera pardus) in Gir national park, western India. Mammalia 58:139–143

Myers JH, Simberloff D, Kuris AM, Carey JR (2000) Eradication revisited: dealing with exotic species. Trends Ecol Evol 15:316–320

Newsome TM et al (2013) Home range, activity and sociality of a top predator, the dingo: a test of the resource dispersion hypothesis. Ecography 36(8):914–925

Newsome TM et al (2015) The ecological effects of providing resource subsidies to predators. Glob Ecol Biogeogr 24(1):1–11

Oli MK (1993) A key for identification of the hair of mammals of a snow leopard (Panthera uncia) habitat in Nepal. J Zool (Lond) 231:71–93

Pickett STA et al (2001) Urban ecological systems: linking terrestrial, ecological, physical, and socioeconomic components of metropolitan areas. Annu Rev Ecol Syst 32:127–157

Pillay R, Johnsingh AJT, Raghunath R, Madhusudan MD (2011) Patterns of spatiotemporal change in large mammal distribution and abundance in the southern western Ghats, India. Biol Conserv 144(5):1567–1576

Pimentel D, Zuniga R, Morrison D (2005) Update on the environmental and economic costs associated with alien-invasive species in the United States. Ecol Econ 52(3):273–288

Raghavan R, Prasad G, Danvar-Ali PH, Pereira B (2008) Exotic fish species in a global biodiversity hotspot: observations from river chalakudy, part of western Ghats, Kerala, India. Biol Invasions 10:37–40

Randa LA, Yunger JA (2006) Carnivore occurrence along an urban–rural gradient: a landscape level analysis. J Mammal 87(6):1154–1164

Redford KH, Berger J, Zack S (2013) Abundance as a conservation value. Oryx 47(2):157–158

Robinson RA, Siriwardena GM, Crick HQP (2005) Size and trends of the house sparrow Passer domesticus population in great Britain. Ibis 147:552–562

Rogers LL et al (1976) Characteristics and management of black bears that feed in garbage dumps, campgrounds or residential areas. Bears Their Biol Manag 3:169–175

Saunders DA, Hobbs RJ, Margules CR (1991) Biological consequences of ecosystem fragmentation: a review. Conserv Biol 5(1):18–23

Silva-Rodrı'guez EA, Ortega-Solı's GR, Jime'nez JE (2010) Conservation and ecological implications of the use of space by chilla foxes and free-ranging dogs in a human-dominated landscape in southern Chile. Austral Ecol 35:765–777

Stempniewicz L (2006) Polar bear predatory behaviour toward molting barnacle geese and nesting glaucous gulls on Spitsbergen. Arctic 59(3):247–251

Suryawanshi KR, Bhatnagar YV, Redpath S, Mishra C (2013) People, predators and perceptions: patterns of livestock depredation by snow leopards and wolves. J Appl Ecol 50(3):550–560

Sutherland WJ (1996) Ecological census techniques: a hand book, 2nd edn. Cambridge University Press, United Kingdom

USL (2011) Management plan for upper spiti landscape including the kibber wildlife sanctuary. Wildlife wing Himachal Pradesh Forest Department, Shimla and Nature Conservation Foundation, Mysore

Vanak A, Gompper ME (2009a) Dietary niche separation between sympatric free-ranging domestic dogs and Indian foxes in central India. J Mammal 90:1058–1065

Vanak A, Gompper ME (2009b) Dogs Canis familiaris as carnivores: their role and function in intraguild competition. Mammal Rev 39:265–283

Vanak A, Gompper ME (2010) Interference competition at the landscape level: the effect of free-ranging dogs on a native mesocarnivore. J Appl Ecol 47:1225–1232

Wilcove DS et al (1998) Quantifying threats to imperiled species in the United States. Bioscience 48:607–617

Young JK et al (2011) Is wildlife going to the dogs? Impacts of feral and free-roaming dogs on wildlife populations. Bioscience 61(2):125–132
Acknowledgments
We are thankful to the Forest Research Institute University, Dehradun and Himachal Pradesh Forest Department (Wildlife Wing), Shimla, for the permissions and support. The fieldwork was supported by Narendra Babu Ecological Research Initiative Grant. We are also thankful to Fondation Segré–Whitley Fund for Nature for supporting our research and conservation programmes. Chhering Dorje and Takpa provided invaluable help during fieldwork.
Electronic supplementary material
Below is the link to the electronic supplementary material.
About this article
Cite this article
Ghoshal, A., Bhatnagar, Y.V., Mishra, C. et al. Response of the red fox to expansion of human habitation in the Trans-Himalayan mountains. Eur J Wildl Res 62, 131–136 (2016). https://doi.org/10.1007/s10344-015-0967-8
Received:

Revised:

Accepted:

Published:

Issue Date:
Keywords
Vulpes vulpes
Canis familiaris

Carnivore

Human subsidies

Commensal

Diet

Dog