Abstract
Habitat use of prey species is often subjected to strong trade-offs when foraging needs and predator avoidance cannot be met simultaneously. Trade-offs may be particularly pronounced for species dwelling above ground throughout the year. Identifying habitat use of such species may help to determine crucial and limited environmental resources and has strong implications for habitat management. We investigated the relative importance of habitat structure and composition for mountain hares in the Swiss Alps at the small scale for two time periods, throughout the year and during the reproductive period. Habitat use was assessed by a non-invasive approach that considers the spatio-temporal distribution of fecal pellets, sampled along systematically distributed transects. We found that heterogeneous habitats with high diversity of vegetation layers and/or abundance of saplings and storeyed vegetation structures are strongly used. The availability of shelter was more important in summer when hares strongly used dense habitats that offered protection from predators. The availability of food was more important as predictor for year-round use compared to the reproductive period when food is overabundant for hares. A heterogeneous habitat provides an optimal distribution and availability of shelter and food resources and allows the hare to adjust its activity pattern to changing environmental conditions. Therefore, the occurrence of a structurally heterogeneous ecotone at the upper timber line with a mosaic of different vegetation types and hiding structures should be considered in the management of the species.
This is a preview of subscription content, log in to check access.
Access options
Buy single article
Instant access to the full article PDF.
US$ 39.95
Price includes VAT for USA
Subscribe to journal
Immediate online access to all issues from 2019. Subscription will auto renew annually.
US$ 99
This is the net price. Taxes to be calculated in checkout.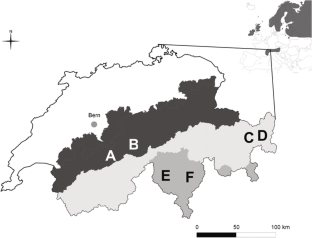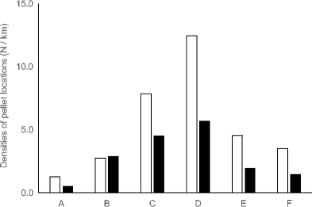 References
Adams L (1959) An analysis of a population of snowshoe hares in northwestern Montana. Ecol Monogr 29:141–170

Angerbjörn A (1983) Reliability of pellet counts as density estimates of mountain hares. Finn Game Res 41:13–20

Barton K (2014) Package "MuMin". Version 1.13.4. Available on: http://mumin.r-forge.r-project.org/MuMIn-manual.pdf. Accessed 19 Jun 2014

Bisi F, Nodari M, Dos Santos Oliviera NM, Masseroni E, Preatoni DG, Wauters LA, Martinoli A (2013) Habitat selection and activity patterns in Alpine mountain hare (Lepus timidus varronis). Mamm Biol 78:28–33

Bollmann K, Weibel P, Graf RF (2005) An analysis of central Alpine capercaillie spring habitat at the forest stand scale. For Ecol Manag 215:307–318

Boyce MS, McDonald LL (1999) Relating populations to habitats using resource selection functions. Trends Ecol Evol 14:268–272

Braunisch V, Coppes J, Arlettaz R, Suchant R, Zellweger F, Bollmann K (2014) Temperate mountain forest biodiversity under climate change: compensating negative effects by increasing structural complexity. Plos One 9, e97718

Burnham KP, Anderson DR (2002) Model selection and multi-model inference: a practical information-theoretic approach. Springer, New York

Ceschi I (2006) Il Bosco del cantone Ticino. Edizioni Cant. del Dip. Territorio. Armando Dadó Editore, Locarno

Development Core Team R (2013) R: a language and environment for statistical computing. R Foundation for Statistical Computing, Vienna

Eaton BR (1993) Estimates of snowshoe hare abundance from pellet plot counts: a critical evaluation. Thesis, Acadia University, Wolfville, Nova Scotia, Canada

Erwacha MVA, Roth JD, Brook RK (2014) Vegetation structure and composition determine snowshoe hare (Lepus americanus) activity at arctic tree line. Can J Zool 92:789–794

Focardi S, Rizzotto M (1999) Optimal strategies and complexity: a theoretical analysis of the anti-predatory behavior of the hare. Bull Math Biol 61:829–847

Gonseth Y, Wohlgemuth T, Sansonnens B, Buttler A (2001) Die biogeographischen Regionen der Schweiz. Erläuterungen und Einteilungsstandard. Umwelt Materialien, vol 137. Federal Office for the Environment, Bern

Gorini L, Linnell JDC, May R, Panzacchi M, Boitani L, Odden M, Nilsen EB (2012) Habitat heterogeneity and mammalian predator–prey interactions. Mammal Rev 42:55–77

Grace J, Easterbee N (1979) Natural shelter for red deer (Cervus elaphus) in a Scottish glen. J Appl Ecol 16:37–48

Haller H, Eisenhut A, Haller R (2013) Atlas des Schweizerischen Nationalparks. Die ersten 100 Jahre. Nationalparkforschung Schweiz, vol 1. Haupt, Bern

Hewson R (1990) Behaviour, population changes and dispersal of mountain hares (Lepus timidus) in Scotland. J Zool (Lond) 220:287–309

Hewson R, Hinge MDC (1990) Characteristics of the home range of mountain hares Lepus timidus. J Appl Ecol 27:651–666

Hik DS (1995) Does risk of predation influence population dynamics? Evidence from cyclic decline of snowshoe hares. Wildl Res 22:115–129

Hiltunen M, Kauhala K (2006) Selection of sapling stand habitats by the mountain hare (Lepus timidus) during winter. Mamm Biol 71:183–189

Hiltunen M, Kauhala K, Linden H (2004) Habitat use of the mountain hare Lepus timidus in summer: the importance of different vegetation layers. Acta Theriol 49:479–490

Hirakawa H (2001) Coprophagy in leporids and other mammalian herbivores. Mammal Rev 31:61–80

Hodges KE, Mills LS, Murphy KM (2009) Determinants of snowshoe hare distribution and abundance in Yellowstone National Park. J Mammal 90:870–878

Hulbert IAR, Iason GR, Racey PA (1996) Habitat utilization in a stratified upland landscape by two lagomorphs with different feeding strategies. J Appl Ecol 33:315–324

Hulbert IAR, Iason GR, Mayes RW (2001) The flexibility of an intermediate feeder: dietary selection by mountain hares measured using faecal n-alkanes. Oecologia 129:197–205

Iason GR, Van Wieren SE (1999) Digestive and ingestive adaptations of mammalian herbivores to low-quality forage. In: Olff H, Brown VK, Drent RH (eds) Herbivores: between plants and predators. Blackwell Scientific, Oxford, pp 337–369

IUCN (2014) Protected Areas Category Ia. IUCN. https://www.iucn.org/about/work/programmes/gpap_home/gpap_quality/gpap_pacategories/gpap_cat1a/. Accessed 19 Jun 2014

Johnson JB, Omland KS (2004) Model selection in ecology and evolution. Trends Ecol Evol 19:101–108

Keith LB, Windberg LA (1978) Demographic analysis of snowshoe hare cycle. Wildl Monogr:6–70

Keller M (ed) (2005) Schweizerisches Landesforstinventar: Anleitung für die Erhebung 2004–2007. Swiss Federal Institute of Forest, Snow and Landscape Research WSL Birmensdorf

Kielland K, Olson K, Euskirchen E (2010) Demography of snowshoe hares in relation to regional climate variability during a 10-year population cycle in interior Alaska. Can J For Res 40:1265–1272

Krebs CJ, Gilbert BS, Boutin S, Boonstra R (1987) Estimation of snowshoe hare population density from turd transects. Can J Zool 65:565–567

Krebs CJ, Boonstra R, Nams V, O'Donoghue M, Hodges KE, Boutin S (2001) Estimating snowshoe hare population density from pellet plots: a further evaluation. Can J Zool 79:1–4

Laiolo P, Dondero F, Ciliento E, Rolando A (2004) Consequences of pastoral abandonment for the structure and diversity of the alpine avifauna. J Appl Ecol 41:294–304

Lewis CW, Hodges KE, Koehler GM, Mills LS (2011) Influence of stand and landscape features on snowshoe hare abundance in fragmented forests. J Mammal 92:561–567

Lima SL, Dill LM (1990) Behavioral decisions made under the risk of predation: a review and prospectus. Can J Zool 68:619–640

Litvaitis JA, Sherburne JA, Bissonette JA (1985) A comparison of methods used to examine snowshoe hare habitat use. J Wildl Manag 49:693–695

Loidl B (1997) Nahrungsökologie des Alpenschneehasen (Lepus timidus varronis Miller 1901) und Entwicklung einer molekularbiologischen Methode der Nahrungsanalyse von Herbivoren. Dissertation, Paris London University Salzburg

Marchand PJ (1991) Life in the cold. An introduction to winter ecology, 2nd edn. University Press of New England, Hannover and London

Mayer AC, Stöckli V (2005) Long-term impact of cattle grazing on subalpine forest development and efficiency of snow avalanche protection. Arct Antarct Alp Res 37:521–526

Mills MGL, Broomhall LS, Du Toit JT (2004) Cheetah Acinonyx jubatus feeding ecology in the Kruger National Park and a comparison across African savanna habitats: is the cheetah only a successful hunter on open grassland plains? Wildl Biol 10:177–186

Mills LS, Griffin PC, Hodges KE, McKelvey K, Ruggiero L, Ulizio T (2005) Pellet count indices compared to mark-recapture estimates for evaluating snowshoe hare density. J Wildl Manag 69:1053–1062

Murray DL, Roth JD, Ellsworth E, Wirsing AJ, Steury TD (2002) Estimating low-density snowshoe hare populations using fecal pellet counts. Can J Zool 80:771–781

Murray D, Ellsworth E, Zack A (2005) Assessment of potential bias with snowshoe hare fecal pellet-plot counts. J Wildl Manag 69:385–395

Neff DJ (1968) The pellet-group count technique for big game trend, census, and distribution: a review. J Wildl Manag 32:597–614

Newbury TL, Simon NPP (2005) The effects of clear-cutting on snowshoe hare (Lepus americanus) relative abundance in central Labrador. For Ecol Manag 210:131–142

Nielsen SE, Stenhouse GB, Boyce MS (2006) A habitat-based framework for grizzly bear conservation in Alberta. Biol Conserv 130:217–229

Nieminen P, Mustonen AM (2008) A preliminary study on the seasonal body temperature rhythms of the captive mountain hare (Lepus timidus). Cryobiology 56:163–167

Nodari M (2006) Ecological role of mountain hare (Lepus timidus) in the alpine ecosystem. Habitat use, population consistency and dynamics of a species of conservation and management interest. University Insubria

O'Donoghue M (1983) Seasonal habitat selection by snowshoe hare in eastern. Maine Trans Northeast Fish Wildl Conf 40:100–107

Oksanen T, Oksanen L, Schneider M, Aunaupuu M (2001) Regulation, cycles and stability in northern carnivore-herbivore systems: back to first principles. Oikos 94:101–117

Olsson O, Brown JS, Helf KL (2008) A guide to central place effects in foraging. Theor Popul Biol 74:22–33

Ott E, Frehner M, Frey HU, Lüscher P (1997) Gebirgsnadelwälder: praxisorientierter Leitfaden für eine standortgerechte Waldbehandlung. Haupt Publisher, Bern Stuttgart Wien

Pehrson A, Lindlöf B (1984) Impact of winter nutrition on reproduction in captive mountain hares (Lepus timidus). (Mammalia: Lagomorpha). J Zool (Lond) 204:201–209

Perry ME, Robertson AW (2012) Cleared and uncleared plots as indices of brown hare density. N Z J Ecol 36:157–163

Prugh LR, Krebs CJ (2004) Snowshoe hare pellet-decay rates and aging in different habitats. Wild Soc Bull 32:386–393

Pulliainen E (1984) The refuge theory and habitat selection in the mountain hare on a subarctic fell in Finnish. For Lapland Finn Game Res 41:39–44

Pyörnila A, Putaala A, Hissa R, Sulkava S (1992) Adaptations to environment in the mountain hare (Lepus timidus)—thermal physiology and histochemical properties of locomotory muscles. Can J Zool 70:1325–1330

Rehnus M (2013) Der Schneehase in den Alpen: Ein Überlebenskünstler mit ungewisser Zukunft. Bristol-Stiftung, Zurich. Haupt, Bern

Rehnus M (2014) The 24-hour cycle of the mountain hare Lepus timidus. Zool Gart 83:140–145

Rehnus M, Palme R, Filli F, Hackländer K (2010) Seasonal glucocorticoid secretion in mountain hares (Lepus timidus). Mammalia 74:347–350

Rehnus M, Marconi L, Hackländer K, Filli F (2013) Seasonal changes in habitat use and feeding strategy of the mountain hare (Lepus timidus) in the Central Alps. Hystrix 24:161–165

Rehnus M, Wehrle M, Palme R (2014) Mountain hares Lepus timidus and tourism: stress events and reactions. J Appl Ecol 51:6–12

Schütz M, Risch AC, Leuzinger E, Krüsi BO, Achermann G (2003) Impact of herbivory by red deer (Cervus elaphus L.) on patterns and processes in subalpine grasslands in the Swiss National Park. For Ecol Manag 181:177–188

Shannon CE, Weaver W (1963) The mathematical theory of communication. University of Illinois Press, Champaign

Sih A (1980) Optimal behavior: can foragers balance two conflicting events? Sci (Washington D C) 210:1041–1043

Slotta-Bachmayr L (1998) Biologie und Ökologie des Alpenschneehasen (Lepus timidus varronis Miller 1901). Verbreitung, Raumnutzung, Aktivität und Habitatwahl in den Hohen Tauern. Paris London University Salzburg

Sokolov VE, Ivanitskaya EY, Gruzdev VV, Heptner VG (2009) Lagomorphs. Mammals of Russia and adjacent regions. Smithsonian Institution Libraries, Washington

Speich S et al (2011) Drittes Schweizerisches Landesforstinventar—Ergebnistabellen im Internet. Zweite stark erweiterte Ausgabe. [Published online 31.03.2011] Available from World Wide Web <http://www.lfi.ch/resultate/>. Swiss Federal Institute of Forest, Snow and Landscape Research WSL. http://www.lfi.ch/resultate. Accessed 19 Jun 2014

Stöcklin J, Bosshard A, Klaus G, Rudmann-Maurer K, Fischer M (2007) Landnutzung und biologische Vielfalt in den Alpen. vdf Hochschulverlag AG, Zurich

Thulin C-G (2003) The distribution of mountain hares Lepus timidus in Europe: a challenge from brown hares L. europaeus? Mammal Rev 33:29–42

Thulin C-G, Flux JEC (2003) Lepus timidus Linnaeus, 1758—Schneehase. In: Krapp F (ed) Handbuch der Säugetiere Europas Band, 3/II: Hasenartige Lagomorpha. Aula Publisher, Wiebelsheim, pp 155–185

Tocco C, Negro M, Rolando A, Palestrini C (2013) Does natural reforestation represent a potential threat to dung beetle diversity in the Alps? J Insect Conserv 17:207–217

Wolff JO (1980) The role of habitat patchiness in the population dynamic of snowshoe hares. Ecol Monogr 50:111–130
Acknowledgments
We would like to thank the Swiss National Park for permission to conduct this study at sites C and D, Marco Salvioni for his support in organizing the fieldwork at sites E and F, and Erin Gleeson, Christa Mosler-Berger, three anonymous reviewers, and the associated Editor Paulo C. Alves for constructive and insightful comments on an earlier version of this manuscript. Lea Jost also thanks Werner Suter for his competent support throughout her master thesis.
Appendix
Appendix
About this article
Cite this article
Rehnus, M., Braunisch, V., Hackländer, K. et al. The seasonal trade-off between food and cover in the Alpine mountain hare (Lepus timidus). Eur J Wildl Res 62, 11–21 (2016). https://doi.org/10.1007/s10344-015-0963-z
Received:

Revised:

Accepted:

Published:

Issue Date:
Keywords
Food

Habitat use

Patchiness

Pellets

Shelter

Structure

Transect