Abstract
The catastrophic nuclear meltdowns at Fukushima triggered a worldwide demand for renewable energy. As one of the few countries, Germany decided on an accelerated shift towards green energy, resulting in substantial conflicts with international conservation goals. Currently, large numbers of wind power facilities are erected in Germany, yet with unforeseen consequences for wildlife, particularly for endangered and protected bats. Presumably, more than 250,000 bats are killed annually due to interactions with German wind turbines, and total losses may account for more than two million killed bats over the past 10 years, if mitigation measures were not practiced. More than 70 % of killed bats are migrants, because major migratory routes cross Germany. Consequently, Germany's environmental policy is key to the conservation of migratory bats in Europe. Prospective increases in wind power will lead to the installation of larger wind turbines with potentially devastating consequences for bats. The higher net energy production of modern wind turbines at low wind speeds may exacerbate the conflict between green energy and conservation goals since revenue losses for companies increase. We conclude that evidence-based action plans are urgently needed to mitigate the negative effects of the operation of wind energy facilities on wildlife populations in order to reconcile environmental and conservation goals.
Access options
Buy single article
Instant access to the full article PDF.
USD 39.95
Price excludes VAT (USA)
Tax calculation will be finalised during checkout.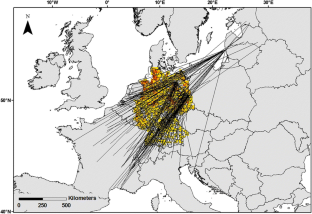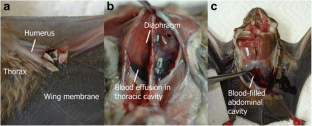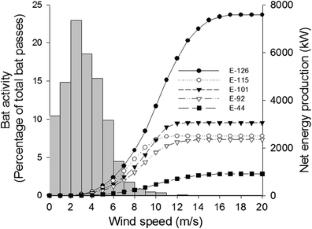 References
Amorim F, Rebelo H, Rodrigues L (2012) Factors influencing bat activity and mortality at a wind farm in the Mediterranean region. Acta Chiropterol 14:439–457

Arnett EB, Brown K, Erickson WP, Fiedler JK, Hamilton BL, Henry TH, Jain A, Johnson GD, Kerns J, Koford RR, Nicholson CP, O'Connell TJ, Piorkowski MD, Tankersley RD Jr (2008) Patterns of fatality of bats at wind energy facilities in North America. J Wildl Manag 72:61–78

Arnett EB, Barclay RMR, Hein CD (2013) Thresholds for bats killed by wind turbines. Front Ecol Environ 11:171

Baerwald EF, Barclay RMR (2009) Geographic variation in activity and fatality of migratory bats at wind energy facilities. J Mammal 90:1341–1349

Baerwald EF, D'Amours GH, Klug BJ, Barclay RMR (2008) Barotrauma is a significant cause of bat fatalities at wind turbines. Curr Biol 18:R695–R696

Baerwald EF, Edworthy J, Holder M, Barclay RMR (2009) A large-scale mitigation experiment to reduce bat fatalities at wind energy facilities. J Wildl Manag 73:1077–1081

Barclay RMR, Baerwald EF, Gruver JC (2007) Variation in bat and bird fatalities at wind energy facilities: assessing the effects of rotor size and tower height. Can J Zool 85:381–387

Berkhout V, Faulstich S, Görg P, Hahn B, Linke K, Neuschäfer M, Pfaffel S, Rafik K, Rohrig K, Rothkegel R, Ziese M (2014) Wind Energie Report Deutschland 2013. Fraunhofer-Institut für Windenergie und Energiesystemtechnik–IWES–Kassel

BRD (2010a) Nationaler Aktionsplan für erneuerbare Energie gemäß der Richtlinie 2009/28/EG zur Förderung der Nutzung von Energie aus erneuerbaren Quellen http://www.bmu.de/fileadmin/bmu-import/files/pdfs/allgemein/application/pdf/nationaler_aktionsplan_ee.pdf Accessed 5 Jan 2015

BRD (2010b) Energiekonzept für eine umweltschonende, zuverlässige und bezahlbare Energieversorgung. http://www.bundesregierung.de/ContentArchiv/DE/Archiv17/_Anlagen/2012/02/energiekonzept-final.pdf?__blob=publicationFile&v=5 Accessed 5 Jan 2015

Brinkmann R, Behr O, Niermann I, Reich M (2011) Entwicklung von Methoden zur Untersuchung und Reduktion des Kollisionsrisikos von Fledermäusen an onshore-Windenergieanlagen. Schriftenreihe Institut für Umweltplanung. Cuvillier Verlag, Göttingen

Camina A (2012) Bat fatalities at wind farms in northern Spain—lessons to be learned. Acta Chiropterol 14:205–212

Cryan PM, Jameson JW, Baerwald EF, Willis CKR, Barclay RMR, Snider EA, Crichton EG (2012) Evidence of late-summer mating readiness and early sexual maturation in migratory tree-roosting bats found dead at wind turbines. PLoS ONE 7:e47586

Cryan PM, Gorresen PM, Hein CD, Schirmacher MR, Diehl RH, Huso MM, Hayman DTS, Frcker PD, Bonaccorso FH, Johnson DH, Heist K, Dalton DC (2014) Behavior of bats at wind turbines. Proc Natl Acad Sci 111:15126–15131

EEG-Anlagenregister Deutschland (2014) www.energymap.info/download.html Accessed 5 Jan 2015

Enercon (2012). Enercon Produktübersicht. Energie für die Umwelt. www.enercon.de Accessed 31 Jul 2013

Georgiakakis P, Kret E, Carcamo B, Doutau B, Kafkaletou-Diez A, Vasilakis D, Padadatou E (2012) Bat fatalities at wind farms in north-eastern Greece. Acta Chiropterol 14:459–468

Grodsky SM, Behr MJ, Gendler A, Drake D, Dieterle BD, Rudd RJ, Walrath NL (2011) Investigating the causes of death for wind turbine-associated bat fatalities. J Mammal 92:917–925

Hayes MA (2013) Bats killed in large numbers at United States wind energy facilities. Bioscience 63:975–979

Jones KE, Purvis A, Gittleman JL (2003) Biological correlates of extinction risk in bats. Am Nat 161:601–614

Lehnert LS, Kramer-Schadt S, Schönborn S, Lindecke O, Niermann I, Voigt CC (2014) Wind farm facilities in Germany kill noctule bats from near and far. PLoS ONE 9:e103106

Nicholls B, Racey PA (2007) Bats avoid radar installations: could electromagnetic field deter bats from colliding with wind turbines. PLoS ONE 2:e297

Nicholls B, Racey PA (2009) The aversive effect of electromagnetic radiation on foraging bats—a possible means of discouraging bats from approaching wind turbines. PLoS ONE 7:e6246

Northrup JM, Wittemyer G (2013) Characterising the impacts of emerging energy developments on wildlife, with an eye towards mitigation. Ecol Lett 16:112–125

Petersons G (2004) Seasonal migration of north-eastern populations of Nathusius' bat Pipistrellus nathusii (Chiroptera). Myotis 41:29–56

Rodrigues L, Bach L, Dubourg-Savage M-J, Goodwin G, Harbusch C (2008) Guidelines for consideration of bats in wind farm projects. EUROBATS Publication Series N°3 (English version). UNEP/EUROBATS Secretariat, Bonn

Roscini F, Russo D, Di Febbraro M, Frate L, Carranza ML, Loy A (2013) Regional-scale modeling of the cumulative impact of wind farms on bats. Biodivers Conserv 22:1821–1835

Rydell J, Bach L, Dubourg-Savage M-J, Green M, Rodriguez L, Hedenström A (2010) Bat mortality at wind turbines in northwestern Europe. Acta Chiropterol 12:261–274

Steffens R, Zöphel U, Brockmann D (2004) 40th Anniversary Bat Marking Centre Dresden. Landesamt für Umwelt, Landwirtschaft und Geologie

Voigt CC, Popa-Lisseanu A, Niermann I, Kramer-Schadt S (2012) The catchment area of wind farms for European bats: a plea for international regulations. Biol Conserv 153:80–86
Acknowledgments
We would like to acknowledge the support of the banding center at the Museum König in Bonn and in Dresden for providing the recovery data of banded bats. We thank Gudrun Wibbelt for the allowance to use her pictures and Paul Racey and Marie-Jo Dubourg-Savage and an anonymous reviewer for commenting on an earlier version of this manuscript.
Conflicts of interest
The authors declare no conflict of interest or financial constraints that would influence the objectivity of the paper.
Additional information
Communicated by C. Gortázar
About this article
Cite this article
Voigt, C.C., Lehnert, L.S., Petersons, G. et al. Wildlife and renewable energy: German politics cross migratory bats. Eur J Wildl Res 61, 213–219 (2015). https://doi.org/10.1007/s10344-015-0903-y
Received:

Revised:

Accepted:

Published:

Issue Date:

DOI: https://doi.org/10.1007/s10344-015-0903-y
Keywords
Alternative energy

Chiroptera

Conservation

Migratory species

Wind energy facilities

Wind parks

Green energy