Abstract
Hematology and serum biochemistry are important tools in assessing the health and physiological status of wildlife populations. Nevertheless, studies on free-ranging wolves (Canis lupus) are scarce, and no reference values are available neither for Iberian wolves nor for wolves captured with leg-hold snares. We report 37 hematology and serum biochemistry variables obtained from 26 free-ranging Iberian wolves captured with leg-hold snares between 2007 and 2014, including variables previously not reported in the literature. The values obtained are similar to the published reference intervals for Scandinavian wolves captured by darting from a helicopter, except for higher values for mean corpuscular hemoglobin concentration (MCHC), red blood cell distribution width (RDW), leukocyte count, creatinine kinase (CK), γ-globulins, and total bilirubin (TBIL) and lower values for alkaline phosphatase (ALP). We propose that differences in leukocyte count, CK, and TBIL are related to the method of capture, while differences in RDW, MCHC, ALP, and γ-globulins could reflect physiological adaptations to environmental conditions, sampling, or pre-analytical artifacts. Lymphocyte count was lower and neutrophil/lymphocyte ratio was significantly higher in older, reproductive females, while ALP and phosphorus were higher in juvenile wolves. For the first time, we describe hematology and serum biochemistry values of free-ranging Iberian wolves captured with leg-hold snares. The data reported here is the first published reference for wolves captured with similar methods and for monitoring Iberian wolves populations' physiological and health status.
Access options
Buy single article
Instant access to the full article PDF.
US$ 39.95
Tax calculation will be finalised during checkout.
Subscribe to journal
Immediate online access to all issues from 2019. Subscription will auto renew annually.
US$ 79
Tax calculation will be finalised during checkout.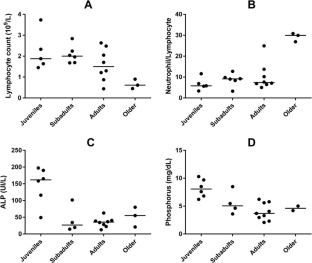 References
Álvares F, Barroso I, Blanco J, Correia J, Cortés Y, Costa G, Llaneza L, Moreira L, Nascimento J, Palacios V, Petrucci-Fonseca F, Pimenta V, Roque S, Santos E (2005) Wolf status and conservation in the Iberian Peninsula. International Congress Frontiers of Wolf Recovery, Colorado Springs

Barger AM (2003) The complete blood cell count: a powerful diagnostic tool. Vet Clin N Am Small Anim Pract 33(6):1207–1222

Benayas J, Scheiner S (2002) Plant diversity, biogeography and environment in Iberia: patterns and possible causal factors. J Veg Sci 13:245–258

Boitani L (2003) Wolf conservation and recovery. In: Mech LD, Boitani L (eds) Wolves. Behavior, ecology and conservation. University of Chicago Press, Chicago, pp 317–340

Bosson C, Islam Z, Boonstra R (2012) The impact of live trapping and trap model on the stress profiles of North American red squirrels. J Zool 288:159–169

Brock P, Hall A, Goodman S, Cruz M, Acevedo-Whitehouse K (2013) Applying the tools of ecological immunology to conservation: a test case in the Galapagos sea lion. Anim Conserv 16:19–31

Butler M, Warren J, Ballard B, Whitlaw H (2006) Physical characteristics, hematology, and serum chemistry of free-ranging gray wolves, Canis lupus, Southcentral Alaska. Can Field Nat 120(2):205–212

Cattet MR, Christison K, Caulkett NA, Stenhouse GB (2003) Physiologic responses of grizzly bears to different methods of capture. J Wildl Dis 39(3):649–654

Chavez A, Gese E (2006) Landscape use and movements of wolves in relation to livestock in a wildland–agriculture matrix. USDA National Wildlife Research Center - Staff Publications, Paper 413

Constable P, Hinchcliff K, Demma N, Callahan M, Dale B, Fox K, Adams L, Wack R, Kramer L (1998) Serum biochemistry of captive and free-ranging wolves (Canis lupus). J Zoo Wildl Med 29:435–440

Creel S (2005) Dominance, aggression, and glucocorticoid levels in social carnivores. J Mammal 86(2):255–264

DelGiudice G, Mech D, Seal U (1991) Gray wolf density and its association with weights and hematology of pups from 1970 to 1988. J Wildl Dis 27(4):630–636

Drag M (1995) Serum chemistry values for captive Mexican wolves. In: Carbyn LN, Fritts SH, Seip DR (eds) Ecology and conservation of wolves in a changing world. Canadian Circumpolar Institute, University of Alberta, Edmonton, pp 447–451

Ferreira ICBB (2010) Rastreio sorológico de alguns agentes de zoonoses em canídeos silvestres no Norte de Portugal. MSc dissertation, Faculty of Veterinary Medicine, University of Lisbon (In Portuguese)

Frame P, Meier T (2007) Field-assessed injury to wolves captured in rubber-padded traps. J Wildl Manag 71(6):2074–2076

Geffré A, Friedrichs K, Harr K, Concordet D, Trumel C, Braun J (2009) Reference values: a review. Vet Clin Pathol 38(3):288–298

Geffré A, Concordet D, Braun J, Trumel C (2011) Reference value advisor: a new freeware set of macroinstructions to calculate reference intervals with Microsoft Excel. Vet Clin Pathol 40(1):107–112

Gipson P, Ballard W, Nowak R, Mech D (2000) Accuracy and precision of estimating age of gray wolves by tooth wear. J Wildl Manag 64(3):752–758

Harrus S, Waner T, Avidar Y, Bogin E, Peh HC, Bark H (1996) Serum protein alterations in canine ehrlichiosis. Vet Parasitol 66(3):241–249

Henny J (2009) The IFCC recommendations for determining reference intervals: strengths and limitations. J Lab Med 33(2):45–51

Horn PS, Pesce AJ, Copeland B (1998) A robust approach to reference interval estimation and evaluation. Clin Chem 44(3):622–631

INE (2011) Censos 2011. Instituto Nacional de Estatística. http://censos.ine.pt/xportal/xmain?xpid=CENSOS&xpgid=censos2011_apresentacao. Accessed 12 June 2014

Katz VL, Lentz G, Lobo RA, Gershenson D (2012) Small animal clinical diagnosis by laboratory methods (fifth edition). Elsevier, Saint Louis

Kreeger T (2003) The internal wolf: physiology, pathology and pharmacology. In: Mech D, Boitani L (eds) Wolves: behavior, ecology and conservation. The University of Chicago Press, Chicago, pp 192–217

Kreeger TJ, White P, Seal US, Tester JR (1990) Pathological responses of red foxes (Vulpes vulpes) to foothold traps. J Wildl Manag 54(1):147–160

Lawrence J, Chang Y-MR, Szladovits B, Davison LJ, Garden OA (2013) Breed-specific hematological phenotypes in the dog: a natural resource for the genetic dissection of hematological parameters in a mammalian species. PLoS ONE 8(11):e81288. doi:10.1371/journal.pone.0081288

Lippi G, Salvagno G, Montagnana M, Brocco G, Guidi G (2006) Influence of hemolysis on routine clinical chemistry testing. Clin Chem Lab Med 44(3):311–316

Llaneza L, López-Bao JV, Sazatornil V (2012) Insights into wolf presence in human-dominated landscapes: the relative role of food availability, humans and landscape attributes. Divers Distrib 18:459–469

López-Bao JV, Sazatornil V, Llaneza L, Rodríguez A (2013) Indirect effects on heathland conservation and wolf persistence of contradictory policies that threaten traditional free-ranging horse husbandry. Conserv Lett 6:448–455

López-Olvera J, Marco I, Montané J, Lavín S (2006) Haematological and serum biochemical values of Southern chamois (Rupicapra pyrenaica). Vet Rec 158:479–484

Lovari S, Sforzi A, Scala C, Fico R (2006) Mortality parameters of the wolf in Italy: does the wolf keep himself from the door? J Zool 272(2):117–124

Marks C (2010) Haematological and biochemical responses of red foxes (Vulpes vulpes) to different capture methods and shooting. Anim Welf 19:223–234

Mech LD, Meier TJ, Seal US (1993) Wolf nipple measurements as indices of age and breeding status. Am Midl Nat 266–271

Naves J, Wiegand T, Revilla E, Delibes M (2003) Endangered species constrained by natural and human factors: the case of brown bears in northern Spain. Conserv Biol 17(5):1276–1289

Rovirosa-Hernández MJ, García-Orduña F, Caba M, Canales-Espinosa D, Hermida-Lagunes J, Torres-Pelayo VR (2011) Blood parameters are little affected by time of sampling after the application of ketamine in black howler monkeys (Alouatta pigra). J Med Primatol 40:294–299

Seal US, Mech LD (1983) Blood indicators of seasonal metabolic patterns in captive adult gray wolves. J Wildl Manag 704–715

Seal US, Mech LD, Van Ballenberghe V (1975) Blood analyses of wolf pups and their ecological and metabolic interpretation. J Mammal 64–75

Thorensen S, Arnemo J, Liberg O (2009) Hematology and serum clinical chemistry reference intervals for free-ranging Scandinavian gray wolves (Canis lupus). Vet Clin Pathol 38(2):224–229

Tryland M (2006) "Normal" serum chemistry values in wild animals. Vet Rec 158:211–212

Van Ballenberghe V (1984) Injuries to wolves sustained during live-capture. J Wildl Manag 48(4):1425–1429
Acknowledgments
We thank Nuria Fandos and Carla Ferreira, rangers from Xunta de Galicia and Parque Nacional de los Picos de Europa, and volunteers who helped during the trapping sessions. The wolves were captured under projects financed by Associação de Conservação do Habitat do Lobo Ibérico (ACHLI) in Portugal and by Picos de Europa National Park, Ministerio de Agricultura, Alimentación y Medio Ambiente, and Xunta de Galicia in Spain. Sara Roque benefited from grant SFRH/BD/12291/2003 from Fundação para a Ciência e a Tecnologia. José V. López-Bao was supported by a postdoctoral contract from the Spanish Ministry of Economy and Competitiveness. This is the paper no. 5 from the Iberian Wolf Research Team.
Ethical declaration
All work was conducted in full compliance of the national laws and ethical standards.
Additional information
Communicated by C. Gortázar
About this article
Cite this article
Santos, N., Maior, H.R., Nakamura, M. et al. Hematology and serum biochemistry values of free-ranging Iberian wolves (Canis lupus) trapped by leg-hold snares. Eur J Wildl Res 61, 135–141 (2015). https://doi.org/10.1007/s10344-014-0883-3
Received:

Revised:

Accepted:

Published:

Issue Date:
Keywords
Iberian wolf

Hematology

Serum biochemistry

Reference intervals

Leg-hold snares