Abstract
Livestock depredation by leopards is one of the key conservation issues in landscapes with limited resources worldwide. Any attempts to mitigate human–leopard conflict and conserve the species in conflict should be based on an unequivocal understanding of the conflict patterns. A household survey was conducted with an intention to quantify livestock losses resulting from depredation by leopards in and around the Machiara National Park, Azad Jammu and Kashmir, Pakistan. A total of 301 livestock were killed between June 2007 and August 2008 by leopards. The extent of loss varied in different months, with maximum killing occurring in the month of May. Small-bodied livestock such as goats and sheep were more vulnerable than large-bodied cattle. Goats were killed in significantly higher numbers as compared to other livestock. Domestic animals were killed more frequently at night as compared to other times of the day. There was a significant effect of the nighttime protection measures on depredation. Most attacks happened in valleys and in areas far from the forests. Factors most closely associated with livestock depredation included decline of natural prey, herding practices, guarding especially during the nighttime, and repeated use of pastures where predators were known to be hunting actively. Attitudes of the local community towards leopards were largely negative, and further efforts should be made to improve support for carnivore conservation. We suggest widespread local community education and proactive human–leopard conflict management, particularly through adopting carnivore-friendly livestock protection measures.
Access options
Buy single article
Instant access to the full article PDF.
US$ 39.95
Tax calculation will be finalised during checkout.
Subscribe to journal
Immediate online access to all issues from 2019. Subscription will auto renew annually.
US$ 79
Tax calculation will be finalised during checkout.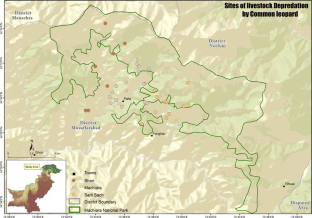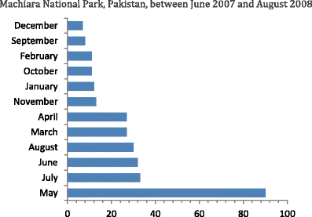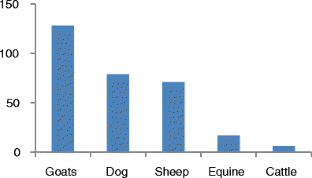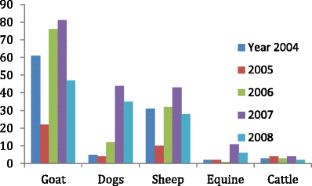 References
Ahmed RA, Prusty K, Jena J, Dave C, Sunit KRD, Hemanta KS, Rout SD (2012) Prevailing human carnivore conflict in Kanha–Achanakmar corridor, Central India. World J Zoo 7(2):158–164

Athreya VR, Belsare AV (2007) Human–leopard conflict management guidelines. Kaati Trust, Pune

Ayaz M (2005) Management plan of Machiara National Park. Protected Areas Management Project, Department of Wildlife Fisheries, Azad Jammu and Kashmir, p 138

Bibi SS, Minhas RA, Awan MS, Ali U, Dar NI (2013) Study of ethno-carnivore relationship in Dhirkot, Azad Jammu and Kashmir. PJAPS 23(3):854–859

Bouton SN, Frederick PC (2003) Stakeholders' perceptions of a wading bird colony as a community resource in the Brazilian Pantanal. Cons Biol 17:297–306

Cardillo M, Purvis A, Sechrest W, Gittleman JL, Bielby Mace GM (2004) Human population density and extinction risk in the world's carnivores. PLOS Biol 2(7):0909–0913

Conforti VA, Azevedo CCD (2003) Local perceptions of jaguars (Panthera onca) and pumas (Puma concolor) in the Iguacu National Park area, South Brazil. Biol Conserv 111:215–221

Distefano E (2005) Human–wildlife conflict worldwide: a collection of case studies, analysis of management strategies and good practices. FAO, Rome, p 34

Dar NI, Minhas RA, Zaman Q, Linkie M (2009) Predicting the patterns, perceptions and causes of human–carnivore conflict in and around Machiara National Park, Pakistan. Biol Cons 10:2076–2082

Graham K, Beckerman AP, Thirgood S (2005) Human–predator–prey conflicts: ecological correlates, prey loss and patterns of management. Biol Conser 122:159–171

Hayward MW, Henschel P, O'Brien J, Hofmeyr M, Balme G, Kerley GIH (2006) Prey preferences of the leopard (Panthera pardus). J Zool 270:298–313

Inskip C, Zimmermann A (2009) Human–felid conflict: a review of patterns and priorities worldwide. Oryx 43(1):18–34

Linnell JDC, Swenson JE, Andersen R (2001) Predators and people: conservation of large carnivores is possible at high human densities if management policy is favorable. Anim Conserv 4:345–349

Macdonald DW, Sillero-Zubiri C (2002) Large carnivores and conflict: lion conservation in context. Wildlife Conservation Research Unit, Oxford University, pp 1–8

Mishra C (2001) High altitude survival: conflicts between pastoralism and wildlife in the trans-Himalaya. Ph.D. thesis, Wageningen University

Mishra C, Allen P, McCarthy T, Madhusudhan MD, Bayarjagal A, Prins HTT (2003) The role of incentive programs in conserving the snow leopard. Conser Bio 17:1512–1520

Myers N, Mittermeier RA, Mittermeier CG, Fonseca GAB, Kent J (2000) Biodiversity hotspots for conservation priorities. Nature 403:853–858

Nabi DG, Tak SR, Kanqoo KA, Halwai MA (2009) Injuries from leopard attacks in Kashmir. J Injury 40(1):90–92

Nowell K, Jackson P (1996) Wild cats: status survey and conservation action plan. IUCN, Gland

Patterson BD, Kasiki SM, Selempo E, Kays RW (2004) Livestock predation by lions (Panthera leo) and other carnivores on ranches neighboring Tsavo National Parks. Kenya Biol Cons 119:507–516

Qamar QZ, Dar NI, Ali U, Minhas RA, Ayub J, Anwar M (2010) Human–leopard conflict: an emerging issue of common leopard conservation in Machiara National Park, Azad Jammu and Kashmir, Pakistan. Pakistan J Wildlife 1(2):50–56

Rahalkar K (2008) Attitudes of local people to conflict with leopards (Panthera pardus) in an agricultural landscape in Maharashtra. Thesis, Manipal University, India, p 41

Roberts TJ (1997) The mammals of Pakistan. Benn, London, pp 217–221

Sangay K, Vernes K (2008) Human–wildlife conflict in the Kingdom of Bhutan: patterns of livestock predation by large mammalian carnivores. Biol Conserv 141:1272–1282

Schiess-Meier M, Ramsauer S, Gabanapelo T, KoNig (2007) Livestock predation insights from problem animal control registers in Botswana. Journal of Wildlife Manag 71:1267–1274

Sheikh KM, Molur S (2004) Status and red list of Pakistan's mammals based on the Pakistan Mammal Conservation Assessment and Management Plan Workshop. IUCN Pakistan, Islamabad, p 312

Termizi SH, Rafique CM (2001) Forestry statistics of Azad Kashmir. Forest Department, Azad Jammu and Kashmir, Muzaffarabad

Treves A, Karanth KU (2003) Human–carnivore conflict and perspectives on carnivore management worldwide. Cons Biol 17:1491–1499

Wang SW, Macdonald DW (2006) Livestock predation by carnivores in Jigma Singye Wangchuck National Park, Bhutan. Biol Cons 129:558–565

White CA, Feller MC, Bayley S (2003) Predation risk and the functional response of elk–aspen herbivory. For Ecol Manag 181:77–97

Woodroffe R, Frank LG, Lindsey PA, Oleranah SMK, RomanAch S (2007) Livestock husbandry as a tool for carnivore conservation in Africa's community rangelands: a case control study. Biodivers Conserv 16:1245–1260
Acknowledgments
The AJ&K wildlife & Fisheries department has always been supportive of my work and I would like to thank all the officers and staff of Machiara National Park. We are also thankful to, Dr. Kouhstobh Sharma, Dr. Richard Bischof and Matthias Waltert for provision of the early drafts of the manuscript and Doost Ali Nawaz (SLF) for developing map.
Additional information
Communicated by C. Gortázar
About this article
Cite this article
Kabir, M., Ghoddousi, A., Awan, M.S. et al. Assessment of human–leopard conflict in Machiara National Park, Azad Jammu and Kashmir, Pakistan. Eur J Wildl Res 60, 291–296 (2014). https://doi.org/10.1007/s10344-013-0782-z
Received:

Revised:

Accepted:

Published:

Issue Date:
Keywords
Leopard

Panthera pardus

Livestock depredation

Conflict

Himalayan ecosystem

Machiara National Park

Pakistan