Abstract
Making use of an extensive network of volunteer birdwatchers, this study illustrates how a large-scale monitoring scheme originally designed for common breeding birds can be adapted to also provide robust monitoring data for medium- to large-sized, easily detectable terrestrial mammals. Compared with bird monitoring, the monitoring of common and widespread terrestrial mammals is rarely carried out using a well-designed sampling design and is largely restricted to sites selected by the observer or biased towards particular habitats of interest, making it difficult to know whether trends are representative of the populations of interest. In response to the scarcity of reliable mammal monitoring data in the UK, the principal national bird monitoring scheme, the Breeding Bird Survey (BBS), was expanded to collect information on mammals. The focus was on larger, easily detectable species, although observers have the opportunity to record any mammal species. Here, we present population trends at national and regional scales for nine species of common mammal over the first 18 years of BBS mammal monitoring and examine these in relation to our current knowledge on these species. We further discuss the potential of these data for addressing important questions of conservation and management concern which may be difficult to explore with existing data.
This is a preview of subscription content,
to check access.
Access this article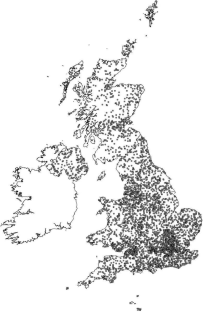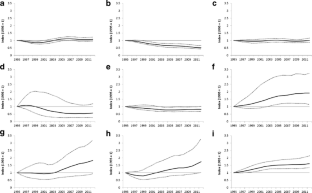 References
Aebischer NJ, Baker SE, Johnson PJ, Macdonald DW, Reynolds JC (2003) Hunting and fox numbers in the United Kingdom. Nature 423:400

Baker PJ, Harris S, Webbon CC (2002) Ecology: effect of British hunting ban on fox numbers. Nature 419:34

Baker SE, Macdonald DW (2000) Foxes and foxhunting on farms in Wiltshire: a case study. J Rural Stud 16:185–201

Battersby J (2005) UK mammals: species status and population trends. JNCC/Tracking Mammals Partnership, Peterborough

Bell DJ, Webb NJ (1991) Effects of climate on reproduction in the European wild rabbit (Oryctolugus cuniculus). J Zool 224:639–648

Bibby C, Burgess N, Hill D, Mustoe S (2000) Bird census techniques, 2nd edn. Academic, London, UK

ter Braak C, Van Strien A, Meijer R, Verstrael T (1994) Analysis of monitoring data with many missing values: which method? Bird Numbers 1992. Proceedings of the 12th International Conference of IBCC and EOAC Noordwijkerhout, The Netherlands., Statistics Netherlands, Voorburg/Heerlen & SOVON, Beek-Ubbergen

Bryce J (1997) Changes in the distributions of red and grey squirrels in Scotland. Mammal Rev 27:171–176

Burns L, Edwards V, Marsh J, Soulsby L, Winter M (2000) Report of the Committee of Inquiry into Hunting with Dogs in England and Wales. Stationery Office, London, UK

Collar N, Crosby M, Stattersfield A (1994) Birds to watch 2: the world list of threatened birds. BirdLife International, Cambridge, UK

Côté SD, Rooney TP, Tremblay J-P, Dussault C, Waller DM (2004) Ecological impacts of deer overabundance. Annu Rev Ecol Evol Syst 35:113–147

Davey P, Aebischer N, Reynolds JC (2010) Participation of the National Gamebag Census in the Mammal Census Network. Game and Wildlife Conservation Trust Research Report. GWCT, Fordingbridge

Davies ZG, Wilson RJ, Brereton TM, Thomas CD (2005) The re-expansion and improving status of the silver-spotted skipper butterfly (Hesperia comma) in Britain: a metapopulation success story. Biol Conserv 124:189–198

Denyer JL, Hartley SE, John EA (2010) Both bottom-up and top-down processes contribute to plant diversity maintenance in an edaphically heterogeneous ecosystem. J Ecol 98:498–508

Dolman P, Fuller R, Gill R, Hooton D, Tabor R (2010) Escalating ecological impacts of deer in lowland woodland. Br Wildlife 21:242–254

Fewster RM, Buckland ST, Siriwardena GM, Baillie SR, Wilson JD (2000) Analysis of population trends for farmland birds using generalized additive models. Ecology 81:1970–1984

Fuller RJ, Gill RMA (2001) Ecological impacts of increasing numbers of deer in British woodland. Forestry 74:193–199

Gill R (1992) A review of damage by mammals in north temperate forests. 2. Small mammals. Forestry 65:281–308

Gill JA, Norris K, Sutherland WJ (2001) The effects of disturbance on habitat use by black-tailed godwits Limosa limosa. J Appl Ecol 38:846–856

Gurnell J (1996) The effects of food availability and winter weather on the dynamics of a grey squirrel population in southern England. J Appl Ecol 33:325–338

Gurnell J, Clark MJ, Lurz PWW, Shirley MDF, Rushton SP (2002) Conserving red squirrels (Sciurus vulgaris): mapping and forecasting habitat suitability using a geographic information systems approach. Biol Conserv 105:53–64

Gurnell J, Wauters LA, Lurz PWW, Tosi G (2004) Alien species and interspecific competition: effects of introduced eastern grey squirrels on red squirrel population dynamics. J Anim Ecol 73:26–35

Harris S, Morris P, Wray S, Yalden D (1995) A review of British mammals: population estimates and conservation status of British mammals other than cetaceans. Joint Nature Conservation Committee, Peterborough

Hutchings MR, Harris S (1996) The current status of the brown hare (Lepus europeaus) in Britain. JNCC, Peterborough

Joys A, Noble DG, Baillie SR (2003) Evaluation of species coverage and precision using the BBS indexing method. BTO Research Report No. 317, British Trust for Ornithology, Thetford

Kenward RE, Hodder KH, Rose RJ, Walls CA, Parish T, Holm JL, Morris PA, Walls SS, Doyle FI (1998) Comparative demography of red squirrels (Sciurus vulgaris) and grey squirrels (Sciurus carolinensis) in deciduous and conifer woodland. J Zool 244:7–21

Leader-Williams N, Oldfield TEE, Smith RJ, Walpole MJ (2002) Science, conservation and fox-hunting. Nature 419:878

Macdonald D, Burnham D (2010) The state of Britain's mammals: a focus on invasive species. Mammals Trust UK and WildCRU. UK, London

Macdonald DW, Tattersall F (2001) Britain's mammals: the challenge for conservation. People's Trust for Endangered Species, London

Macdonald DW, Tattersall F (2003) The State of Britain's mammals 2003. Mammals Trust UK and WildCRU, London

McCullagh P, Nelder J (1989) Generalized linear models. Chapman & Hall, London

Newey S, Willebrand T, Haydon DT, Dahl F, Aebischer NJ, Smith AA, Thirgood SJ (2007) Do mountain hare populations cycle? Oikos 116:1547–1557

Newson SE, Johnston A, Renwick AR, Baillie SR, Fuller RJ (2012) Modelling large-scale relationships between changes in woodland deer and bird populations. J Appl Ecol 49:278–286

Newson SE, Leech DI, Hewson CM, Crick HQP, Grice PV (2010) Potential impact of grey squirrels Sciurus carolinensis on woodland bird populations in England. J Ornithol 151:211–218

Newson SE, Ockendon N, Joys A, Noble DG, Baillie SR (2009) Comparison of habitat-specific trends in the abundance of breeding birds in the UK. Bird Study 56:233–243

Noble DG, Aebischer NJ, Newson SE, Ewald JA, Dadam D (2012) A comparison of trends and geographical variation in mammal abundance in the Breeding Bird Survey and the National Gamebag Census. JNCC Report, No. 468, JNCC, Peterborough

Nyenhuis H (1999) Distribution and density of the brown hare (Lepus europaeus P.) tested after the influence of land use in North West-Germany. Allg Forst und Jagdzeitung 170:28–33

Olofsson J, de Mazancourt C, Crawley MJ (2008) Spatial heterogeneity and plant species richness at different spatial scales under rabbit grazing. Oecologia 156:825–834

Pakeman RJ, Hulme PD, Torvell L, Fisher JM (2003) Rehabilitation of degraded dry heather [Calluna vulgaris (L.) Hull] moorland by controlled sheep grazing. Biol Conserv 114:389–400

Pepin D (1987) Dynamics of a heavily exploited population of brown hare in a large scale farming area. J Appl Ecol 24:725–734

Poole DW, Cowan DP, Smith GC (2003) Developing a census method based on sight counts to estimate rabbit (Oryctolagus cuniculus) numbers. Wildl Res 30:487–493

Reichlin T, Klansek E, Hacklander K (2006) Diet selection by hares (Lepus europaeus) in arable land and its implications for habitat management. Eur J Wildl Res 52:109–118

Reynolds JC, O'Mahony D, Aebischer NJ (2006) Implications of `cyclical' population dynamics for the conservation of Irish hares (Lepus timidus hibernicus). J Zool 270:408–413

Risely K, Massimino D, Johnston A, Newson SE, Eaton MA, Musgrove AJ, Noble DG, Procter D, Baillie SR (2012) The Breeding Bird Survey 2011. BTO Research Report 624. British Trust for Ornithology, Thetford, UK

SAS Institute (2008) SAS/STAT user's guide, version 9.2. North Carolina, Cary

Sim IMW, Cross AV, Lamacraft DL, Pain DJ (2001) Correlates of common buzzard Buteo buteo density and breeding success in the West Midlands. Bird Study 48:317–329

Smith RK, Jennings NV, Robinson A, Harris S (2004) Conservation of European hares Lepus europaeus in Britain: is increasing habitat heterogeneity in farmland the answer? J Appl Ecol 41:1092–1102

Sutherland W (2006) Ecological census techniques: a handbook, 2nd edn. Cambridge University Press, Cambridge, UK

Sutherland W, Newton I, Green R (2004) Bird ecology and conservation: a handbook of techniques (techniques in ecology and conservation). Oxford University Press, London, UK

Tapper S, Parsons N (1984) The changing status of the Brown Hare (Lepus capensis L.) in Britain. Mammal Rev 14:57–70

Tapper S, Barnes R (1986) Influence of farmland practice on the ecology of the brown hare (Lepus europaeus). J Appl Ecol 23:39–52

Tapper S (1996) Distribution and level of take of native mountain hares Lepus timidus. JNCC, Peterborough

Tapper S (1999) A question of balance: game animals and their role in the British countryside. Game Conservancy Trust, Fordingbridge, UK

Temple RK, Clark SAJ, Harris S (2000) Changes in the British hare population between 1993 and 1999. People's Trust for Endangered Species, London

Tompkins DM, White AR, Boots M (2003) Ecological replacement of native red squirrels by invasive greys driven by disease. Ecol Lett 6:189–196

Wäber K, Spencer J, Dolman PM (2013) Achieving landscape-scale deer management for biodiversity conservation: the need to consider sources and sinks. J Wildl Manag 77:726–736

Ward AI (2005) Expanding range of wild and feral deer in Great Britain. Mammal Rev 35:165–173

White PCL, Newton-Cross GA, Moberly RL, Smart JCR, Baker PJ, Harris S (2003) The current and future management of wild mammals hunted with dogs in England and Wales. J Environ Manag 67:187–197

White PJ, Norman RA, Trout RC, Gould EA, Hudson PJ (2001) The emergence of rabbit haemorrhagic disease virus: will a non-pathogenic strain protect the UK? Philos Trans R Soc B-Biol Sci 356:1087–1095
Acknowledgments
We are grateful to the BTO members and volunteers who have contributed to the BBS. The BBS is a Partnership between the BTO, JNCC (on behalf of NRW, NE, CNCC and SNH) and RSPB. We thank Derek Yalden for commenting on an earlier draft, and Kate Risely, the BBS National Organiser, who is responsible for the day-to-day running of the BBS.
Additional information
Communicated by C. Gortázar
About this article
Cite this article
Wright, L.J., Newson, S.E. & Noble, D.G. The value of a random sampling design for annual monitoring of national populations of larger British terrestrial mammals. Eur J Wildl Res 60, 213–221 (2014). https://doi.org/10.1007/s10344-013-0768-x
Received:

Revised:

Accepted:

Published:

Issue Date:

DOI: https://doi.org/10.1007/s10344-013-0768-x
Keywords