Abstract
The European rabbit is a growing problem for agriculture in parts of its natural range. In this study, our aim was to use historical records over two periods within the last 50 years to analyze trends in the number of requests made for rabbit control in Central Spain. We gathered data on rabbit control applications made in 1967 from Rabbit and Hare Control Authorization Records (CARs) and corresponding information for 2005 from Technical Hunting Plans (THPs). THPs are currently the official mechanism to apply for rabbit control licenses in the country. We show that although only 4.2 % of municipalities requested to control rabbits in 1967, this proportion was 71 % in 2005. Given that there is no evidence of rabbit population increases in the study region, we suggest that other factors may explain the observed rise in control requests. We contend that sport hunting is the main reason for the higher numbers of control requests in 2005. Evidence for this is the fact that hunting has increased since the 1960s as a means of augmenting income for landowners, and that the most requested method for control was the shotgun. Based on these results, we recommend that in order to adequately assess the real negative impacts of rabbits on human interests in Spain there is a need to implement a more robust data-gathering mechanism when control requests are made. We suggest the development of a more detailed control application form, similar to that used in Spain in the 1960s, in which the reason(s) for a rabbit control request can be clearly described.
Access options
Buy single article
Instant access to the full article PDF.
USD 39.95
Price includes VAT (USA)
Tax calculation will be finalised during checkout.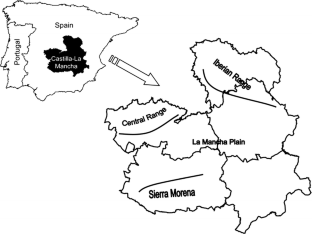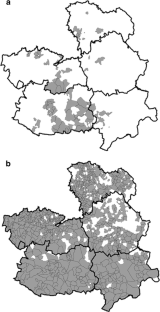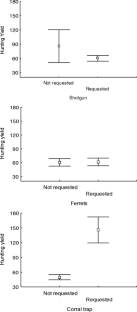 References
Angulo E, Villafuerte R (2003) Modelling hunting strategies for the conservation of wild rabbit populations. Biol Conserv 115:291–301

Barrio IC, Bueno CG, Tortosa FS (2010) Alternative food and rabbit damage in vineyards of southern Spain. Agric Ecosyst Environ 138:51–54

Barrio IC, Bueno CG, Villafuerte R, Tortosa FG (2013) Rabbits, weeds and crops: Can agricultural intensification promote wildlife conflicts in semiarid agro-ecosystems? J Arid Enviorn 90:1–4

Blanco JC, Villafuerte R (1993) Factores ecológicos que influyen sobre las poblaciones de conejos. Incidencia de la enfermedad hemorrágica. Technical report. Empresa de Transformación Agraria SA, Madrid

Brown CD, Davis HT (2006) Receiver operating characteristics curves and related decision measures: a tutorial. Chemometr Intell Lab 80:24–38

Chapman M (2003) Kangaroos and feral goats as economic resources for graziers: some views from south-west Queensland. Rangeland J 25:20–36

Cooke B (2008) Managing the European rabbit: converging interests between Australian research for rabbit control and European research for their conservation. In: Alves PC, Ferrand N, Hackländer K (eds) Lagomorph biology evolution, ecology, and conservation. Springer, Netherlands, pp 317–326

Cotilla I, Delibes-Mateos M, Ramírez E, Castro F, Cooke BD, Villafuerte R (2010) Establishing a serological surveillance protocol for rabbit hemorrhagic disease by combining mathematical models and field data: implication for rabbit conservation. Eur J Wildl Res 56:725–733

Cortés J (1962) El procedimiento administrativo en los daños de la caza. Rev Admn Pub 37:311–334

Cowan DP (1984) The use of ferrets (Mustela furo) in the study and management of European wild rabbit (Oryctolagus cuniculus). J Zool 204:570–574

Delibes-Mateos M, Redpath S, Angulo E, Ferreras P, Villafuerte R (2007) Rabbits as a keystone species in Southern Europe. Biol Conserv 137:149–156

Delibes-Mateos M, Delibes M, Ferreras P, Villafuerte R (2008) Key role of European rabbits in the conservation of the Western Mediterranean basin hotspot. Conserv Biol 22:1106–1117

Delibes-Mateos M, Ferreras P, Villafuerte R (2009a) European rabbit population trends and associated factors: a review of the situation in the Iberian Peninsula. Mamm Rev 39:124–140

Delibes-Mateos M, Farfán MA, Olivero J, Márquez AL, Vargas JM (2009b) Long-term changes in game species over a long period of transformation in the Iberian Mediterranean landscape. Environ Manage 43:1256–1268

Delibes-Mateos M, Smith AT, Slobodchikoff CN, Swenson JE (2011) The paradox of keystone species persecuted as pests: a call for the conservation of abundant small mammals in their native range. Biol Conserv 144:1335–1346

Dovers S (2000) Environmental, history and policy: Still settling Australia. Oxford University Press, South Melbourne

Elliott CCH (1989) The pest status of the quelea. In: Bruggers R, Elliott CCH (eds) Quelea quelea: Africa's bird pest. Oxford University Press, Oxford, pp 17–34

Engeman R (2004) The amount and economic cost of feral swine damage to the last remnant of a basin marsh system in Florida. J Nat Conserv 12:143–147

Farfán MA, Guerrero JC, Real R, Barbosa AM, Vargas JM (2004) Caracterización del aprovechamiento cinegético de los mamíferos en Andalucía. Galemys 16:41–59

Farfán MA, Vargas JM, Guerrero JC, Barbosa AM, Duarte J, Real R (2008) Distribution modelling of wild rabbit hunting yields in its original area (S Iberian Peninsula). Ital J Zool 75:161–172

Ferreira C (2012) European rabbit research in the Iberian Peninsula: state of the art and future perspectives. Eur J Wildl Res 58:885–895

Fielding AH, Bell JF (1997) A review of methods for the assessment of prediction errors in conservation presence/absence models. Environ Conserv 24:38–49

Flux JEC, Fullagar PJ (1992) World distribution of the rabbit Oryctolagus cuniculus on islands. Mammal Rev 22:151–205

FUNGESMA (2001) Buenas prácticas cinegéticas. Mundi-Prensa, Madrid

Gálvez MR (2004) Régimen jurídico de la actividad cinegética en España: análisis de las disposiciones autonómicas e intervención pública. Ph Dissertation, Universidad de Málaga

Gálvez-Bravo L, Belliure J, Rebollo S (2009) European rabbits as ecosystem engineers: warrens increase lizard density and diversity. Biodivers Conserv 18:869–885

García y Bellido A (1983) España y los españoles hace dos mil años, según la geografía de Strábon. Espasa-Calpe, Colección Austral

Gómez J, Mata R (2002) Repoblación forestal y territorio (1940–1971). Marco doctrinal y estudio de la Sierra de los Filabres (Almería). Ería 58:129–155

Henke SE, Demarais S (1990) Capturing jackrabbits by drive corral on grasslands in west Texas. Wildl Soc Bull 18:31–33

Kotliar NB (2000) Application of the new keystone-species concept to prairie dogs: how well does it work? Conserv Biol 14:1715–1721

López-Ontiveros A (1991) Algunos aspectos de la evolución de la caza en España. Agri Soc 58:13–52

Manel S, Williams C, Ormerod SJ (2001) Evaluating presence–absence models in ecology: the need to account for prevalence. J Appl Ecol 38:921–931

Mills S (1986) Rabbits breed a growing controversy. New Sci 1498:50–54

Monnerot M, Vigne JD, Biju-Duval C, Casane D, Callou C, Hardy C, Mougel F, Soriguer RC, Dennebouy N, Mounolou J-C (1994) Rabbit and man: genetic and historic approach. Genet Sel Evol 26:167–182

Muñoz G (1960) Anverso y reverso de la mixomatosis. Dirección General de Montes, Caza y Pesca Fluvial, Madrid

Palmer TS (1896) The jack rabbit of the United States. US Department of Agriculture, Washington DC

Powell RA, Proulx G (2003) Trapping and marking terrestrial mammals for research: integrating ethics, performance criteria, techniques, and common sense. ILAR J 44:259–276

Ríos-Saldaña CA (2010) Los planes técnicos de caza de Castilla-La Mancha y su aplicación en la gestión y conservación de las especies cinegéticas. Ph Dissertation, Universidad de Castilla-La Mancha, Ciudad Real

Saunders G, Cooke B, McColl K, Shine R, Peacock T (2010) Modern approaches for the biological control of vertebrate pests: an Australian perspective. Biol Control 52:288–295

Shepherd RCH, Williams D (1976) Use of a gill net for the capture of wild rabbits Oryctolagus cuniculus (L.). J Appl Ecol 13:57–59

Smith AT, Foggin JM (1999) The plateau pika (Ochotona curzoniae) is a keystone species for biodiversity on the Tibetan plateau. Anim Conserv 2:235–240

Swetnam TW, Allen CD, Betancourt JL (1999) Applied historical ecology: using the past to manage for the future. Ecol Appl 9:1189–1206

Swets JA (1988) Measuring the accuracy of diagnostic systems. Science 240:1285–1293

Thompson HV, King CM (1994) The European rabbit: The history and biology of a successful colonizer. Oxford University Press, Oxford

Vargas JM, Farfán MA, Guerrero JC (2006) Comarcalización cinegética a escala regional: la experiencia piloto de Andalucía (Sur de España). Ecología 20:415–434

Villafuerte R, Delibes-Mateos M (2008) Oryctolagus cuniculus (Linnaeus, 1758). In: Palomo JJ (ed) Atlas y Libro Rojo de mamíferos terrestres de España. Dirección General para la Biodiversidad-SECEM, Madrid, pp 487–491

Villafuerte R, Viñuela J, Blanco JC (1998) Extensive predator persecution caused by population crash in a game species: the case of red kites and rabbits in Spain. Biol Conserv 84:181–188

Zar JH (1999) Biostatistical analysis. Prentice Hall, Upper Saddle River
Acknowledgments
CAR-S was supported by a doctoral grant from the National Council on Science and Technology of Mexico (CONACyT). MD-M holds a Juan de la Cierva research contract (Ministerio de Ciencia e Innovación; European Social Fund). Funding was provided by projects PREG-05-22, CGL2009-11665/BOS, PEII 09-0097-4363, and POII09-0099-2557; all attract EUFEDER funds. We particularly thank Jesús Cañadilla for field assistance during CAR analysis, and John E. Fa and two anonymous reviewers for their helpful comments on the manuscript.
Additional information
Communicated by C. Gortazar
About this article
Cite this article
Ríos-Saldaña, C.A., Delibes-Mateos, M., Castro, F. et al. Control of the European rabbit in central Spain. Eur J Wildl Res 59, 573–580 (2013). https://doi.org/10.1007/s10344-013-0707-x
Received:

Revised:

Accepted:

Published:

Issue Date:
Keywords
Wildlife conflict

Keystone species

Crop damage

Oryctolagus cuniculus

Hunting