Abstract
An experimental release of the European mink (Mustela lutreola) was carried out in the Salburua wetland in North Spain between 2008 and 2010. A partial removal of feral American mink (Neovison vison) was done preceding the release. The survival and the cause of death of each of 27 captive-bred minks were studied during five months after release. Only 22 % of the minks (N = 6) survived during whole radio-tracking period. Predation was the most significant cause of mortality (76 %, N = 16). Seven European minks (33 % of mortality) were killed by another "mink-size" carnivore—the causes of death of these individuals were of particular interest to clarify possible impact of a few remained American mink to released European mink. We used three criteria to identify the exact causes of death of these seven minks: 1. Comparison of the distances of bite marks with the inter-canine distances of small carnivores, 2. Site descriptions and signs of predators and 3. Density of carnivores within the study area. None of the criteria taken separately allowed the complete identification of the predator species. Summing up the results of all three criteria, a male American mink was found to be the most likely predator of at least six released European minks (29 % of overall mortality and 38 % of predated minks). Our results show that the presence of American mink, even if the number is estimated to be low, may seriously limit the success of reinforcement or reintroduction of the European mink.
Access options
Buy single article
Instant access to the full article PDF.
USD 39.95
Price excludes VAT (USA)
Tax calculation will be finalised during checkout.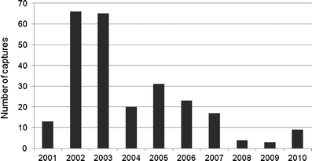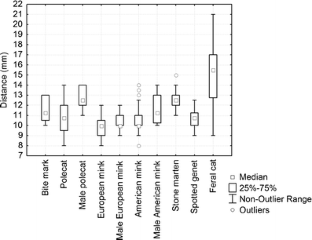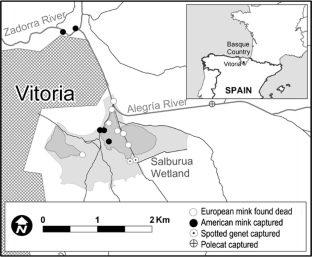 References
Alley MR (2003) Identifying predators—a role for veterinary pathologists. N Z J Ecol 51(1):45–46

Armstrong DP, Seddon PJ (2008) Directions in reintroduction biology. Trends Ecol Evol 23:20–25

Ausband D, Foresman KR (2007) Dispersal, survival, and reproduction of wild-born yearling swift foxes in a reintroduced population. Can J Zool 85:185–189

Biggins DE, Miller BJ, Hanebury LR, Powell RA (2011) Mortality of Siberian polecats and black-footed ferrets released onto prairie dog colonies. J Mammal 92(4):721–731

Blandford PRS (1987) Biology of the polecat Mustela putorius: A literature review. Mammal Rev 17:155–198

Bonesi L, Rushton SP, Macdonald DW (2007) Trapping for mink control and water vole survival: Identifying key criteria using a spatially explicit individual based model. Biol Conserv 136(4):636–650

Carreras J, Luzuriaga J, Gómez A, Ceña A, Pinedo J, Lobo L, Ceña JC (2006) Substitution of the European mink (Mustela lutreola) for the American mink (Mustela vison) in the Zadorra river basin (Basque country, Spain). 301–302. In: International Conference on the Conservation of European mink (Mustela lutreola). Logroño, pp 301–302

Danilov PI, Tumanov IL (1976) The ecology of the European and American mink in the Northwest of the USSR. Ecology of birds and mammals in Northwest of the USSR. Akad Nauk Karelski filial, Inst Biol, In, pp 118–143

Griffin AS, Blumstein DT, Evans CS (2000) Training Captive-bred or translocated animals to avoid predators. Conserv Biol 14(5):1317–1326

Harrington LA, Harrington AL, Macdonald DW (2008) Distinguishing tracks of mink Mustela vison and polecat M. putorius. Eur J Wildl Res 54(2):367–371

Harrington LA, Harrington AL, Moorhouse T, Gelling M, Bonesi L, Macdonald DW (2009) American mink control on inland rivers in southern England: An experimental test of a model strategy. Biol Conserv 142:839–849

Jędrzejewska B, Jędrzejewski W (1998) Predation in vertebrate communities. The Białowieża Primeval Forest as a case study. Springer, Berlin

Jule KR, Leaver LA, Lea EGL (2008) The effects of captive experience on reintroduction survival in carnivores: A review and analysis. Biol Conserv 141:355–363

Lecis R, Ferrando A, Ruiz-Olmo J, Mañas S, Domingo-Roura X (2008) Population genetic structure and distribution of introduced American mink (Mustela vison) in Spain, based on microsatellite variation. Conserv Genet 9:1149–1161

Linnell JDC, Strand O (2000) Interference interactions, co-existence and conservation of mammalian carnivores. Divers Distrib 6:169–176

Lyver POB (2000) Identifying mammalian predators from bite marks: a tool for focusing wildlife protection. Mammal Review 30(1):31–44

Maran T (2007) Conservation biology of the European mink, Mustela lutreola (Linnaeus 1761): decline and causes of extinction. Tallinn University Dissertations on Natural Sciences, vol 15. TLÜ Kirjastus, Tallinn

Maran T, Henttonen H (1995) Why is the European mink (Mustela lutreola) disappearing? A review of the process and hypotheses. Ann Zool Fenn 32:47–54

Maran T, Macdonald DW, Kruuk H, Sidorovich V, Rozhnov VV (1998) The continuing decline of the European mink, Mustela lutreola: evidence for the intraguild aggression hypothesis. In: Dustone N, Gorman ML (eds) Behaviour and ecology of riparian mammals. Symposia of the Zoological Society of London, Cambridge University Press, pp 297–324

Maran T, Põdra M, Põlma M, Macdonald DW (2009) The survival of captive-born animals in restoration programmes—Case study of the endangered European mink Mustela lutreola. Biol Conserv 142:1685–1692

Melero Y, Santulli G, Gómez A, Gosàlbez J, Rodriguez-Refojos C, Palazón S (2012) Morphological variation of introduced species: the case of American mink (Neovison vison) in Spain. Mamm Biol 77(5):345–350

Palazón S, Ruiz-Olmo J (1997) El Visón Europeo (Mustela lutreola) y el Visón Americano (Mustela vison) en España. Colección Técnica. Ministerio de Medio Ambiente, Madrid, p 133

Palazón S, Ceña JC, Ruiz-Olmo J, Ceña A, Gosálbez J, Gómez-Gayubo A (2003) Trends in distribution of the European mink (Mustela lutreola L., 1761) in Spain: 1950–1999. Mammalia 67(4):473–484

Palomares F, Caro TM (1999) Interspecific Killing among Mammalian Carnivores. Am Nat 153(5):492–508

Ratz H, Moller H, Fletcher D (1999) Predator identification from bite marks on penguin and albatross chicks. Marine Ornithology 27:149–156

Reynolds JC, Short MJ, Leigh RJ (2004) Development of population control strategies for mink Mustela vison, using floating rafts as monitors and trap sites. Biol Conserv 120:533–543

Reynolds J, Porteus TA, Richardson SM, Leigh RJ, Short MJ (2010) Detectability of American mink using rafts to solicit field signs in a population control context. J Wildl Manag 74(7):1601–1606

Sidorovich VE (1997) Mustelids in Belarus. Evolutionary ecology, demography and interspecific relationships. Zolotoy Uley Publisher, Minsk, p 289

Sidorovich VE (1999) How to identify mustelid tracks. Small Carniv Conserv 20:22–27

Sidorovich V (2001) Study on the decline in the European mink Mustela lutreola population in connection with the American mink M. vison expansion in Belarus: story of the study, review of the results and research priorities. Säugetierkundliche Informationen 5:133–154

Sidorovich VE, Kruuk H, Macdonald DW (1999) Body size, and interactions between European and American mink (Mustela lutreola and M. vison) in Eastern Europe. J Zool 248:521–527

Sidorovich VE, Macdonald DW, Kruuk K, Krasko DA (2000) Behavioural interactions between the naturalized American mink Mustela vison and the native riparian mustelids, NE Belarus, with implications for population changes. Small Carniv Conserv 22:1–5

Sidorovich V, Polozov A (2002) Partial eradication of the American mink Mustela vison as a way to maintain the declining population of the European mink Mustela lutreola in a continental area. A case study in the Lovat River head, NE Belarus. Small Carniv Conserv 26:12–15

Sidorovich VE, Polozov GP, Zalewski A (2010) Food niche variation of European and American mink during the American mink invasion in north-eastern Belarus. Biol Invasions 12:2207–2217

Steffens KE, Sanders MD, Gleeson DM, Pullen KM, Stowe CJ (2012) Identification of predators at black-fronted tern Chlidonias albostriatus nests, using mtDNA analysis and digital video recorders. N Z J Ecology 36(1):48–55

Vargas A, Lockhart M, Marinari P, Gober P (1998) Preparing captive-raised blackfooted ferrets Mustela nigripes for survival after release. Dodo J Wildlife Preserv Trusts 34:76–83

Williams CL, Blejwas K, Johnston JJ, Jaegar MM (2003) A coyote in sheep's clothing: predator identification from saliva. Wildl Soc Bull 31:926–932

Youngman PM (1982) Distribution and systematics of the European mink Mustela lutreola Linnaeus 1761. Acta Zool Fenn 166:1–48

Zabala J, Zuberogoitia I, González-Oreja JA (2010) Estimating costs and outcomes of invasive American mink (Neovison vison) management in continental areas: a framework for evidence based control and eradication. Biol Invasions 12(9):2999–3012

Zidon R, Saltz D, Shore L, Motro U (2009) Behavioral Changes, Stress, and Survival Following Reintroduction of Persian Fallow Deer from Two Breeding Facilities. Conserv Biol 23:1026–1035

Zuberogoitia I, González-Oreja JA, Zabala J, Rodríguez-Refojos C (2010) Assesing the control/eradication of an invasive species, the American mink, based on field data; how much would it cost? Biodivers Conserv 19(5):1455–1469
Acknowledgements
The release operation in the Salburua wetland was supported by the Biodiversity Foundation, Environmental Ministry, TRAGSA, Alava Regional Government and the Municipal Government of Vitoria-Gasteiz and the European Mink Association. We are grateful for all the kind help by Luis Mariano González, Mirenka Ferrer, Gema Marti, Joseba Carreras, Patricia Lizarraga, Luis Lobo, Victoria Asensio, Cesar Aguilar, Oskar Berdión, and the guards of Alava and Salburua park. Rebeca Pérez, Haizea Agirre, Javier Lopez-Luzuriaga and Mikel Arenas, who were heavily involved in field work, along with the collaboration of Albert Roura, Sonia Oreca, Leticia Gómez, Javier Llorente, Pablo Sanz and Bienvenido Lorenzo. We also want to thank Tiit Maran, Jorge González-Esteban, Sisco Mañas, Bob Shelton and two anonymous reviewers for their helpful comments.
Additional information
Communicated by C. Gortázar
About this article
Cite this article
Põdra, M., Gómez, A. & Palazón, S. Do American mink kill European mink? Cautionary message for future recovery efforts. Eur J Wildl Res 59, 431–440 (2013). https://doi.org/10.1007/s10344-013-0689-8
Received:

Revised:

Accepted:

Published:

Issue Date:

DOI: https://doi.org/10.1007/s10344-013-0689-8
Keywords