Abstract
Global economic and population growth increase the extent and intensity of artificial night lighting. From an ecological perspective, this is light pollution, which causes changes in reproductive physiology, migration and foraging of many species and ultimately leads to loss of biodiversity. Some seabirds are intimately linked with the light features of their environments because they are nocturnally active. We report light-induced groundings of Cory's shearwater (Calonectris diomedea) during a 2-year study (2008 and 2009) in São Miguel Island, in the Azores archipelago, and investigate the spatial correlation of locations of grounded birds with an annual composite of remotely sensed stable lights. Results indicate that 16.7% of fledglings are attracted to lights. The exposure of shearwater colonies in the study area to artificial night lighting is low overall. Four colonies account for 87% of the grounded birds. The distance each bird was found from the closest colony was best explained by the ratio of the satellite-measured light levels at the grounding spot to the light levels at the assigned colony of origin. These results demonstrate that satellite-observed nighttime lights are sufficient to assess risk to marine birds at the scale of oceanic islands and indicate their utility for monitoring the effectiveness of programs to manage lighting to reduce risk for these species and conducting global assessments of species vulnerability. To minimize the impact on Cory's shearwater and other marine birds, we recommend measures such as reduction and control of lighting intensity near colony locations, while continuing and re-enforcing rescue campaigns.
Access options
Buy single article
Instant access to the full article PDF.
US$ 39.95
Tax calculation will be finalised during checkout.
Subscribe to journal
Immediate online access to all issues from 2019. Subscription will auto renew annually.
US$ 79
Tax calculation will be finalised during checkout.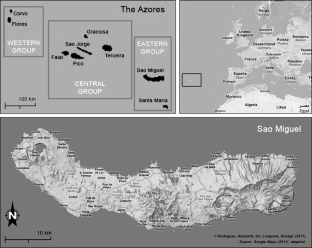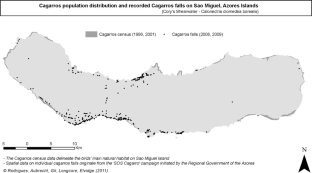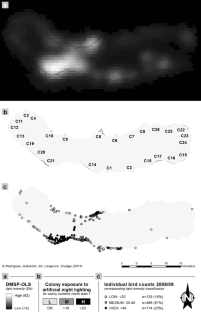 References
Ainley D, Podolsky R, Deforest L, Spencer G (1997) New insights into the status of the Hawaiian petrel on Kauai. Colon Waterbirds 20:24–30

Andrade C, Borges P, Freitas MC (2006) Historical tsunami in the Azores archipelago (Portugal). J Volcanol Geotherm Res 156:172–185

Aubrecht C, Elvidge CD, Eakin CM, Ziskin D, Baugh KE (2009) Coral reef risk assessment using DMSP nighttime lights—Temporal trends and global perspectives. Sustaining the millennium development goals, 33rd International Symposium on Remote Sensing of Environment.,May 2009, Stresa, Lago Maggiore, Italy

Baddiley CJ (2007) Towards understanding skyglow. A contribution to the discussion. United Kingdom Institution of Lighting Engineers, London

BirdLife International (2000) Threatened birds of the world. Lynx Edicions & BirdLife International, Barcelona

Bolton M (2001) Censo de Cagarro Calonectris diomedea no Arquipélago dos Açores. Department of Oceanography and Fisheries, University of Azores

Cramp S (1977) Handbook of the birds of Europe, the Middle East and North Africa, vol 1, ostrich to ducks. Oxford: Oxford University Press, Oxford, UK

Elvidge CD, Baugh KE, Kihn EA, Kroehl HW, Davis ER (1997) Mapping city lights with nighttime data from the DMSP Operational Linescan System. Photogramm Eng Remote Sens 63(6):727–734

Elvidge CD, Baugh KE, Dietz JB, Bland T, Sutton PC, Kroehl HW (1999) Radiance calibration of DMSP-OLS low-light imaging data of human settlements. Remote Sens Environ 68(1):77–88

Elvidge CD, Imhoff ML, Baugh KE, Hobson VR, Nelson I, Safran J, Dietz JB, Tuttle BT (2001) Night-time lights of the world: 1994–1995. ISPRS J Photogramm 56(2):L81–L99

Farner DS (1964) The photoperiodic control of reproductive cycles in birds. Am Sci 52:137–156

Feio R, Monteiro L (1998) Using rafts to count the Cory's Shearwater (Calonectris diomedea borealis) population in the Azores. Third Symposium on Fauna and Flora in the Atlantic Islands, University of the Azores, 21–25 September 1998, Ponta Delgada

Frank KD (2006) Effects of artificial night lighting on moths. In Rich C, Longcore T (eds) Ecological consequences of artificial night lighting. Island Press, pp 305–344

Granadeiro JP, Dias MP, Rebelo R, Santos CD, Catry P (2006) Numbers and population trends of Cory's Shearwater Calonectris diomedea at Selvagem Grande, Northeast Atlantic. Waterbirds 29(1):56–60

Imber MJ (1975) Behaviour of petrels in relation to the moon and artificial lights. Notornis 22:302–306

Jouanin C (1987) Notes on the nesting of Procellariiformes in Réunion. In: Diamond AW (ed) Studies of Mascarene Island birds. Cambridge University Press, pp 359–363

Jouanin C, Gill F (1967) Recherche du Pétrel de Barau Pterodroma baraui. Oiseau Rev Fr Ornithol 37:1–19

Keitt BS, Tershy BR, Croll DA (2004) Nocturnal behavior reduces predation pressure on black-vented shearwaters Puffinus opisthomelas. Mar Ornithol 32:173–178

Klomp NI, Furness RW (1992) Patterns of chick feeding in Cory's Shearwaters and the associations with ambient light. Colon Waterbirds 15:95–102

Le Corre M, Probst J-M, de Viviés Y-M, Ribes S (1996) Opération de sauvetage réussie pour les jeunes pétrels de Barau à l'envol. Courrier Nat 160:12–13

Le Corre M, de Viviés Y-M, Ribes S (1999) Les pétrels de La Réunion en danger. Oiseau Mag 54:26–27

Le Corre M, Ollivier A, Ribes S, Jouventin P (2002) Light-induced mortality of petrels: a 4-year study from Réunion Island (Indian Ocean). Biol Conserv 105:93–102

Longcore T, Rich C (2004) Ecological light pollution. Front Ecol Environ 2(4):191–198

Mallet GE, Coghlan LJ (1964) Cory's shearwater Procellaria diomedea breeding in the Azores. Ibis 106:123–125

Miles W, Money S, Luxmoore R, Furness RW (2010) Effects of artificial lights and moonlight on petrels at St Kilda. Bird Study 57(2):244–251

Monteiro LR, Ramos JA, Furness RW, del Nevo AJ (1996a) Movements, morphology, breeding, molt, diet and feeding of seabirds in the Azores. Colon Waterbirds 19(1):82–97

Monteiro LR, Ramos JA, Furness RW (1996b) Past and present status and conservation of the seabirds breeding in the Azores Archipelago. Biol Conserv 78(3):319–328

Montevecchi WA (2006) Influences of artificial light on marine birds. In: Rich C, Longcore T (eds) Ecological consequences of artificial night lighting. Island Press, Washington, DC, pp 94–113

Mougin JL, Jouanin C, Roux F (1988) Les migrations du Puffin Cendré Calonectris diomedea. L'Oiseau RFO 58:303–318

Navara KJ, Nelson RJ (2007) The dark side of light at night: physiological, epidemiological and ecological consequences. J Pineal Res 43:215–224

Oro D, De León A, Minguez E, Furness RW (2005) Estimating predation on breeding European Storm-petrels (Hydrobates pelagicus) by yellow-legged gulls (Larus michahellis). J Zool 265:421–429

Podolsky R, Ainley D, Spencer G, Deforest L, Nur N (1998) Mortality of Newell's shearwaters caused by collisions with urban structures on Kauai. Colon Waterbirds 21:20–34

Poot H, Ens BJ, de Vries H, Donners MAH, Wernand MR, Marquenie JM (2008) Green light for nocturnally migrating birds. Ecol Soc 13(2):47

Rich C, Longcore T (2006) Ecological consequences of artificial night lighting. Island Press, Washington, DC

Riou S, Hamer KC (2008) Predation risk and reproductive effort: implications of moonlight on food provisioning and chick growth in Manx shearwaters. J Anim Behav 76:1243–1748

Reed JR, Sincock JL, Hailman JP (1985) Light attraction in endangered Procellariiform birds: reduction by shielding upward radiation. Auk 102:377–383

Richdale LE (1963) Biology of the sooty shearwater Puffinus griseus. Proc Zool Soc Lond 141:1–117

Rodríguez A, Rodríguez B (2009) Attraction of petrels to artificial lights in the Canary Islands: effects of the moon phase and age class. Ibis 151:299–310

Simons TR (1984) A population model of the endangered Hawaiian dark-rumped petrel. J Wildl Manag 48:1065–1076

Salmon M (2006) Protecting sea turtles from artificial night lighting at Florida's oceanic beaches. In: Rich C, Longcore T (eds) Ecological consequences of artificial night lighting. Island Press, pp 141–168

Skira I (1991) The short-tailed shearwater: a review of its biology. Corella 15:45–52

Telfer TC, Sincock JL, Byrd GV, Reed JR (1987) Attraction of Hawaiian seabirds to lights: conservation efforts and effects of moon phase. Wildl Soc Bull 15:406–413

Van Impe J (1981) Note concernant les effectifs du puffin cendré Calonectris diomedea aux îles Açores. Alauda 49:307

Verheijen FJ (1981) Bird kills at tall lighted structures in the USA in the period 1935–1973 and kills at a Dutch lighthouse in the period 1924–1928 show similar lunar periodicity. Ardea 69:199–203

Verheijen FJ (1985) Photopollution: artificial light optic spatial control systems fail to cope with. Incidents, causations, remedies. Exp Biol 44:1–18

Zino PA, Zino F, Maul T, Biscoito JM (1987) The laying, incubation and fledging periods of Cory's shearwater Calonectris diomedea borealis on Selvagem Grande in 1984. Ibis 129:393–398
Acknowledgments
The nighttime lights data used for the presented research result from the DMSP archive run and maintained by NOAA's NGDC (Boulder, CO). The SOS Cagarro data were kindly provided by the NGO "Amigos dos Açores." The authors thank NOAA for funding work that contributed to this article. The article contents are solely the opinions of the authors and do not constitute a statement of policy, decision, or position on behalf of NOAA or the US Government.
Additional information
Communicated by C. Gortázar
About this article
Cite this article
Rodrigues, P., Aubrecht, C., Gil, A. et al. Remote sensing to map influence of light pollution on Cory's shearwater in São Miguel Island, Azores Archipelago. Eur J Wildl Res 58, 147–155 (2012). https://doi.org/10.1007/s10344-011-0555-5
Received:

Revised:

Accepted:

Published:

Issue Date:
Keywords
Light pollution

Marine birds

Remote sensing

Ground collection data

Azores Islands