Abstract
Chemical repellents are promoted as a method to reduce ungulate–vehicle collisions and ungulate browsing damages to agricultural and forestry resources. We tested the effectiveness of two odour repellents (Mota FL and Wolf Urine) on the foraging behaviour and area avoidance of free-ranging roe deer (Capreolus capreolus) and red deer (Cervus elaphus). The effects of the repellents were assessed by comparing deer visitation rates to sand arenas before and after application of repellents and visitation rates to control arenas. Neither of the tested products reduced deer visitation rates. Rapid habituation to olfactory stimuli and lack of sensitivity to predator odours may explain the ineffectiveness of the repellents to alter the behaviour of the deer. The results indicate that the tested products have no effects on roe deer and red deer behaviour and suggest that the effectiveness of the chemical area repellents as a measure to reduce deer–vehicle collision risk and browsing damages is questionable.
Access options
Buy single article
Instant access to the full article PDF.
USD 39.95
Price includes VAT (USA)
Tax calculation will be finalised during checkout.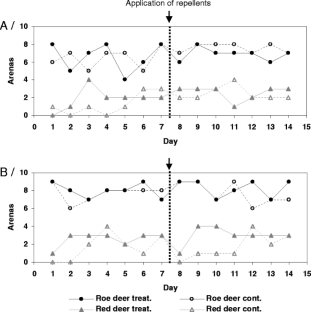 References
Andreassen HP, Gundersen H, Storaas T (2005) The effect of scent marking, forest-clearing, and supplemental feeding on moose-train collisions. J Wildl Manage 69:1125–1132

Apfelbach R, Blanchard CD, Blanchard RJ, Hayes RA, McGregor IS (2005) The effects of predator odors in mammalian prey species: a review of field and laboratory studies. Neurosci Biobehav Rev 29:1123–1144

Atwood TC, Gese EM, Kunkel KE (2008) Comparative patterns of predation by cougars and recolonizing wolves in Montana's Madison Range. J Wildl Manage 71:1098–1106

Berger J, Swensson JE, Persson I-L (2001) Recolonizing carnivores and naïve prey: conservation lessons from Pleistocene extinctions. Science 291:1036–1039

D'Angelo GJ, D'Angelo JG, Gallagher GR, Osborn DA, Miller KV, Warren RJ (2006) Evaluation of wildlife warning reflectors for altering white-tailed deer behavior along roadways. Wildl Soc Bull 34:1175–1183

Groot Bruinderink GWTA, Hazebroek E (1996) Ungulate traffic collisions in Europe. Conservat Biol 10:1059–1067

Huijser MP, Duffield JW, Clevenger AP, Ament RJ, McGowen PT (2009) Cost–benefit analyses of mitigation measures aimed at reducing collisions with large ungulates in the United States and Canada: a decision support tool. Ecol Soc 14:15 http://www.ecologyandsociety.org/vol14/iss2/art15/. Accessed 14 Jan 2010

Iuell B, Begger GJ, Cuoerus R et al (eds) (2003) Wildlife and traffic. A European handbook for identifying conflicts and designing solutions. KNNV Publishers, Utrecht

Jaeger JAG, Fahrig L (2004) Effects of road fencing on population persistence. Conservat Biol 18:1651–1657

Jayakody S, Sibbald AM, Gordon IJ, Lambin X (2008) Red deer Cervus elephus vigilance behaviour differs with habitat and type of human disturbance. Wildl Biol 141:81–91

Jensen B (1993) Nordens pattedyr. [Nordic mammals] G.E.C. GAD Forlag, Copenhagen

Kimball BA, Taylor J, Perry KR, Capelli C (2009) Deer responses to repellent stimuli. J Chem Ecol 35:1461–1470

Knapp KK, Yi X, Oakasa T, Thimm W, Hudson E, Rathmann C (2004) Deer-vehicle crash countermeasure toolbox: a decision and choice resource. Midwest Regional University Transportation Center

Lutz W (1994) Ergebnisse der Anwendung eines sogenannten Duftzaunes zur Vermeidung von Wildverlusten durch Strassenverkehr nach Gehege- und Freilandorientierungen. Z Jagdw 40:91–108

Putman RJ, Langbein J, Staines BW (2004) Deer and road traffic accidents: a review of mitigation measures: costs and cost-effectiveness. Report for the Deer Commission for Scotland

Ratikainen II, Panzacchi M, Mysterud A, Odden J, Linnell J, Andersen R (2007) Use of winter habitat by roe deer at a northern latitude where Eurasian lynx are present. J Zool Lond 273:192–199

Sarno RJ, Grigione MM, Arvidson LD (2008) Lack of response of an open-habitat ungulate to the presence of predator urine. Rev Chil Hist Nat 81:179–183

Thiel PK, Coutant AE, Olesen CR (2004) Seasonal changes and activity-dependent variation in heart rate of roe deer. J Mammal 85:245–253

Trombulak SC, Frissell CA (2000) Review of ecological effects of roads on terrestrial and aquatic communities. Conservat Biol 14:18–30

Ujvári ML, Baagøe HJ, Madsen AB (1998) Effectiveness of wildlife warning reflectors in reducing deer-vehicle collisions: a behavioral study. J Wildl Manage 62:1094–1099

Ujvári ML, Baagøe HJ, Madsen AB (2004) Effectiveness of acoustic road markings in reducing deer-vehicle collisions: a behavioural study. Wildl Biol 10:155–159

Wagner KK, Nolte DL (2001) Comparison of active ingredients and delivery systems in deer repellents. Wildl Soc Bull 29:322–330
Acknowledgements
We thank J Andersen, U Lorentzen and O Daugaard, Forest and Nature Agency, Blåvandshuk, for access to the study area. JKW was financially supported by the Danish Animal Welfare Society, Kjebi Foundation and Svales Foundation. The authors also thank the anonymous reviewers for their comments on an earlier draft of the manuscript.
Additional information
Communicated by H. Kierdorf
About this article
Cite this article
Elmeros, M., Winbladh, J.K., Andersen, P.N. et al. Effectiveness of odour repellents on red deer (Cervus elaphus) and roe deer (Capreolus capreolus): a field test. Eur J Wildl Res 57, 1223–1226 (2011). https://doi.org/10.1007/s10344-011-0517-y
Received:

Revised:

Accepted:

Published:

Issue Date:
Keywords
Cervidae

Chemical deterrents

Habituation

Browsing damage

Deer–vehicle collision