Abstract
Among the wide range of bio-conservational strategies envisaged, recent accomplishments in the field of interspecies somatic cell nuclear transfer (iSCNT) hold considerable promise due to its unique potential to decelerate or prevent rapid loss of animal genetic resources, and even to revive extinct species. Accordingly, this study was carried out to investigate if in vitro matured and enucleated oocytes of domestic sheep could be used for interspecies conservation cloning of Esfahan mouflon (Ovis orientalis isphahanica), a vulnerable species classified by the International Union for Conservation of Nature. Cryo-banked fibroblasts of a mouflon (derived from a genome resource bank) and a domestic sheep (prepared during a recent study) were cultured in vitro and used for karyotyping. Prior to SCNT, fibroblast donor cells were serum starved for 5 days. Using the zona-free SCNT technique, in vitro matured and enucleated domestic sheep oocytes were reconstituted with nuclei donor cells of mouflon and domestic sheep, and their competencies for in vitro development to the blastocyst stage were compared. The cloned mouflon blastocysts were then surgically transferred into the uterus of the synchronized domestic sheep. Karyotype analysis confirmed that fibroblasts of the Esfahan mouflon had the correct number of diploid chromosomes (2n = 54). Evaluation of 907 activated reconstructs [Esfahan mouflon (n = 667), domestic sheep (n = 240)] revealed no significant difference in the term of blastocyst development (7.6 ± 0.5% vs. 9.3 ± 0.5%, respectively). After the transfer of 12 cloned Esfahan mouflon blastocysts to five domestic sheep recipients, two (40.0%) pregnancies were established in which both (100%) were sustained until caesarean section (days 147 and 150 of pregnancy, respectively) and culminated in the live births of cloned Esfahan mouflon lambs. However, the newborns did not survive and died soon after birth. Karyotype and genetic analyses confirmed that both clones had correct diploid chromosome number (2n = 54), and were genetically identical to each other in addition to their original cell donor. This study highlighted the importance of "conservation cloning" using closely related abundant alternate species.
Access options
Buy single article
Instant access to the full article PDF.
US$ 39.95
Tax calculation will be finalised during checkout.
Subscribe to journal
Immediate online access to all issues from 2019. Subscription will auto renew annually.
US$ 79
Tax calculation will be finalised during checkout.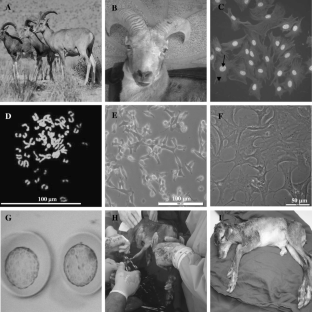 References
Amstislavsky SY (2006) Interspecies embryo and nuclei transfer as an approach to endangered mammalian species conservation. Russ J Dev Biol 37:1–8

Ansari HA, Bosma AA, Broad TE, Bunch TD, Long SE, Maher DW, Pearce PD, Popescu CP (1999) Standard G-, Q-, and R-banded ideograms of the domestic sheep (Ovis aries): homology with cattle (Bos taurus). Report of the committee for the standardization of the sheep karyotype. Cytogenet Cell Genet 85:317–324

Berlinguer F, Leoni GG, Succu S, Mossa F, Galioto M, Madeddu M, Naitana S (2007) Cryopreservation of European mouflon (Ovis gmelini musimon) semen during the non-breeding season is enhanced by the use of trehalose. Reprod Domest Anim 42:202–207

Booth PJ, Tan SJ, Reipurth R, Holm P, Callesen H (2001a) Simplification of bovine somatic cell nuclear effect of recipient oocyte volume on nuclear transfer in cattle. Mol Reprod Dev 50:185–191

Booth PJ, Tan SJ, Holm P, Callesen H (2001b) Application of the zona-free manipulation technique to porcine somatic nuclear transfer. Cloning Stem Cells 3:191–197

Bunch TD, Foote WC (1976) Chromosomes, hemoglobins, and transferrins of Iranian domestic sheep. J Hered 67:167–170

Campbell KHS, McWhir J, Ritchie WA, Wilmut I (1996) Sheep cloned by nuclear transfer from a cultured cell line. Nature 380:64–66

Chen DY, Wen DC, Zhang YP, Sun QY, Han ZM, Liu ZH, Shi P, Li JS, Xiangyu JG, Lian L, Kou ZH, Wu YQ, Chen YC, Wang PY, Zhang HM (2002) Interspecies implantation and mitochondria fate of panda–rabbit cloned embryos. Biol Reprod 67:637–642

Davies RG, Orme CD, Olson V, Thomas GH, Ross SG, Ding TS, Rasmussen PC, Stattersfield AJ, Bennett PM, Blackburn TM, Owens IP, Gaston KJ (2006) Human impacts and the global distribution of extinction risk. Proc Biol Sci 273:2127–2133

Dixon TE, Hunter JW, Soler JP (2007) Interspecific embryo transfer from mouflon (Ovis gmelini musimon) to domestic Corriedale sheep in Argentina. Anim Reprod Sci 101:158–162

Ehrenfeld D (2006) Transgenics and vertebrate cloning as tools for species conservation. Conserv Biol 20:723–732

Folch J, Cocero MJ, Chesné P, Alabart JL, Domínguez V, Cognié Y, Roche A, Fernández-Arias A, Martí JI, Sánchez P, Echegoyen E, Beckers JF, Bonastre AS, Vignon X (2009) First birth of an animal from an extinct subspecies (Capra pyrenaica pyrenaica) by cloning. Theriogenology 71:1026–1034

Fritz SA, Bininda-Emonds OR, Purvis A (2009) Geographical variation in predictors of mammalian extinction risk: big is bad, but only in the tropics. Ecol Lett 12:538–549

Gómez MC, Jenkins JA, Giraldo A, Harris RF, King A, Dresser BL, Pope CE (2003) Nuclear transfer of synchronized African wild cat somatic cells into enucleated domestic cat oocytes. Biol Reprod 69:1032–1041

Hosseini SM, Fazilati M, Moulavi F, Foruzanfar M, Hajian M, Abedi P, Nasiri N, Kaveh AK, Shahverdi AH, Hemami MR (2008a) Reproductive potential of domestic Ovis aries for preservation of threatened Ovis orientalis isphahanica: in vitro and in vivo studies. Eur J Wildlife Res 5:239–246

Hosseini SM, Moulavi F, Foruzanfar M, Hajian M, Abedi P, Memar M, Parivar K, Valojerdi M, Nasr-Esfahani MH (2008b) Effect of donor cell type and gender on the efficiency of in vitro sheep somatic cell cloning. Small Rumin Res 78:162–168

International Union for the Conservation of Nature (IUCN) (1994) IUCN red list of threatened species. Available at http://www.redlist.org

International Union for the Conservation of Nature (IUCN) (2009) IUCN red list of threatened species. Available at http://www.redlist.org

Kazemi-Ashtiani S, Nasr-Esfahani MH, Hosseini SM, Moulavi F, Hajian M, Fouzanfar M, Abedi P, Meamar M, Rezazadeh Valojerdi M, Gourabi H, Shahverdi A, Baharvand H, Vosough Dizaj A, Imani H, Eftekhari-Yazdi P, Vojgani M, Safahani M, Radpour R, Salahshouri I (2008) Royana: successful experience in cloning the sheep. Yakhteh 10:193–200

Kerr JT, Currie DJ (1995) Effects of human activity on global extinction risk. Conserv Biol 9:1528–1538

Kim MK, Jang G, Oh HJ, Yuda F, Kim HJ, Hwang WS, Hossein MS, Kim JJ, Shin NS, Kang SK, Lee BC (2007) Endangered wolves cloned from adult somatic cells. Cloning Stem Cells 9:130–137

Kubota C, Yamakuchi H, Todoroki H, Mizishita K, Tabara N, Barber M (2000) Six cloned calves produced from adult fibroblasts after long-term culture. Proc Natl Acad Sci 97:990–995

Lagutina I, Lazzari G, Duchi R, Turini P, Tessaro I, Brunetti D, Colleoni S, Crotti G, Galli C (2007) Comparative aspects of somatic cell nuclear transfer with conventional and zona-free method in cattle, horse, pig and sheep. Theriogenology 67:90–98

Lanza RP, Cibelli JB, Diaz F, Moraes CT, Farin PW, Farin CE, Hammer CJ, West MD, Damiani P (2000) Cloning of an endangered species (Bos gaurus) using interspecies nuclear transfer. Cloning 2:79–90

Loi P, Ptak G, Barboni B, JJr F, Cappai P, Clinton M (2001) Genetic rescue of an endangered mammal by cross-species nuclear transfer using post-mortem somatic cells. Nat Biotechnol 19:962–964

Loi P, Clinton M, Barboni B, Fulka J Jr, Cappai P, Feil R, Moor RM, Ptak G (2002) Nuclei of nonviable ovine somatic cells develop into lambs after nuclear transplantation. Biol Reprod 67:126–132

Mace GM, Collar NJ, Gaston KJ, Hilton-Taylor C, Akçakaya HR, Leader-Williams N, Milner-Gulland EJ, Stuart SN (2008) Quantification of extinction risk: IUCN's system for classifying threatened species. Conserv Biol 22(6):1424–1442

Moulavi F, Hosseini SM, Ashtiani SK, Shahverdi A, Nasr-Esfahani MH (2006) Can Vero cell co-culture improve in-vitro maturation of bovine oocytes? Reprod Biomed Online 13:404–411

Nadler CF, Lay DM, Hassinger JD (1971) Cytogenetic analyses of wild sheep populations in northern Iran. Cytogenetics 10:137–152

Nadler CF, Deutsch L, Lay DM (1976) Isoenzyme comparisons of wild Iranian sheep (Ovis linnaeus). Comp Biochem Physiol 53:123–125

Oback B, Wiersema AT, Gaynor P, Laible G, Tucker FC, Oliver JE, Miller AL, Troskie HE, Wilson KL, Forsyth JT, Berg MC, Cockrem K, McMillan V, Tervit HR, Wells DN (2003) Cloned cattle derived from a novel zona-free embryo reconstruction system. Cloning Stem Cells 5:3–12

Peura TT (2003) Improved in vitro development rates of sheep somatic nuclear transfer embryos by using a reverse-order zona-free cloning method. Cloning Stem Cells 5:13–24

Peura TT, Vajta G (2003) A comparison of established and new approaches in ovine and bovine nuclear transfer. Cloning Stem Cells 5:257–277

Pimm SL, Russell GJ, Gittleman JL, Brooks TM (1995) The future of biodiversity. Science 269(5222):347–350

Piña-Aguilar RE, Lopez-Saucedo J, Sheffield R, Ruiz-Galaz LI, Barroso-Padilla Jde J, Gutiérrez-Gutiérrez A (2009) Revival of extinct species using nuclear transfer: hope for the mammoth, true for the Pyrenean ibex, but is it time for "conservation cloning"? Cloning Stem Cells 11:341–346

Ptak G, Clinton M, Tischner M, Barboni B, Mattioli M, Loi P (2002a) Improving delivery and offspring viability of in vitro-produced and cloned sheep embryos. Biol Reprod 67:1719–1725

Ptak G, Clinton M, Barboni B, Muzzeddu M, Cappai P, Tischner M, Loi P (2002b) Preservation of the wild European mouflon: the first example of genetic management using a complete program of reproductive biotechnologies. Biol Reprod 66:796–801

Santiago-Moreno J, González-Bulnes A, Gómez-Brunet A, Cocero MJ, del Campo A, García-García R, López-Sebastián A (2001) Procedure for successful interspecific embryo transfer from mouflon (Ovis gmelini musimon) to Spanish Merino sheep (Ovis aries). J Zoo Wildl Med 32:336–341

Sha H, Wang P, Zhang P, Cheng G, Chen J (2009) Close relatedness between exotic nucleus and cytoplast can improve the postimplantation development rate of cloned intersubspecies embryos. Cloning Stem Cells 11:347–353

Shackleton DM (1997) Wild sheep and goats and their relatives: IUCN Caprinae Specialist Group, IUCN, Gland, Switzerland and Cambridge, UK, 390

Tecirlioglu RT, Guo J, Trounson AO (2006) Interspecies somatic cell nuclear transfer and preliminary data for horse–cow/mouse iSCNT. Stem Cell Rev 2:277–287

Vajta G, Peura TT, Holm P, Paldi A, Greve T, Trounson AO, Callesen H (2000) New method for culture of zona-included or zona-free embryos: the well of the well (WOW) system. Mol Reprod Dev 55:256–264

Vajta G, Lewis I, Hyttel P, Thouas G, Trounson AO (2001) Somatic cell cloning without micromanipulators. Cloning 3:89–95

Vajta G, Lewis IM, Trounson AO, Purup S, Maddox-Hyttel P, Schmidt M, Pedersen HG, Greve T, Callesen H (2003) Handmade somatic cell cloning in cattle: analysis of factors contributing to high efficiency in vitro. Biol Reprod 68:571–578

Valdez R, Nadler CF, Bunch TD (1978) Evolution of wild sheep in Iran. Evolution 32:56–57

Wakayamaa S, Ohtaa H, Hikichia T, Mizutania E, Iwakib T, Kanagawac O, Wakayamaa T (2008) Production of healthy cloned mice from bodies frozen at −20°C for 16 years. PNAS 105:17318–17322

Wells DN, Forsyth JT, McMillan V, Oback B (2004) The health of somatic cell cloned cattle and their offspring. Cloning Stem Cells 6(2):101–110

White KL, Bunch TD, Mitalipov S, Reed WA (1999) Establishment of pregnancy after the transfer of nuclear transfer embryos produced from the fusion of argali (Ovis ammon) nuclei into domestic sheep (Ovis aries) enucleated oocytes. Cloning 1:47–54

Wildt DE, Rall WF, Critser JK, Monfort SL, Seal US (1997) Genome resource banks: "living collections" for biodiversity conservation. BioScience 47:689–698

Wilmut I, Schnieke AE, McWhir J, Kind AJ, Campbell KHS (1997) Viable offspring derived from fetal and adult mammalian cells. Nature 27:810–813
Acknowledgments
We would like to thank the Department of Environment of the Islamic Republic of Iran, Isfahan Province, for their full support as well as providing the opportunity and samples for carrying out this study. The authors also would like to thank Mrs. Hajheidari for her help with neonatal care. This study was funded by a grant from the Royan Institute of IRI.
Additional information
Communicated by C. Gortázar
About this article
Cite this article
Hajian, M., Hosseini, S.M., Forouzanfar, M. et al. "Conservation cloning" of vulnerable Esfahan mouflon (Ovis orientalis isphahanica): in vitro and in vivo studies. Eur J Wildl Res 57, 959–969 (2011). https://doi.org/10.1007/s10344-011-0510-5
Received:

Revised:

Accepted:

Published:

Issue Date:
Keywords
Vulnerable

Esfahan mouflon

Conservation cloning